What Is The MiMo District in Miami?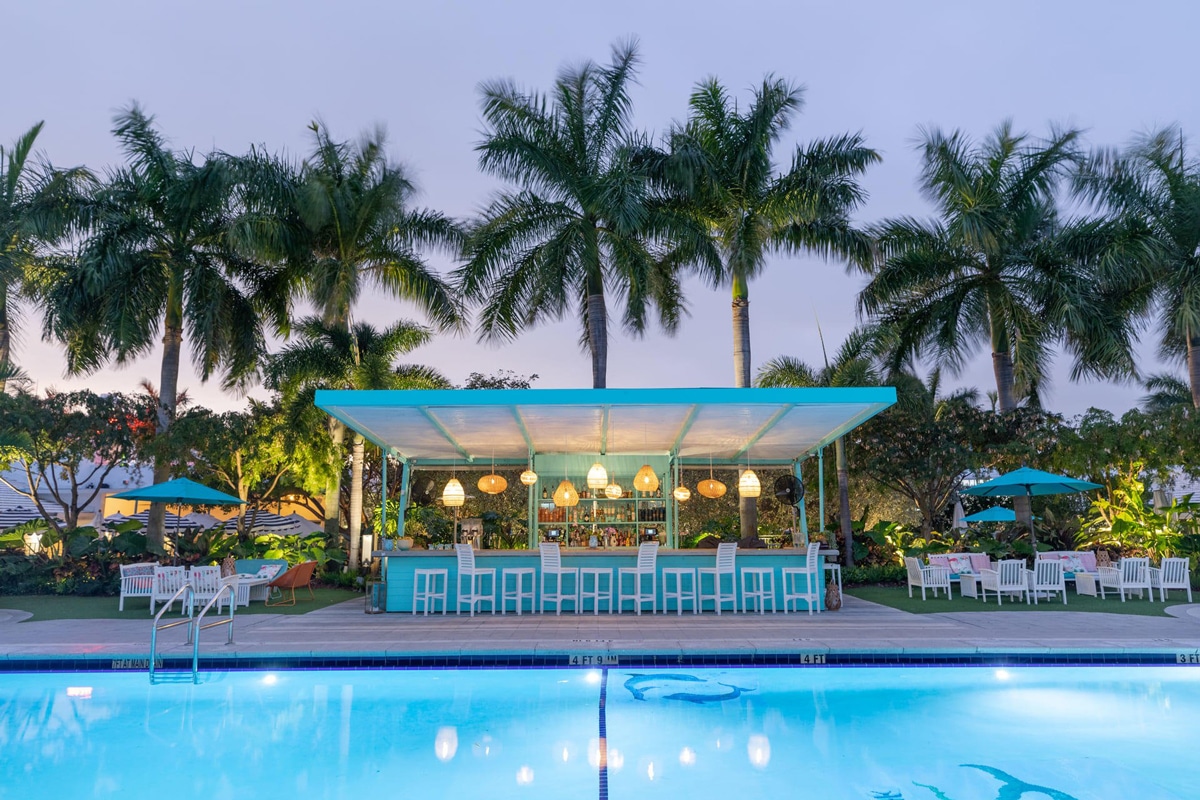 Why should you visit the MiMo District? Starting at 77th st. through 50th st. on Biscayne Blvd, the Miami Modern district is peppered with charming boutiques and historic motels from the 50s and 60s. But the real reason you need to visit, is to discover a secret Miami foodies have been keeping to themselves. Venture inside these renovated, mid-century architecture motels and you'll find amazing restaurants with delicious dishes and a unique ambience you'll want to share on Instagram.
RECOMMENDED READING: New Vegan Bakery, L'Artisane, Opens Adorable Location in Coral Gables
MiMo Miami Restaurant Guide
Here are some MiMo restaurants you need to add to your bucket-list.
Cafe Kush at Selina Miami Gold Dust Motel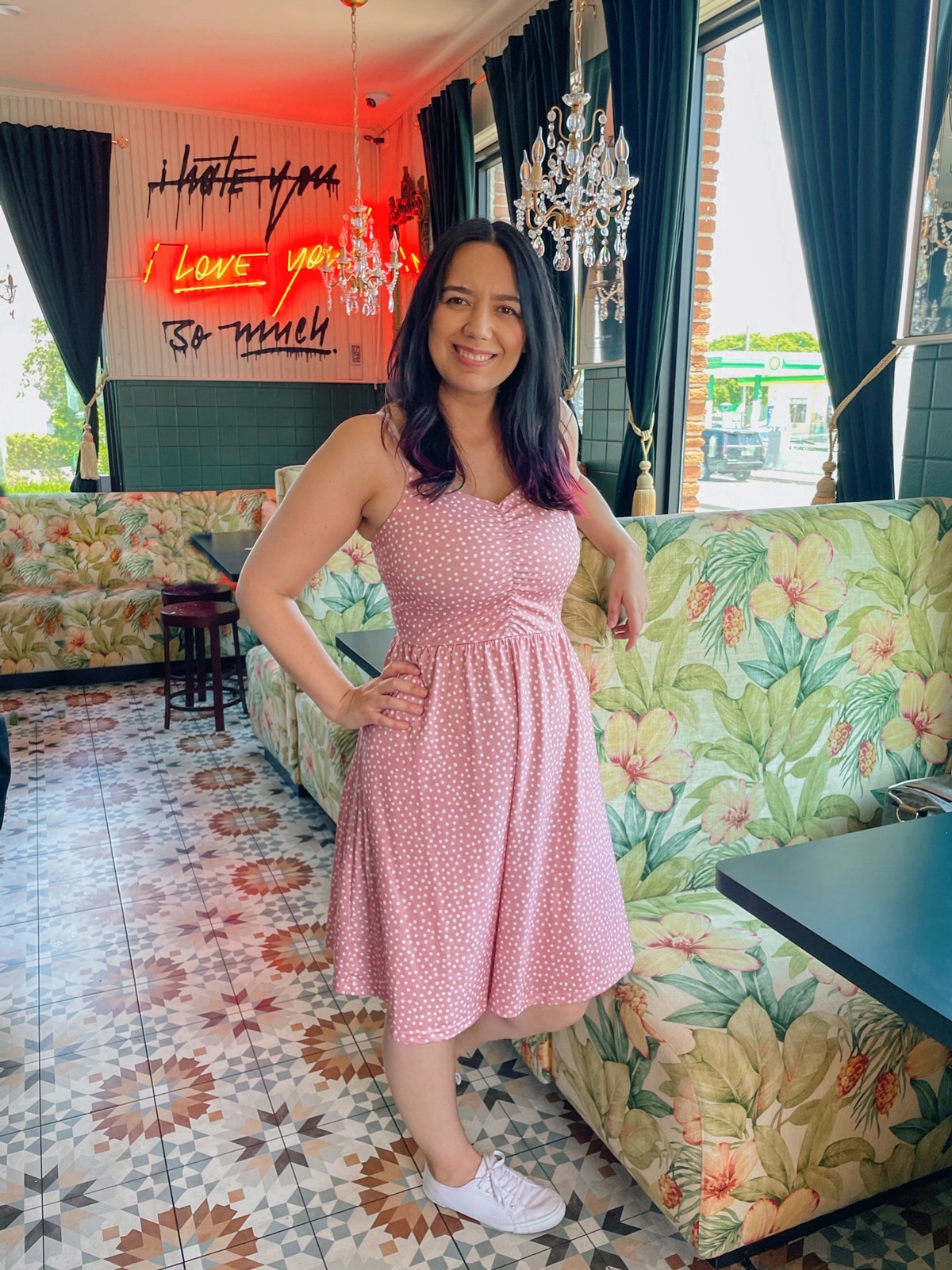 Stay Gold.
Located inside the iconic Gold Dust Motel in the thriving MiMo district, the vibe at Kush Cafe is nothing short of amazing.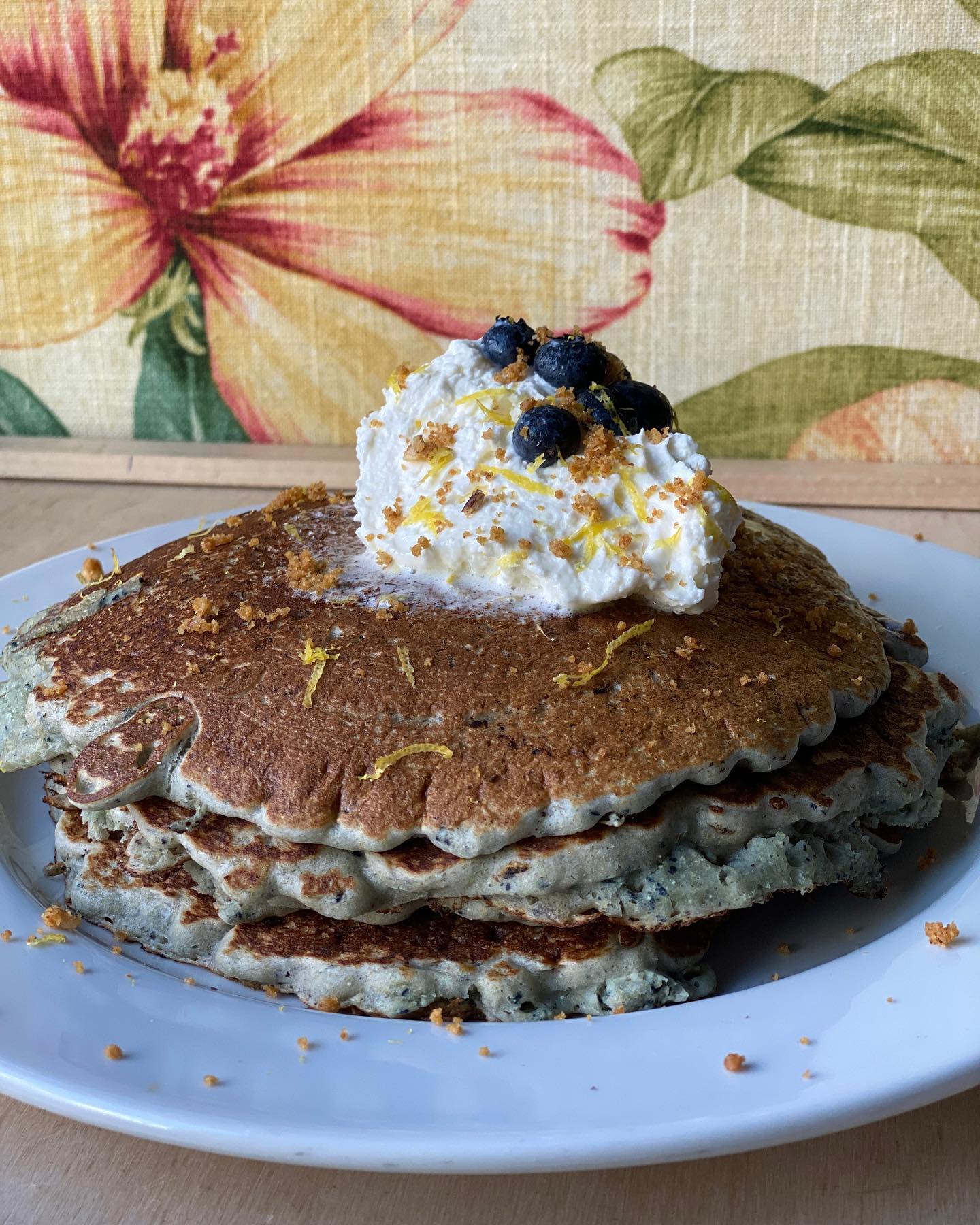 Combining the best of a European bistro with an in-your-face Miami attitude, Cafe Kush serves French classics such as French onion soup, Croque Monsieurs, Ratatouille, and Frog Legs but also keeps the Kush essentials like award-winning burgers, local craft beer, Chicken and Waffles, and Key Lime Pie combining the best of American and Bistro cuisine.
Enjoy a sit-down dinner at their quaint Euro-style river cafe. Cafe Kush is located at 7700Biscayne Blvd, Miami, FL. For more information visit kushhospitality.com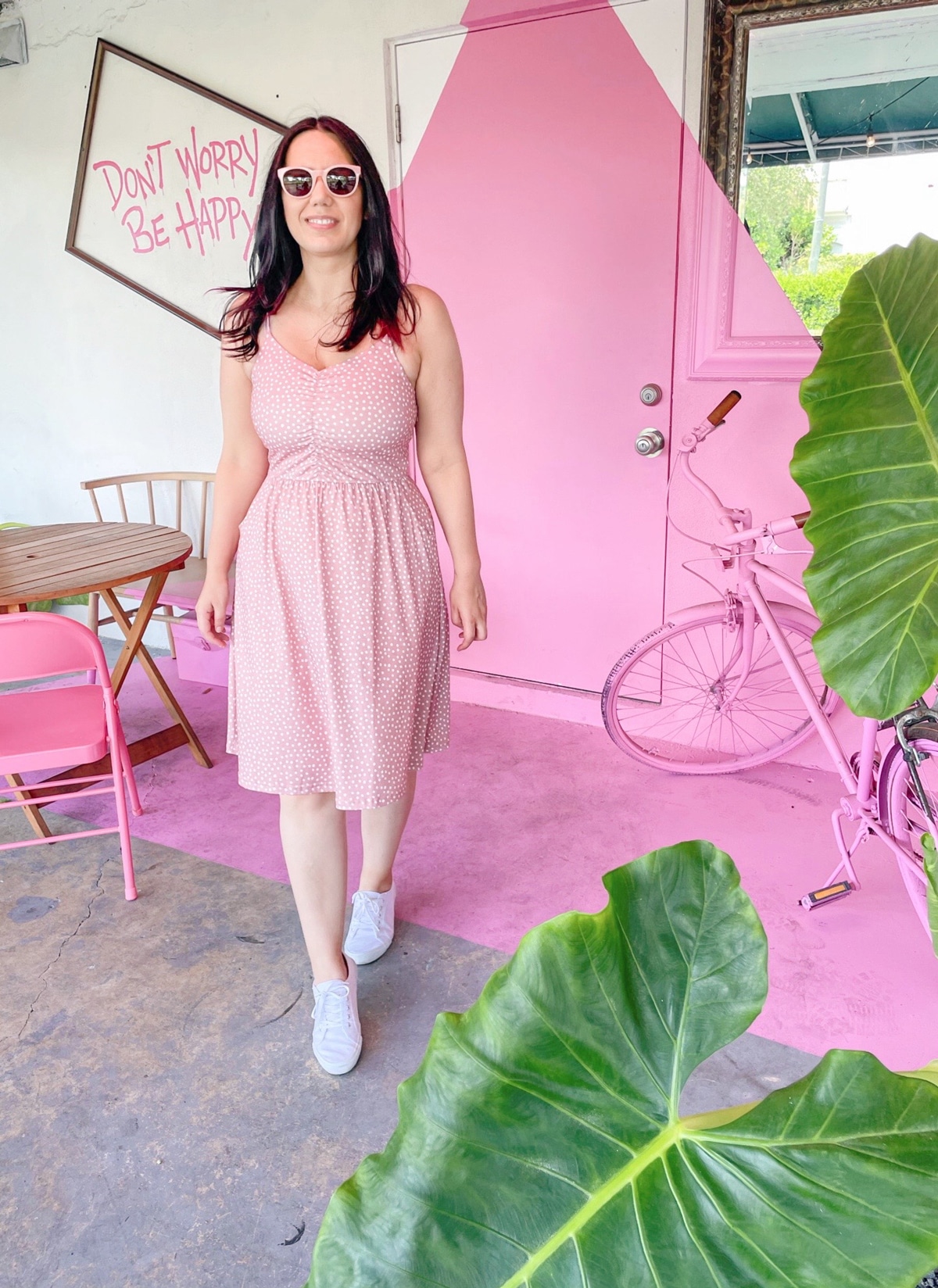 RECOMMENDED READING: Little Hen: New Miami Brunch Hotspot
Blue Collar at the Biscayne Inn Motel
Blue Collar is your home for contemporary comfort food. Known for their mac & cheese, braised oxtails, and shrimp & grits. It's a great place for brunch with friends. They have tons of meat and veggies for you to indulge. Blue Collar is located at 6730 Biscayne Blvd, Miami, FL. For more information visit bluecollarmiami.com
RECOMMENDED READING: For the Best Pancakes in Miami, Make Reservations at Eating House
Mr. Mandolin at The Vagabond Motel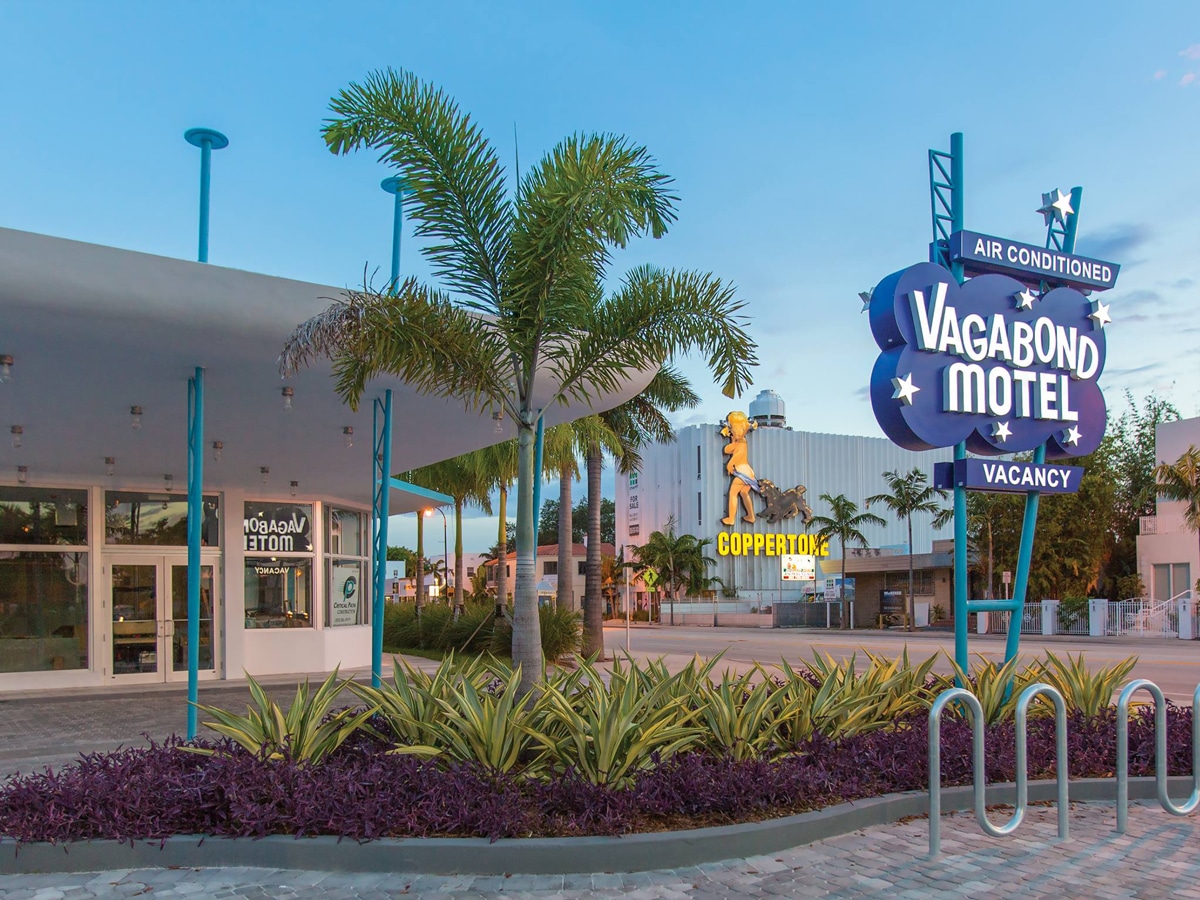 Located inside The Vagabond Motel, Mr. Mandolin, serves fast-casual street food from Greece & Turkey. Enjoy a healthy Mediterranean brunch with gyros and homemade mint lemonade at this bright and welcoming restaurant. They have outdoor seating with umbrellas at their patio surrounded by greenery. Mr. Mandolin is located at 7301 Biscayne Blvd, Miami, FL. Visit mrmandolin.com for more information.
RECOMMENDED READING: The Gramercy: 10 Reasons To Visit This New Restaurant in Coral Gables
Puerto Rican Restaurant La Placita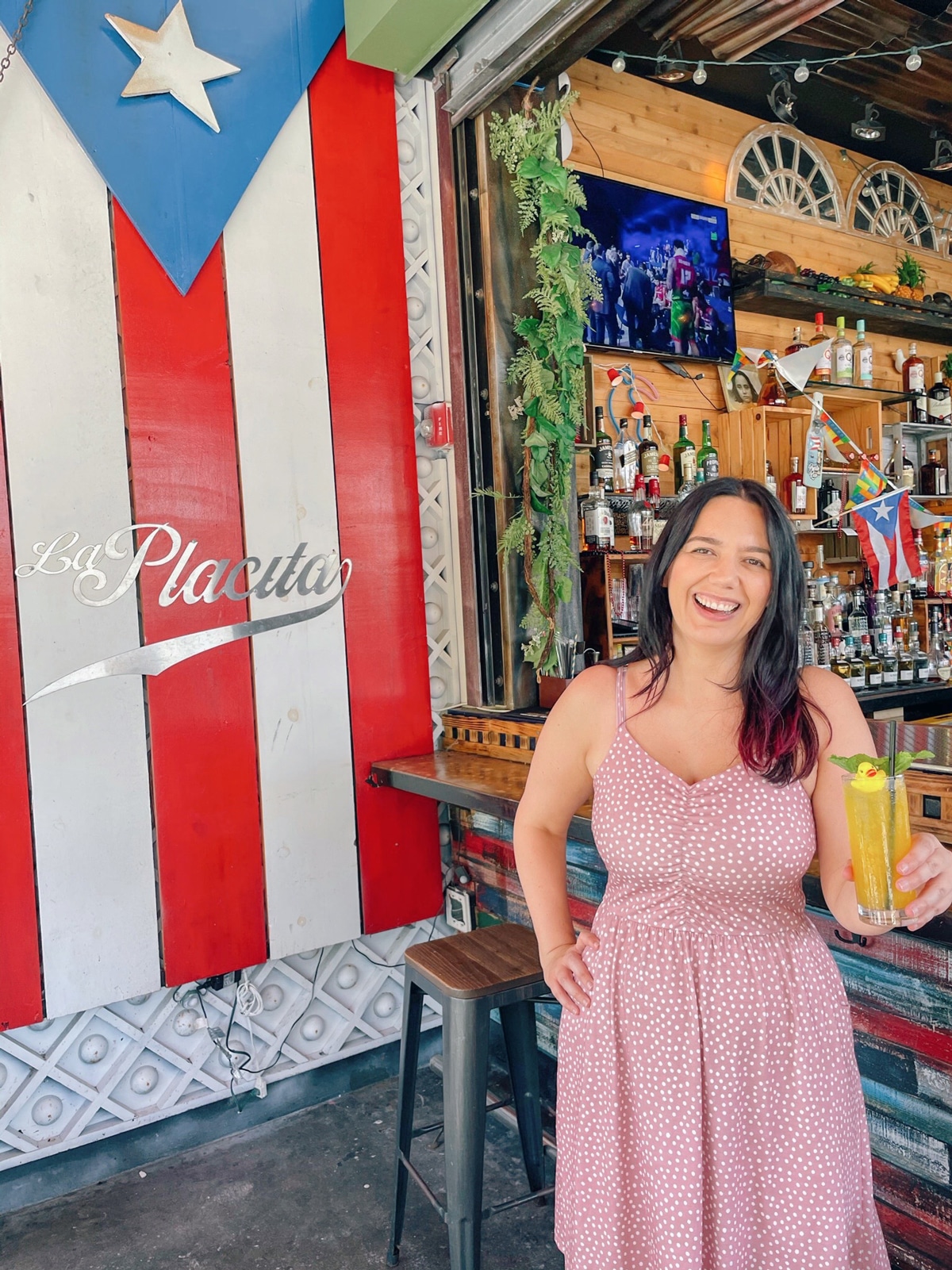 La Placita Miami is a restaurant, marketplace & nightlife destination serving Latin American cuisine. You can't miss it. It's the three story building painted with the Puerto Rican flag. The restaurant is inspired by Mercado Santurce, the original "La Placita" in San Juan, Puerto Rico. Chef Mendin pays homage to el Mercado, offering curated marketplace menus that capture both the flavorful traditions of Puerto Rico and the eclectic vibrance of Miami.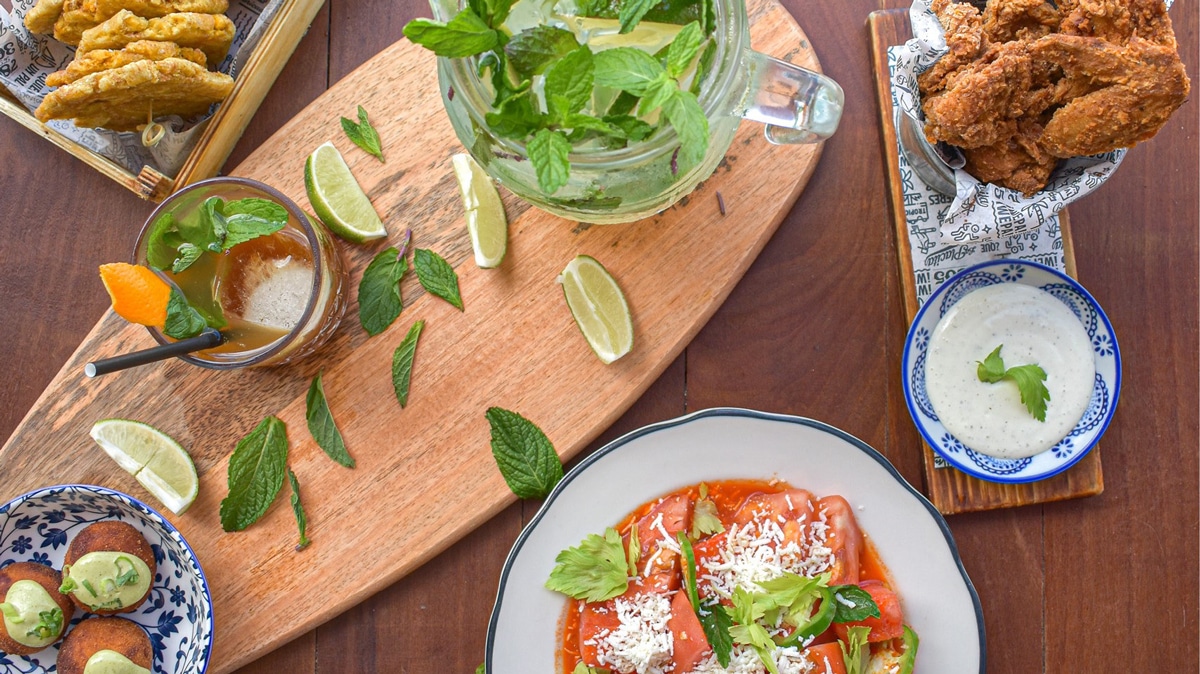 Sit outside and enjoy their beautiful patio while listening to retro salsa jams. Rustic wooden tables and chairs decorated with flamingo throw pillows give the patio a playful upbeat vibe that matches the music. If you prefer the air conditioning, sit indoors under twinkling lights. La Placita is located at 6789 Biscayne Blvd, Miami, FL. For more information visit laplacitamiami.com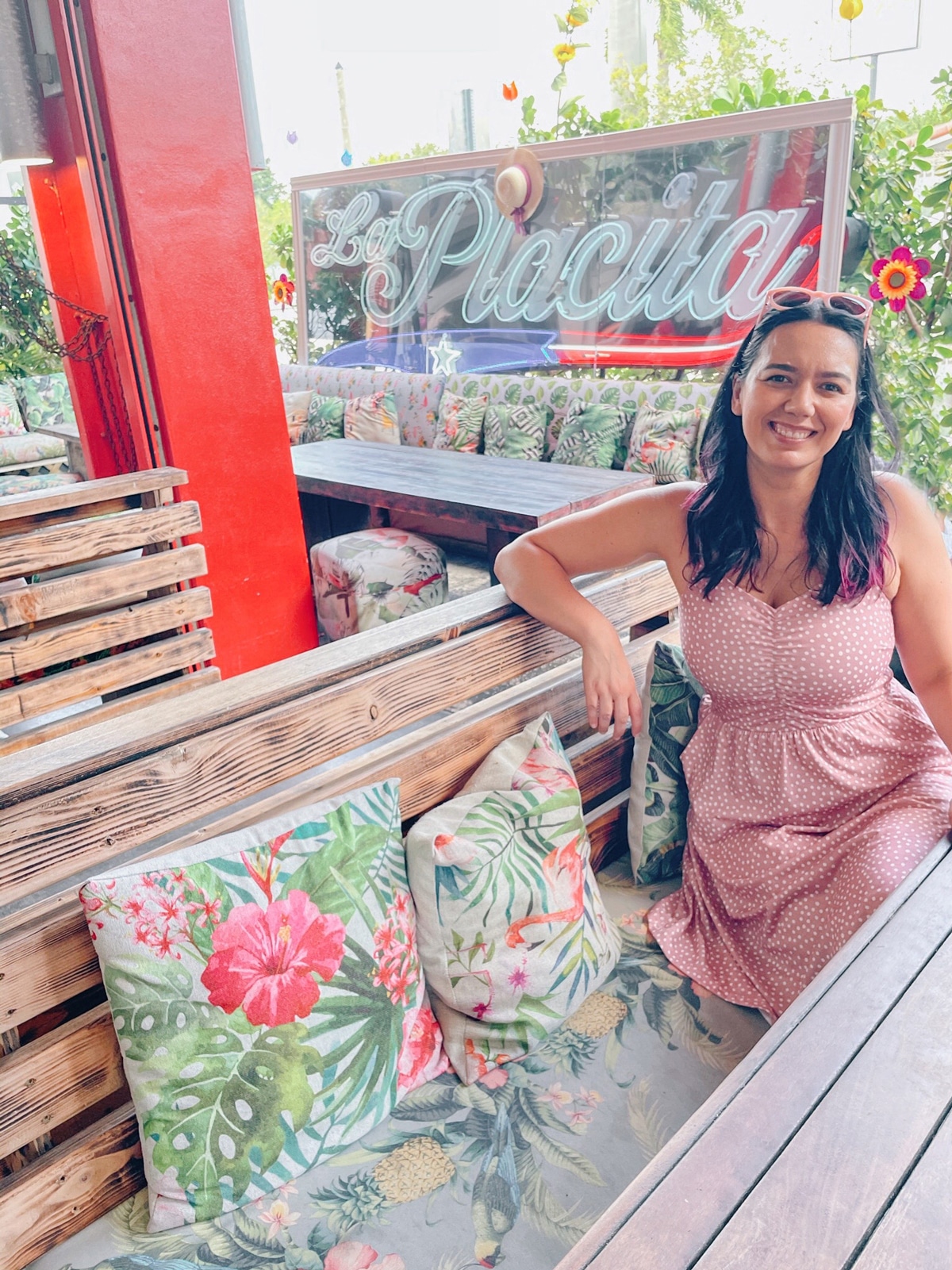 Blvd Bae's
Looking for your next brunch spot to hang with friends? Blvd Bae's has a cute location with a gorgeous outdoor patio, delicious food, and friendly service. (Shout out to Jodi & Ruslan for taking care of us!)
You can also sit at their front outdoor seating under the shade of big umbrellas with a view of pedestrians and street traffic.
I recommend the fruit granola with chia seed pudding for healthy brunchers and the scrambled eggs with mozzarella burrata for everyone else. Order the peach bellinis for a refreshing and bubbly drink. Cheers!
Blvd Bae's is located at 7244 Biscayne Blvd Miami, FL. Visit their website for more information blvdbaes.com
Phuc Yea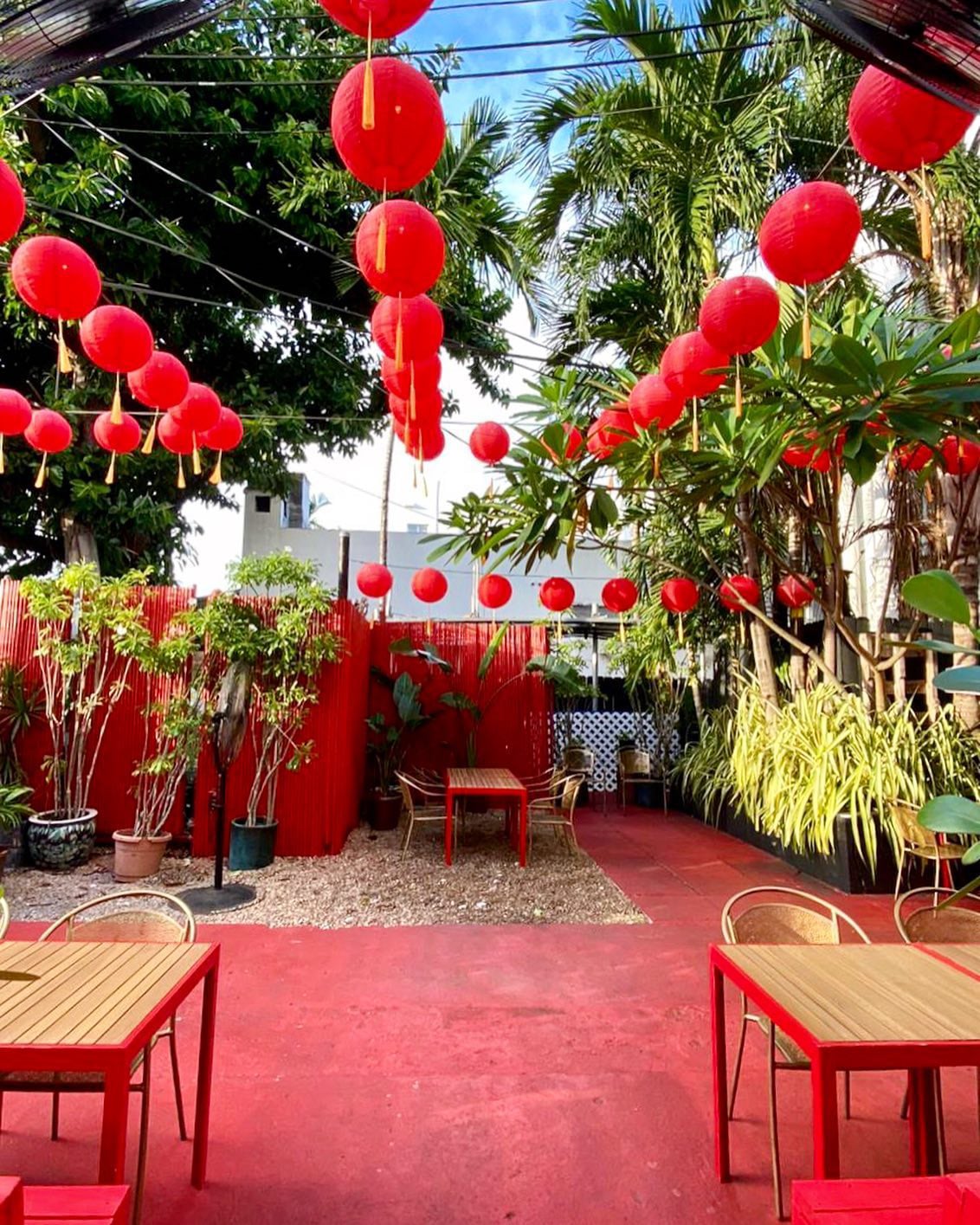 Half Cajun, half Vietnamese, this is not your classic Vietnamese restaurant. Visit Phuc Yea for their Boozy Bottomless Brunch on Sundays from noon to 3pm. Make sure to sit outside in their colorful lantern garden. Don't forget to make your reservation ahead of time. Phuc Yea is located at 7100 Biscayne Boulevard, Miami, FL. For more information visit their webiste phucyea.com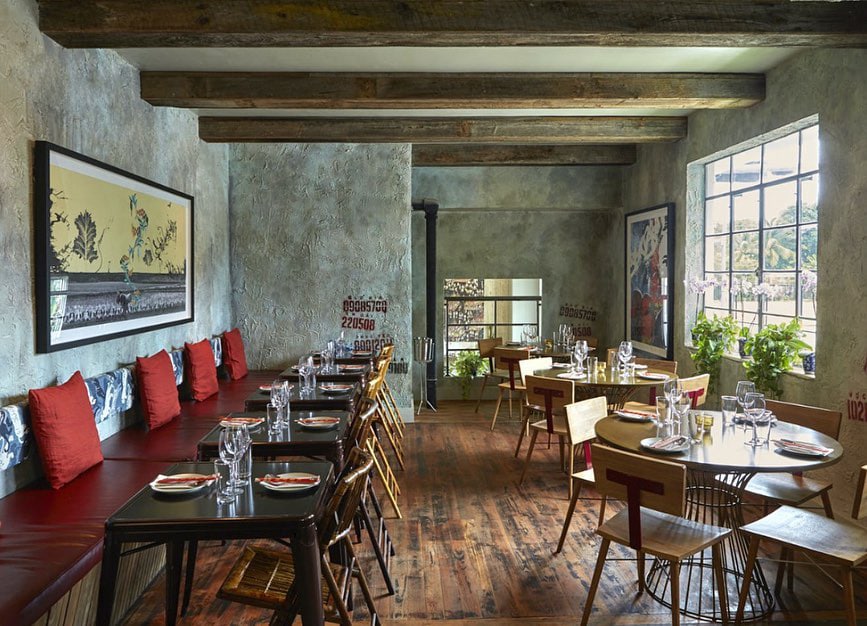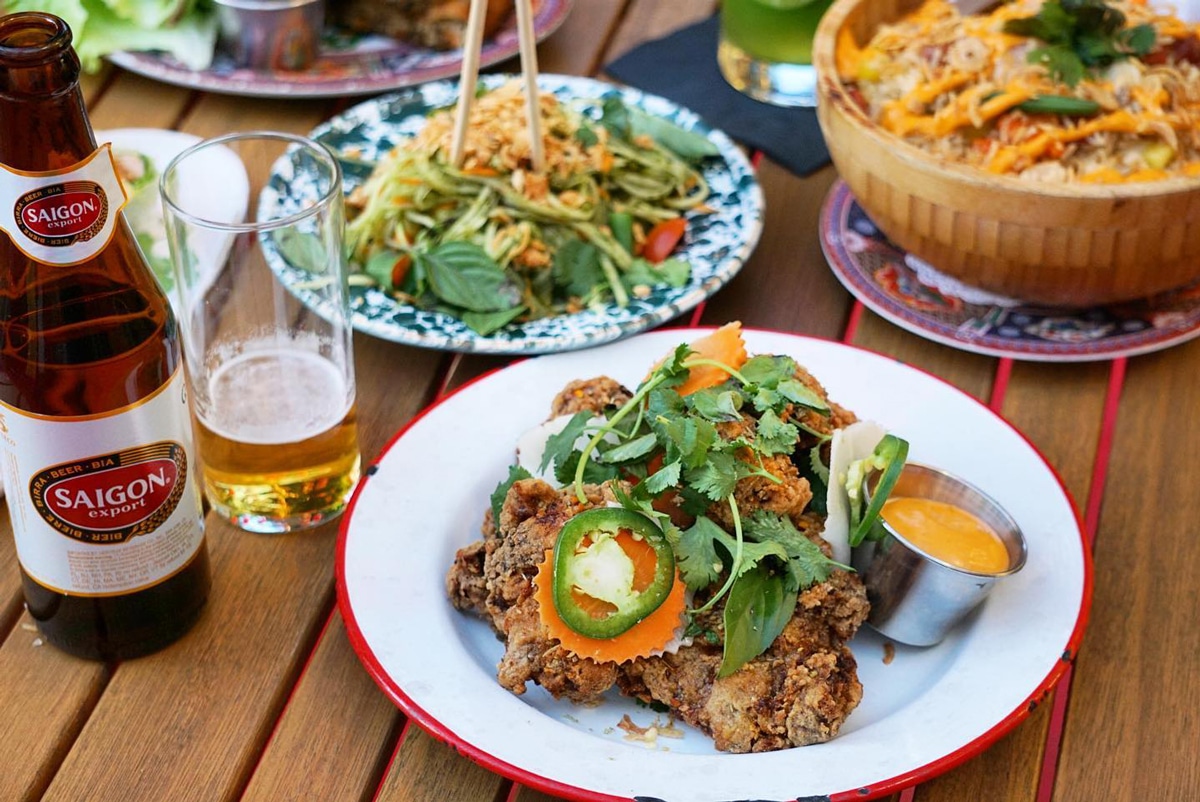 Jimmy's Eastside Diner
Your friendly neighborhood eatery, Jimmy's Eastside Diner, has been serving locals breakfast since the 1960s. It's kept its charming retro look with mirrors, booths, and wood paneling. Jimmy's has always been a popular breakfast spot for Miami locals, but the authentic diner has recently gotten more attention since it was featured in the Oscar-winning film "Moonlight." They serve big portions of breakfast classics: eggs, pancakes, waffles, and biscuits. Jimmy's Eastside dinner is located at 7201 Biscayne Blvd, Miami, FL.
El Bagel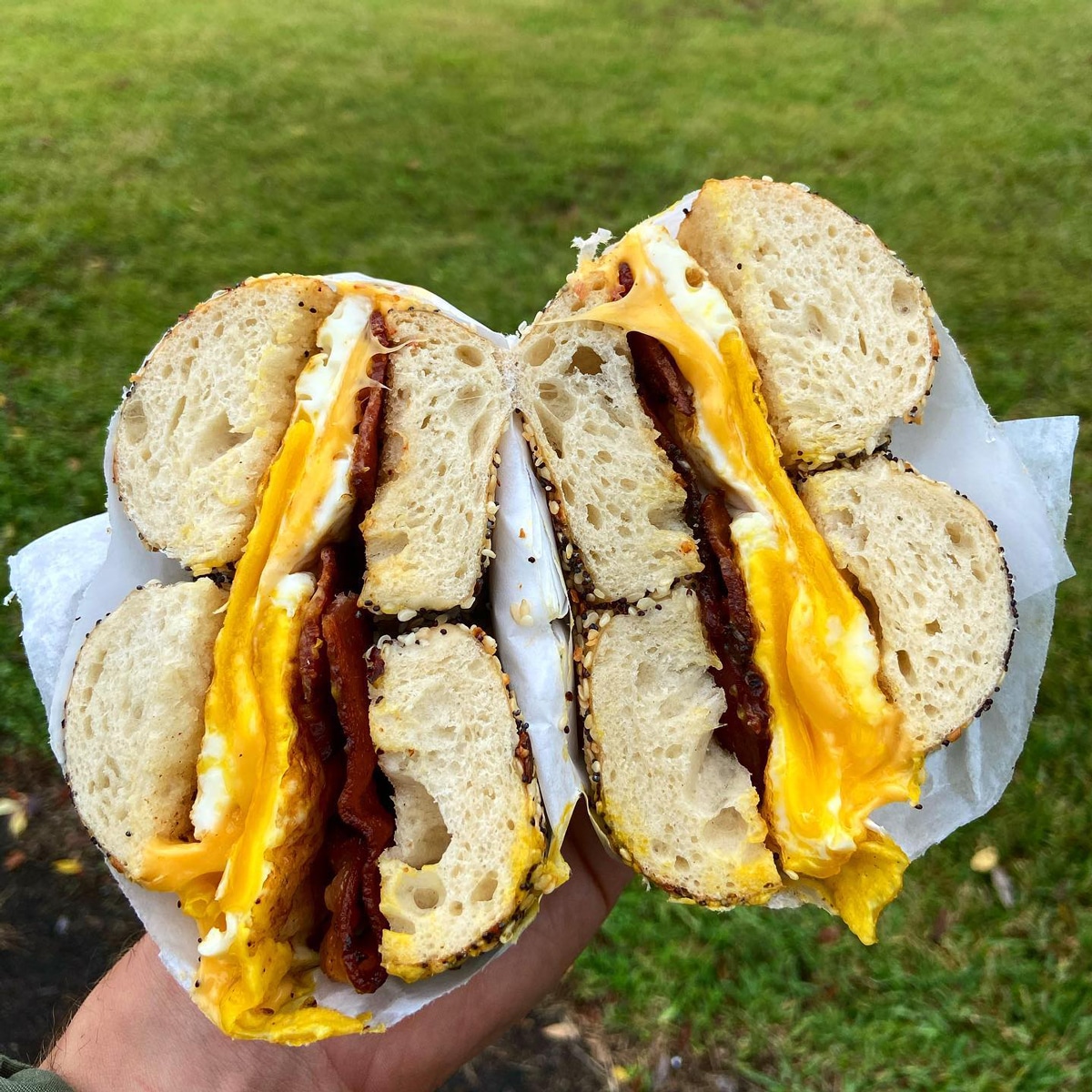 If you were looking for another reason to visit MiMo, that's where you'll find the best bagels in Miami. What started as a food truck, El Bagel, opened it's permanent doors on Biscayne Blvd and 69th street. You must place your order ahead of time via their website. El Bagel is located at
6910 Biscayne Blvd Miami, FL. For more information visit their website elbagel.miami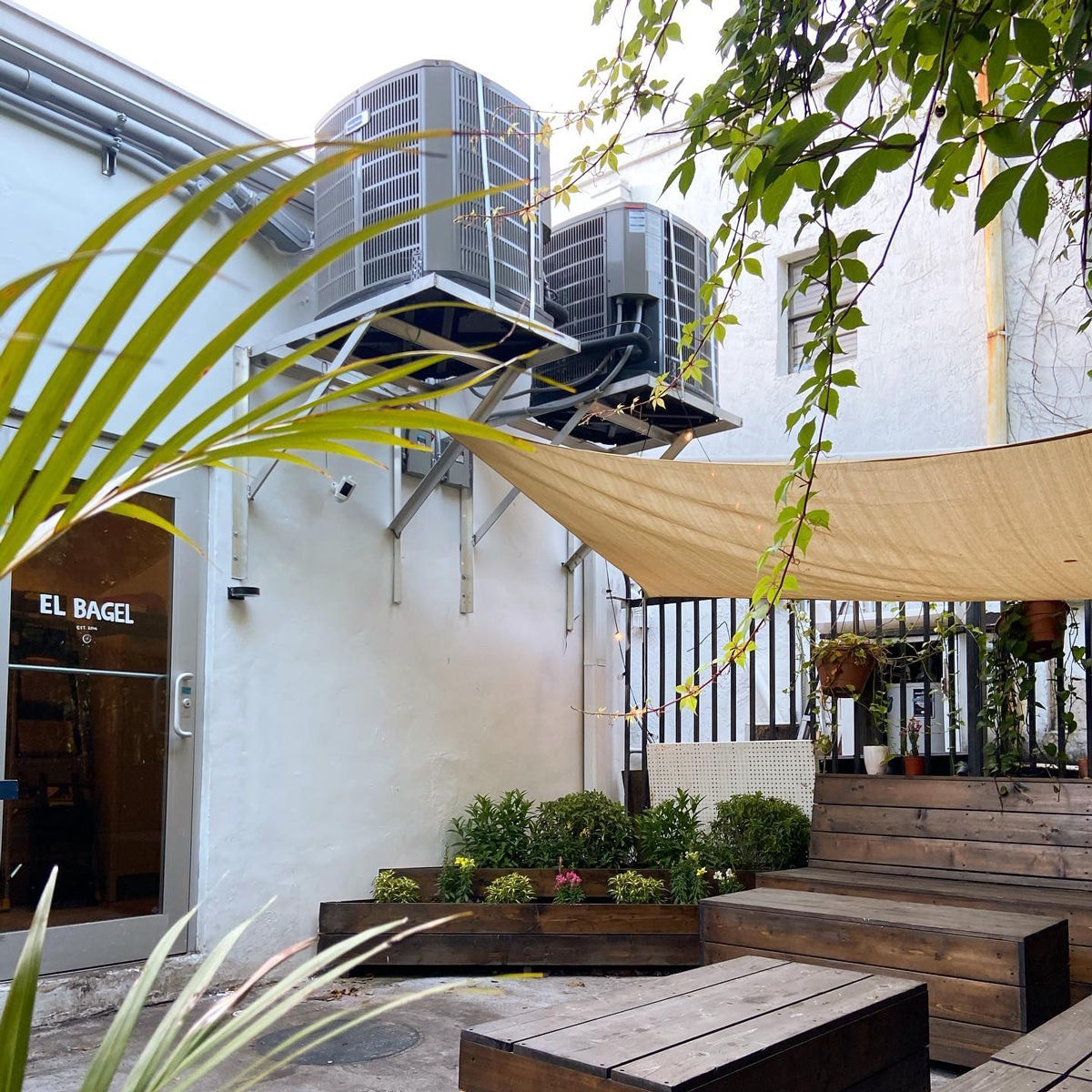 Via Verdi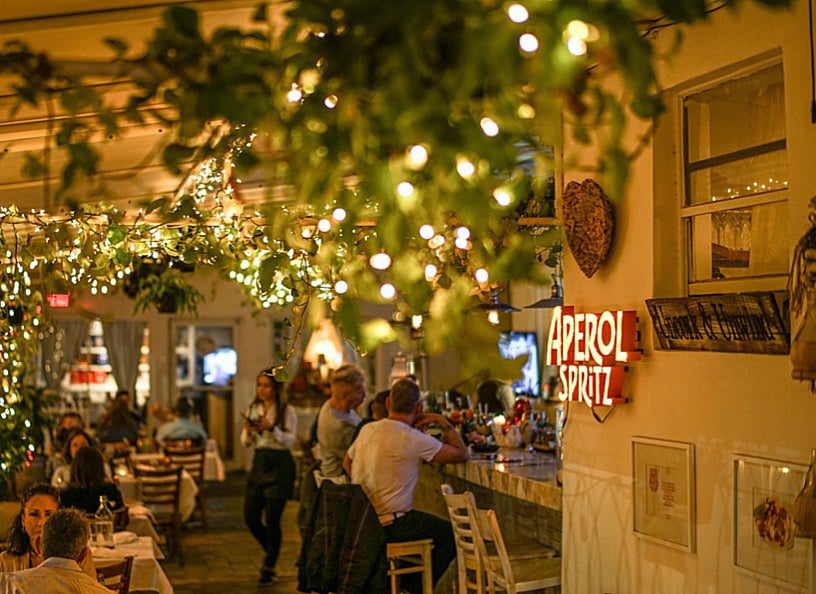 Experience an authentic Italian meal at Via Verdi. Twin chef brothers, Fabrizio and Nicola Carro, grew up loving food and cooking in their hometown of Alessandria in Northern Italy. After working in kitchens throughout Europe, they moved to Miami and founded Via Verdi in 2013. Via Verdi is located at 6900 Biscayne Blvd, Miami, FL.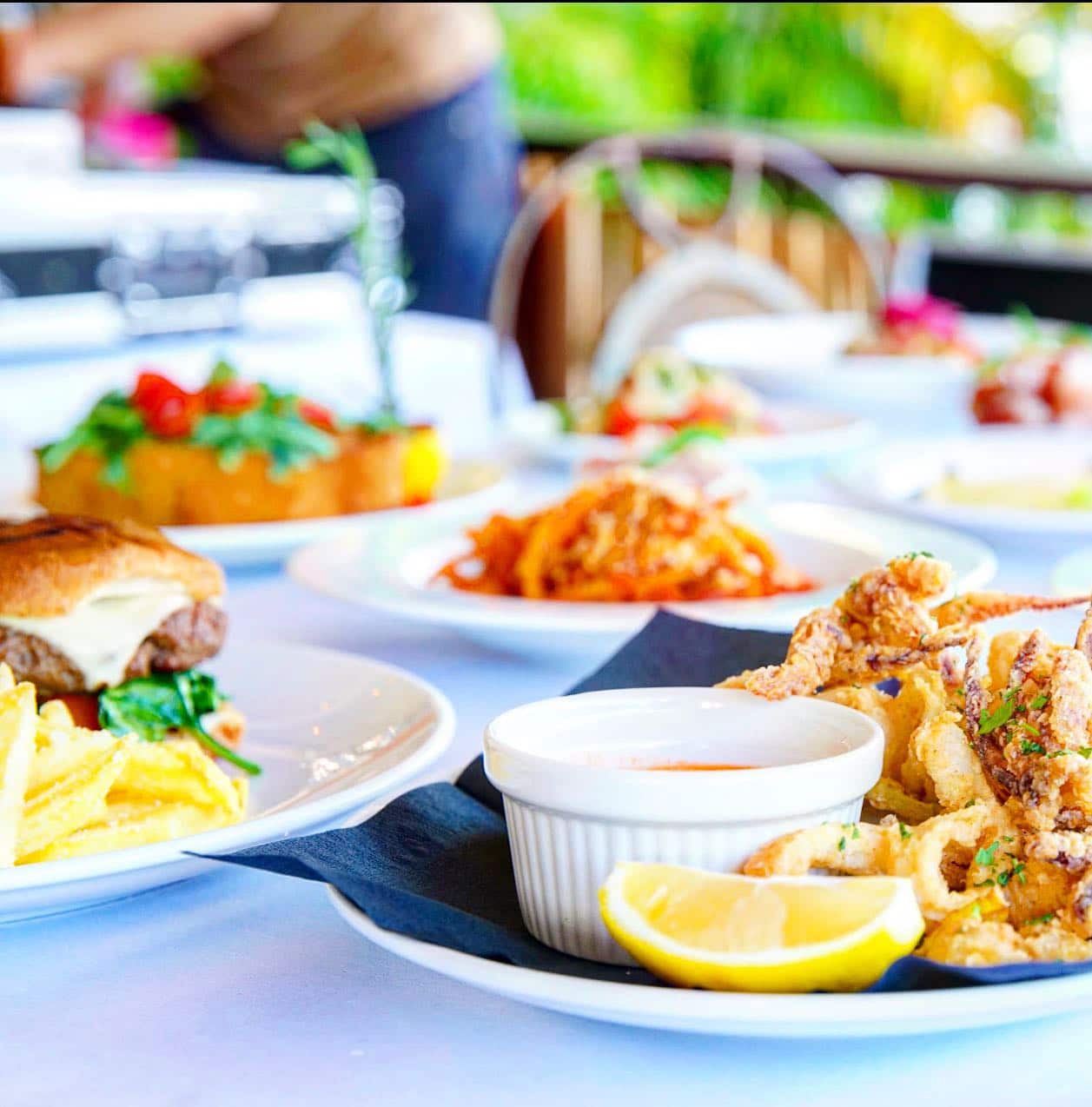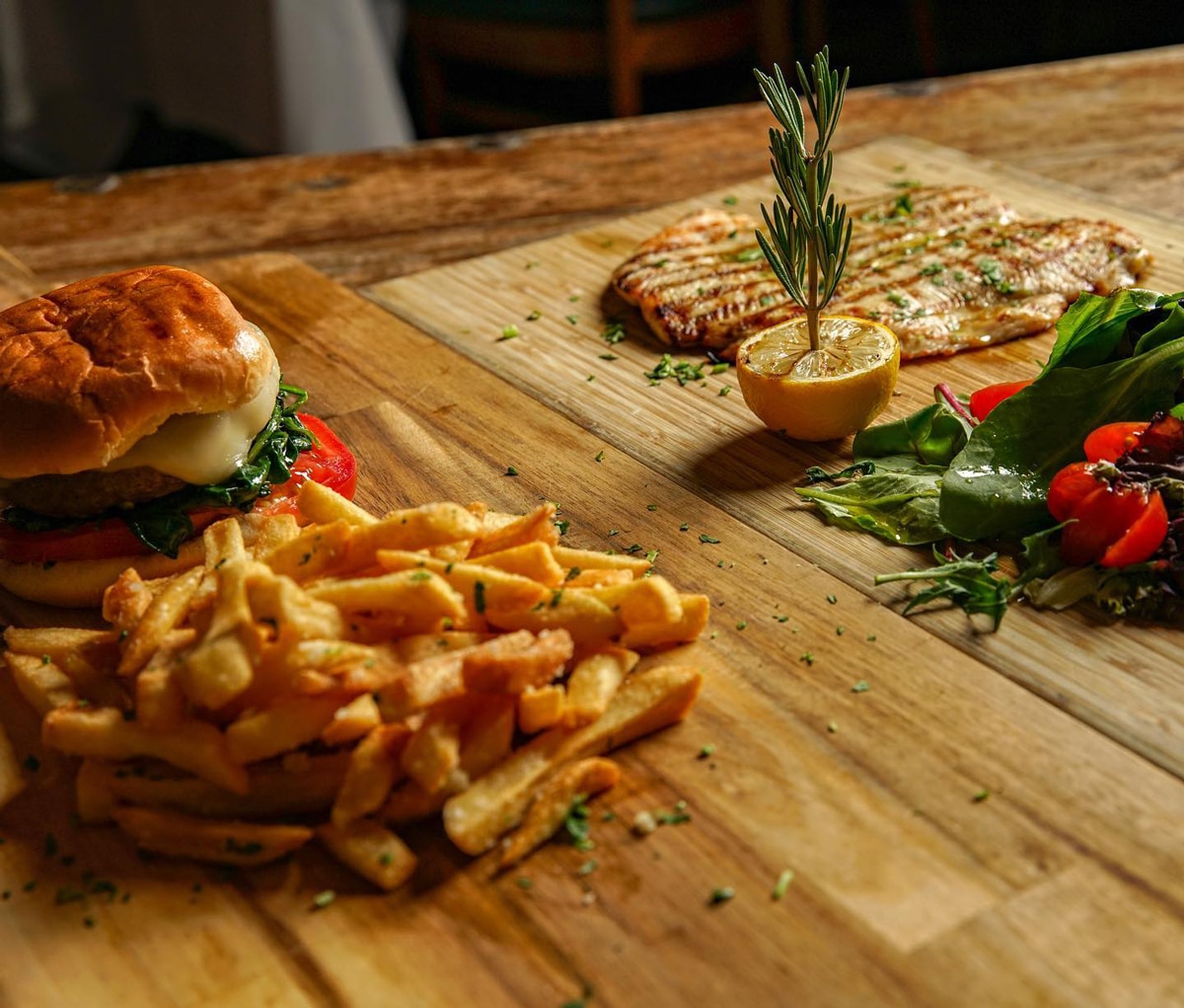 Baywood Local Eatery
Located in the MiMo district, the locally sourced Baywood Miami restaurant offers a yummy selection for breakfast and lunch. The menu includes classics like Egg Benedicts, Avocado Toast, Breakfast Burrito, Salads, healthy Bowls, Vegan Tacos, and their star, the Short Rib Burger. Eat local in a safe and cool Miami vibe restaurant with great outdoor dining.
Baywood local eatery is located at 7010 Biscayne Boulevard, Miami, FL. For more information visit baywoodmiami.com
La Social
LASOCIAL is a local, rustic-elegant bistro, coffee & cake shop focused on thoughtfully created food. Their menu selection is seasonally driven, so they bake and cook with wholesome ingredients at the peak of their flavor; organic and local whenever possible, and fresh always. La Social is located at 7601 Biscayne Blvd. Miami FL. For more information visit lasocialinc.com
Dogma Grill
I'll always stop at Dogma to grab a Colombian-style hotdog. That means matchstick potato chips and pineapple as toppings. So good! This causal restaurant specializes in hotdogs and burgers; and is located at 7030 Biscayne Blvd, Miami, FL. For more information visit dogmagrill.com
Doggi's Arepa Bar
When you're in the mood for casual Venezuelan food, stop by Doggi's Arepa Bar. Their Arepa Reina Pepiada, Arepa Santa Barbara, and Cachapas are popular items on the menu. Doggi's Arepa Bar MiMo location is at 7281 Biscayne Blvd, Miami, FL. Visit eatdoggis.com for more information.
What Is There To Do in MiMo Miami?
Whether you're a plant lady, a brunch foodie or just like to lounge by the pool; MiMo is a great neighborhood to plan a daycation.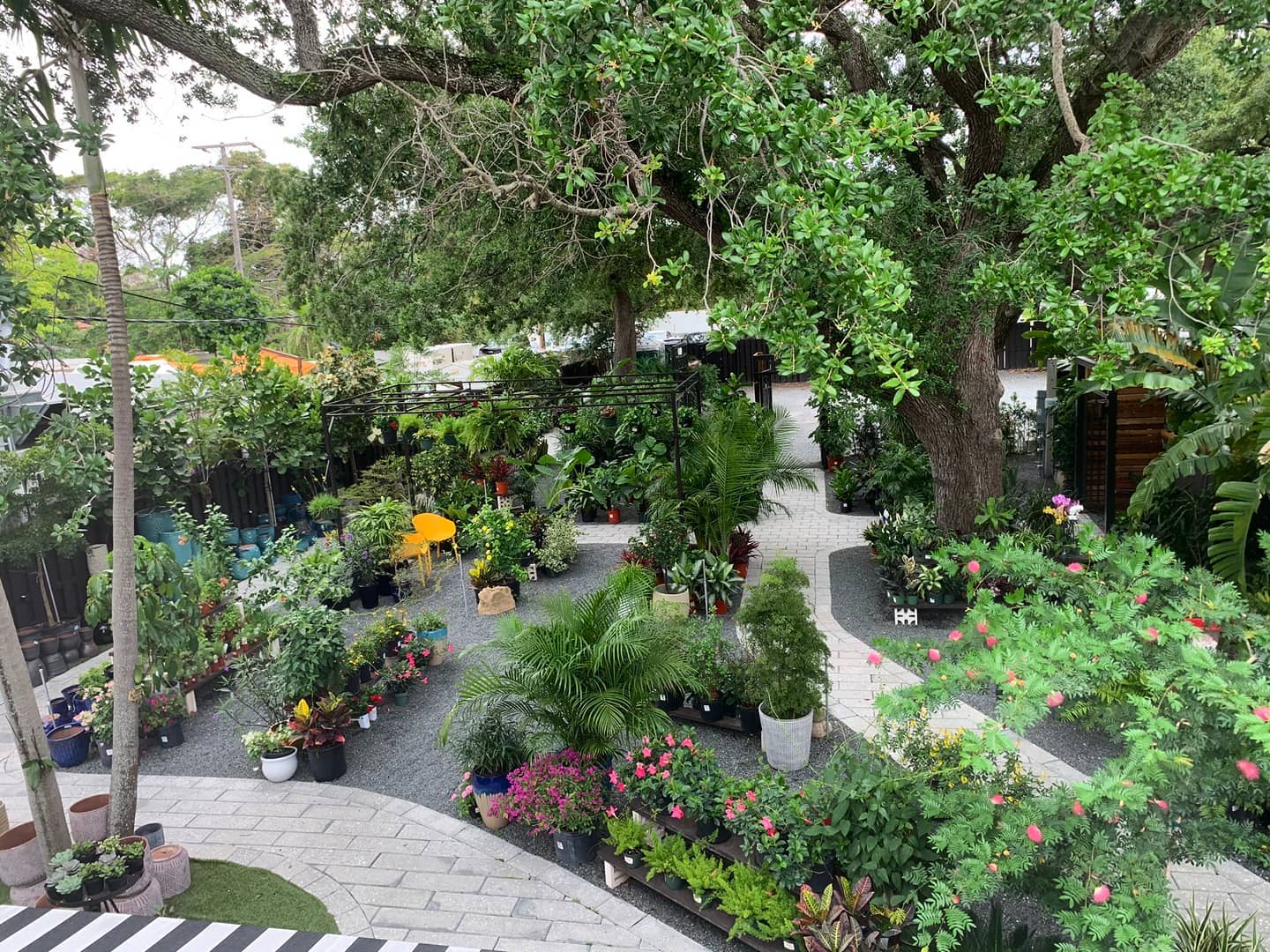 MiMo Garden Center
First stop by MiMo Garden Center, a miniature oasis providing you with all your gardening needs while enjoying a relaxing space surrounded by nature. They have you covered for all your pottery, orchid, succulent, or bonsai needs. MiMo Garden Center is located at 7238 Biscayne Blvd Miami, FL right next to Blvd Bae's. Visit their website for more information mimogardencenter.com
Fly Vintage, Designer and Consignment Boutique
Then, spruce up your closet with a shopping session at Fly Boutique. This shop carries new and vintage designer pieces such as Louis Vuitton, Chanel, Pucci, Gucci, Dior,Missoni and many more. Every piece is hand picked and inspected for quality. In addition, Fly Boutique will buy or consign your vintage or designer clothing, shoes, bags and jewelry. Call them for an appointment at 305-604-8508. Fly Boutique is located at 7235 Biscayne Blvd Miami, FL 33138. For more information visit flyboutiquevintage.com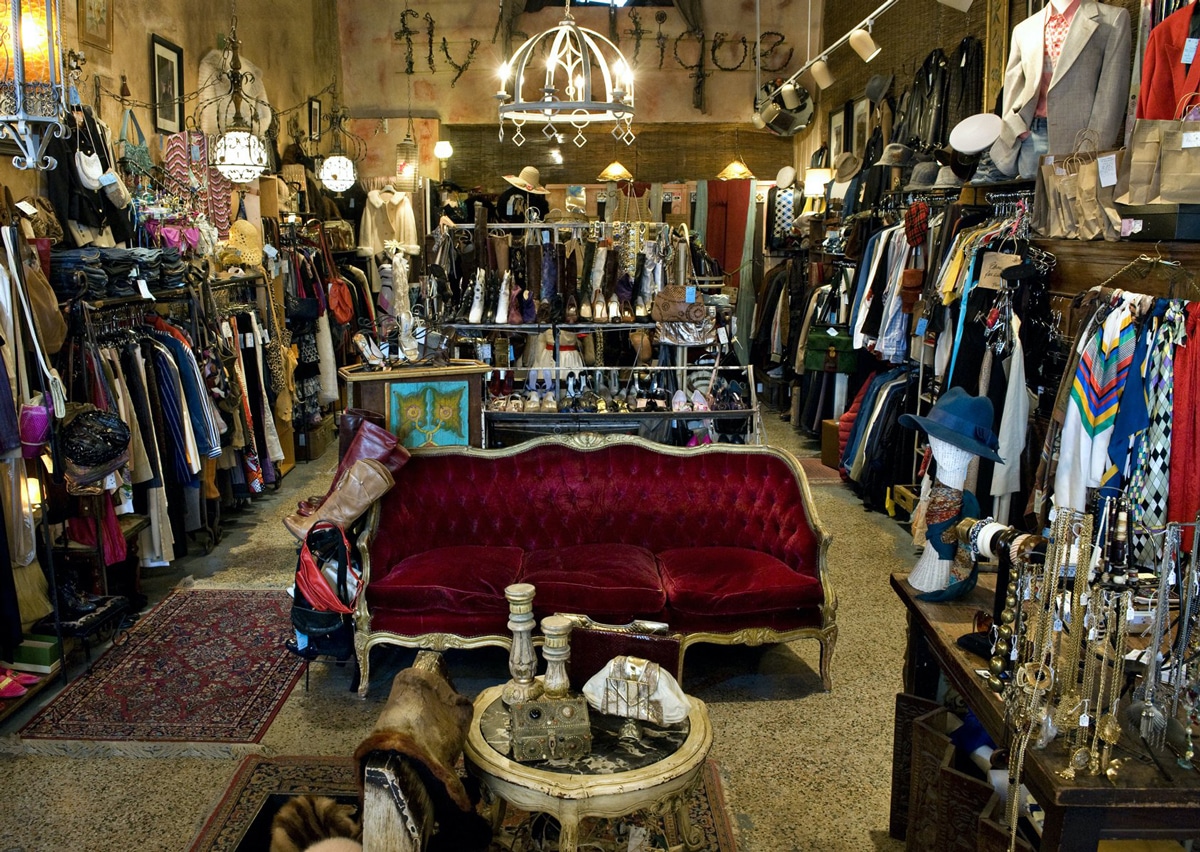 Hang at the Pool of a Retro Motel
Finally, relax by the pool. The iconic, boutique motel The Vagabond has a gorgeous pool bar. Grab a drink and call it a pool day. Located at 7301 Biscayne Blvd, Miami, FL. Visit their website for more information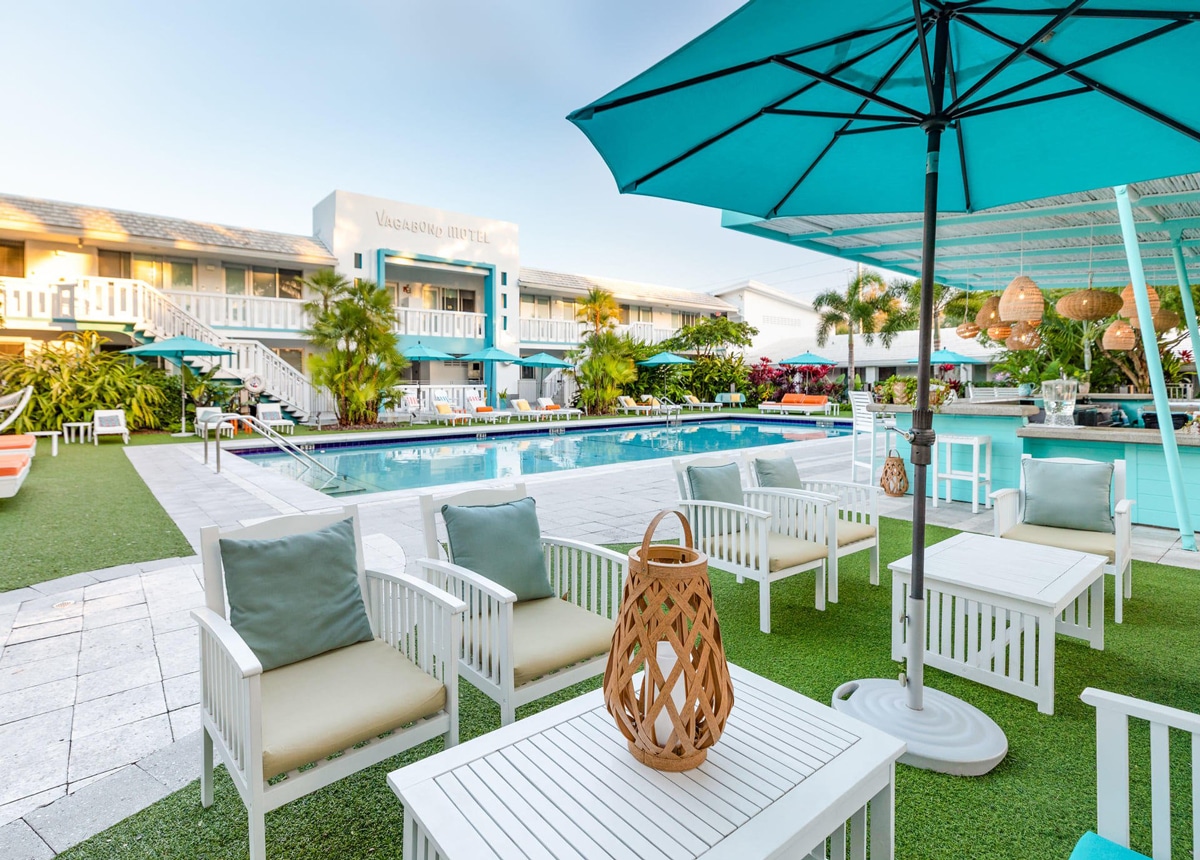 What Does MiMo Mean?
Miami Modernist architecture, or MiMo, is a regional style of architecture that developed in South Florida during the 1950s and 1960s. MiMo was internationally recognized as a regionalist response to the International Style developed in the 1920s and 1930s that rejected all ornament and color in works of architecture. The term MiMo has only recently been associated with the style. Read more about Miami Modernist architecture.
In conclusion, if you haven't visited the MiMo district you're missing out. Plan a day in this Miami hidden gem and let me know all about it in the comments!
Pin This Miami Guide For Later!