I'd been looking forward to L'Artisane Bakery's opening for weeks. Their location windows had been covered by paper with a beautiful pink flower design. I knew a cute bakery was coming to Coral Gables and I was right!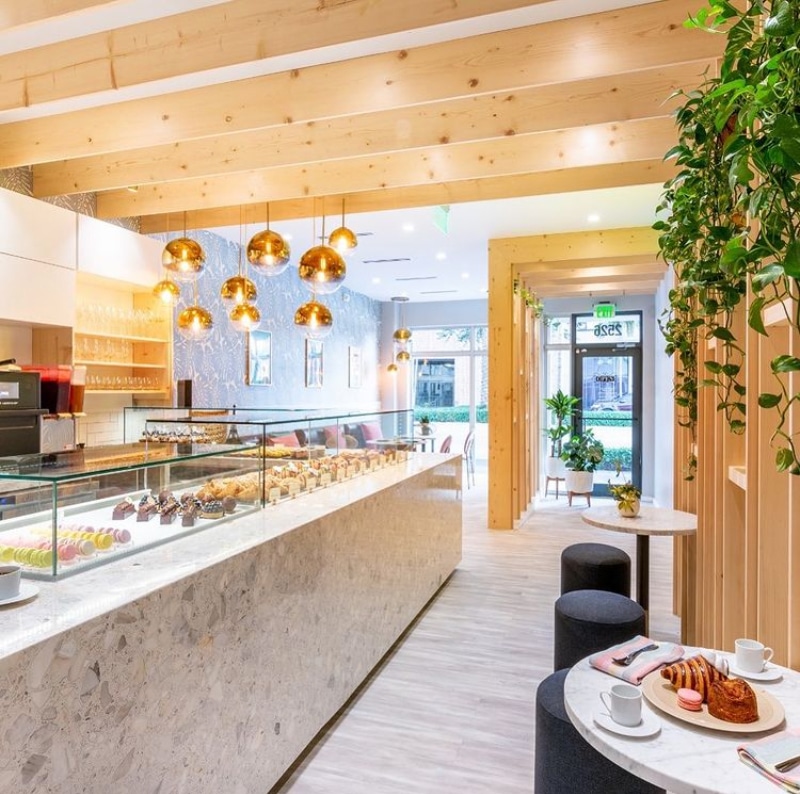 Instagrammable Vegan Bakery In Coral Gables
As you walk into L'Artisane Creative Bakery you relax into a world of delicious fresh vegan baked goodies and adorable decor. They have a flower wall with a neon sign with glowing words reading "Fabulous Vegan." You will feel fabulous enjoying their vegan macarons while you sit in a half booth by the window with sunlight streaming in and bouncing off the Parisian wallpaper. You'll want to snap a pic before you bite into your croissant and share it with your friends. Each pastry is a beautiful work of art.
RECOMMENDED READING: MiMo Miami District a Must See Hidden Gem
The Perfect Place For a 3 O'Clock Cafecito
L'Artisane is the perfect place to meet a friend for coffee or have a friendly business meeting. The space just puts you in the a good mood. I recently visited with my friend Wendy (yourhelpfulwendy.com) and we caught up after a year of not seeing each other. We laughed, sipped coffee and nibbled on croissants for three hours. If their mission is to bring a little taste of France to you, they are doing it right.
Everything is Vegan at L'Artisane Creative Bakery
At L'Artisane Creative Bakery, all of their products are handcrafted and baked fresh every morning. They sell croissants, cruffins (a croissant-muffin), macarons, tarts, avocado toast, sandwiches, salads, empanadas, and limited edition goods like their S'mores croissant.
Everything on the menu is vegan. You'll find lunch items like their TuNo Croissant Sandwich made with wholesome ingredients like chickpeas, Boston lettuce and steak tomatoes.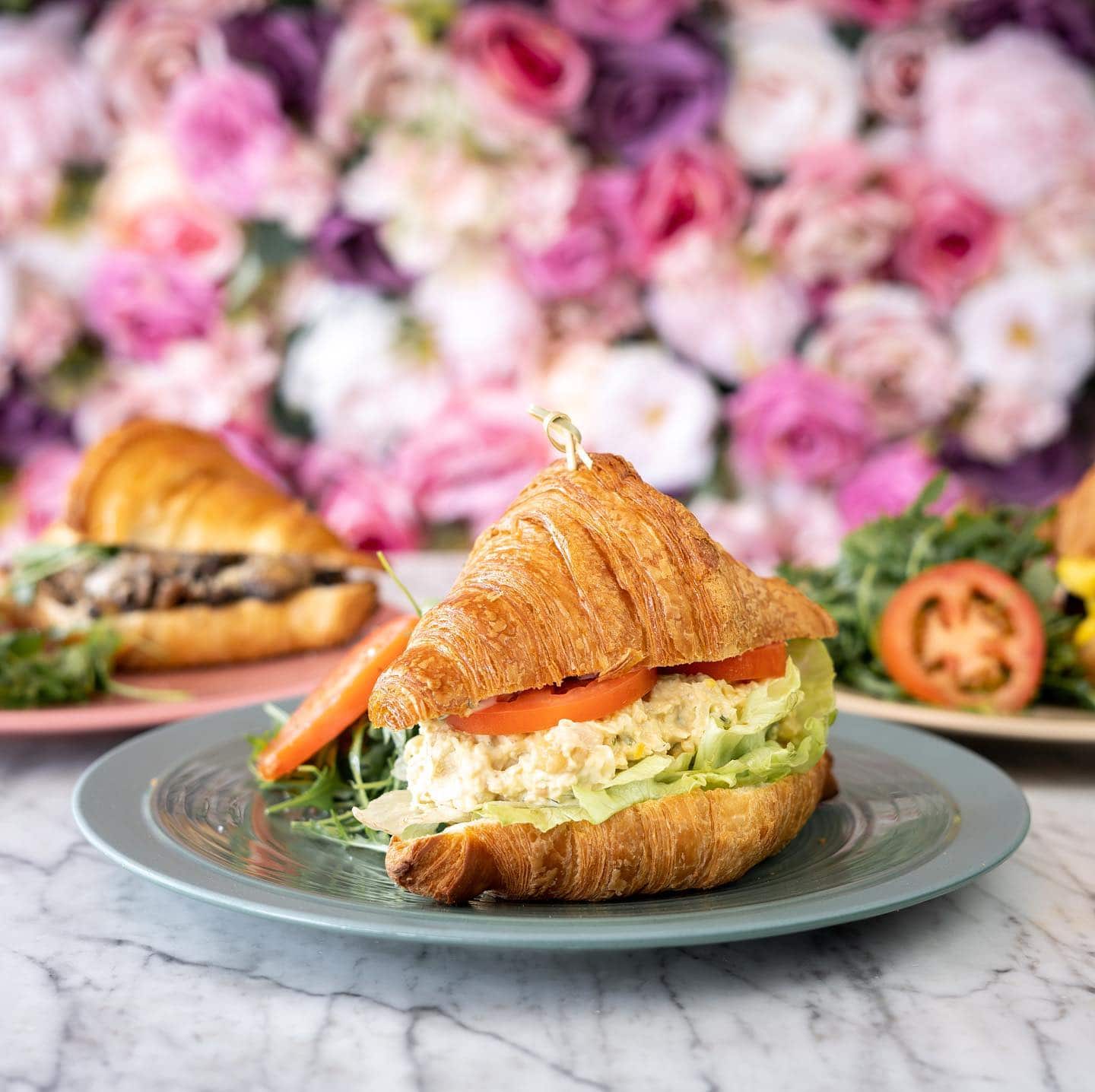 RECOMMENDED READING: The Gramercy: 10 Reasons To Visit This New Restaurant in Coral Gables
Carolina Molea, The Chef Behind L'Artisane Bakery
The Le Cordon Bleu-trained and American Culinary Federation Certified chef, is the owner and founder of L'Artisane Creative Bakery. Carolina was born and raised in Caracas, Venezuela in a home where food was always at the center of celebrations. Her grandmother, Ana, a professional cook, taught her how herbs and spices create dazzling dishes and mouthwatering desserts full of love and flavor.
She also learned the healing power of food and the great responsibility to nourish not only the bodies, but also, the souls of those we cook for. Her commitment to create a cruelty-free world through delicious and beautiful desserts comes through in her French-inspired bakery.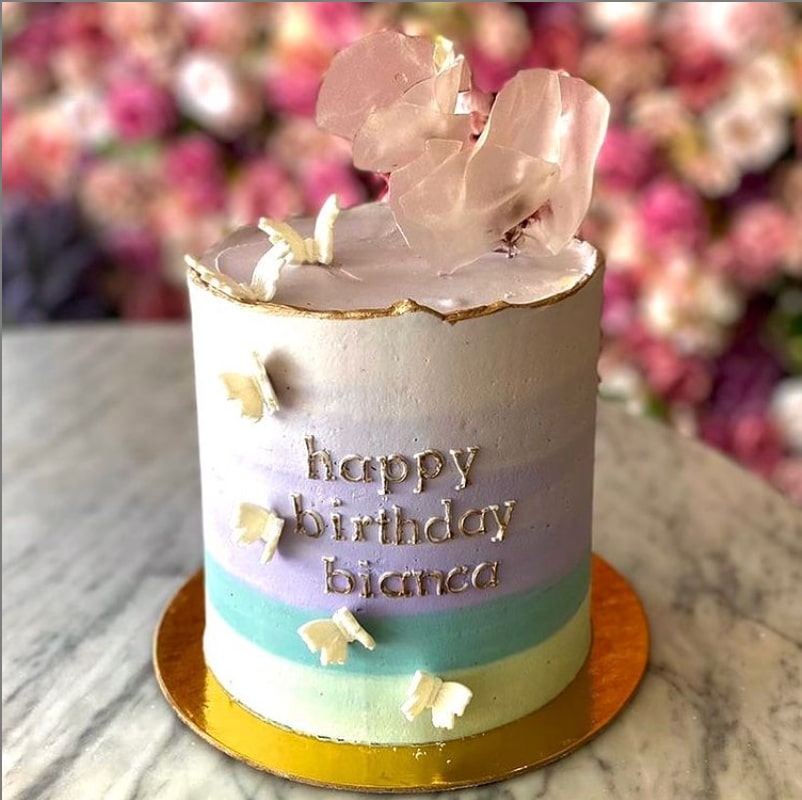 In March 2018, Carolina's dream of an All Vegan Bakery became a reality, L'Artisane Creative Bakery opened its doors to the city of Miami Beach in the style of classic French bakery becoming the first in its class in the United States, the creative bakery features a wide selection of viennoiserie, patisserie, chocolatier and savory food inspired by Carolina's memories in her visits to France, and her professional training in French cuisine. Now, she has relocated her vegan bakery to Coral Gables. Lucky for us!
At L'Artisane, Carolina blends traditional techniques with science to achieve the highest standards, using only the finest ingredients to offer a wide selection of sweet delights including classic Viennoiserie, such as croissants and pain au chocolat, breakfast items like egg-less croissants and quiches, as well as a seasonal-changing selection of tarts, chocolate bonbons and petits gateaux.
L'Artisane also offers a wide selection of sandwiches made with artisanal breads, wholesome salads, empanadas, salad bowls and the already famous Beyond Burger!, everything made fresh daily and 100% plant based and cruelty free, surprising and conquering even the most selective palates.
You definitely need to make plans to visit; and tell them Coral Gables Love sent you!
Their new storefront is open at 2526 Ponce de Leon Blvd. Coral Gables! From Monday- Sunday 7:30 am – 7:00 pm.
Pin This Miami Vegan Bakery For Later!