The weekend is almost here and you want to brunch with friends. But where? I asked the Coral Gables Love readers to share their favorite restaurants for brunch around Miami. The result is a list of over 30 amazing brunch spots in different South Florida neighborhoods – with menu recommendations included! Do you have a Miami restaurant that should be included in this list of best brunches? Let me know in the comments or email info@coralgableslove.com.
Now, let's begin our Miami brunch deep dive!
1. Little Hen (Best Brunch in Midtown Miami)
Imagine drinking mimosas with friends at a secret garden. That's what brunch at Little Hen is all about. The outdoor seating area is walled off by hedges dripping with pink and purple flowers, giving your meal a garden party vibe. This Midtown restaurant is currently one of the most popular brunch destinations in Miami. So make sure to make a reservation to get your table.
Coral Gables Love reader, Jazzy, recommends the chilaquiles and rose pancakes at Little Hen. While Martha says, "The chicken chilaquiles and the tequila mango drink are so good!" If you're into cocktails, order their cotton candy prosecco. It's a lovely experience watching the cotton candy disappear as the bubbly hits the wisps of sugar. Plus, it's a great Instagram brunch video you'll want to share. Bring your phone fully charged. At the hottest brunch spot in Miami, everywhere you look you'll find a perfect photo opportunity. Little Hen is located in Midtown Miami at 3451 NE 1st Ave Suite 100/102, Miami, FL . For more information visit little-hen.com
RECOMMENDED READING: Little Hen – New Miami Brunch Hotspot
2. Aguacate Sanctuary of Love (Top Brunch in Kendall)
If you haven't been to this open restaurant in Kendall, you are missing out. Aguacate is a vegan restaurant and animal sanctuary with a petting zoo in the back. They have a low-key, bohemian vibe with outdoor seating made of eclectic tables and chairs that have been upcycled. Most tables are shaded by umbrellas, colorful fabrics, or trees protecting you from the summer sun. Aguacate is the fun brunch spot to sit back, relax, and connect with nature. Once you finish your meal, enjoy seeing happy animals eat while they're pet by tiny human hands. If you are looking for a unique brunch experience where you unwind and leave unburdened from your everyday anxiety, visit Aguacate. Aguacate is located at 12100 SW 43rd St, Miami, FL. For more information visit aguacatewellness.com
3. La Placita (Popular Brunch in North Miami or MiMo District)
Brunch while listening to classic salsa jams. La Placita Miami is a restaurant, marketplace & nightlife destination serving Latin American cuisine. You can't miss it. It's the three story building painted with the Puerto Rican flag. La Placita is located at 6789 Biscayne Blvd, Miami, FL. For more information visit laplacitamiami.com
RECOMMENDED READING: MiMo Miami Restaurant Guide
4. Bachour (Instagrammable Brunch in Coral Gables)
Bachour's iconic flower entrance sets the stage for a fantastic brunch with impeccable food. Located in the heart of Coral Gables, Bachour, is the restaurant, bakery and pastry shop by world renown pastry chef Antonio Bachour. The menu is Contemporary American, and features a full-line of croissants, egg-based dishes, tartines, sandwiches, salads and main courses as well as Bachour's petite-gateux, macarons and bonbons.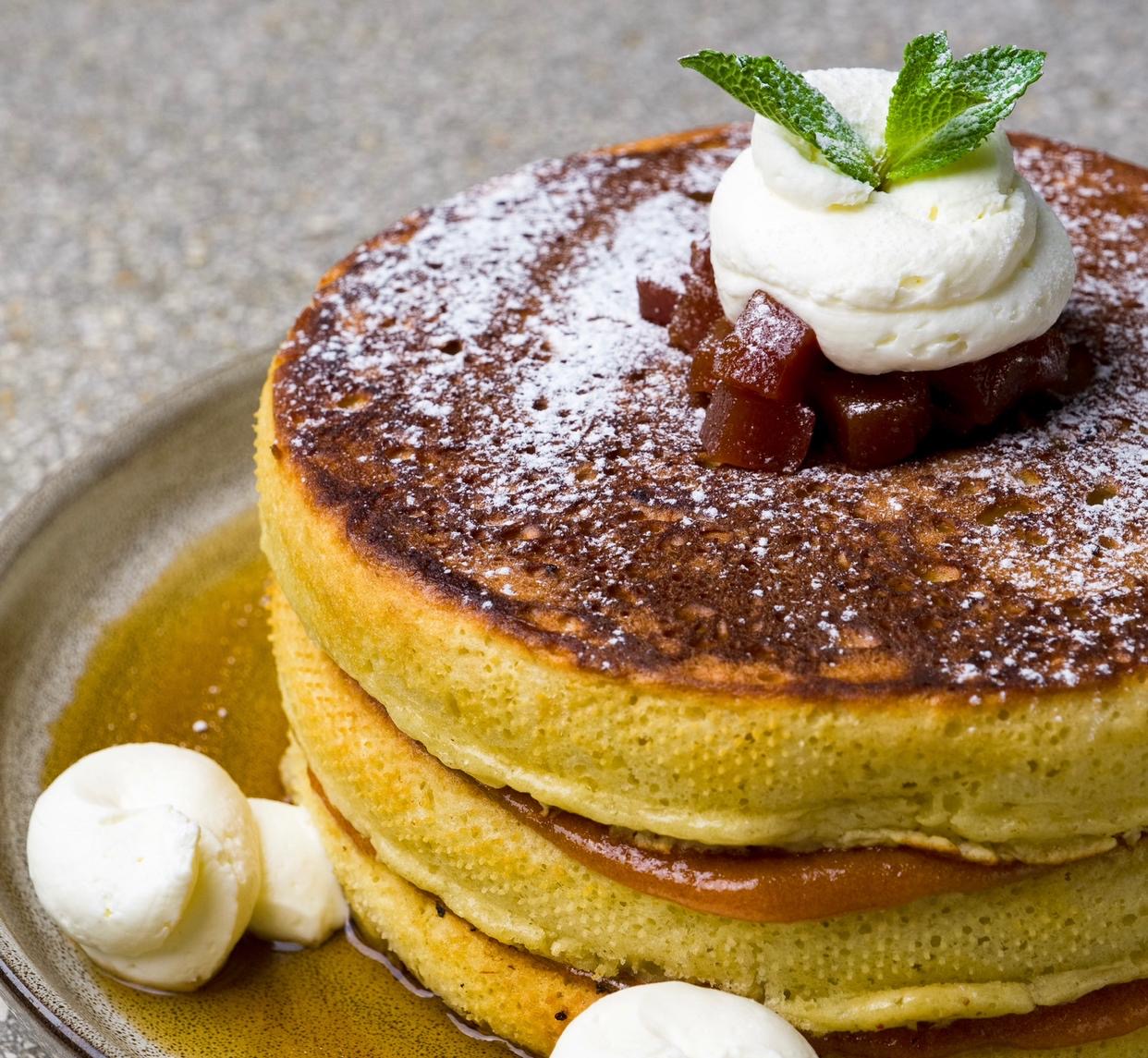 Add a tropical flair to your breakfast and order the Guava and Cheese Pancakes. CGL reader, Janice, recommends the Spanish Scramble. Don't leave without ordering one of chef Antonio Bachour's glazed pastries or tarts. They are such amazing works of art, you'll have a hard time destroying them by biting into them. Bachour is located at 2020 Salzedo St, Miami, FL. For more information visit antoniobachour.com
RECOMMENDED READING: Bachour Bakery & Restaurant in Coral Gables
5. Eating House (Best Brunch in Coral Gables)
Eating House does not mess around when it comes to brunch. With a motto that says, ""If cooking is an art, we're making graffiti", you can expect creative and fun dishes at this restaurant. Start by sipping guava mimosas and nibbling on candied bacon. Then follow reader Estefania's recommendations by ordering the Calentado and Captain Crunch Pancakes. Other readers also recommend the Cuban bread torrejas.
This beloved Coral Gables gem is closing its doors on July 18, 2021. Make sure you visit one last time before they close. Eating House is located at 804 Ponce de Leon Blvd, Coral Gables, FL. For more information visit eatinghousemiami.com
RECOMMENDED READING: For the Best Pancakes in Miami, Make Reservations at Eating House
6. Seaspice (Best Brunch Restaurant on the Water)
Miami's hottest spot for amazing seafood and beautiful waterfront dining is located on the banks of the Miami River. Just minutes from Downtown Miami and the Brickell Financial District, Seaspice Brasserie and Lounge, has brought a vision unlike any other to the Miami River, transforming a post-industrial warehouse outfitted in unexpected, sophisticated nautical touches into a world renowned fine dining destination. Coral Gables Love reader, Suzy, recommends you try the risotto. Seaspice is located at 422 NW N River Dr, Miami, FL. For more information take a look at the Seaspice brunch menu. seaspice.com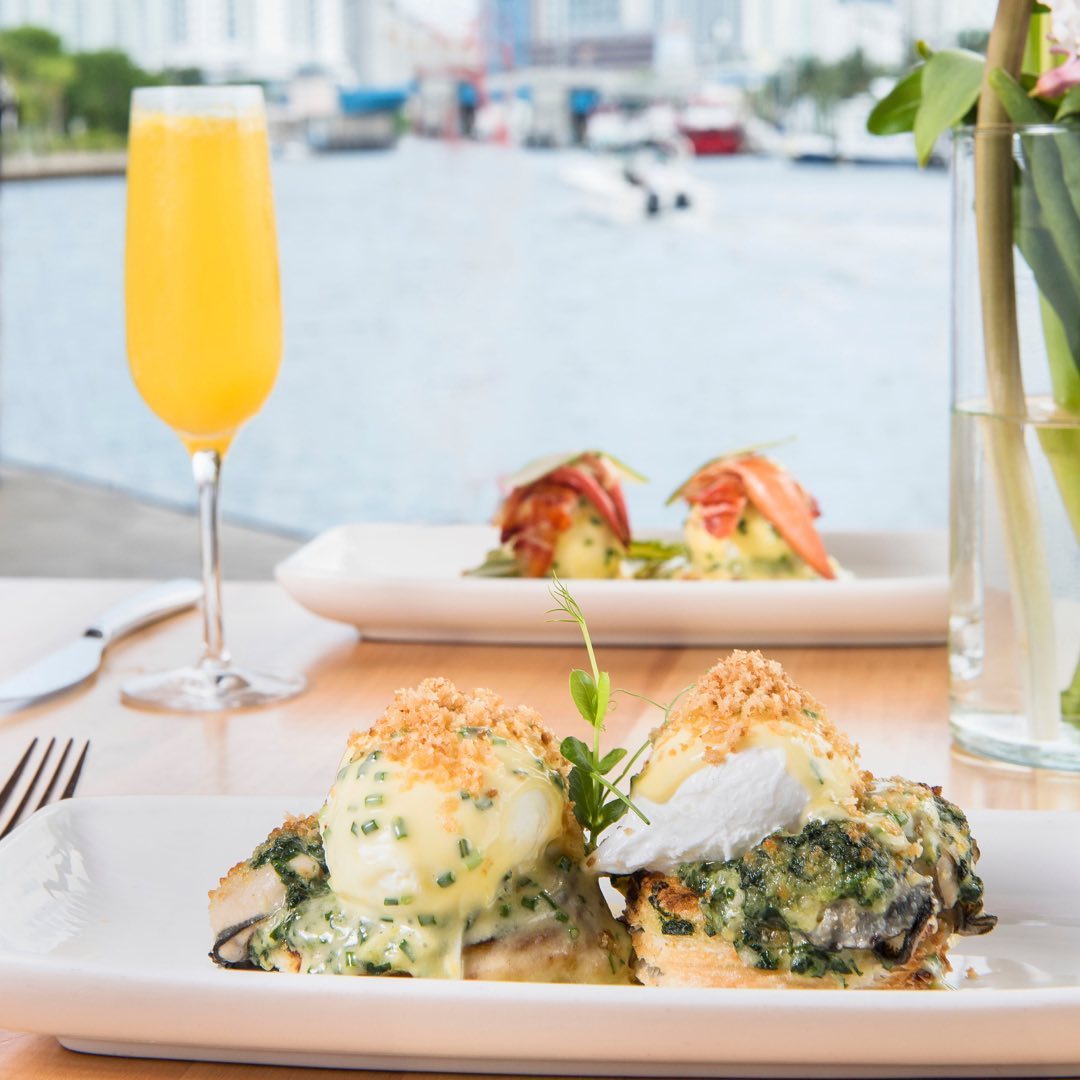 7. Blvd Bae's (Outdoor Brunch in North Miami or MiMo District)
This MiMo restaurant has the cutest outdoor patio with twinkling lights in the back and big shady umbrellas in the front. Their peach bellinis are the perfect bubbly and refreshing drink for brunch. Plus, Blvd Bae's has a really cute plant oasis next door you can checkout while you wait to be seated. Blvd Bae's is located at 7244 Biscayne Blvd, Miami, FL. blvdbaes.com
8. KYU (Cool Brunch Spot in Wynwood)
Brunch queen and Coral Gables reader, Theresa recommends KYU for brunch. KYU offers brunch Sundays only from 11am to 4pm. Order the crispy banana and bourbon French toast served with salted butter and maple syrup. Pick your favorite take on eggs Benedict from yuzu hollandaise, soft shell crab, crispy pork or crispy kale. You can also order from their wood fired menu items, after all their tagline is "Wood Fired, Asian Inspired." KYU is located at 251 NW 25th St, Miami, FL. For more information visit kyurestaurants.com.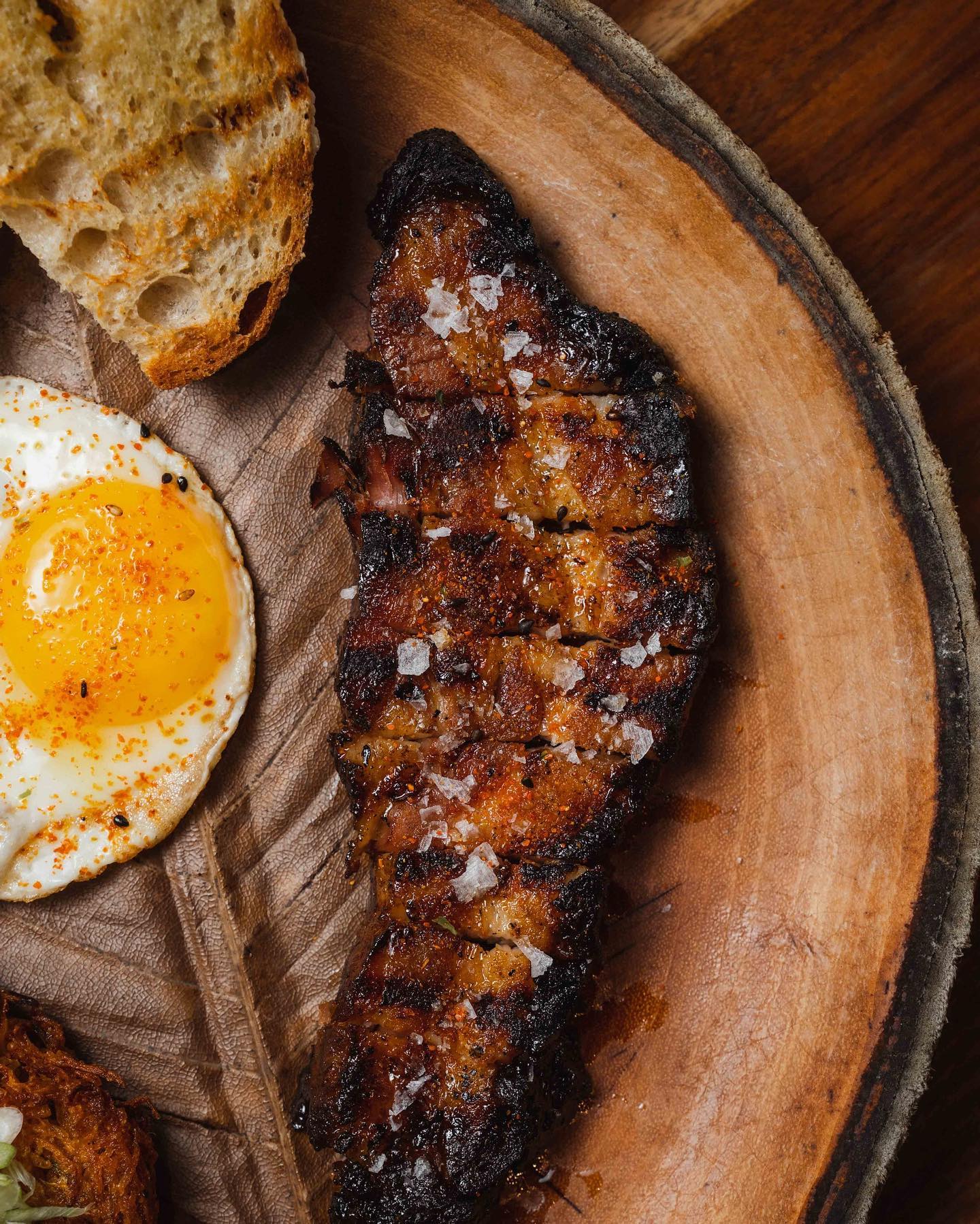 9. ZUMA (Trendy Brunch Spot in Downtown Miami)
On Saturday and Sunday, the Zuma brunch buffet offers a sophisticated twist on the Japanese izakaya style of informal eating and drinking. It's also a celebrity favorite frequented by Shakira, Dwayne Wade, and Gloria Estefan. You might enjoy brunch with ShakiraRebecca, a Zuma fan and CGL reader, says, "Its a buffet! All you can eat at Zuma with beverages included. I love the mushroom hotpot and the spicy beef tenderloin. Try the age tofu salad and matcha arnold palmer too." Zuma is located in the Kimpton EPIC Hotel, 270 Biscayne Blvd Way, Miami, FL. For more information, please visit zumarestaurant.com
10. Verde at PAMM (Outdoor Brunch in Downtown Miami)
Verde, located in Pérez Art Museum Miami with sweeping views of Biscayne Bay, is a modern, casual restaurant with outdoor seating on their expansive terrace. Led by Executive Chef Hedy Goldsmith, the menu is locally inspired, featuring dishes prepared with fresh, seasonal ingredients and her signature pastries. Handcrafted specialty cocktails and a select list of carefully curated wines complement the creative cuisine.
Coral Gables Love reader, Chris says, "The first time I went there, I ordered the tortilla Española for Mother's Day (took my wife and toddler). The pancakes they put together for Mother's Day looked like a work of art. I want to try the rest of the menu though. What sold me was the attention to detail that they give to kids there. You don't find that level of service in Miami for families."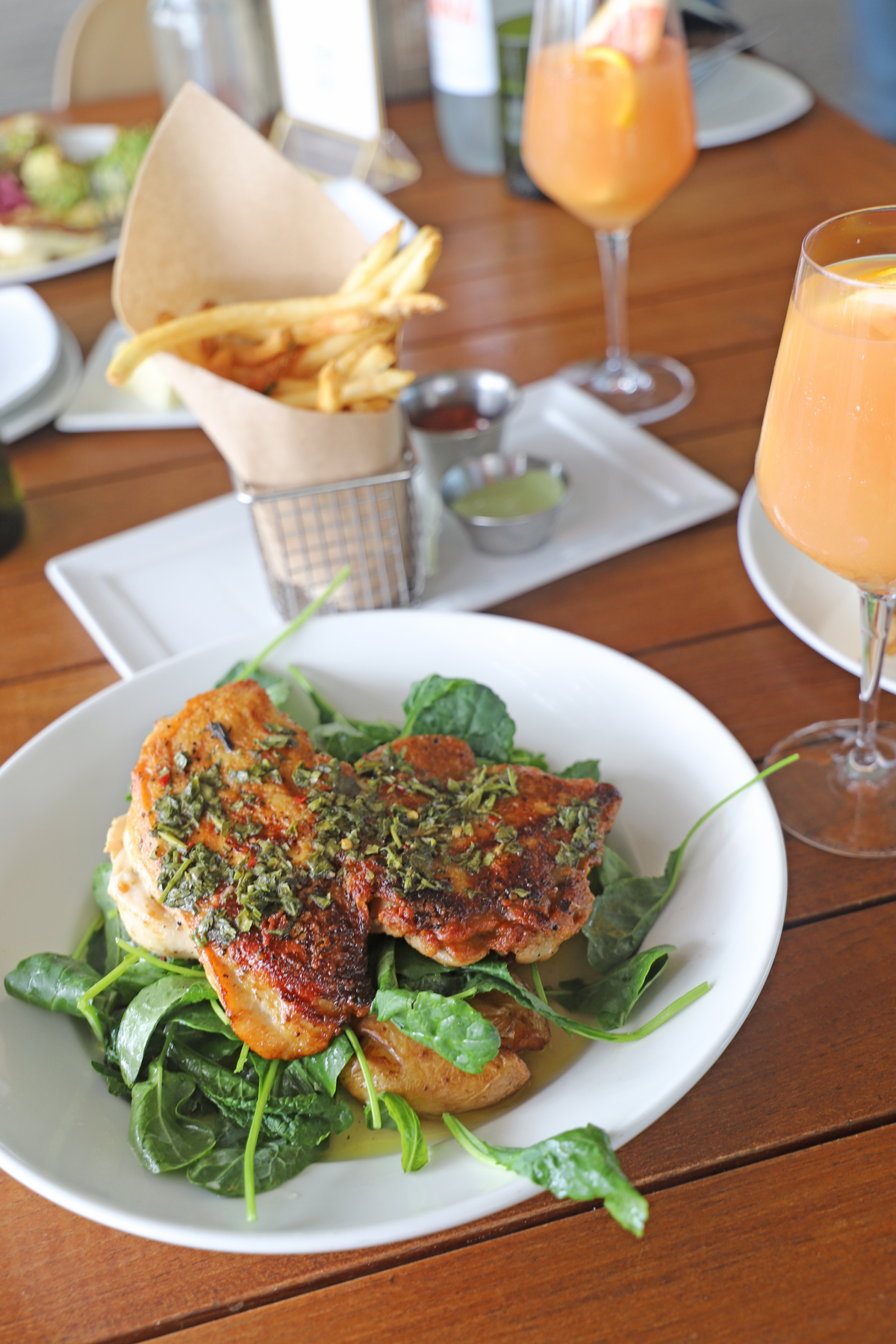 I recently visited Verde and also recommend their Crispy Chicken and Mediterranean Sampler with house-made hummus, tzatziki, tomato-mint salad, tahini vinaigrette, and za'atar flatbread. Their food is fresh and full of flavor. Plus, the breeze from the bay and the incredible water views create the perfect setting for brunch with friends and family.
Verde is located in Pérez Art Museum Miami, 1103 Biscayne Blvd, Miami, FL. For more information visit verde-restaurant.com
11. Gustave (Bottomless Mimosa Brunch in Coral Gables)
For a brunch with authentic French cuisine and bottomless mimosas, visit Gustave in downtown Coral Gables. This beautiful restaurant opened recently and is brining a strong brunch game to Miami. Inside you'll find a spacious dining area peppered with colorful chairs and a gorgeous tiled floor. Enjoy the Miracle Mile promenade by brunching outside under the shade of a large umbrella.
Coral Gables Love reader Dayana recommends, "For brunch I love the Croissant Scramble.. best croissants I've ever had in my life! Also I love their fries and they have the best dessert tarts!! The best one I've tried is the almond pear tart." I agree with Dayana. The croissants at Gustave are perfection. Gustave is located at 366 Miracle Mile, Miami, FL. For more information visit gustaverestaurant.com
12. Serena Rooftop (Best Rooftop Brunch in South Beach)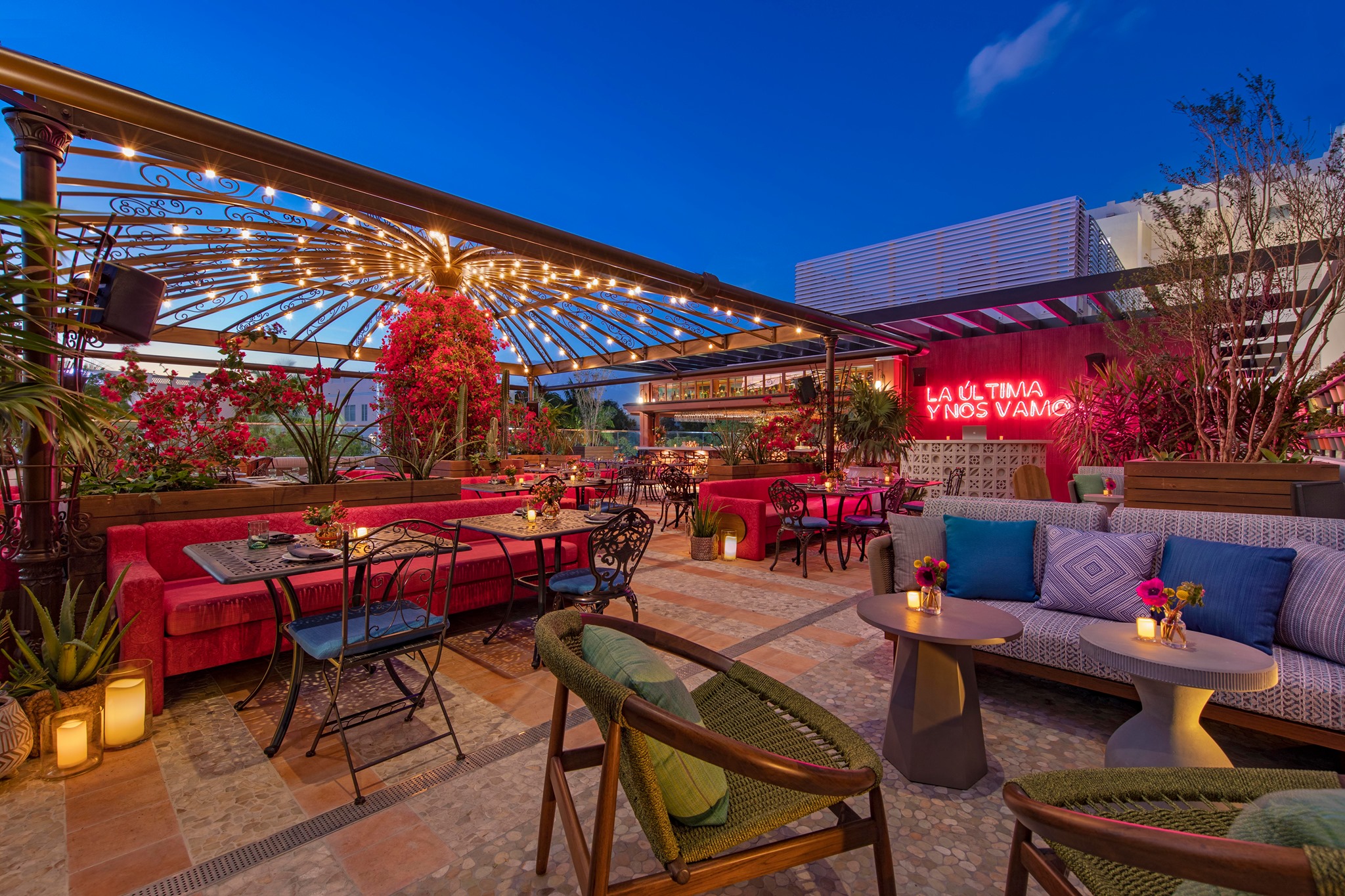 Located at the top of the Moxy Miami Hotel in South Beach, Serena restaurant, has the best brunch views for miles. From the central courtyard, ascend a staircase to Serena, an open-air rooftop bar and restaurant that channels the enchanting, alfresco patio dining of Oaxaca and Mexico City. Located on a vibrant, lushly planted terrace, Serena offers laid-back yet sophisticated vibes like no other bar and restaurant in South Beach. Lounge and table seating, an expansive menu of shareable dishes and a modern take on traditional Latin and Mexican cuisine fosters an inviting atmosphere for buzzy brunches with live music. Coral Gables Love reader, Chris says, "My new favorite spot for brunch is Serena Rooftop at the Moxy." Serena Rooftop is located at 915 Collins Ct, Miami Beach, FL. For more information visit serenamiami.com
13. PANI (Fun Brunch at Aventura Mall)
Walking into PANI feels like walking into a storybook of magic realism with giraffe chandeliers growing from the walls and scalloped velvet chairs fit for a mermaid princess tea party. This unique restaurant serves homemade, comfort food made fresh daily. They offer breakfast all day and have a great selection of desserts. PANI is located at Aventura Mall 19501 Biscayne Blvd Suite 940, Aventura, FL. For more information visit welovepani.com
14. Cafe Kush (Brunch on the Water in North Miami / MiMo District)
Kush Cafe is meant to combine the best of a European bistro with an in-your-face Miami attitude. Playing off the art deco vibes of the neighborhood, the motel-style of the hotel, and the relaxing water view means this funky cafe transports guests to their very own Miami Riviera. The menu includes classics such as French onion soup, Croque Monsieurs, Ratatouille, and Frog Legs but also keeps the Kush essentials like award-winning burgers, local craft beer, Chicken and Waffles, and Key Lime Pie combining the best of American and Bistro cuisine. Cafe Kush is located at the Gold Dust Hotel in Miami's MiMo District 7700 Biscayne Blvd, Miami, FL. For more information visit kushhospitality.com
15. Beaker & Gray (Brunch with Good Cocktails in Wynwood)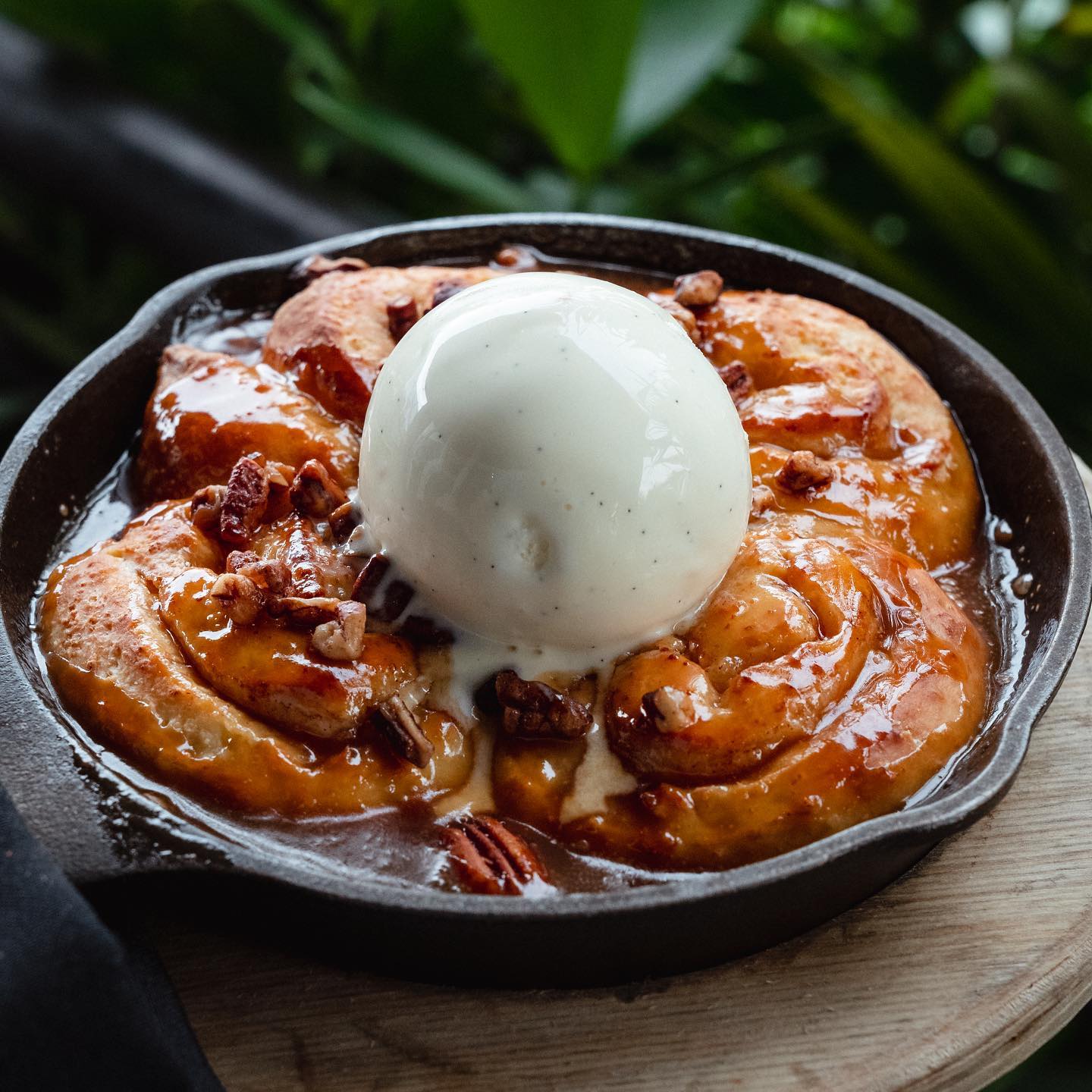 This eatery and bar in Wynwood with an inventive, playful, globally-inspired menu and vibrant bar scene. Brunch: Saturday & Sunday from 11-4 PM. Beaker & Gray is located at 2637 N Miami Ave, Miami, FL. For more information visit beakerandgray.com
16. Greenstreet (Brunch While People Watching in Coconut Grove)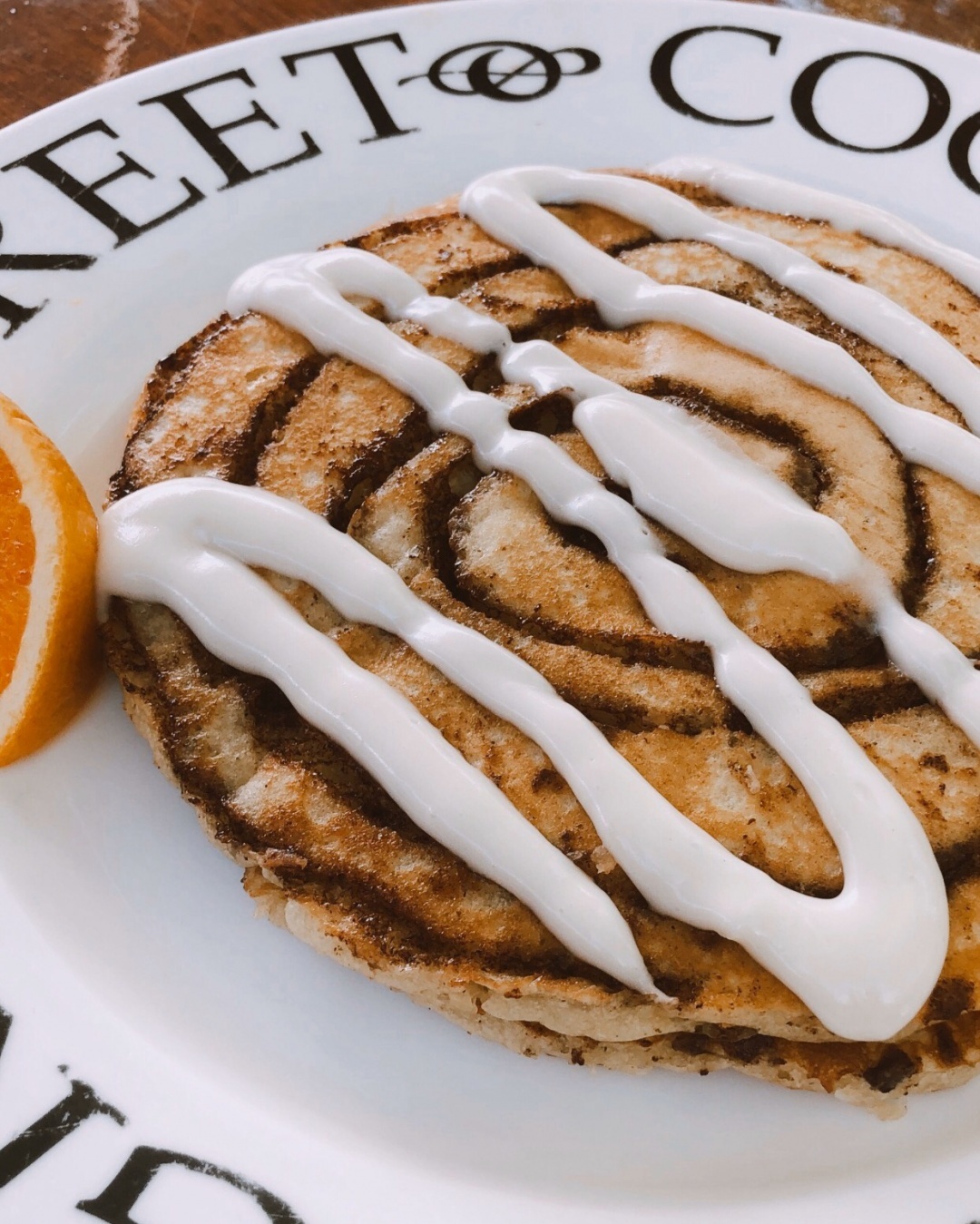 GreenStreet Café in Coconut Grove offers American Eats all-day and people watching from their outdoor lounge. Maglenys recommends, "Nova platter or Nutella French toast". Shayla recommends their Eggs Benedict. GreenStreet Cafe is located at 3468 Main Hwy, Miami, FL. For more information visit greenstreetcafe.net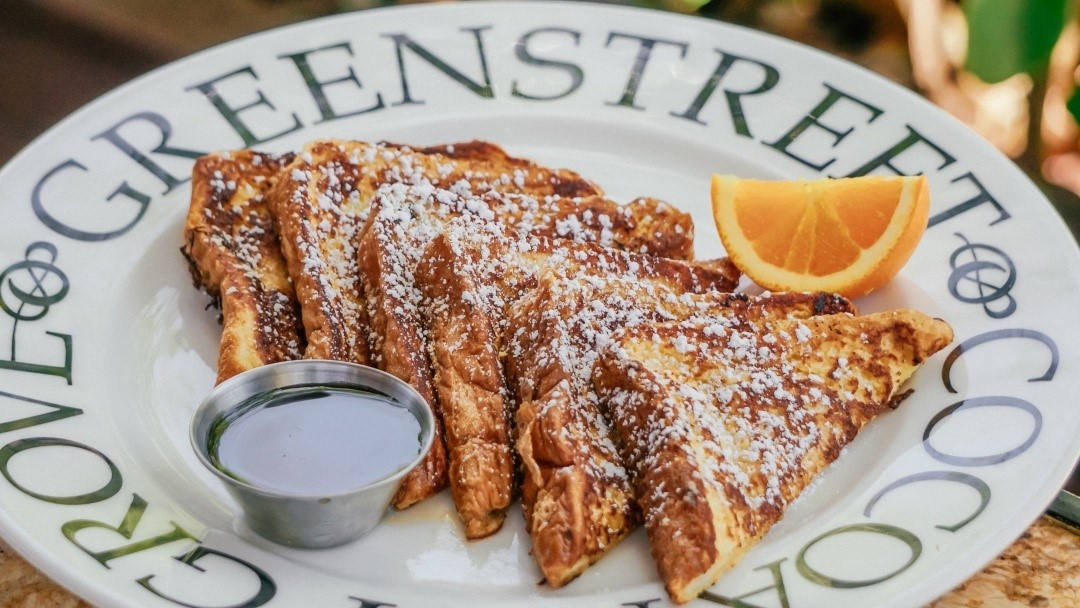 17. Ariete (Popular Brunch Coconut Grove)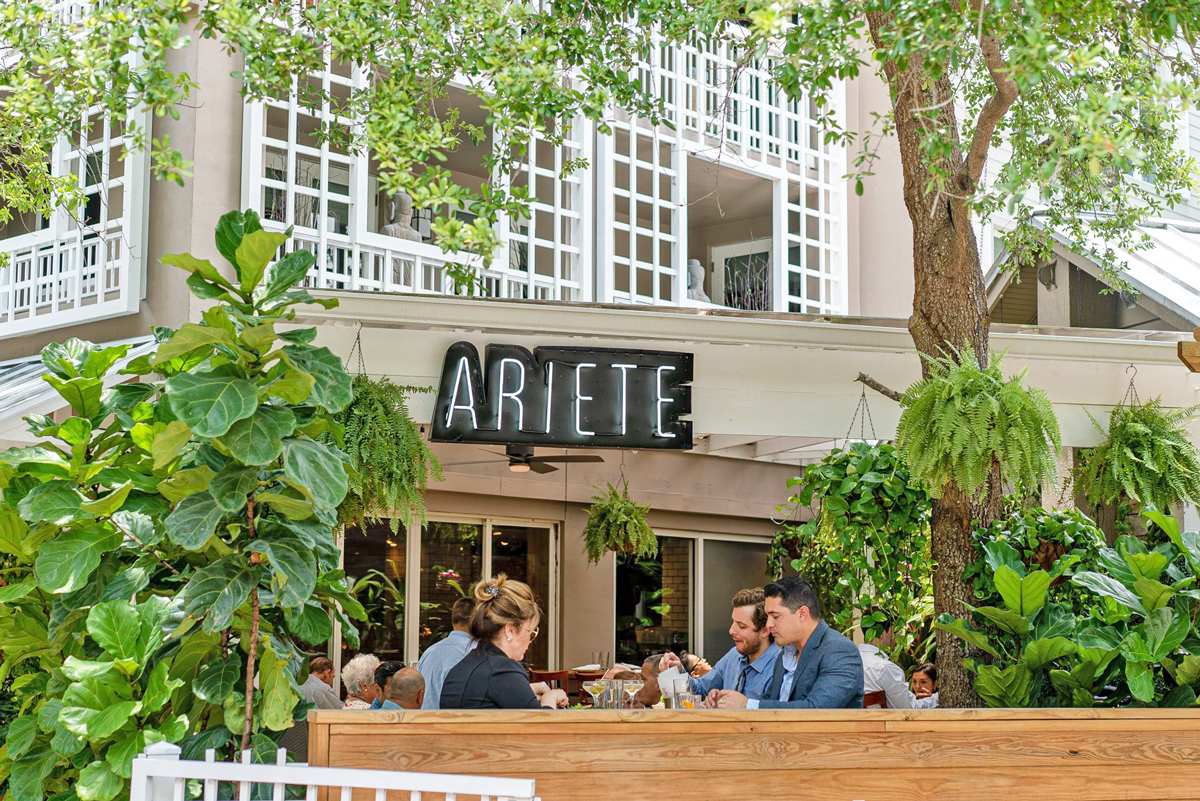 The Ariete menu is inspired by Executive Chef & owner Michael Beltran's Miami roots, Cuban-American heritage & French culinary training. Enjoy the intimate and pleasant covered terrace shaded by lush nature known to Coconut Grove. Their popular brunch dish is the Guava Pancake: Redland guava, cream cheese crema, coffee crumble, and powdered sugar.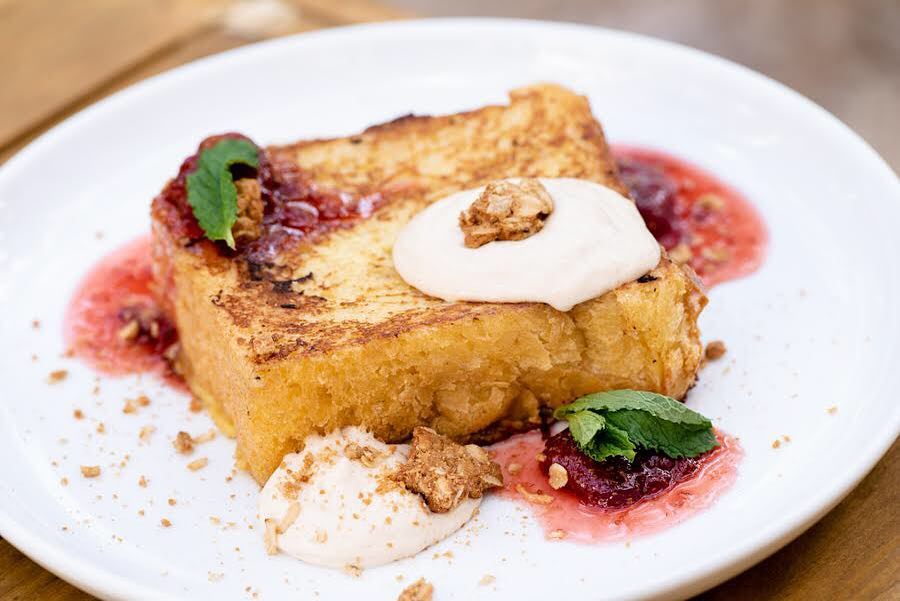 A Coral Gables Love reader says, "My husband and I are creatures of habit, we split a burger and the cast iron pancake and sometimes the seasonal buratta!" Ariete is located at 3540 Main Hwy, Coconut Grove, FL. For more information visit arietecoconutgrove.com
18. Tap 42 (Lit Party Brunch in Coral Gables)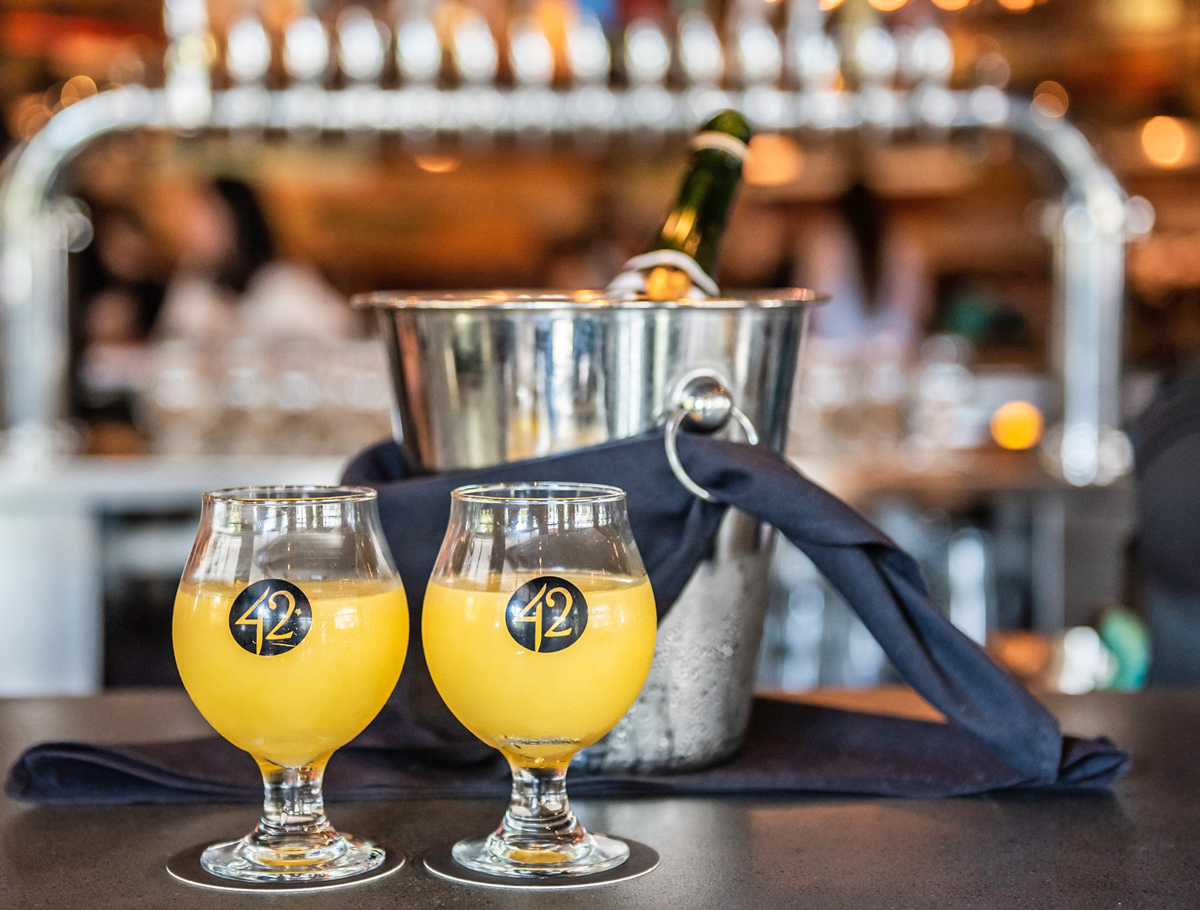 If you're looking for a lit brunch with a live DJ, unlimited alcohol, and dancing – then Tap42 is the place to be. They offer Bottomless Brunch every Saturday and Sunday from 11am – 3pm with $25 unlimited Mimosas, Bloody Marys, and Funky Buddha Floridian beer.
Load up on some food to soak in all those sparkly drinks. The Southern Fried Chicken & Waffles are hand battered buttermilk chicken tenders served over fluffy waffles. The Hangover Sandwich brings a fried egg, smashed avocado, hash browns, white cheddar, and crispy bacon served on a toasted Brioche bun. Tap 42 is located at 301 Giralda Ave, Coral Gables, FL. For more information visit tap42.com/coral-gables.
19. Honey Uninhibited (Southern Comfort Brunch in West Brickell)
Please be advised Honey Uninhibited is temporarily closed as they update their kitchen and plan on re-opening on July 18th.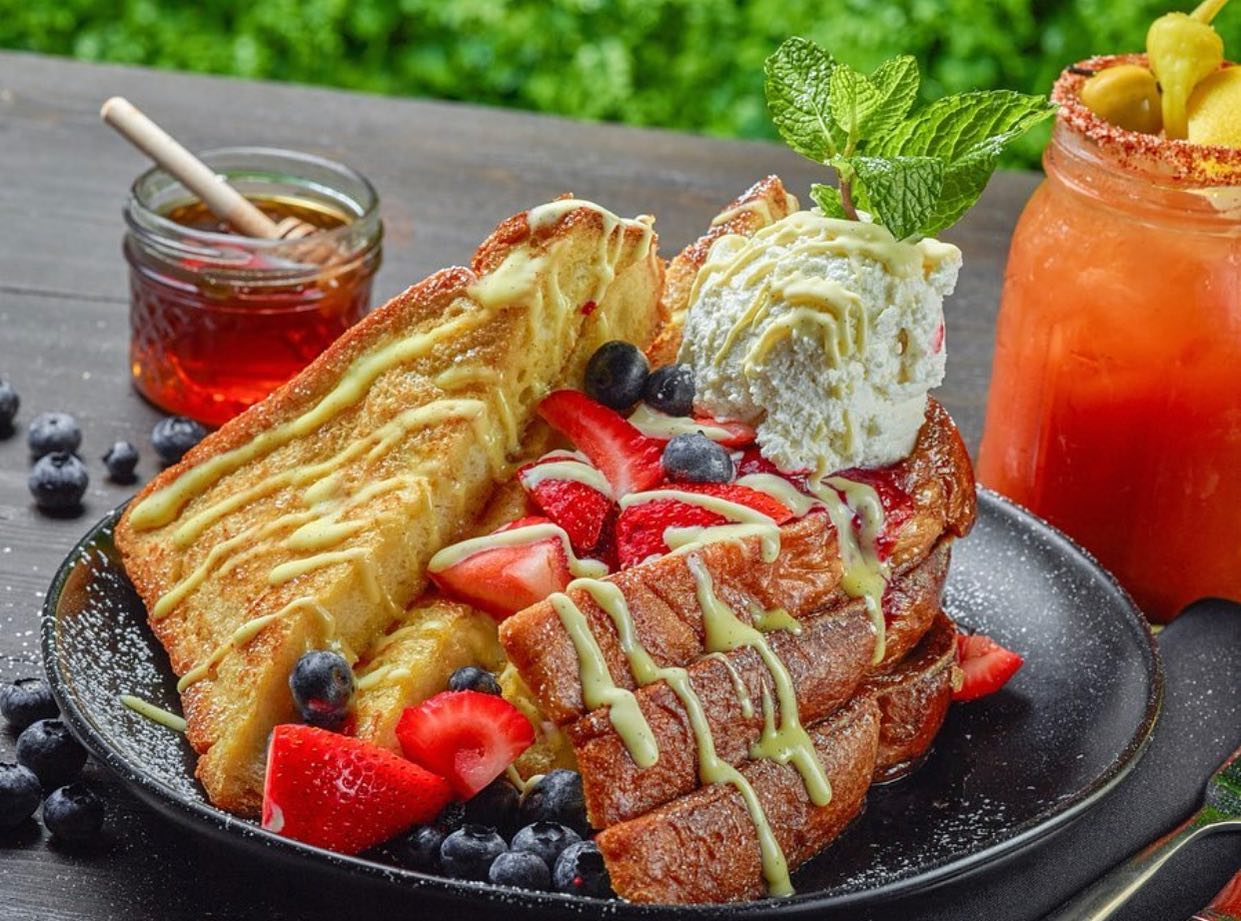 Carlos Dunlap, the "foodie" himself, is delighted to bring you his Uninhibited Palate of flavors from both his global adventures and the Low-Country home region of the Deep South.
Here you can experience a diverse menu of staple dishes from every corner. Indulge in the infamous Gullah Shrimp & Grits from our owner's beloved hometown of Charleston, South Carolina. Stick your fork in the Southern Comfort which rivals a staple dish he tried in Spain, yet his southern roots still win over this dish, think biscuits 'n sausage gravy over a Spanish omelette. Choose to experience the unforgettable taste of our Sweet Chick Benny, a succulent chicken thigh & egg selection inspired by an entrée that left a lasting impression on Carlos when he visited Atlanta for his sister's graduation. Something about the dark meat that just takes this dish to another level.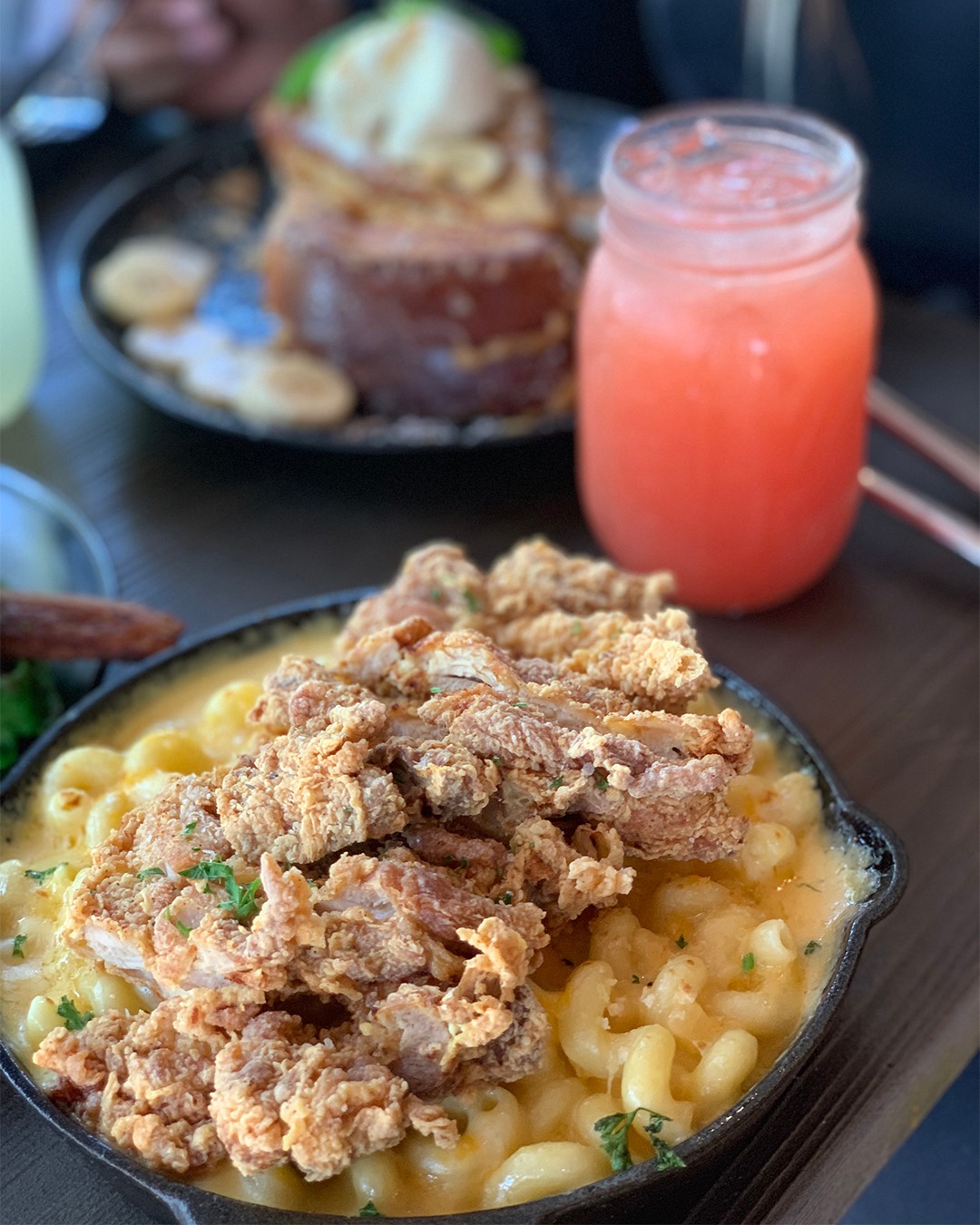 Just like the diversity in his travels, our menu hosts a variety of delectable Vegan dishes that originate from all over the map. The fan-favorite, our "Vegan Scramble", offers a flavorful curry taste that we've noticed leaves our guest gleaming with the best compliment of all time, a Smile.
Coral Gables Love reader Andie says, "Ohhhhhh, so many dishes lol the sweet chick Benny, gullah shrimp and grits, and the creme de la creme French toast 🤤🤤 plus their coffee is really good which is very important. My friends have had all their other bennys and say it's delicious." Honey Uninhibited is located at 1777 SW. 3rd Ave., Miami, FL. For more information visit honeyuninhibited.com
20. Icebox Cafe (Cute Outdoor Brunch in Hallandale)
Icebox Cafe's newest location in Hallandale Beach, features a menu stacked with classic favorites including a eggs Benedict, pancakes and French toast. Their Eggs Benedict are poached eggs, hollandaise sauce, roasted potatoes and applewood smoked bacon served over a biscuit. Coral Gables Love reader Belinda says, "If you want something sweet the guava cream cheese french toast & lemon ricotta pancake are the best! Something salty would be steak & eggs." Icebox is located at 219 NE 3rd St, Hallandale Beach, FL. For more information visit iceboxcafe.com/hallandale-beach
21. L'Artisane (Vegan Brunch in Coral Gables)
Visit this creative French vegan bakery with a wide range of pastries, petit gateaux, viennoiserie, gourmet sandwiches, and salads. They have great coffee and delicious croissants. L'Artisane is located at 2526 Ponce de Leon, Coral Gables, FL. For more information visit lartisanebakery.com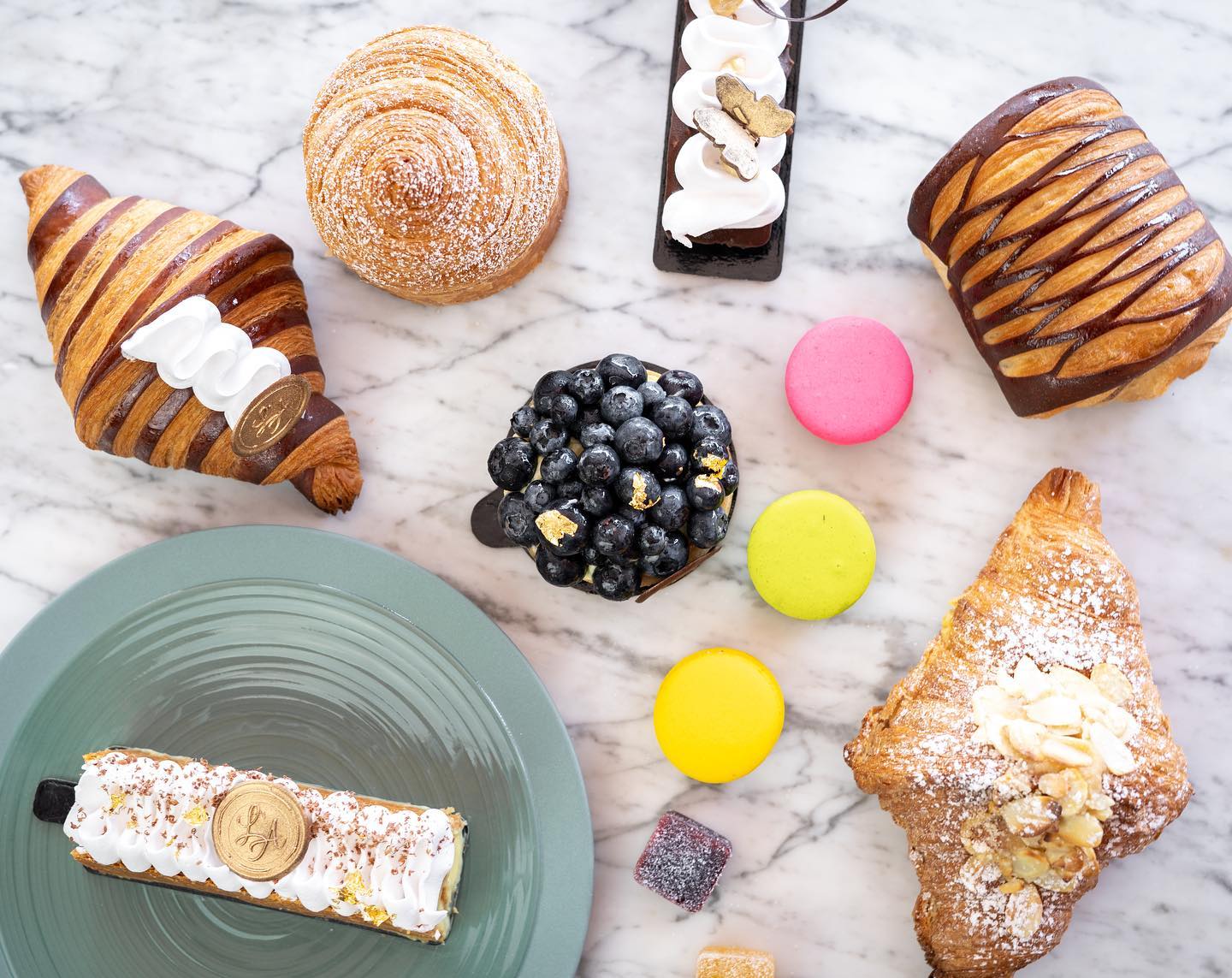 RECOMMENDED READING: New Vegan Bakery, L'Artisane, Opens Adorable Location in Coral Gables
22. Chocolate Fashion (Family Friendly Brunch in Coral Gables)
I'll let you in on a secret. This local bakery and cafe is my favorite restaurant of all time. I've been a regular at this restaurant for over a decade because their food is delicious and the people are so friendly and kind. I have to stop myself from visiting every single day. So if you're looking for me, a good place to look is the Chocolate Fashion on Andalusia.
When it comes to brunch, they bring their best; and the locals know it. There's a wait to get a table around 10 or 11am, but it's totally worth it. Order a massive pancake and add your choice of chocolate chips, bananas, strawberries or blueberries. I also love their thick and fluffy Brioche French toast with brûléed bananas, strawberries, and blackberries drizzled with a vanilla bean sauce. Their eggs benedict are also delish. Their pastries and coffee are amazing! And if you have a healthy eater in your party they have a legit fruit salad with kiwi and none of that pesky filler melon. Chocolate Fashion is located at 248 Andalusia Ave, Coral Gables, FL. chocolatefashiononline.com
23. B Bistro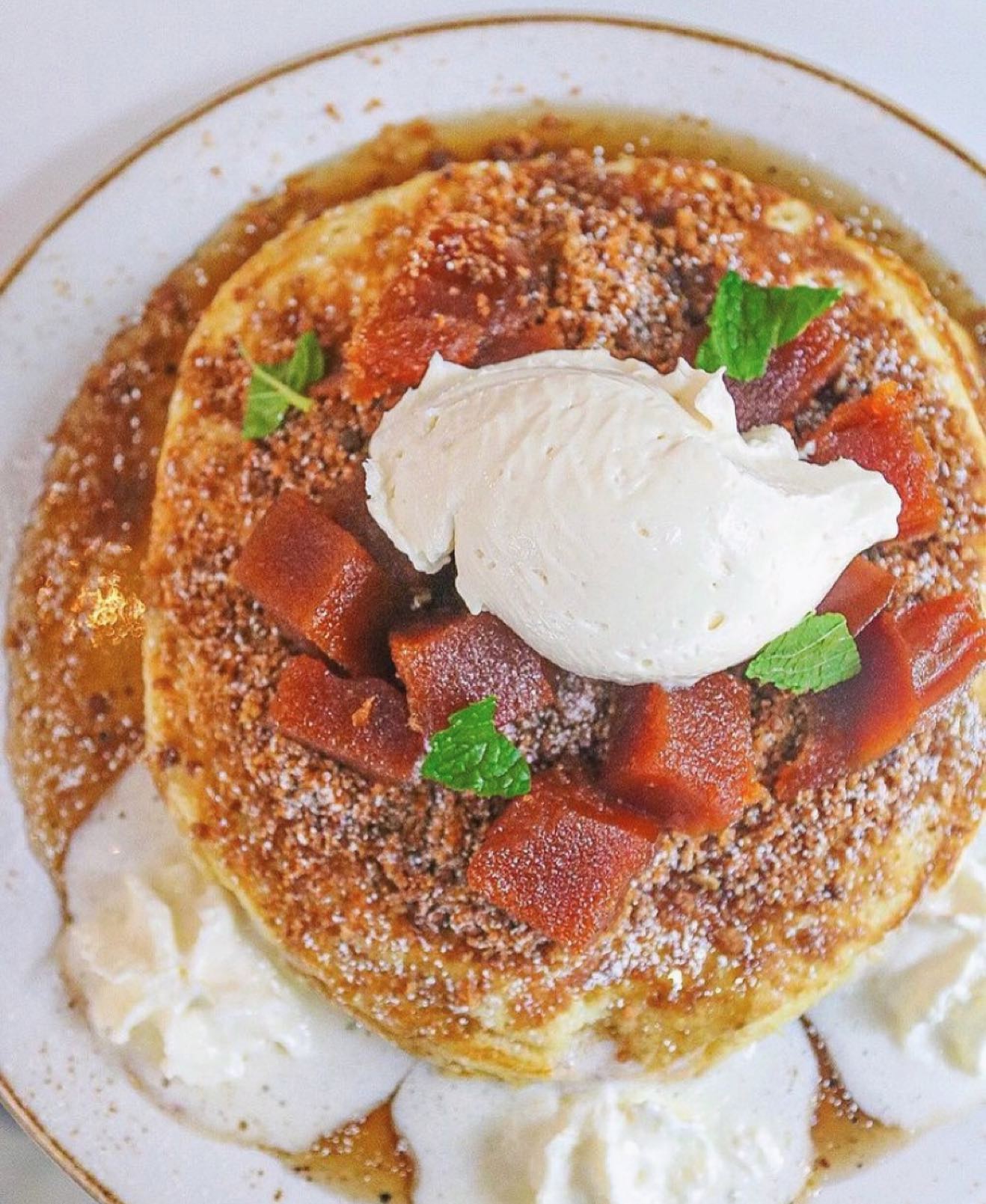 B Bistro + Bakery is an original concept by Chef Henry Hane. This neighborhood bistro and bakery serves highly unique and flavorful take on breakfast, brunch, and lunch classics as well as Brickell's most elegant baked goods and desserts. Brunch is served on Saturdays and Sundays from 9 am – 4 pm. Favorites are brunch only items like Chilaquiles, Pastelito Pancakes, and Crossaint French Toast.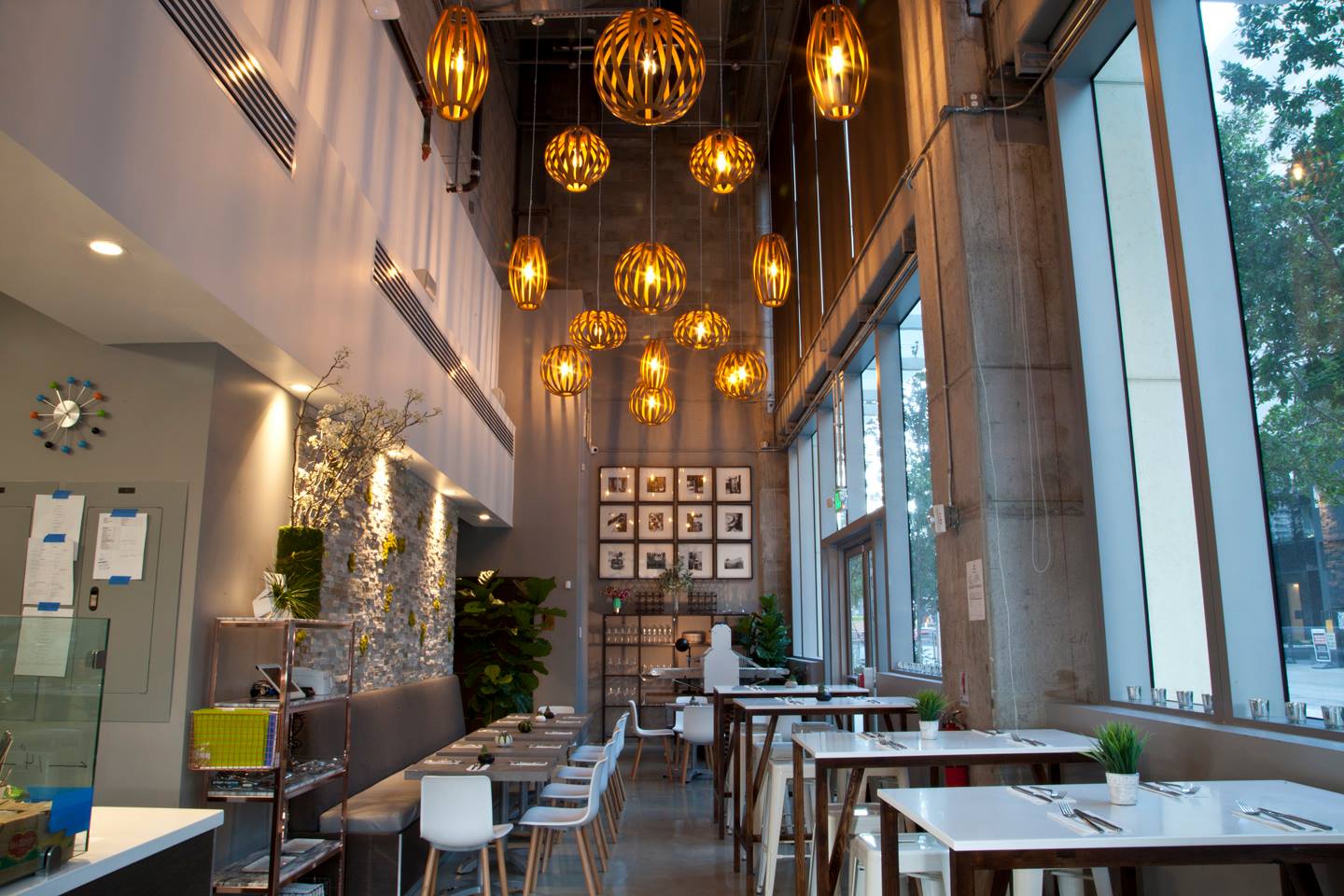 Designed by Hané's mother and interior decorator Patricia Aballi, the 1,700 square-foot locale with indoor/outdoor seating for 70 is industrial and modern, yet cozy and warm. A bustling, open kitchen connects a stunning display counter with the intimate dining room. Located at 600 Brickell Ave, Miami, FL. For more information visit bbistromiami.com
24. Threefold Cafe (Top Rated Brunch in Coral Gables & South Miami)
In 2014, owners, Nick and Teresa, opened their first café opened in Coral Gables. Bringing a tried and tested concept inspired by the Melbourne cafe scene, Threefold Cafe executes breakfast and lunch fare consisting mainly of locally sourced ingredients, which rotates and changes regularly. Coral Gables Love reader Aly recommends their Brekkie Sanga. Threefold Cafe is located at 141 Giralda Ave, Coral Gables, FL. threefoldcafe.com
25. Colada (Unlimited Drinks Brunch in Downtown Miami)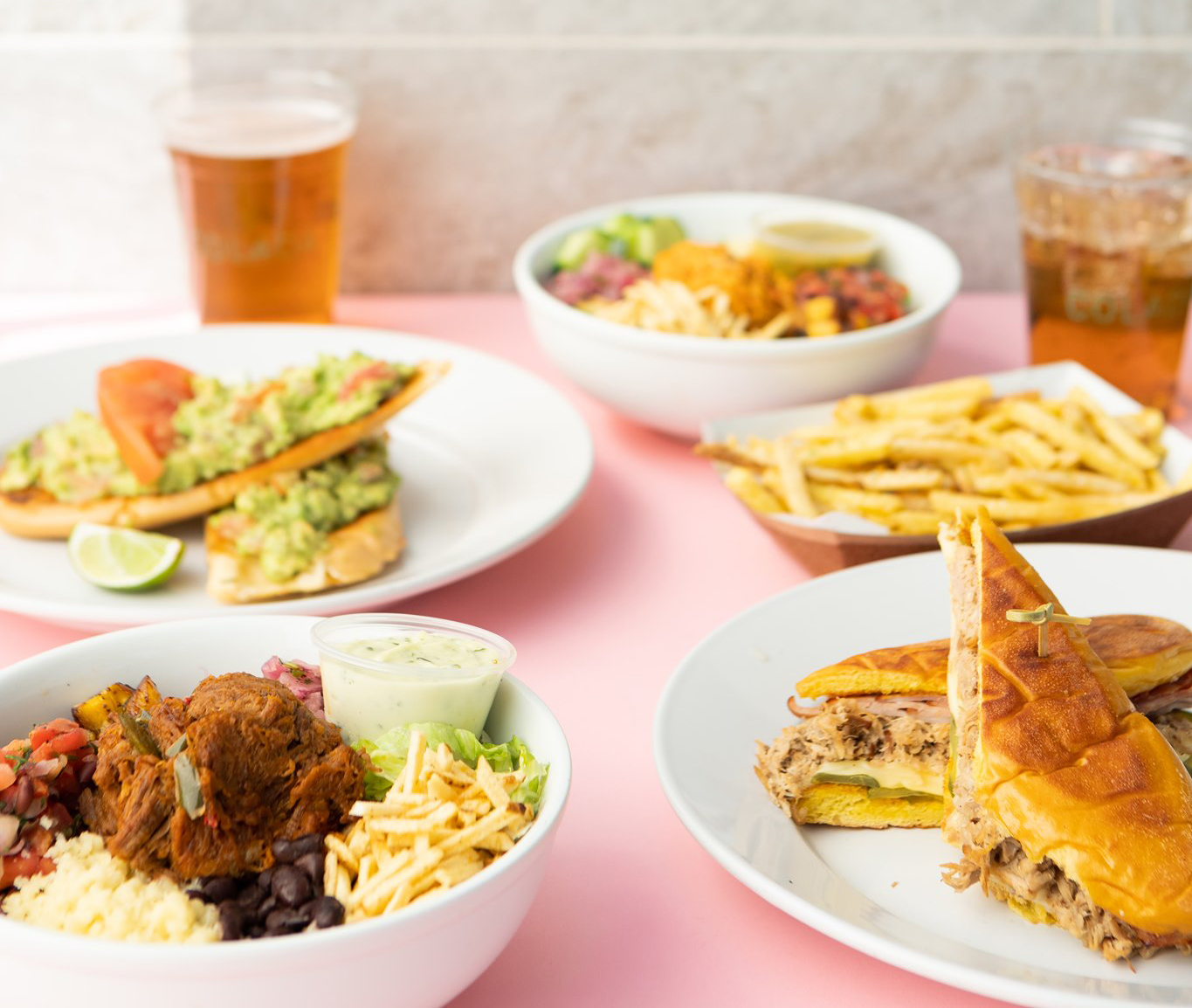 Located at The Yve Hotel in Downtown Miami across from Bayfront Park on Biscayne Blvd, Colada offers a bottomless drink brunch. For $20 order unlimited mimosas, micheladas or mojitos. What should you order? Coral Gables Love reader Francy says, "Oh my! Where to start? Arroz imperial croquetas, Cuban egg rolls, tres leches pancakes. Their guavamente bésame drink that comes with a María cookie with guava and queso crema on top." Colada is located at 146 Biscayne Blvd, Miami, FL. For more information visit colada.miami
26. Bulla (Spanish Brunch in Coral Gables)
A long-time local favorite, bulla gastrobar's first Coral Gables location continues to set the standard for spanish cuisine, right here in downtown coral gables – near miracle mile and ponce de leon. They serve up delectable tapas to be shared amongst friends. Order their popular Huevos Bravos, Chicken & Waffles, or Steak & Eggs. They also make the most delicious white sangria. Bulla is located at 2500 Ponce de Leon Blvd, Coral Gables. bullagastrobar.com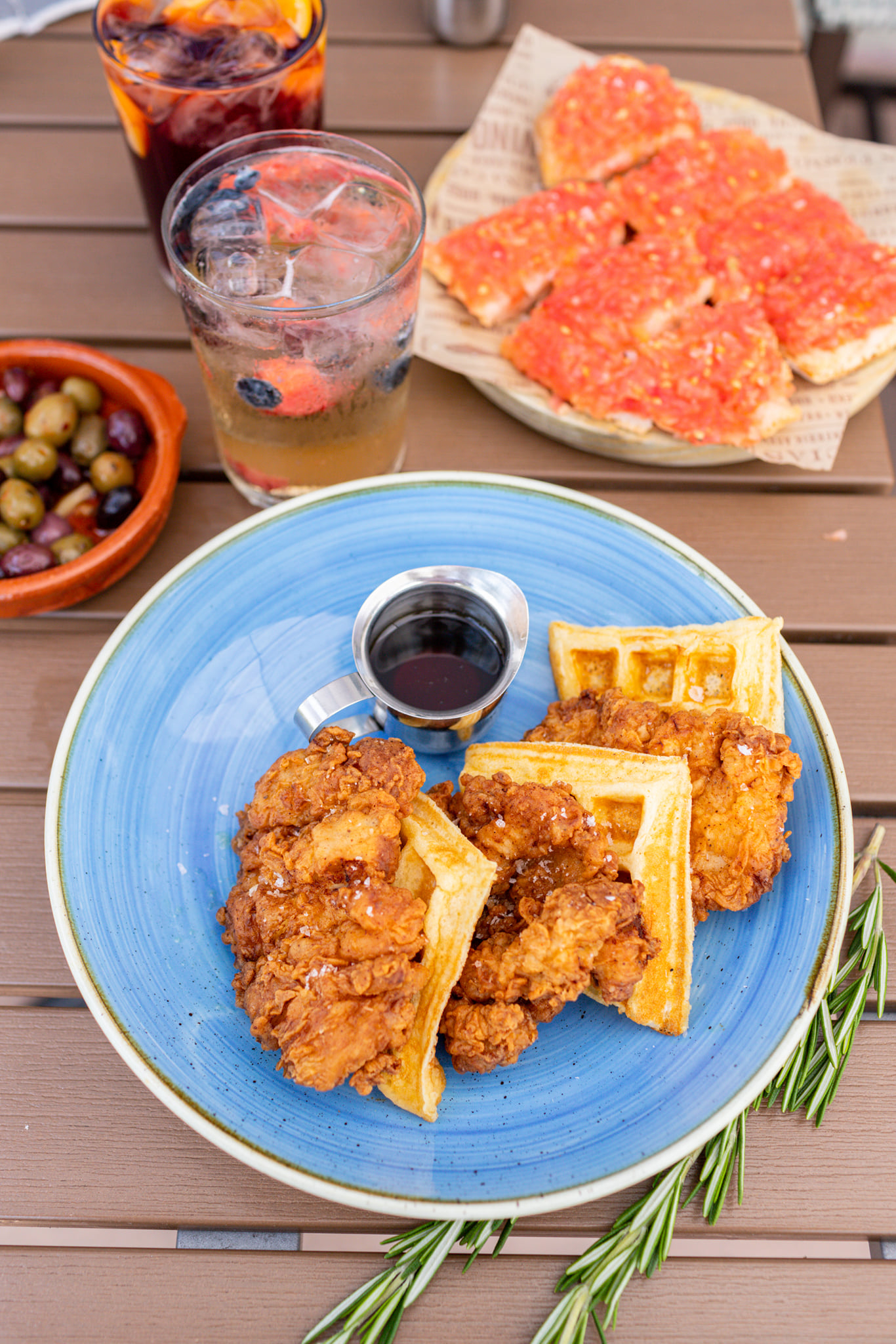 27. Cecile Bakery (Good Breakfast Place in South Miami)
Cecile Bakery + Cafe is located in the heart of South Miami and is the perfect place to enjoy breakfast and Franck Monnier's tasty creations. Coral Gables Love reader Vanessa recommends, "This is an awesome rundown! Thank you!! I'd add Cecile in south miami! The Eggs Benedict and Egg Sandwich are amazing." Cecile Bakery is located at 5744 Sunset Dr, South Miami, FL. cecilebakerycafe.com
28. Biltmore Hotel Brunch (Prettiest Brunch Spot in Coral Gables)
The Biltmore Hotel, a national historic landmark located in Coral Gables, has relaunched its iconic Sunday brunch. The luxury hotel is inviting guests and locals to indulge in the world-famous brunch from 10 a.m. to 4 p.m. every Sunday with a new, à la carte menu. The al fresco dining experience offers familiar and new menu options for guests to enjoy. The Biltmore Hotel is located at 1200 Anastasia Ave, Coral Gables, FL. For more information check out the The Biltmore Sunday brunch menu.
29. Crackers Casual Dining (Brunch in Miami Springs)
At Crackers you'll find Southern Dishes with a Florida twist. Yes, they have grits! As well as bacon jam, peach cobbler, jambalaya, chicken fried chicken. They offer Brunch on Saturdays and Sundays from 9am – 2:30pm. If you're in the mood for some fried green tomatoes and sweet tea, go visit Crackers in Miami Springs. Coral Gables Love reader Sabrina agrees and recommends the, "Eggs Benedict and the Fried green tomatoes!" Crackers is located at 78 SW Canal St, Miami Springs, FL. eatatcrackers.com
30. Over/Under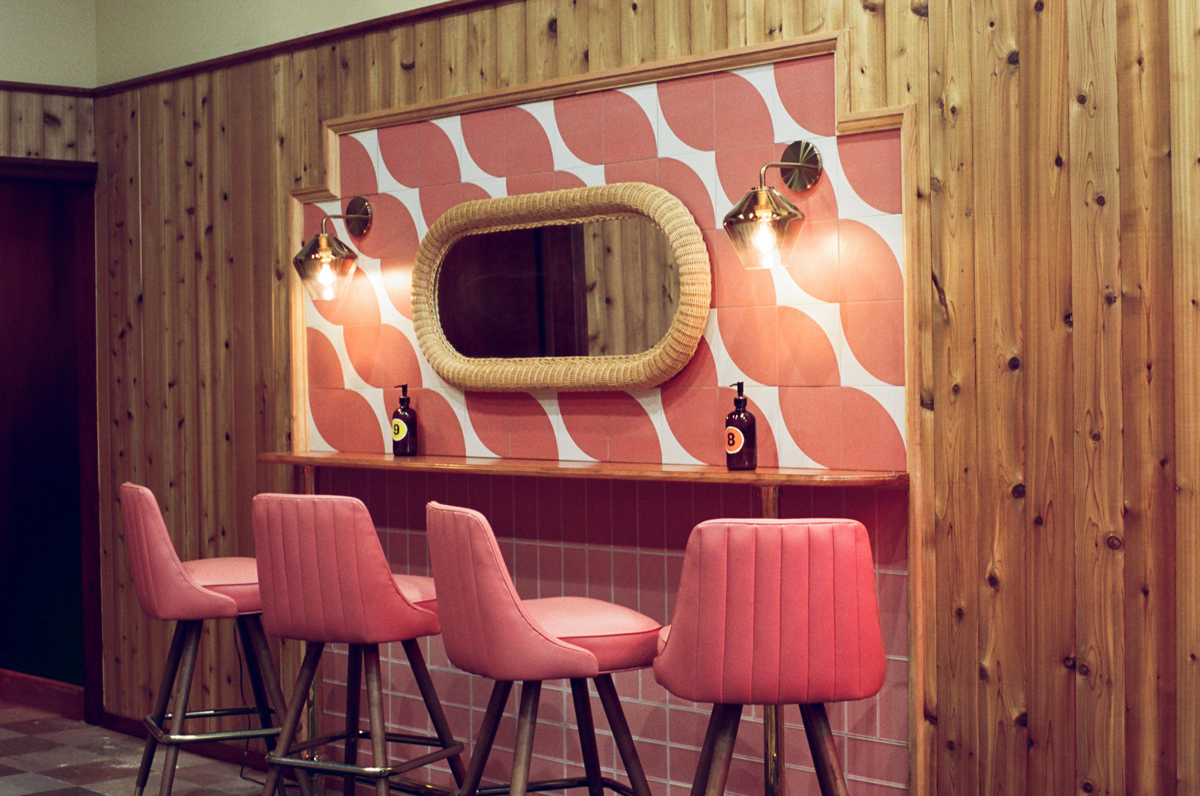 Over Under is a Cocktail Lodge, serving craft cocktails and eclectic cuisine focusing on wild game, fish, and local produce. Coral Gables Love reader Mike says, "Their burger is bomb. They have chilaquiles and also their frozen paloma is awesome." Over Under is located at 151 E Flagler St, Miami, FL. overundermiami.com
31. Berries (Popular Breakfast Place in Coconut Grove)
Berries is a charming neighborhood restaurant serving breakfast classics in South Florida. Dine al fresco and enjoy their brunch menu. If you are looking for a casual outdoor environment, Berries has ample patio space. Coral Gables Love reader, Nory, recommends the Eggs Benedict. Berries is located at 2884 SW 27th Ave, Miami, FL. https://www.berriesinthegrove.com
32. Bistro Cafe (Popular Brunch in Downtown Miami)
Coral Gables Love reader Miguel says, "The pancakes are the bomb ! .. and serving sizes are huge ! Plus, they have the colorful coffee with glitter." Bistro Cafe is located at 1352 NE 1st Ave, Miami, FL. instagram.com/bistrocaferest
33. Crema Gourmet (Good Breakfast Spot in Coral Gables)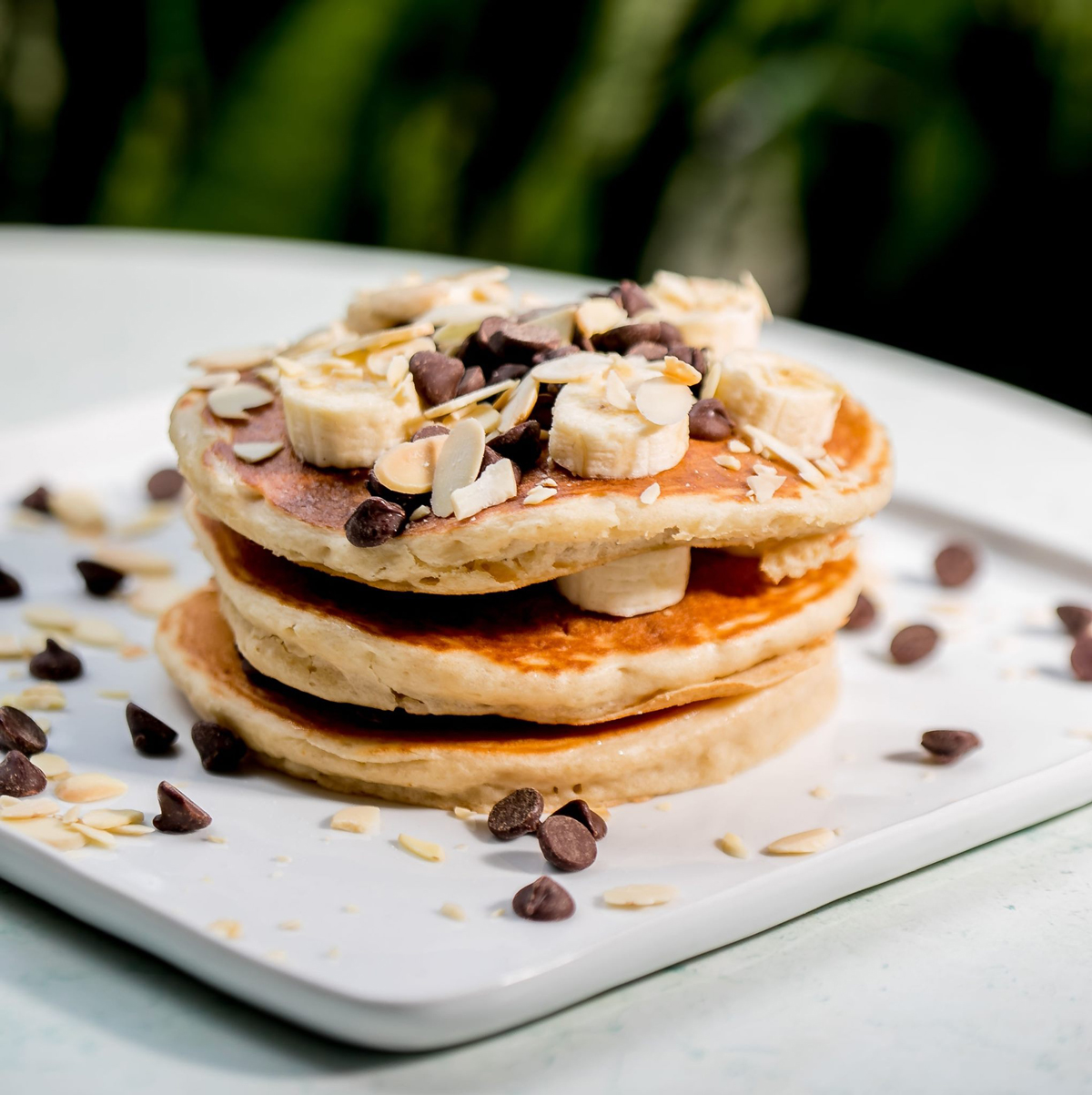 At Crema Gourmet, Saturday mornings call for fluffy pancakes and $15 bottomless brunch. Patty recommends, "The Tuna Toast and the Open Face Breakfast Sandwich! 😋" Crema Gourmet is located at 69 Miracle Mile, Coral Gables, FL. cremagourmet.com
34. First Watch (Good Brunch Place in Miami Lakes)
First Watch is an award-winning Breakfast, Brunch and Lunch favorite that specializes in both traditional and innovative creations all freshly prepared to order. Coral Gables Love reader Leo recommends the skillet hash farmhouse style. First Watch is located at 5799 NW 7th St, Miami, FL. firstwatch.com/locations/miami-lakes
35. La Crepe Bistro (French Breakfast Place in South Miami)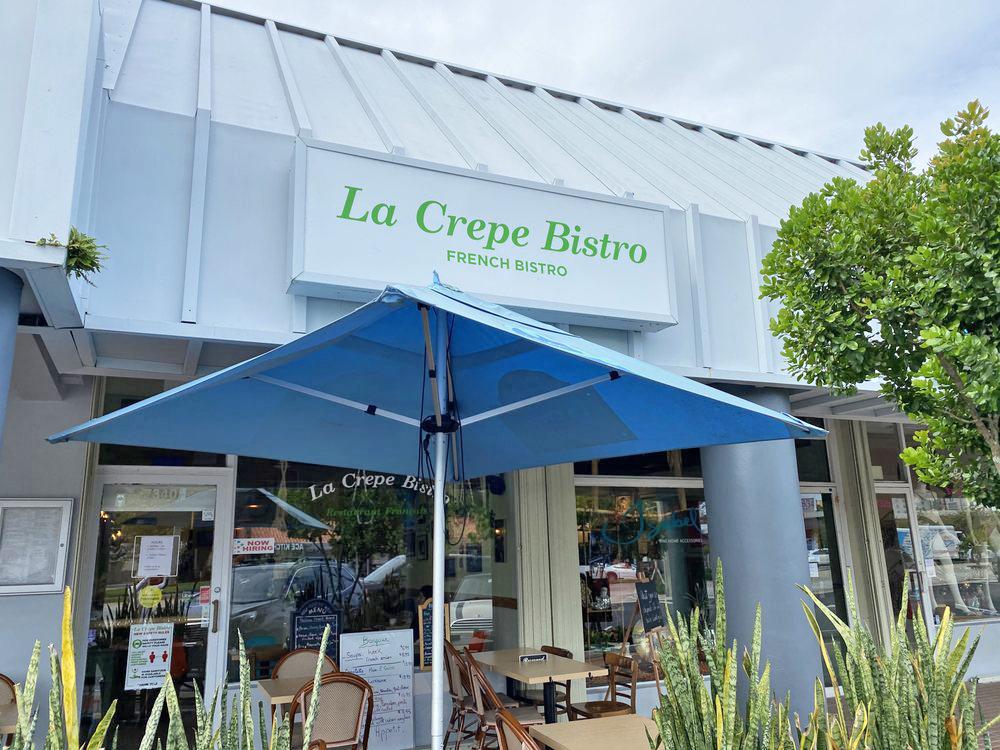 My favorite croissants in all South Florida are made at La Crepe Bistro in South Miami. This unassuming French restaurant makes delicious baked goods, tartines, and crepes. La Crepe Bistro is located at 7340 SW 57th Ave, South Miami, FL. For more information visit their website.
36. Cheesecake Factory
Cheesecake Factory serves brunch favorites like Fried Chicken Eggs Benedict, Bruleed French Toast & More. The Saturday and Sunday brunch menu is available from 10am to 2pm. Coral Gables Love reader Shayla says, "Eggs Benedict and the monte cristo breakfast sandwich! Both are wonderful dishes and I highly recommend them both!"
Did You Find a New Brunch Place To Try?
After compiling this list of best brunch spots in Miami, I realized there are so many restaurants to enjoy breakfast in our city. Pick the ones that you think you'll enjoy and start trying new brunch spots on the weekends. There are so many new places to explore, it would be a shame to visit the same restaurant every weekend. Don't you think? Let me know if you have other brunch spots in Miami that you recommend in the comments. Enjoy!