Nestled in perhaps the most exciting corner of our town, the intersection of Giralda and Galiano is the current epicenter of Coral Gables' nightlife. This is where you will find Open Stage Club: a combination bar, restaurant and live performance venue that you simply must experience.
The first time I went to Open stage was a Monday night and that is Jazz Rent Party night. As soon as I walked in I noticed the beautiful chandeliers and 20-foot-high wall of wine covering the back wall. The music of the excellent Jazz musicians performing live on stage further complemented the elegant atmosphere. I could also tell from the colorful lighting and the state-of-the-art sound system that this place could really rock a party like nobody's business.
Open Stage Club is the creation of Juan Della Torre who after years of working in the banking industry, felt the urge to spend more time doing what he loved: performing and helping others perform. Open Stage gives anyone who wants to an opportunity to perform on stage alongside seasoned performers. Open Stage partners with many musicians, DJs, and comedians who curate the nightly events. So every night is different at Open Stage.
Mondays: Jazz Rent Party
The Miami Jazz Coop holds a Rent Party every Monday at Open Stage. The night kicks off with Miami Jazz Coop Musician headliners presenting pieces and improvising with fellow coop musicians. At the end of the night the Miami Jazz musicians end with a jam session and any musician can participate. Just show up with your instrument and they will hook you up. What is a rent party? In the 1930s Jazz musicians would throw parties to raise money to pay their rent. The Miami Jazz Coop is a non-profit organization. If you are interesting in supporting Jazz in South Florida visit their site: miamijazz.org
Tuesdays: Monthly Indie Scene
Once a month Open Stage throws an indie scene party. Usually independent artists play acoustic music and all artists are invited to participate whether amateur or professional.
Wednesdays: Karaoke
Collect your friends and belt out your favorite songs in front of a friendly crowd. Sometimes they offer cash prizes for the best performer of the night.
Thursdays: Classic Rock Open Mic Night
Sometimes bands request to showcase their music and have an amateur rock show. Other days certain rock bands headline the event and invite musicians to participate at the end with a jam session. Bands have to submit videos in advance to be considered to play on Thursdays.
Fridays: Latin Music & Dance Lessons
Fridays are for dancing and Open Stage is the place to do it. The Salsa Kings give Salsa and Bachata lessons at 9pm starting at $5 per person. Once you are done with your lessons you have the rest of the night to practice what you learned at DJ CABRERAS's Latin Dance Party.

Saturdays: Comedy Shows
Open Stage supports all the performing arts. A couple times a month the Have Nots book a comedian headliner and sell tickets for the show. The Have Nots will give opportunities to local comedians to open for the headlining comedian. Make sure to stop by for dinner, drinks, and of course laughs. havenotscomedy.com

Every other Saturdays local pop bands have concerts including bands: Suenalo, Locos Por Juana, Spill the Wine, and many others.
3rd Saturdays: Goth Nights
Every third Saturday is ((CyberiA)) night at Open Stage. The DJs Sandee Hell, Phistmi & DeadHead spin an eclectic mix of industrial, darkwave, new wave, metal, punk, and goth music.
Sundays: Miami Rat Pack
Twice a month on Sundays, you can catch a Vegas style show with the Miami Rat Pack paying tribute to Frank Sinatra, Dean Martin, Sammy Davis Jr., and Marilyn Monroe. The act includes dancing, singing and comedy routines. The Miami Rat Pack shows will resume at Open Stage on May 31, 2015.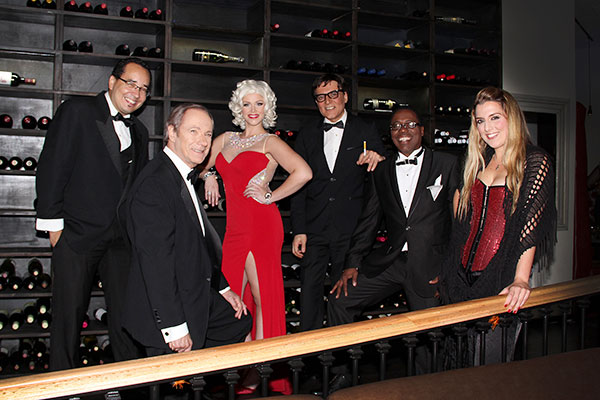 Private Events
The venue is available to private events on Sundays including concerts, CD release parties, special presentations that are more intimate, music academy recitals or private parties. The space is ideal for birthday or graduation parties with 100 – 200 guests and live music. Also, if you want to perform at your party for your guests, Open Stage is the place to do it.
New Menu
I've tried their chicken crepe and it's delectable – a fluffy crepe stuffed with chicken served in a creamy white sauce. They also serve massive burgers, tequeños, empanadas and other yummies you should definitely check out.
Make sure to check out the Open Stage website for their latest calendar of events. openstageclub.com