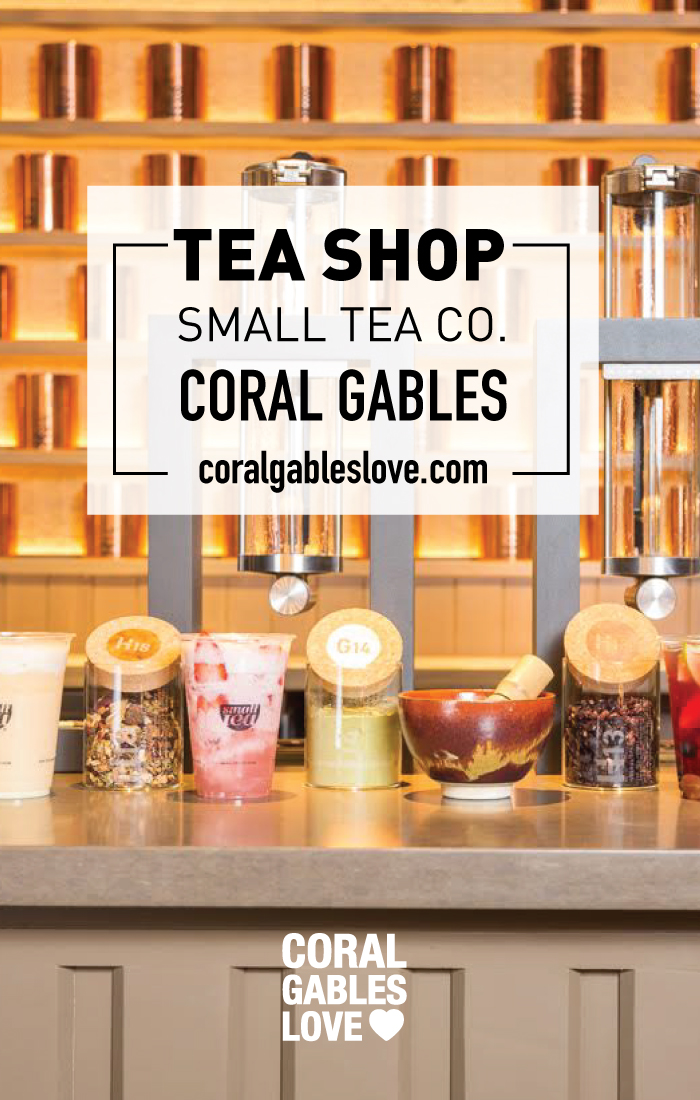 Chef Agustin Silva Diaz and tea lover Daniel Benoudiz are the heart and soul behind our Small Tea in Coral Gables. The new tea shop, offering over 80 different types of tea and a delicious menu, has quickly earned the loyalty of many locals. That's not a typo, they really do offer EIGHTY exotic tea flavors! It's astonishing how many types of tea they have. The first time I visited Small Tea I spent twenty minutes just exploring the different types of tea before making my decision. Even if you think you are not a tea drinker (yet), you will find a drink you will fall in love with. If you are already part of this growing tea movement, then this is the place for you.
Small Tea is yet another gem located on Aragon Avenue along with Books & Books, Gables Cinema, and the Coral Gables Museum. Walking into Small Tea you are immediately struck by one of the best examples of modern interior design in our town. It is sleek yet cozy. The walls and furniture are covered with wood panels and earthy tones. The back room has one giant curving wooden sculpture covering the walls and ceiling. Add to this the indirect lighting and the comforting acoustics and you have the perfect haven to sit, relax, and take your time with your thoughts. It's no surprise that local entrepreneurs and students have claimed this spot as their new hangout. On any given day you can find several patrons hanging out and working quietly and happily on their laptops. It's a truly beautiful space that makes you want to stay there and just be – with a nice cup of tea ;) If there is a place in our town that inspires a feeling of zen – this is it.
Teas, teas, & more teas
When opening Small Tea, Agustin and Daniel wanted to improve the existing tea shop concept. They added a sense station to their shop where you can take your time to smell each tea on the menu before making a selection. Small Tea is the perfect place to take your time to enjoy your cup of tea without being rushed. I don't know if you've ever tried to quickly drink a hot cup of tea, but it's not fun to burn your tongue and throat. Each type of tea has a precise temperature and infusion time. It's own distinct recipe. It sounds complicated but the good news is you don't have to worry about that. The staff at Small Tea will make the perfect cup of tea for you using their Alpha Dominche machines that control the temperature and the stirring of the tea depending on what type of tea you want. Forget about drinking tea from microwaved water and a tea bag – those days are gone. Once you try a Small Tea you will never go back to your grocery store tea bags.
Tea Recommendations
If it's your first time visiting Small Tea I recommend you try the best seller: Revive (G05). It's a lush green tea filled with the antioxidant power of goji berries, blueberries, and pomegranate seeds. Another green tea to try is the Say Zhejiang Matcha (G14). One of the most famous and ancient Chinese green teas from Zhejiang Province believed to possess spiritual and restorative powers. All teas are available hot or cold. So make sure to try these as iced teas during the sweltering summer days.
Small Tea also sells loose leaf tea by the ounce for you to make it at home. They also sell the accessories so that you can follow the precise recipe to make the perfect cup of tea at home. Each package of tea has instructions on how to make it the right way at home. Make sure to follow the instructions because black tea, for example, becomes bitter if it is infused too long or at the wrong temperature.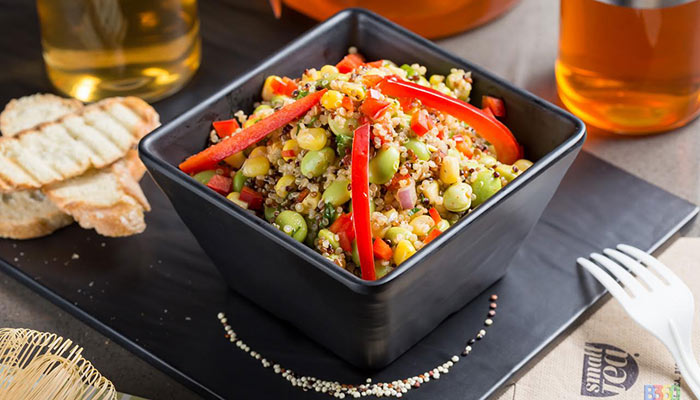 Menu Recommendations
Small Tea's food is a fusion of worldwide cuisines resulting in a varied, fresh, and healthy menu. Small Tea's kitchen is quite, well – small, preventing them from storing food for too long. This is great news for us because we can be sure our meal will always be fresh. You should definitely try the arepas (Chef Agustin is from Venezuela after all). Their croque madame has a healthy spin on the French favorite. The béchamel sauce is made with only milk and no fat. Vegan foodies should try the baked edemame falafel wrap. While vegetarians should try the brie and apple sandwich made with brie, caramelized walnuts, green apples, and honey dijon served on ciabatta bread. This sandwich is super flavorful with the acid apple contrasting the sweet caramelized walnuts. Yum! My favorite thing to order is their club house sandwich with smoked turkey, perfectly crispy bacon, tomato, swiss cheese, lettuce, fried egg, and lime mayonnaise. Why hadn't I thought of adding a fried egg to a club sandwich before? It's amazing!
Small tea will be expanding their menu to offer brunch soon. So keep an eye out for that addition.
The Story of Small Tea
Agustin and Daniel met while they were both going to La Universidad Metropolitana in Caracas, Venezuela. The duo became friends after Daniel took an elective cooking course that Agustin was teaching. While they were still in school they made a vow to one day open a restaurant together. In 2014, the two friends ended up living in Miami and decided to combine Daniel's love for tea and Agustin's culinary expertise and open Small Tea in December of 2014. Small Tea is located at 205 Aragon Ave, Coral Gables.
So stop by and have a tea and a sandwich and tell them I sent you! Share this awesome spot with your friends using the share buttons below.