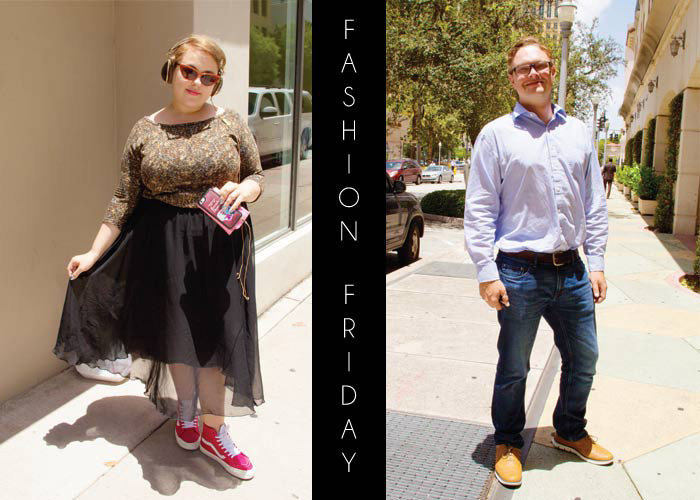 I'm so excited and it's not just because it's Friday. I am starting a new feature on Coral Gables Love called Fashion Friday! With so many fashionable people roaming the streets of Coral Gables, I catch myself constantly asking, "I love your [insert stylish item here]. Where did you get that?" So I figured I would share all of my findings with you. Why keep such wonderful information all to myself?
Let me introduce you to our very first local fashionistas: Monique & Nathan. Monique works in Coral Gables and her style consists of mixing thrift shop finds, online fashion boutique apparel, and vintage flair. She is wearing bright-red, high top, Vans sneakers (Zappos) with a black maxi skirt (Urban Outfitters) and a patterned top. She accessorized her outfit with retro cat eye sunnies (Nordstrom Cat Eye Sunglasses) and her Skullcandy aviator headphones (Amazon). How amazing are those gold detailed headphones?
Shop Monique's Outfit

Nathan lives and works in Coral Gables and he never plans his outfits. He likes to throw an outfit together right before walking out in the morning. That strategy works because he has fashionable staples that combine together easily. He is wearing oxfords with a white rubber sole (Nordstrom Rack), jeans (Banana Republic), and a micro gingham casual shirt (Banana Republic). There's a white sole oxford trend going on. It dresses down mens' outfits a bit more – kind of a midpoint between oxfords and sneakers. Plus, they do look more comfortable than regular oxfords. I forgot to ask Nathan how comfortable they were. Oh well, next time.
Shop Nathan's Outfit

Nathan & Monique thank you so much for being part of the first ever Fashion Friday! Who will be next? Come back next Friday and find out!