Tucked away, just half a block from Miracle Mile, in the heart of Coral Gables is your favorite new spot for crepes, Stephanie's Crepes. Yes, we locals love these delicious, fluffy crepes with flavors from around the world; but we especially love Stephanie. Stephanie is the diamond grader turned chef with who opened this charming little creperie. Stephanie and her staff are so warm, friendly and kind you feel like family or old friends.
The space is covered with wood paneling giving it a cozy feel that makes you want to hang out and chat. Stephanie collaborates with her customers to decorate her location. With lots of flowers, greenery, and other insta-worthy backdrops you'll want to share your beautiful crepe with the world.
Sweet & Savory Crepes
Their menu features unique recipes. You'll find crepe specials like falafel, ropa vieja, or the Filipino Halo-halo. The sweet crepes are filled with fresh fruits, homemade custards, and whipped yogurt, while the savory crepes are filled with salads, proteins, vegetables, and homemade sauces/dressings. The best part is that, no matter what you pick, it's a perfect balance of flavors you'll enjoy. Once you try Stephanie's Crepes, you'll become a regular and you'll keep coming back.
Date Night at Stephanie's Crepes
Stephanie's is also a great place for a date. Brian and I like to go there for a "Dessert Date" on the weekends. You know, when you just want to eat something sweet and skip dinner? We usually share the banana, strawberry, nutella crepe and the Josephine crepe with vanilla custard, granola, yuzu, and cream cheese. You'll definitely want to visit with a friend because you'll have a hard time just picking one item off their menu.
Breakfast Crepes
They also have breakfast crepes every day. Try the bacon and eggs crepe with aioili. You can add avocado, cheese, or smoked salmon. Just like all her other crepes, her breakfast crepes are fresh, organic, and gluten-free.
COVID Guidelines at Stephanie's Crepes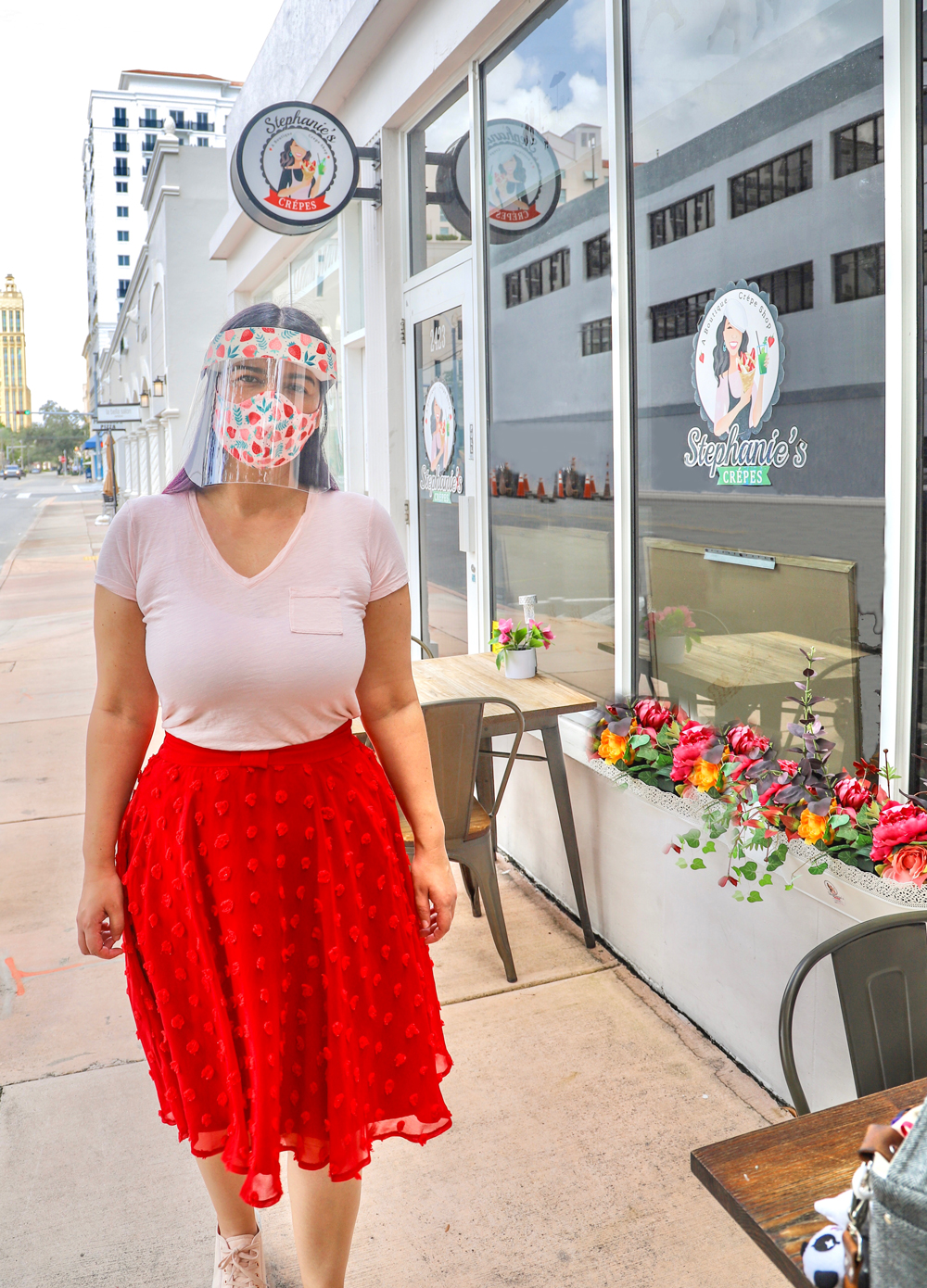 Stephanie's Crepes has always kept their shop and kitchen with the highest cleaning standard by sanitizing surfaces after each use, they use gloves and now masks. Each table, chair, and napkin holder is sanitized after every customer. They also sanitize their register and pin pad after every customer. They are using disposable cups, crèpe wrappers, and utensils for each of their menu items.
Stephanie's Crepes has outdoor seating to enjoy your meal at their location. They opened a window so you can place your order without having to go inside.
Each crepe is designed to fold like a bouquet of flower, making it a beautiful breakfast/lunch/dinner/dessert, suitable for a grab and go meal. Delicious choice for office functions/ corporate catering, private events, birthday parties, bridal/baby showers, and more.
Meet Stephanie from Stephanie's Crepes
I had the chance to talk to Stephanie and ask her about the story behind her creperie.
How did Stephanie's Crepes come about?
This is my second career. I changed my career when I turned 30. Prior to this I was in the diamond industry for 11 years. That's how I started in the professional world. I worked as a diamond grader in the lab. So I developed a liking to colors and details and I started to dabble a little into designs, sales, and marketing. I worked with a single company, I practically grew up with that one company.
Stephanie's Grandfather Owned a Bakery During World War II
When I turned 30, I decided I wanted to do something else with my life. And food has always been dear for me. My mother shared a story when I was a child about my grandfather – her father. He moved from Taiwan to Indonesia. That's where I was born. It was during World War II. At that time there were Japanese soldiers occupancy in Indonesia. They gathered all the men and put them to work. Some of them were killed. It was war so it was humans at their worst, unfortunately. And they spared my grandfather's life because they loved his freshly baked bread.
My grandfather had a bakery. And that story always stuck with me, even as a child. Because I just thought, "Everything else doesn't matter. We have this pandemic or if there is some sort of armageddon. What do people need? The basic needs, right?" We are always told to strive and go for the doctors, lawyers, all of these big titles; but at the end of the day, a simple bread-making skills saved my grandfather's life. And if it wasn't for that, I wouldn't be here today. So that always stuck with me.
My family, we always gather once a week to share family dinner at different restaurants. So I have developed a liking to restaurants and food very early on. But at the time is was kind of frowned upon to do it [to own a restaurant] as a career. Because food back then was not food today, not as a business. So I knew when I changed my career I had to do something a little bit different in order to be able to support myself.
I went back to culinary school, I went to Institute of Culinary Education in New York. I studied French culinary and I took management as well because I've always known I wanted to own something. And for 10 years I worked every position from busser to prep cook to line cook to sous chef. Then I became a chef. Then I moved to the front to work as a server, assistant server, captain, manager. When I moved to Miami, I worked as a consultant for the Zuma group. I was able to get to know Miami through some of the projects I had with them. For two years I did that while I was looking for a space.
How Stephanie Learned To Make Crepes
How the crepes came about. When I finished my externship learning at different restaurants, I was invited to cook at the Cannes Film Festival. I was there for quite a few months. I traveled all around France and I saw there was a crepe culture – little crepe shops everywhere. In New York we have everything but we didn't have that many crepe shops. And I've always wanted to make food that I feel is romantic. At first I thought about fondue, but then there was this big corporate chain called The Melting Pot. They were everywhere, so I thought, "I won't be able to compete so let's see what else".
I started paying attention to crepes and then I traveled all throughout Asia. I saw there was also crepe culture in Japan in Harajuku they have crepe stations everywhere, in Taiwan and Indonesia too. I paid one of the workers to teach me how to crepe. I worked for them for free for a week. I actually paid them. I did this in Japan and in Indonesia – in both countries. In Indonesia I didn't have to pay much because my family knew some people. They taught me how to do the round, how to do the batter, and I returned back to New York. For 6 months I worked on just recipe development. I came up with the gluten-free because friends of mine started having babies and the babies were born with celiac disease. In Asia we have a lot of desserts that are made with rice flour. So I was very familiar with eating desserts like cakes and cookies that use rice flour.
Crepes are not usually gluten-free?
No, crepes are usually made with wheat flour or buckwheat. Some people make it with chick peas, but in France it is mainly wheat flour – it's a pancake mix basically. Or they make buckwheat for savory crepes.
So you use your own special recipe?
Yes! I played around for 6 months every day for 10 hours. I ate a lot of crepes. Everybody that knew me ate a lot of crepes. I was able to come up with this gluten-free recipe. To my delight and through the feedback of my friends and family they say they prefer this recipe better because when they eat it, they feel very light. In France, when I was eating a crepe, I couldn't finish the whole crepe. By the time I ate half, I was very full because it's kind of like bread.
Then I started delving into flavors that I am familiar with and flavors that I discovered that I like; and I started incorporating them into the crepes. Every month here I do specials to try to see what the audience wants. There's no range for my specials. I did ropa vieja, I've had falafel, I had a sachimi crepe. This month I'm doing a Halo-halo a Filipino dessert with purple yam on top.
Authentic Matcha Teas
We do matcha tea here. We do 100% organic matcha. I import them from Japan so they are very authentic. We use the traditional way of making it with the whisk. Our matcha is also non-dairy. We do the matcha latte with organic soy. We have matcha tea and matcha yuzu slushy. We also have matcha frappé and it that one has dairy in it, it has milk.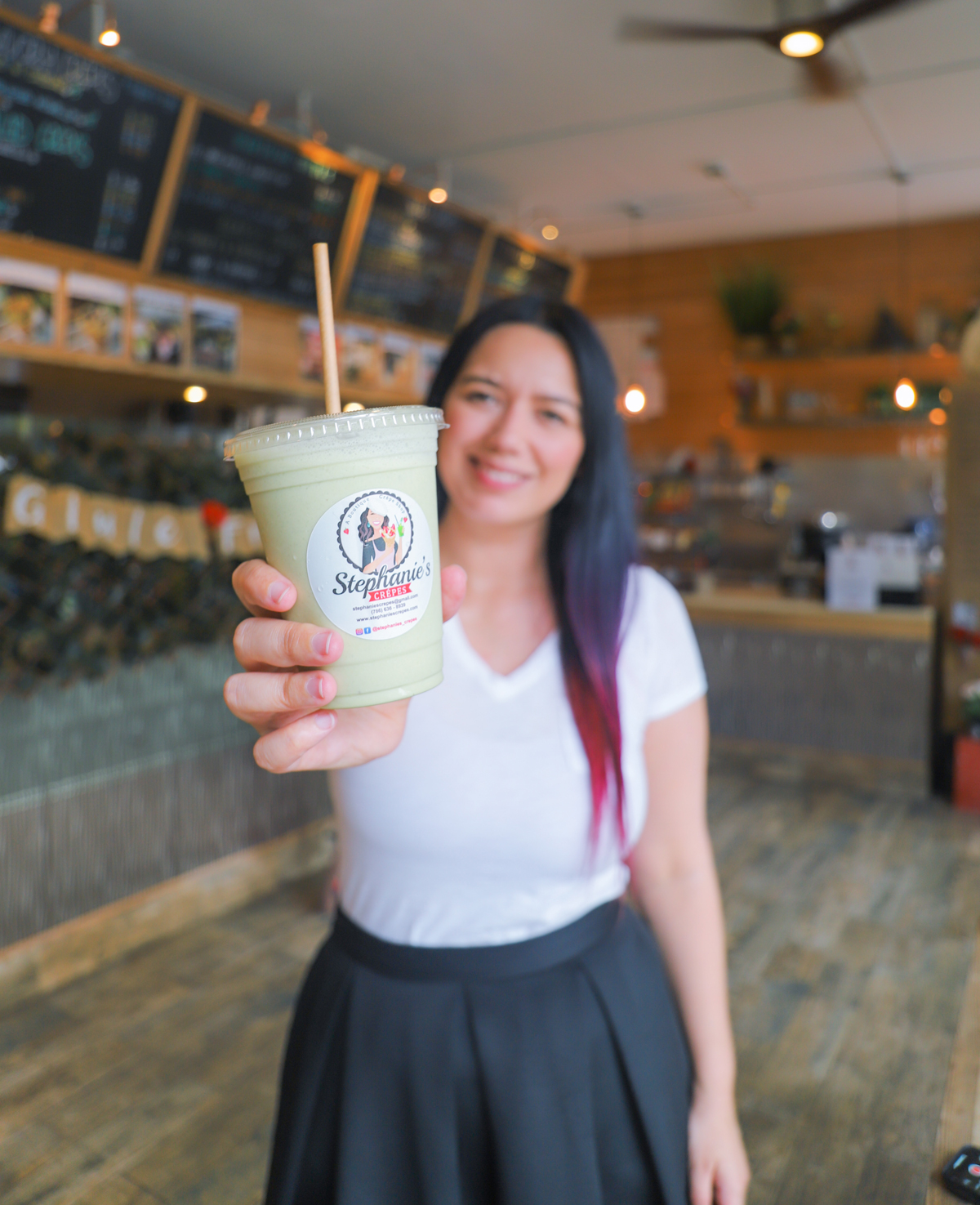 Refreshing Smoothies with Unique Flavors
We have different flavors of smoothies. We have guanabana (soursop) I love guanabana! I learned about guanabana here in Miami. and I fell in love with the flavor. We also have turmeric tango. We have protein choco-nana. It's basically a vegan protein shake with dates. We don't add sugar to this shake. We have quite a selection of fresh smoothies that go with the crepes. We also stock sake and organic wine for the evenings. Some people like to have their crepe with wine. We try to offer enough variety so that anyone who comes will find something that they like.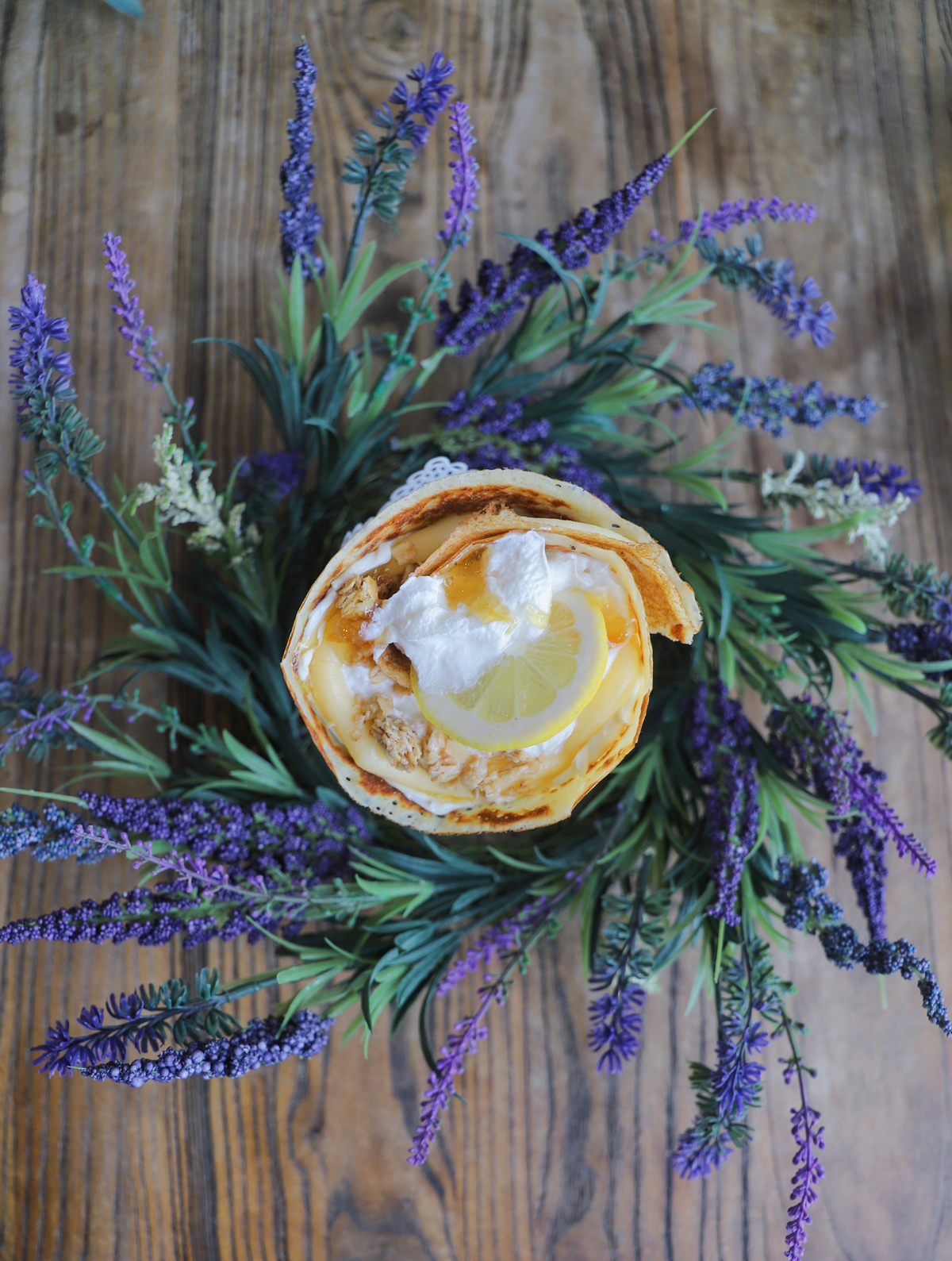 Why did you decide to open Stephanie's Crepes in Coral Gables?

When I first moved to Miami, I lived in Brickell. Brickell is very nice because it was an easy transition for me coming from New York. But then I realized, when I moved out of New York, I wanted more of a neighborhood where I could get to know my customers, where there is a community and families. I started coming to the Gables on the weekends to enjoy the restaurants here and I just fell in love with the city. I felt like it's very clean and it's very beautiful. It reminds me of where my family lives in Indonesia. There's that certain homey feeling and I have been so lucky and blessed. My customers here are some of the most beautiful people that I've ever met in my life. Even during the pandemic they all reached out and helped out. I had a customer that helped me decorate. Only July 4th, one of my customers surprised me with balloons outside of my shop. I get to know their kids and they bring their families. I get to know the whole family. And if it's not for them I wouldn't be here today.
I also see on social media that you have customers that come a long way to enjoy your crepes.
Yes, I have customers that come from Broward, from Doral, Pinecrest. They make the trip just to have the crepe and I am grateful for it.
I know you work with third party apps like Postmates and Uber Eats to deliver your food, but do you have your own delivery too?
Yes, definitely! One of my employee's mom was furloughed because of the pandemic. So I hire her to do the deliveries to create an opportunity. I would like to be able to do more of that for people who have lost their placement because restaurants simply can't come back fast enough right now. They make money from the delivery fee and the tip from the customer. Deliveries directly through the restaurant are available Wednesday through Friday, but if it picks up I can make it available on the weekends too.
Stephanie's Crepes is located at 2423 Galiano St, Coral Gables, FL 33134 for more information visit stephaniescrepes.com