Frenchies is a French bistro serving French and American fare. The adorable restaurant is tucked away on Galiano Street a few blocks south of the hustle of downtown Coral Gables. Make sure to visit Frenchies for an outstanding lunch. It's also a great romantic spot to go on a dinner date.
When you walk into Frenchies you are overwhelmed by the decorations. Little trinkets cover the walls and hang from the ceiling giving it a unique charm. The restaurant fits about ten square tables for four and They have some outside seating in case you want to bring your doggie. The waiters bring a chalkboard menu to your table to order from. Hence, the menu is not very extensive but rest assured every item is fantastic. They bring you amazing French bread while you wait for your food. That might be my main reason for visiting Frenchies. Make sure to wear a loose fitting outfit because the portions are big and delicious.
The Story of Frenchies
Miami native, Shannon Castrec grew up in Coral Gables and always loved cooking. Once she graduated high school she dreamed of becoming a writer but ended up going to school at The French Culinary Institure in NYC. After graduating, Shannon worked in New York for four years where she met her husband Gabriel Castrec. Working on different sides of the restaurant industry, Gabriel worked the front of the house while Shannon cooked and they remained in New York for some time. Then, they took off to France, where Gabriel is originally from, and raised their three children: Luc, Max, and Coco. After taking some time off from work to raise her children, Shannon was ready to be a chef again.
Gabriel received a job offer in Miami and they decided to move here. In a twist of fate the job didn't turn out and they took a chance opening Frenchies Diner on Galiano in March of 2012. When they first opened the menu was half American and half French; but as time has gone by the patrons have gravitated more towards the French side. So now, the menu offers many French dishes.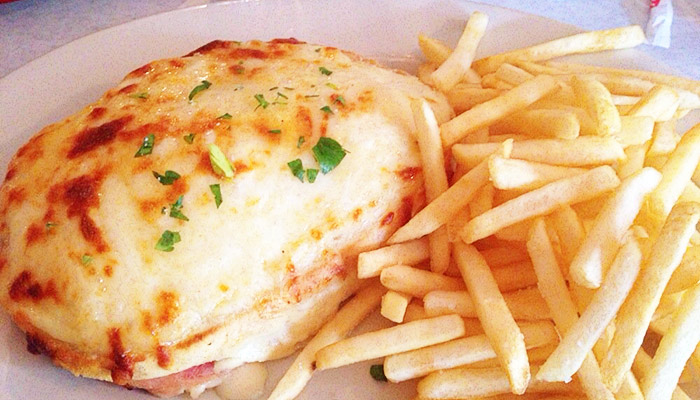 What You Should Try
For lunch, I recommend the duck confit club. The sandwich includes dried figs, baby watercress, mayo and duck confit served on a toasted brioche bun. Other best sellers to try are the roasted chicken, croque monsieur, and the French onion soup.
Their dinner menu changes weekly; but defintely try their English pea and corn risotto with jumbo lump crab meat. Finish off your meal with a tasty dessert: pots de creme, chocolate mousse, tarte tatin (pears), and blueberry bread pudding.
Shannon & Gabriel like to take the Summer off and spend it with their children traveling. As such, the restaurant closes from July through August every year. Also, the regular restaurant hours vary depending on the weekday as they designed the hours around their children's schedule. Make sure to call ahead before you visit them to confirm they are open. Their usual hours of operation are: Tuesday through Saturday 11am to 3pm for lunch and 6pm to 10 pm for dinner. They are closed Saturday and Sunday.
Go for a little taste of France and let me know what you thought in the comments below.
Coral Gables Love Reader Perks
Show this coupon during Frenchies lunch hours (Monday through Friday 11am – 3pm) and receive 10% OFF your bill. Expires October 31, 2015.