The Bar was known as Hofbrau back in 1946 when it opened as the first bar in Coral Gables. Back then, it was a beer hall but it has evolved through the years into the beer and classic cocktail venue we know today. The atmosphere of the Bar is just right. The blue colored walls reflect just enough of the dim light to create the perfect backdrop to enjoy a drink. The soundtrack is a mix of classic and modern rock from the corner jukebox. They have a full liquor bar and you can order pretty much anything you want. My usual drink is the amaretto sour and I love the version I get at The Bar because they use black cherries! It adds a nice touch to my favorite drink. They also have a large selection of beers in case you are not into cocktails. This is definitely a place where everyone can find something they enjoy.
RECOMMENDED READING: 6 Places To Order Ready-Made-Cocktails Around Miami
However, let's talk about The Bar's food. I have visited the Bar during their ladies drink free Fridays, but had never thought of trying their food menu. I figured it was regular old bar food – but I was wrong. The Bar has wonderful Chef Maribel Gaynor making their food menu amazing. She has a thing for freshness and likes everything to taste fresh. So The Bar is going back to making everything in their kitchen. They grind the chicken for the black bean chicken chili and make everything from scratch.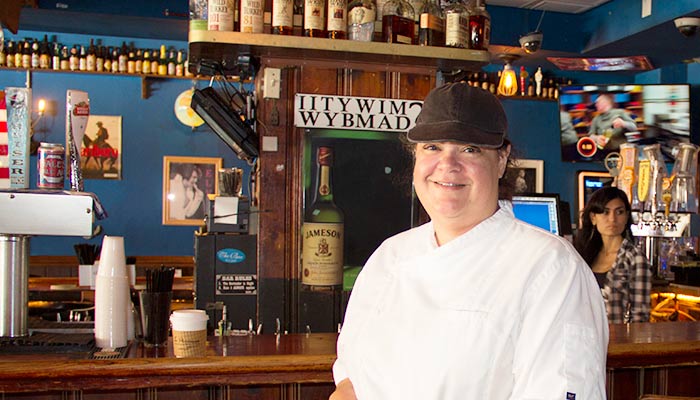 RECOMMENDED READING: Two Summer Bourbon Cocktail Recipes To Try
Maribel Gaynor started cooking when she was eight years old. Her mom would leave Mirabel notes to season the picadillo, make the rice, and help prep dinner while she was at work. Once Maribel graduated high school she went to college and majored in business administration because she wanted to learn the business side of running a restaurant. Once she received her degree, she enrolled in Le Cordon Bleu College of Culinary Arts to further develop her culinary expertise. She worked as a chef at TK'S at the Villa Mayfair and has been featured on several magazines and TV shows including A Bite with Belkys where Maribel showed off her scallops gratin. She says, "I learned the most when I worked at BLT Steak with Samuel Gorenstein". (Samuel Gorenstein recently opened his latest location of My Ceviche in Coral Gables.)
Menu Recommendations
Maribel recently brought back the tricolored nachos with black bean chicken chili, a new castle smoked onion beer cheese sauce, monterey cheese, handmade guacamole, fresh pico de gallo, smoked onions, cilantro, lime juice, fresh jalapeno, and sour cream. It's an enormous mountain of fresh, crispy nachos made to order.
For meat eaters I recommend the barnyard burger. The patty is made of brisket, ground beef, and smoked bacon. Yes, there is bacon in the patty! Then they build the burger with crispy bacon and a fried egg. The barnyard burger also includes black bean chicken chili on the side but you can add it to your burger too. All the sandwiches are served with fries. I am always in the search for the perfect fries and The Bar fries fall pretty high on the list. They are golden, crunchy, and delicious.
RECOMMENDED READING: Try These Refreshing Summer Sippers
For the herbivores or salad lovers I recommend the spinach quinoa salad. Again, the first word that comes to mind when eating at a bar is usually not FRESH; but Maribel makes a delicious, crisp salad with a citrus lime vinaigrette. She uses fresh orange juice, lemon juice, olive oil, salt and pepper for the dressing. The salad includes red quinoa, white quinoa, fresh roasted corn, and cherry tomatoes. It's simple and tasty. You can also add chicken.
The Bar is open from 11:30am to 3am and their kitchen closes at 2 am. So if you're hungry after partying you can always stop by the Bar to get some grub in your belly.
Maribel is currently working on a dessert menu with a bar twist. She's mentioned some of the experiments and I can't wait for the new menu to be released. I will keep you posted on these developments!
Happy Hour & Happenings
Happy Hour: Visit The Bar every Monday through Thursday from 4pm to 8pm for discounted beers, 2 for 1 cocktails, and other special offers.
Ladies Drink Free: Every Friday from 5:30pm to 7:30pm ladies drink free beer and cocktails.
Karaoke Tuesdays: Every Tuesday The Bar has karaoke night starting at 10pm. They offer prizes and drink specials during the madness.
Go check out The Bar and tell them I sent you! Share this tasty revelation with your friends using the buttons below :)