Did you know we've had an amazing sushi place near Coral Gables for the past 6 months? Sushi Kong serves decadent, king-sized, Latin/Asian fusion cuisine and desserts. If you haven't visited Sushi Kong, you are missing out. Let's fix that right away. Grab your things and head on over to Sushi Kong. (Thank me later.)
I was invited to try their new digs located at 3000 Coral Way. The restaurant is gorgeous. As soon as you walk in, you notice the walls covered with beautiful murals with characters looking like they have escaped from a graphic novel. The waiting area has a vine swing that anyone can use. No really – they made sure to hang the swing with strong hooks so that it's not just for kids. I went ahead, swung a bit, and took the obligatory boomerang.
They have a private room in the back with industrial designer bulbs that give it a steampunk vibe. The walls are covered with wooden pegs sticking out at different levels. There's a sign asking you to please not climb the wall, but it's the first think that crosses your mind when you see the installation.
Sushi Kong Menu Recommendations
Sushi Kong is all about giant, delicious sushi rolls and mountains of decadent desserts. Make sure to bring an appetite.
Recommended Appetizer
PataKONG – toston sushi burger
Kick off your meal with a PataKONG – that's the toston sushi burger. Prepare to be amazed by a couple of crispy tostones sandwiching guacamole, smoked salmon, bean sprout, crab salad, wakame (seaweed salad), blue-cheese sour cream, pico de gallo and capers. Each bite is perfectly balanced with the crunchy tostones, the creamy avocado & sour cream with hints of crab and pico. You have to try it (and let me know what you think).
Recommended Sushi Rolls
Romeo & Juliet sushi roll
If it's you first time at Sushi Kong, give the Romeo & Juliet a try. This sushi roll has crab, salmon crunch, cream cheese, topped with smoked salmon and avocado. A couple of tempura shrimp decorate the roll hugging each other. Let's say they represent the love of Romeo & Juliet because I am a hopeless romantic. Then go ahead and savor their love because those breaded shrimp are – oh so tasty.
Mango Tango sushi roll
If you dragged a friend along to this foodie adventure, share your rolls so you can also try the Mango Tango. The Mango Tango sushi roll: white fish crunch, avocado, and cream cheese topped with mango, white fish ceviche, and a passion fruit glaze. I didn't expect passion fruit and mango to taste to yummy in a sushi roll, but they really do.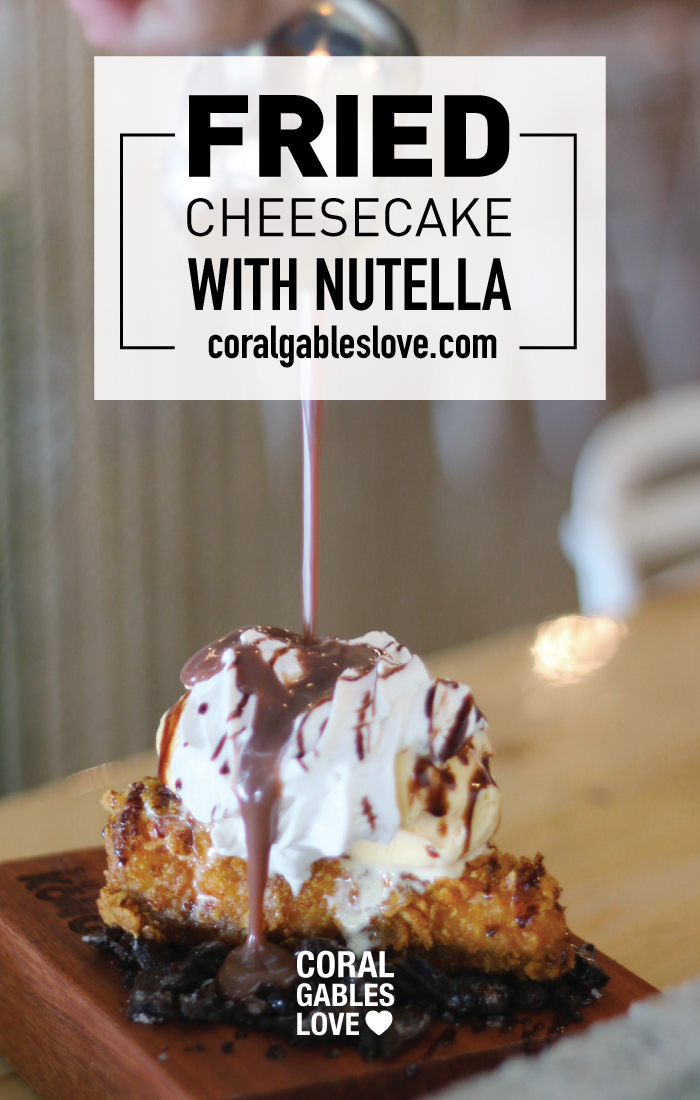 Recommended Dessert
End your Sushi Kong outing with a massive Kong CheeseCRACK. A deepfried cheesecake topped with ice cream and Nutella, served over crushed Oreos. They will pour the warm nutella over the ice cream. It's crunchy, sweet, chocolatey and glorious. The cheesecake truly melts in your mouth. Take the name as a warning, once you take a bite you won't be able to stop until the whole thing has disappeared. Prepare yourself for a nap after this massive dessert.
The People Behind Sushi Kong
Venezuelan couple, Georgina Mazzeo & Javier Zamora have a chain of restaurants in Venezuela called Hello Sushi. Unfortunately, they were forced to leave Venezuela because of the current political turmoil. So they decided to replicate their success in the US. Their first location of Sushi Kong has been open for 6 months. The concept behind the restaurant was to combine Latin American flavors with Japanese cuisine by adding lots of fruit, green plaintain, sweet plaintain, avocado, passion fruit, ceviches to the dishes. They have a ton of recipes they will be rotating on the menu. So make sure to keep coming back to see what's new.
Sushi Kong is located at 3000 Coral Way, Miami. For more information visit their Facebook page.