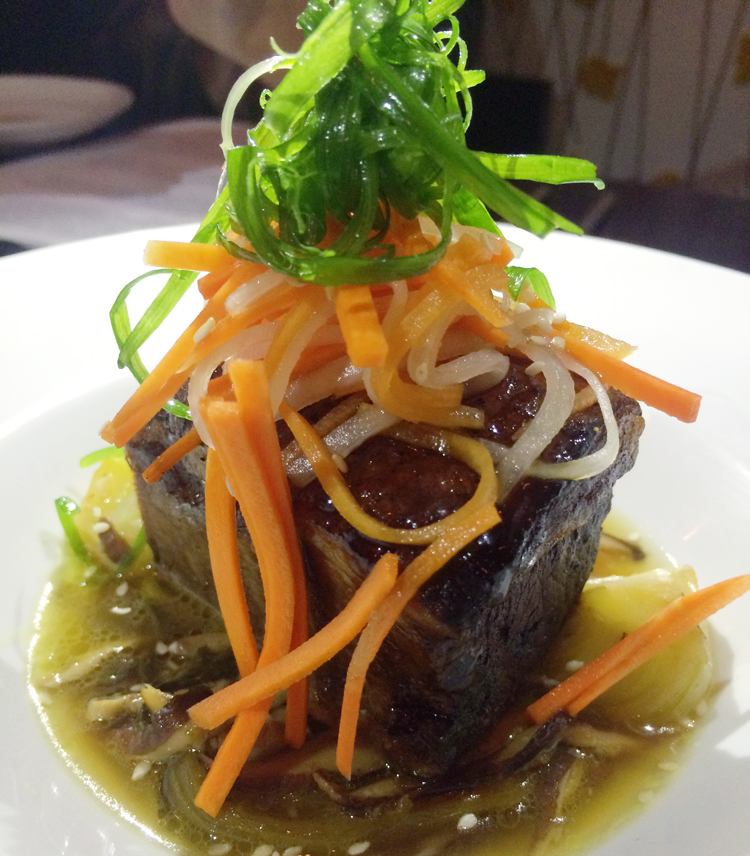 A couple of weeks ago I was invited to try Uvaggio's brand new Fall menu. It was my first time visiting this little gem of a restaurant sitting right on Miracle Mile. Next time you are planning your date night, call and make a reservation at Uvaggio. The food is fantastic, the wine is carefully curated and it has the most romantic atmosphere for an intimate conversation over dinner and wine.
Walking into Uvaggio for the first time, I noticed the floral accents decorating the walls giving the illusion of a meadow of flowers hanging in the air. All the seating is upscale hightop tables with comfortable stools. There is a bar where you can sit in the back of the restaurant where they keep the beer taps. The inside fits about 6 tables so make sure to make a reservation or call ahead before heading out.
The Story of Uvaggio
Craig Dewald and Heath Porter opened Uvaggio in March of 2014. Their dream was to open a restaurant that offered five-star wine, food, and service at a reasonable price. Their wine selection philosophy is straightforward, "We pour wines that are well balanced, representative of their origins and most importantly, food friendly." On the other hand, they develop their food menu around the wine in a process they call tasting backwards. "By tasting our wines with Chef Tanner and understanding the components and characteristics (smell, taste, acidity, etc.) we develop a menu of food that not only complements the wine, but also enhances the meal as a whole."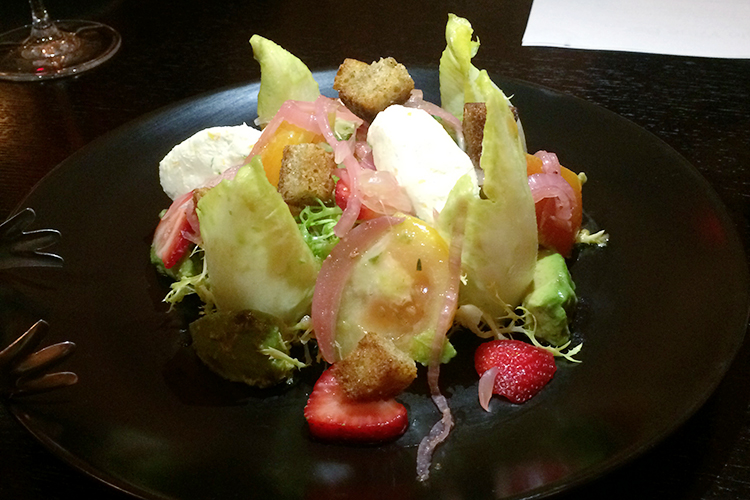 Uvaggio's New Fall Menu
Chef Tanner Gill's new menu is a masterpiece of fall flavors. The tasting I attended started off with a seasonal salad made with greens, heirloom tomatoes, strawberries, citrus zest, goat cheese, avocado, pomelo, and pickled red onion. The salad was paired with Yves Cuilleron, Rose of Syrahh from France. The strawberries in the salad made a delicious combination with the rose. Also, the croutons had a faint taste of bacon and were my favorite part of the salad.
The salad was followed by duck confit served with acorn squash puree, dandelion-sorrel salad, mustard-apple vinaigrette, and cranberry gastrique. The duck confit was paired with the Turkish wine, Kayra Okuzgozu: a deep red wine with hints of cranberry that accompanied the cranberry gastrique wonderfully.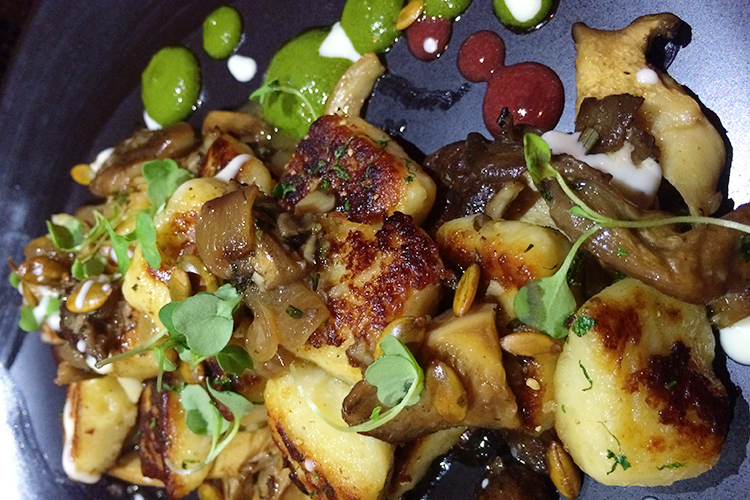 My favorite dish of the night was the handmade potato gnocchi with roasted wild mushrooms, pumpkin seeds, arugula pesto and truffle oil. The gnocchi was served over a raspberry puree that was paired perfectly with the Italian wine Castello Di Neive, Barbera d'Alba. This dish also happens to be vegetarian. You can be confident to find something delicious for your vegetarian friends at Uvaggio.
My second favorite was the slow cooked brisket served with sauteed baby bok choy, shitake musrooms, bacon dashi, and daikon slaw. This 24 hour slow cooked brisket is so good it will rival your mom's brisket – as most of the attendees pointed out at the table. Definitely, pencil in Uvaggio in your calendar so you can try their brisket.
Uvaggio The Wine Lovers Haven
Uvaggio does not mess around with their wine. The entire front of house staff are trained sommeliers. Uvaggio offers between 30 and 40 wines by the glass everyday, and features a menu of over 125 wines by the bottle. They also host special wine tastings every Saturday from 5:00pm – 6:00pm bringing a new topic and focus each weekend. During these wine tastings you taste six wines in a fun and interactive learning experience all for only $30 per person. If you are a true wine lover then you can sign up for a Wine Country Tour with Uvaggio. Uvaggio offers wine trips two or three times a year. These guided tasting tours get you behind the scenes with wine makers and winery owners around the globe. Special tastings, dinners, and lunches in the vineyards are just some of the highlights to be expected on these wine tours. For more information on these tours contact Crag at craig@uvaggiowine.com
So next time you find yourself asking, "What should we do for date night?" Head on over to Uvaggio and thank me later. Uvaggio is located at 70 Miracle Mile, Coral Gables. uvaggiowine.com