Photo courtesy of Stacy Moya
Vietnamese music plays as you step into Miss Saigon. You are greeted by waiters wearing traditional Vietnamese outfits. The walls are decorated with bamboo panels and the restaurant has bamboo plants throughout giving it a cozy atmosphere. As soon as you sit down you are brought hot towels to freshen up your hands and get you ready to enjoy your meal. I first discovered Miss Saigon when my sister invited me to try it many years ago. Once I tasted their signature dish the Miss Saigon (steamed rice noodle bowl with spring rolls and chicken), they had a loyal customer for life. The dish has crispy spring rolls inside of it. Yum!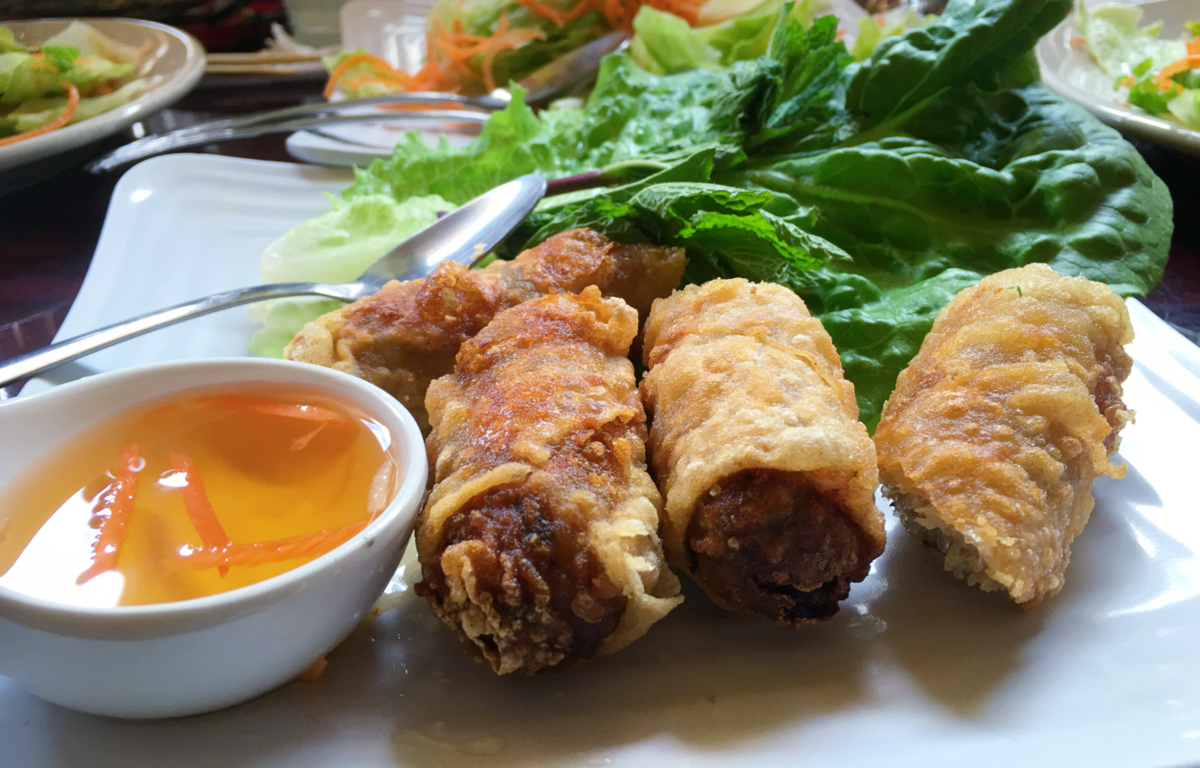 Photo courtesy of Stacy Moya
I love dining at Miss Saigon because they serve the most delicious homemade Vietnamese food. After talking with restaurant owner, David Nguyen, I learned that Miss Saigon is an example of the importance of family and how working together will lead to incredible achievements. Miss Saigon is owned and operated by the Nguyen family: Mrs. Thi and her husband Mr. Nguyen, their daughters Hali and Mimi, and their sons Huey and David.
In 1975, the Nguyen family attempted to leave Saigon by paying a tug boat to pull their raft to the Philippines. The tug boat cut the line half way through the journey and left the family stranded at sea. Fortunately, they were discovered and rescued by the US Navy and taken to Guam. Once they arrived at Guam they met an American couple who sponsored the family to bring them to the US.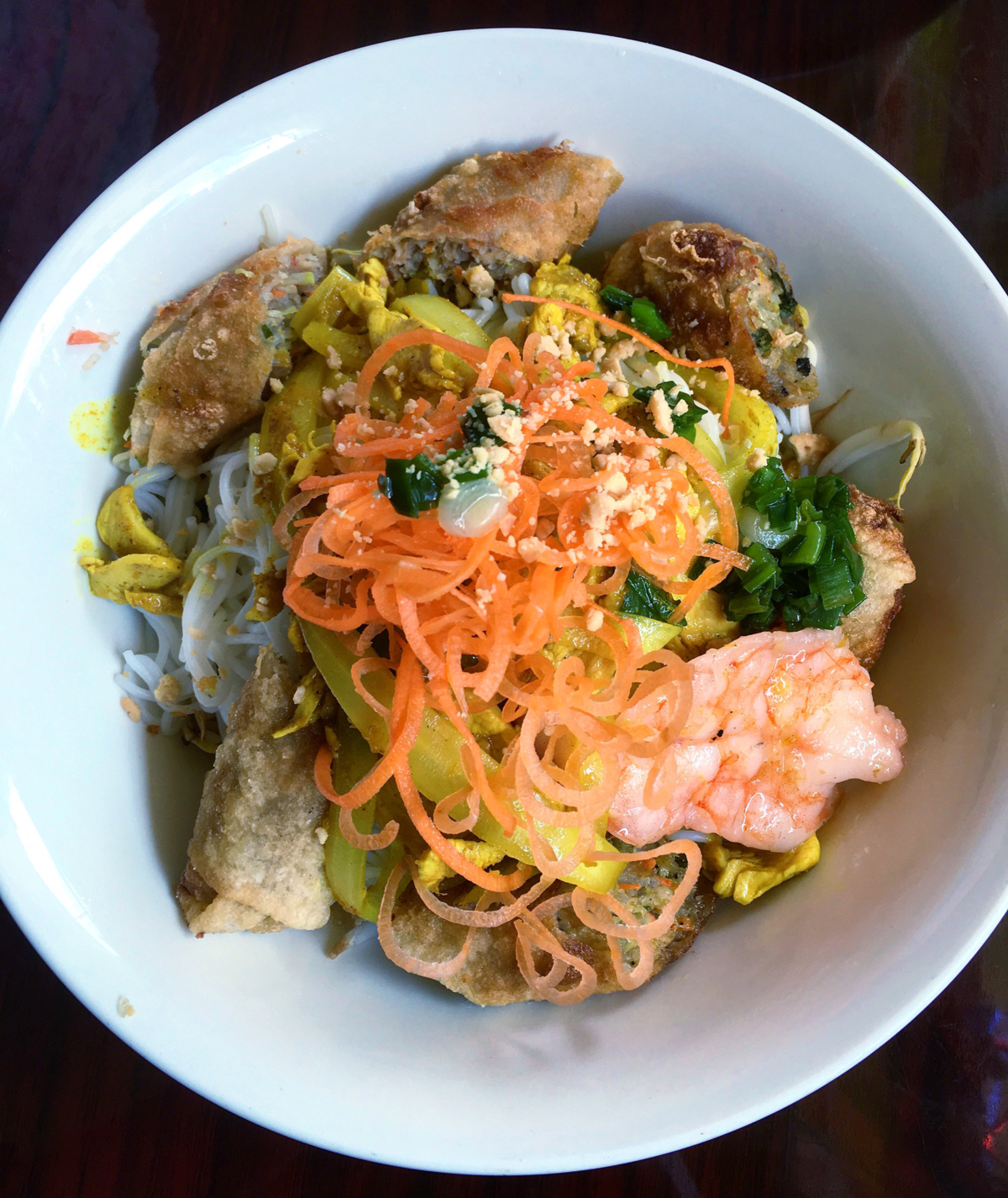 Photo courtesy of Stacy Moya
When asked what city she wanted to go to, Mrs. Thi picked a city with a small Vietnamese population. She knew this would allow her family to adapt quickly to their new home. At the time the family first arrived to Florida, Mrs. Thi would pick tomatoes and limes to pay the bills. She didn't want any help from the government and only asked of her children to go to school. Eventually, all the kids got summer part-time jobs to help pay the mortgage. As soon as Mrs. Thi saved enough money she would open a restaurant. Mrs. Thi had no formal business education but has always been business savvy.
All the children had worked at restaurants to earn enough money to go to college. They each had different jobs from busboy to manager. Coincidentally, this gave the family an impressive background and experience in the restaurant industry. In 1997, Mrs. Thi and her daughter, Mimi, decided to open a Vietnamese restaurant: Miss Saigon located at 148 Giralda Ave, Coral Gables.
Menu Recommendations
Miss Saigon's menu is based on how Mom, Mrs. Thi, cooks at home. Mrs. Thi designed the menu with additions from her children as they developed new recipes. It was actually Rick, one of her younger sons, that came up with their best-selling dish the Miss Saigon. David recommends you ask for the spring rolls on the side so that they stay crispy until you are ready to eat them. Otherwise, they will soak the broth and lose some of the crunch.
For those looking for vegan options I recommend the watercress with seitan. It's a delicious combination of lightly stir fried seitan and crisp, fresh watercress. Other dishes to try include their Pho Soup and their spring roll appetizers. In terms of desserts, David recommends the chocolate and carrot cakes. The cakes are baked at home by his wife Lisa.
Catering
Miss Saigon will cater your events. They sell party trays and have a catering menu. They have accommodated weddings at their restaurants too. If you are interested in catering or having an event at one of their locations contact David at (305) 446-8006.
Photo courtesy of Stacy Moya
Their restaurant has been so successful they have expanded to two other locations. They opened their second location at US-1 near Kendall Drive in 2000, and a third location in South Beach in 2013. They have other projects in the works and just celebrated their 18th anniversary on July 5th. If you haven't experienced Miss Saigon for yourself stop by for lunch or dinner. Tell David I sent you :)
Visit their website for the full menu misssaigonbistro.com