About Aymara Lucero from Concerned Cook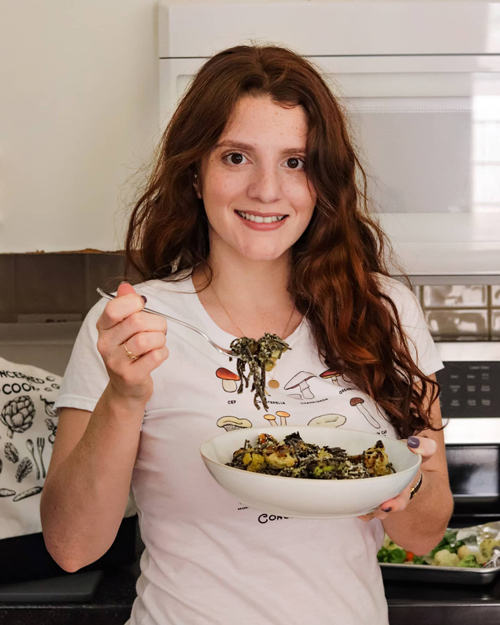 In 2012, Aymara Lucero started a project named Concerned Cook where she educates others on her simple healthy recipes, nutritional tips, food facts, and sustainable cooking. Concerned Cook has evolved her skills in recipe development, food styling, photography, and community engagement for her audience. In her professional life, Aymara has a Bachelor's Degree in Psychology and a Master's in Marketing, and for the last couple of years, she's worked for corporate restaurant groups and franchises as a marketing & brand manager.
Parmesan Bean Sauté Recipe
Servings: 6-8 servings
Ingredients
White Beans (2 cans = 31 oz)
Scallions
Grape Tomatoes
Parmesan Cheese (1/8 cup)
Butter (1 Tbsp)
Garlic Powder
Salt
Basil Leaves
RECOMMENDED READING: 'One Dough Fits All' Cookie Dough Recipe
Instructions
Heat up a large pan to high heat and melt butter.
Add chopped scallions (you can also use 1 diced onion).
Once they begin to cook, add halved grape tomatoes and cook them until they start to soften.
Add beans and spread them apart evenly, so they're all touching the bottom of the pan.
Season evenly with salt and garlic; if you're using dried herbs, add them at this time.
Allow beans to cook until they start to brown on the outside. Toss to try to brown them on all sides as much as possible without allowing them to break up or get mushy.
Once they're browned, sprinkle Parmesan over all of the beans and toss for a couple of seconds.
Serve.
If you're using fresh herbs, top the dish with the herbs after serving.
RECOMMENDED READING: Healthier Caesar Pasta Salad by Jordan from Prickly Fresh