About Jordan Elbaum from Prickly Fresh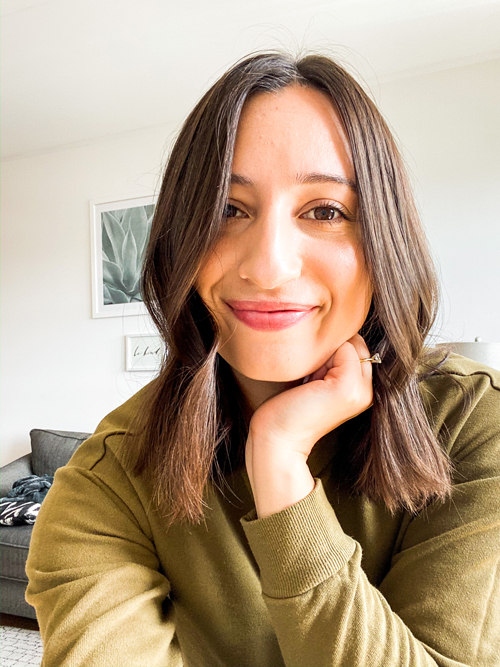 Hello! I'm Jordan, the photographer, recipe developer and face behind the food & wellness blog Prickly Fresh. I share simple, yet elevated healthy-ish recipes, clean beauty products, and wellness tips for the food-loving wellness enthusiast.
I'm so excited to try this quick and easy recipe. Jordan is always making tasty dishes and tempting me with new products as she shares her grocery deliveries. Follow Jordan for more healthy recipes at pricklyfresh.com and on Instagram @pricklyfresh
Caesar Pasta Salad Recipe
Caesar Pasta Salad is an easy and healthy weeknight meal made gluten & dairy free.
Prep Time: 5 minutes
Cook Time: 25 minutes
Servings: 8 Servings
Calories: 513kcal
RECOMMENDED READING: Parmesan Bean Sauté Recipe by Concerned Cook
Equipment
Ingredients for Caesar Pasta Salad
Crispy Chickpeas
1 Can of Chickpeas rinsed and dried
1 Tbs Olive Oil
1 Tsp Sea Salt
Caesar Pasta Salad
3 Heads of Romaine chopped
3 Roasted Red Peppers out of the jar
1/4-1/2 cup Dairy-Free Caesar Dressing I love Tessemae's
1 box Banza Bowtie Pasta
RECOMMENDED READING: Chicken Parmesan Meatballs Recipe
Instructions
Rinse and dry chickpeas. Place in a small bowl with olive oil + salt and add to an air fryer at 400°F for 15-20 minutes or until crispy golden brown. *if you don't own an air fryer, place them on a baking sheet at 400°F for 25-30 minutes shaking them occasionally*
In a medium pot bring water to a bowl and cook pasta according to package directions. Strain and let cool. It might be helpful to add a drop of olive oil once the noodles come out so they don't stick.
Chop romaine and red peppers and add to a large bowl. Add cooled pasta + caesar dressing and mix until well combined. Top with crispy chickpeas. Enjoy!
Pin For Later