La Taberna Giralda serves delicious and authentic cuisine from different regions in Spain. If you are in search of authentic tapas or a live Flamenco experience, you should head on over to La Taberna Giralda. It is also a unique and lively place to hold a special event like an anniversary or birthday. It's warm and welcoming while encouraging you to let loose and have fun.
The entire restaurant has the cozy feeling of a flamenco concert in a wine cellar. The tabletops look like they are made of wine crates and the outside tables are actual wine barrels with stools as chairs. There are wine bottles everywhere you look, pictures of Spain on the walls, and even a classical guitar on display. The hardwood floor was built using large, antique planks of wood. The decor is a bit dark; but I like it. The darker atmosphere adds to the experience.
Live Spanish Music
On Thursday and Saturday nights Flamenco dancers and guitarists perform live shows at La Taberna Giralda. As soon as you walk in, Flamenco music will welcome you with a warm embrace that will make you want to dance to the music. I am always happy to sit and enjoy the flashy guitar and the emotional dancing – the entire time wishing I could dance or play like them. It can be quite loud and entertaining during the live Flamenco performance. If you are looking for a low key dinner I recommend you visit them on a Friday or a weekday (other than Thursday).
Stop by Taberna Giralda on Fridays for a complimentary wine tasting. During these events you will find a featured dish and featured wines at a special discounted price.
The Tuna de Miami, a group of students dressed in traditional costumes often stops by La Taberna Giralda to play unannounced. It is always a special treat to watch this talented group of musicians play and sing traditional Spanish music.
So what should you try?
Tapas
My favorite tapa is the fried eggplant chips with drizzled honey. I am not particularly a big fan of eggplant; but the amazing eggplant tapa at Taberna Giralda makes me rethink my stance on the vegetable. In terms of tapas, the patatas bravas are a must have. The golden fried potatoes with a spicy pink sauce taste fantastic. My third favorite tapa is the traditional Spanish potato and egg omlette called Tortilla Española. Taberna Giralda serves their Tortilla Española with a balsamic reduced sauce that will leave you scraping your plate for every last drop. Karen, owner of La Taberna Giralda, recommends the best selling tapa: creamy black rice with calamari ink, cuttlefish and a drizzle of aioli on top.
Entrees
Although Taberna Giralda is known for their tapas, they also serve main entrees. I recommend the roasted pork tenderloin with rosemary. It is served on layers of caramelized onion and a manchego cheese sauce with freshly made house potato stick fries on top. The tender and juicy pork will pull apart with your fork and melt in your mouth. If you are a seafood lover, try their La Dorado a la Sal – sea bream cooked in a crust of sea salt served with roasted potatoes and a spring vinaigrette. They also have razor clams, a unique type of Spanish clam, brought fresh regularly. You can also find seafood specials from Spain such as Luvina, Corvina and live lobster. Whenever these fishes are available the restaurant features them on the menu. Keep an eye out for these unique fish dishes. Karen also recommends the NY strip steak with fresh cut french fries. This grilled rib eye steak can be served with grilled peppers on top, a brandy sauce, or a mushroom sauce.
La Taberna Giralda also offers a slow roasted suckling pig. You can pre-order this dish to eat at the restaurant or order it to-go and serve it at an event.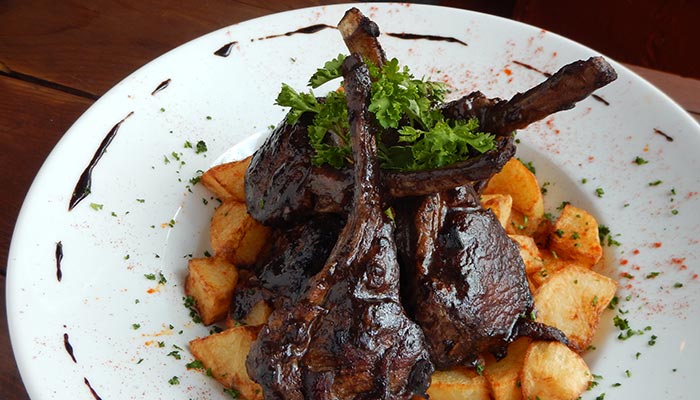 Beers, Wine & Sangria
When you order sangria at Taberna Giralda it is freshly made to order. For only $20 you can get an entire carafe of refreshing, handmade sangria that goes perfectly with any of their dishes. La Taberna Giralda stocks a nice selection of beers from Spain including Moritz and Estrella Damm from Catalonia, Mahou from Madrid, and Estrella Galicia from Galicia. They also carry over 80 wines in different price ranges for you to choose from.
Stop by Monday through Wednesday for a special wine menu at half price which changes on a monthly basis.
The Story Behind La Taberna Giralda
La Taberna is a true family owned business. The Pino family, originally from Galicia, Spain had always dreamed of opening a traditional Spanish tapas restaurant. When Oscar Pino, father and accountant, decided to retire the dream started becoming a possibility. In August of 2012 Oscar, with his wife Adilia, and daughter Karen bought the restaurant on Giralda from another family selling the business. Not a single one of them had any experience in the food industry; but they made up for it in hard work and passion. Oscar, with his background in accounting, takes care of the books, inventory, wine purchases and logistics. Karen took over the marketing, public relations, promotions, media and advertising. Adilia helps with the day to day operations of the restaurant. Jordi, also family, has been on board since the inception of this journey helping with staff management.
The family hired Angel Ramos as chef for the new restaurant. Angel was born and raised in the Canary Islands in Spain. As executive chef, he cooks tapas that are traditional dishes from several different regions of Spain including: Galicia, the Mediterranean, Madrid and the Canary Islands. The resulting menu has an eclectic mix of flavors and Spanish cultures that you won't find elsewhere in the area. If you haven't stopped by I strongly recommend you add it to your to-do list. La Taberna Giralda is located at 254 Giralda Ave, Coral Gables. Check out their full menu at giralda254.com and follow them on their social media: Instagram, Facebook, and Twitter.
If you visit La Taberna Giralda, please tell them I sent you! Thank you for supporting small businesses in the area and shopping local. I'll keep bringing you the stories behind our small businesses in the area. Share your new discovery with your friends using the social buttons below.
Coral Gables Love Reader PERKS
Yay! You get a special discount for being a Coral Gables Love reader. Show this coupon at Taberna Giralda and receive FREE Patatas Bravas (tapas) with the purchase of another menu item. Expires August 31, 2015. [printer friendly coupon]