Coral Gables High School college scholarship recipients.
I wanted to share with you a non-profit organization doing great work in our community. Established in 1991, the Coral Gables Community Foundation has given back to the community nearly $5 million dollars. Their 2015 contributions to the community include awarding $53,000 in college scholarships to several Coral Gables High School students, supporting programs like the Farmers Market and Jazz in the Gables through the City Gifting Fund; and donating to lower income neighborhoods and non-profit organizations.
The Golden Gables Fund, one of the Foundation's more popular funds, benefits residents in the historic MacFarlane Homestead and Golden Gates neighborhoods near Grand Avenue. Donations to this fund are set aside to help non-profit organizations and residents in the area including:
St. Albans Child Enrichment Center: provides childcare to pre-school aged children of working mothers.
The Barnyard: provides free after school and summer camp programs for children with financial and domestic hardships.
Coconut Grove Outreach: has served as a food bank in the area for the last 23 years.
Public schools Carver Elementary School, Carver Middle School and Frances S. Tucker Elementary.
Young Tigers Foundation: opens its doors to at-risk youths and helps turn their lives around by providing them with the tools to become law-abiding citizens through mentoring services, domestic violence education, education on the risks of childhood obesity, school bullying education, after-school programs, and GED programs.
Thomas Armour Youth Ballet: (TAYB) opens educational and professional opportunities for the youth of Miami-Dade County through the study and performance of dance. The organization welcomes children regardless of income level or background.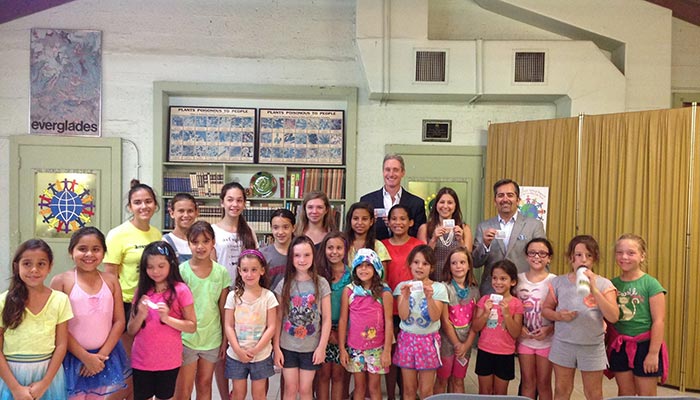 Girl Scout Council of Tropical Florida receiving a $5,000 grant from the Coral Gables Community Foundation
How You Can Donate & Participate
If you would like to donate directly to the Coral Gables Community Foundation please contact Mary Snow at mary@gablesfoundation.org. There are several ways you can donate. You can give a one-time donation directly to the organization or to one of the Foundation's 36 funds with specific purposes ranging from small business support and providing college scholarships to benefiting low income neighborhoods. Visit the Coral Gables Community Foundation website (gablesfoundation.org) for the full list of available funds. You can also start a new fund within the Foundation.

Local restaurant La Taberna Giralada participating in the Tour of Kitchens Fundraiser
You can also give back to the community by participating in their fundraising events throughout the year. Below are a couple of upcoming events. Visit the Coral Gables Community Foundation's website for more details on their event calendar.
Coral Gables Community Foundation Gala October 16, 2015 at 7pm: As Chairman Carlos Garcia says, "The Coral Gables Community Foundation holds our Annual Gala to bring the City Beautiful together by celebrating where we live, work, learn and play together while at the same time, raising funds to meet the needs of our community." This year's gala is co-chaired by Sissy DeMaria and Mary Young and the theme will be 'A Night in Old Shanghai' with dinner, dancing,  live auction, silent auction, Chinese drum performances, and casino gaming.
Tour of Kitchens February 2016: During this event, Coral Gables residents open their houses to kitchen and home design enthusiasts. Partnering restaurants offer appetizers at each location for visitors while they tour the homes and kitchens. Proceeds from this fundraiser benefit Culinary Arts students at Coral Gables Senior High School. With those funds, the students have been able to grow an organic garden at the school, purchase new kitchen equipment, and receive scholarships to culinary schools.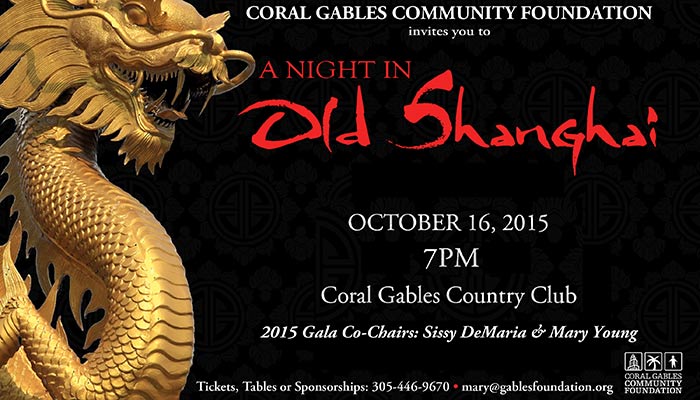 Become a Member of the Merrick Society
The Merrick Society is an exclusive group of philanthropists that have committed to a three-year annual contribution of $1,000, $2,500, $5,000 or $10,000. The Merrick Society allows the Coral Gables Community Foundation to operate throughout the year, administer grants, support and fund charitable organizations. If you are interested in making this commitment to the community contact Mary Snow at mary@gablesfoundation.org.
Join the Ponce Society of Young Professionals
The Ponce Society of Young Professionals was founded in 2011 in an effort to bring younger Coral Gables philanthropists together. With a one-time donation of $100 you can become a member and attend all Ponce Society events that are both fun and community service-oriented.
It doesn't matter which way you decide to support this wonderful organization. Every little bit helps to support and improve the community we live in.