About Patty Ruiz from The Mad Table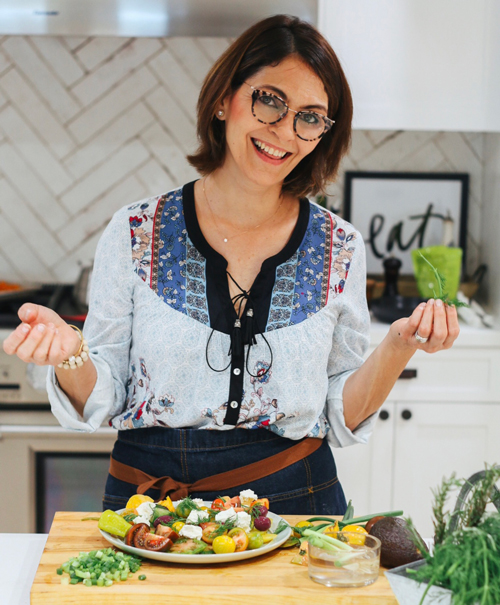 Patty Ruiz, is chef and founder of The Mad Table, a brand created to inspire people to discover and enjoy the importance of food as a social medium.
Chef Patty wears many hats. She is a private chef, hosts cooking classes/dinner parties, runs a culinary camp for kids, teaches virtual cooking classes, and also enjoys working on styling projects helping food bloggers and influencers make their food images pop on their websites and social media accounts. This experience has led to professional food and prop styling work for commercials, print media, film, and restaurants. The behind the scenes part of her job is one of her favorites; and where she gets to use her talents and creative eye for every aspect of food styling and entertaining, from creating props to producing a story to developing recipes. Follow Patty on Instagram @themadtable or Facebook.
Chicken Parm Meatballs Recipe
Yield: 4-6 Servings
Ingredients:
1 pound ground chicken
1 egg
1⁄2 cup grated parmesan cheese
11⁄2 cups panko breadcrumbs
1 teaspoon garlic powder
1 teaspoon Italian seasonings
1⁄2 teaspoon black pepper
bocconcini mozzarella cheese balls (enough for each meatball- about 22) 1⁄4 cup olive oil, divided
1 (26 ounce) jar marinara sauce
1⁄2 cup shredded mozzarella
2 tablespoons fresh basil, torn (optional)
RECOMMENDED READING: Healthier Caesar Pasta Salad by Jordan from Prickly Fresh
Instructions:
In a large bowl, mix together the chicken, egg, parmesan cheese, breadcrumbs, garlic powder, and italian seasonings. Roll into 11⁄2 inch balls. Insert a small mozzarella ball in the center of each meatball, reshape the meatball around the cheese, making sure the cheese is completely covered and not exposed. Roll the meatballs in panko breadcrumbs and set aside.
Heat 2 tablespoons of oil in a dutch oven or large oven-safe skillet over medium heat. Working in batches, add the meatballs and brown on each side. Remove from the pan and transfer to a large plate or sheet on. Wipe out any breadcrumbs from pan and heat the remaining 2 tablespoons of oil over medium heat. Brown the remaining meatballs on each side. Remove from pan.
Preheat oven to 350o Fahrtenheit.
Wipe clean the same pan used for the meatballs and pour all of the marinara sauce in the pan; add the meatballs and nestle in the sauce. Bake meatballs for 20 minutes sprinkling the mozzarella on top for the last 5 minutes of baking. Garnish with basil and serve over pasta or with crusty bread. Enjoy!
RECOMMENDED READING: Parmesan Bean Sauté Recipe by Concerned Cook