We're continuing with our South Beach Seafood Festival Chef recipe series! This time we meet Chef Sean Brasel from Meat Market Miami. Sean is sharing his Buffalo with Coffee Ancho recipe with us. This buffalo recipe is part of their Mixed Grilled Dish, which includes Buffalo with chili and espresso rub and mole butter, King crab with grilled avocado and roasted pepper salad; and Prime new york with roasted pepper chimichurri. If you are a meat lover, you need to try this recipe.
It feels like just yesterday I was at the SOBE Seafood Festival Chef Showdown, on the beach, eating great food, and voting for the best dishes from the top chefs in South Beach. To prepare us for this foodie event, I'm bringing you recipes from some of the renowned chefs participating at the South Beach Seafood Festival 2016.
SOBE Seafood Festival Discount Code 2016
Are you ready for an entire day of open bar on the beach and tasting the best food from South Beach restaurant pop-up cafes? Grab your tickets with discount code CGLOVE to get 20% OFF your tickets.

Chef Sean Brasel
Meat Market's Buffalo Coffee Ancho Crust Recipe
This buffalo coffee ancho crust recipe comes from the restaurant, Meat Market Miami.
Ingredients for the Mole
4 each center cut (6 oz.) buffalo filets
1 each Ancho chilies
1 each chipotle chilies
.5 cup almonds (sliced)
1 each cinnamon stix
4 each yellow corn tortillas
4 each black peppercorns
4 each whole cloves
.25 cups white sesame seeds
1 each bay leaves
1 tablespoon dry oregano
4 each garlic cloves (chopped)
1/2 each yellow onion ( sliced )
2 each medium tomatoes ( x-tra ripe)
1/4 cup blend oil
2 ounces 60/40 chocolate
Instructions for Mole:
Toast separately almonds, tortilla, sesame seeds in 350 degree oven
In blender grind cinnamon Stix cloves and peppercorns
Soak chilies in hot water till soft and remove seeds, reserve water and puree chilies and raisins
Make simple tomato sauce with tomato onion garlic oregano and bay leaf
Heat oil in rondo until smoking
Add onion and garlic caramelize
Add tomato bay leaf and oregano
Simmer 1 hour or until most of the moisture is gone
Puree in robot coup an set aside
Grind almonds, sesame seeds and tortilla and add to tomato sauce
Add chilies mix and chocolate to sauce mixture and return to LOW heat until chocolate is melted
Cool on sheet trays and place in zip bags before freezing
Ingredients for the Mole Butter
1 Tablespoon garlic, chopped
1 Tablespoon shallot, diced
1/2 cup red wine
1/2 cup mole
1/4 cup bone marrow
1 teaspoon cracked black pepper
1 tablespoon kosher salt
1 tablespoon Worcestershire sauce
1 tablespoon parsley, finely chopped
1/2 pound unsalted butter
2 ounces cream cheese
1/2 box Boursin cheese
2 tablespoons Parmesan cheese, grated
Instructions for Mole Butter:
Toast garlic in small rondo, add shallots and wine.
Reduce by half.
When reduced, add mole, bone marrow, pepper, salt and Worcestershire.
Continue to stir making sure that it doesn't stick to the pan or get burned.
Reduce till it becomes pasty.
Set aside until cool.
In the large mixer, add the butter, and cheeses.
Whip until fluffy.
Add the cooled Mole mixture and the parsley.
Whip until mixture is blended.
Then roll into logs and place in the freezer.
Ingredients for the Coffee Crust
2 tablespoons sweet paprika
2 tablespoons cumin seeds
2 tablespoons star anise
1/2 ounce ground coffee
1 ounce cinnamon sticks
1 teaspoon cayenne
1 tablespoon cloves
1 each Dried ancho pepper
1 tablespoon chili powder
1 tablespoon salt
1/4 ounce dried peppers
Instructions for Coffee Crust:
In a towel, place small amounts of cinnamon sticks and cover. Use back of knife to break into smaller pieces.
Add everything in robot coup or spice blender and blend.
Ingredients for the Cobbler Tops
11/4 cups bisquick baking mix
1/4 cup buttermilk
3 ounces butter 1/4 inch dice
Instructions for Cobbler Tops:
Mix butter into bisquick coating butter but leaving small chunks.
Add buttermilk, mix together carefully until dough forms being careful not to over mix
Wrap and let rest in walk in over night before rolling and cutting into circles
To assemble: In small cobbler style dishes add the cooked squash and pour over the cooled liquid, then roll out the dough and place on top of each dish, cook for 15 to 20 min.
About Meat Market Miami
A sexier, more glamorous take on the traditional steakhouse, Meat Market offers a dynamic menu of what's great now; featuring delectable cuts of meat, delicate seafood and produce available and offered on a daily, weekly or seasonal basis under the acute supervision of acclaimed executive chef, Sean Brasel.
It is the perfect place to unwind, recharge, or meet up with friends, as a hotel guest or a South Beach local, make it your first stop of the day or your last stop in the evening..
About The SOBE Seafood Festival 2016
The SOBE Seafood Festival means one thing: it's almost stone crab season again! The South Beach Seafood Festival is the ultimate seafood experience featuring luxury dining on the sands of South Beach. The seafood festival will take place on 7th street and Ocean Drive and will go from noon to 7pm. Plus, ticket price includes all-day open bar! Please keep in mind the ticket price does not include the food. So bring money for the yummies!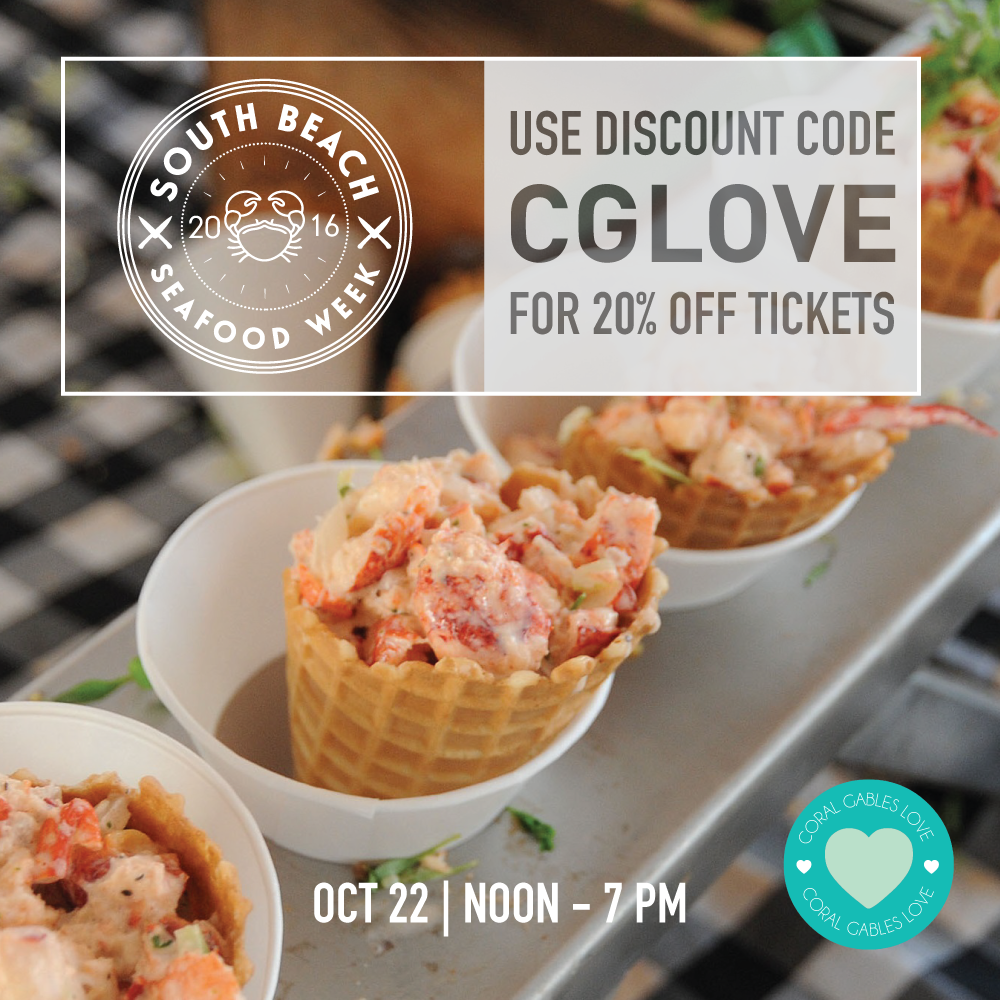 Saturday, October 22 will host the 4th Annual South Beach Seafood Festival featuring pop up café's from the likes of Joe's Stone Crabs, Naked Taco, Red, the Steakhouse, CJs Crab Shack, Drunken Dragon, A Fish Called Avalon, Naiyara, Poseidon, Toro Toro, Trulucks, and more. Together, 17 restaurants will be serving you right on the sand – it's four blocks of fun to be exact! Restaurants will showcase an eating experience unlike any other as you stay refreshed with a glass of delicious Kendall Jackson Chardonnay or ice cold Jack & Coke!
There are two types of Festival Tickets and both General Admission and VIP include an all-day open bar available at any of the 30+ added bar locations. General admission starts at only $35; this low price gives guests the opportunity to pick and choose which delicious restaurants to try – all of which are bringing their premium menu items at affordable prices between $5 – $10. This is not a tasting festival; this is an eating festival. Enjoy Stone Crabs, Lobster Waffle Cones, Steak & Lobster Skewers, Shrimp Tacos, Oysters, Shrimp Cocktail, Gyros, Crab Cakes, Grouper in a Bag, Lobster Mac 'N Cheese and more. But please, don't go home hungry!