Yannis Sotiropoulos & Makis Paliouros are practically brothers. They have been best friends, business partners, and working in the hospitality industry for the last 17 years. Their new dream is to introduce South Florida to a modern European cafe inspired by their slogan, "Miami, you deserve better coffee".
With a love for coffee and a passion for healthy food and lifestyle the concept for Crema came to life. They decided to serve salads, gourmet sandwiches, breakfast, and coffee the European way using high quality Italian espresso beans and brewing techniques. The cafe's name, Crema, is a reference to the creamy foam you will find on the finest espresso.
Crema set up their Coral Gables shop inside the historical 169 building on Miracle Mile. The same building houses Morton's Steakhouse and The Colonnade Hotel. The decor is industrial chic with superb chalk signage and murals. The walls are covered with subway summer tiles and the counters are made of rustic natural wood. They play great music and keep the volume at a level where you can enjoy the background music but you are still able to take a laptop, work and hear yourself think. The wood furniture makes it a warm and welcoming place. With plenty of inside and outside seating, the location is a great place to hangout.
Menu Recommendations
Their Caprese sandwich tastes delicious made with fresh mozzarella, pesto, and tomato – served on a soft, fresh baguette. Actually, almost any sandwich on that baguette would be fantastic. Case in point, another best seller is the chicken club made with roasted chicken, bacon, lettuce, tomato and avocado on a baguette.
Those looking for healthy juices and smoothies should try the Detox Power juice (celery, kale, green apple and spinach) and the Greek Stallion smoothie (kale, spinach, dates, chia seeds, almond milk, banana, cashes, cinnamon and mountain honey).
Crema serves breakfast seven days a week until noon. Once you try their egg, ham and cheese croissant sandwich or their french toast you will definitely be adding Crema to your list of breakfast options in the area. Cream also makes enjoying a quick breakfast more convenient. Simply order at Crema's counter and the staff will bring your breakfast to your table.
If you are the type who likes to take the Italian coffee experience into your own home, the Coral Gables Crema sells Illy brand espresso machines, beans, capsules and coffee cups. It's the perfect place to shop for a gift on the go or stock up on your Illy espresso capsules.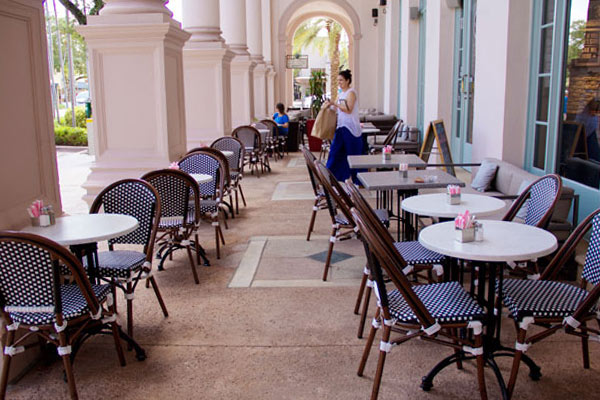 Crema is welcoming to our furry friends. They are dog friendly and will bring a bowl of water for your doggie while you sit outside and enjoy your meal or coffee. It's also a great place to read, work or study. They offer free wi-fi and have comfortable chairs that beg you to stay and hang out for a while. They also offer free infused water for their customers. Crema offers you every little perk you can think of.
Speaking of perks, here is a Crema coupon for you – lovely readers :) Receive 10% off your purchase when you buy before 3 pm EST and 20% off your purchase when you stop by after 3 pm. Simply show this coupon on your phone at the Coral Gables location.
Franchising opportunities are available. If you are interested in owning your very own Crema contact Yannis at sotiro77@gmail.com.