I first want to thank Coral Gables Love for having time to add me as a special guest blogger Cap Confidential! My Blog is about Pool-tables, Bars, Fashion, Events, Drinks, Food, and Music in Miami, Florida from a confidential perspective. www.capconfidential.com
Cafe Demetrio is a cafe that I had neglected to visit since I moved to Coral Gables. As soon as I walked in, I regretted not checking out this pure latte heaven sooner. After ordering my food selections, I went around looking where to sit. I found plenty of open, nice, and spacious seats inside; but then I noticed the outside seating area and decided to enjoy my first Cafe Demetrio experience in their open patio.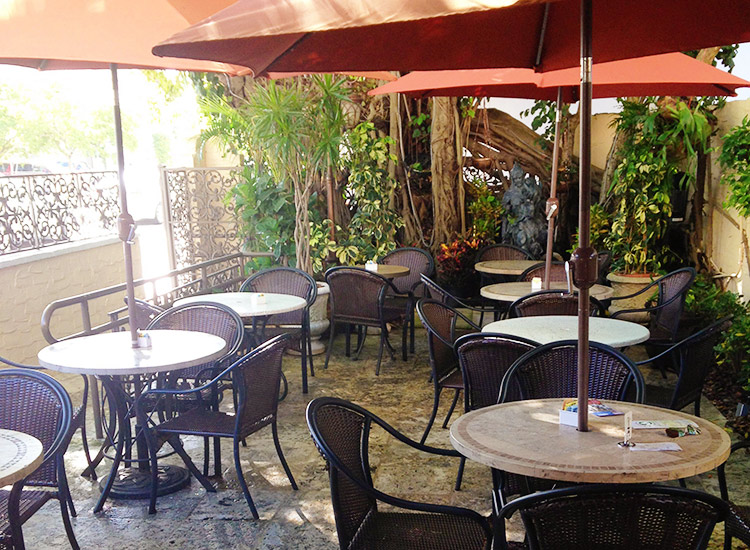 I fell in love with the outside seating immediately. I was astonished by how this coffee house captured the nature and the aesthetic feel of Coral Gables. The shade, the trees, and the fountain all played a huge part of why I loved the patio of Cafe Demetrio so much. It was such a beautiful day that I couldn't resist to sit outside. I enjoyed breakfast with the birds chirping and the sunlight creeping through the trees. After admiring the back patio for a while, our lattes arrived.
I was surprised by the beautiful heart designs when the two white chocolate latte's were placed on the table. I couldn't wait to taste them. I usually taste the latte first before I add any condiments to it, but these lattes didn't need any condiments and were made to perfection with the right balance of sugar, cream, milk, and coffee. I was almost heart broken when I had to stir the coffee, since the design was perfectly made. I sat there deep in thought, savoring and sipping while enjoying the scenery all around.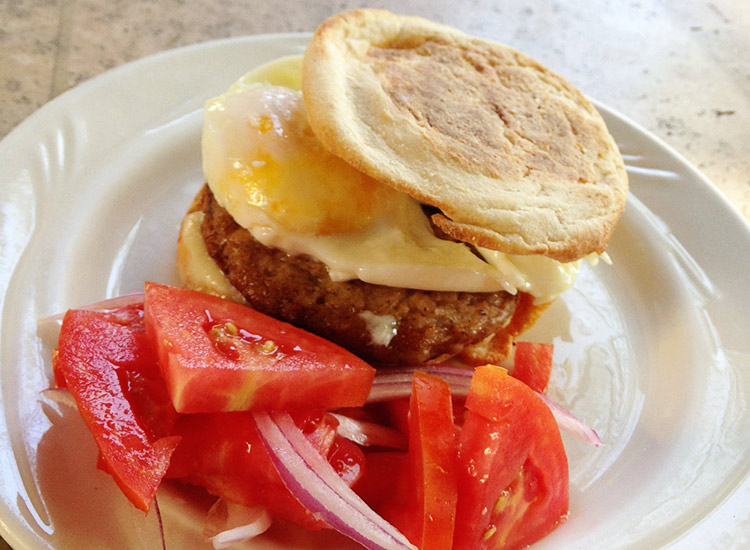 A while later the first dish came out. It was an english muffin stuffed with sausage, egg, tomato, and onions. Do not let the size fool you, this was very filling. It tastes extremely fresh and the sausage and eggs were cooked perfectly.
Then, we had the egg, ham & cheese croissant. It was great! I was looking for something light and this croissant is flaky on the outside, fluffy on the inside and full of flavor.
We ended our breakfast feast with the Blueberry Pancakes. These bad boys must have been made from heaven. The strawberries on the side were the perfect complement for the blueberry pancakes and syrup. I originally asked for the Red Velvet Pancakes but they had just run out. I can only imagine what those taste like if the Blue Berry pancakes tasted so amazingly delicious.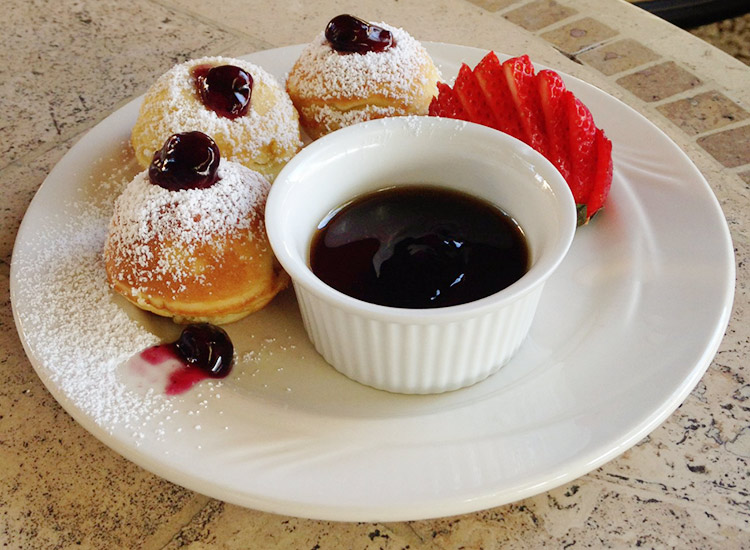 All in all, I would say this little Coral Gables gem is a real treat and would satisfy anyone with a breakfast appetite. I would recommend everyone to go and have coffee or breakfast at Cafe Demetrio. I still regret not coming sooner and do not want you to make my same mistake. Cafe Demetrio is easily a great date, meeting, business lunch, evening, or coffee spot for everyone. Don't be like me! Go visit Cafe Demetrio. Cafe Demetrio is located at 300 Alhambra Cir, Coral Gables. cafedemetrio.com
Do you have any menu recommendations from Cafe Demetrio? Please leave a comment below.