*** Update 5/17/2018: This establishment has closed. ***
In recent years, it seems like the entire country has become more conscious about nutrition. The popularity of nutrition and lifestyle documentaries such as Forks Over Knives and Fed Up are evidence of this ongoing trend. While we are doing our best to educate ourselves on how to make better nutritional choices, what we really need are more healthy options. We need companies that actually provide nutritious, convenient and delicious food. Enter: jugofresh.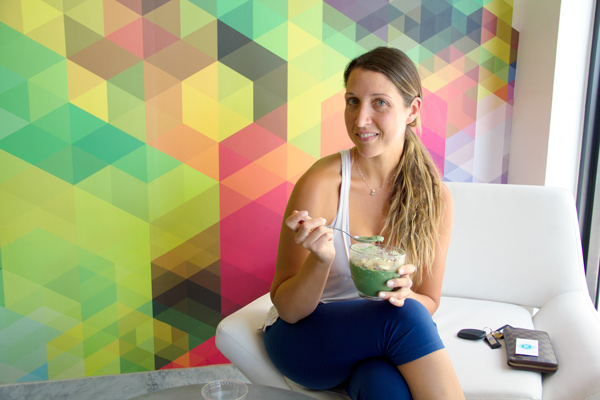 I visited the newly opened jugofresh in Coral Gables. The location is very modern and colorful with textured wallpaper and a bright geometric patterned mural. The colors are contrasted by rustic wood accents, polished concrete floors and concrete seating that is surprisingly comfy. A rainbow of bottled juices cascades across a display refrigerator to the right of the counter on which you can find menus attached to clipboards. You can pick up a menu and discover the ingredients in each bottle and more. That's right, jugofresh may have started as a cold pressed juice shop, but they have expanded their menu to include sandwiches, intricate healthy bowls and more.
What really sets jugofresh apart from other healthy juice companies is their amazing staff. jugofresh staff memebers, Kima and Elody, are always really friendly and welcoming. They are quick to offer the daily samples and suggest drinks or specials. jugofresh welcomes everyone to their shop, not just health junkies and strict vegans. They want everyone to feel part of the jugofresh family. So whether you are a casual juice drinker or you make sure everything that enters your body is organic, nutritious and fresh, jugofresh is there for you.
Nutritional Education at Every jugofresh Location
Rachel Novetsky is the jugofresh in-house health and nutritional educator that supports all the jugofresh shops. She is in charge of keeping all the jugofresh employees up to date on any and all nutritional information. When a store opens up, Rachel walks every employee through each juice and product in the fridge. She makes sure jugofresh staff members understand the benefits of each. How many restaurants can you name that have their own holistic health coach?
So what should you try?
If it's your first time at jugofresh, I recommend you try the mimosa detox bottled juice. It is made of orange, grapefruit, lemon, apple cider vinegar, cayenne extract, and ginger. Not only does this juice have metabolism boosting, anti inflammatory, and immune boosting properties; it is also used as a hangover cure.
If you are feeling adventurous or a cold creeping up on you, then you should try a saca lo shot with lemon, lime, ginger, cayenne, turmeric, oregano oil, echinacea extract, and raw honey. Use it as a decongestant, to fight viruses and improve your immune system. When three o'clock comes around, the local office crowd has been heading over to jugofresh for saca lo shots instead of the usual coffee break. Perk up the natural way without the caffeine and sugar crash with a jugofresh shot and you will be ready to continue the day.
If you are a die hard cafe con leche lover, I recommend the pa' arriba con crema, a coffee bottled smoothie made of cashew, coconut meat, coconut water, alkaline water, brewed coffee, coconut palm nectar, and vanilla extract. It is unbelievably delicious. The combination of coconut, coffee and the creaminess of the cashew milk will leave you craving for a pa' arriba con crema every cafecito break. The greatest part of energizing yourself with a crema is that it is full of healthy antioxidants that help prevent heart disease and cancer.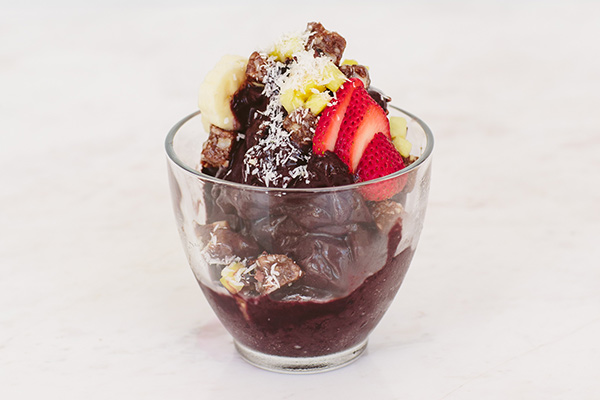 You definitely should try a sunset harbor acai bowl. It is made with açai berry, brazil nut crumble, banana, raw honey, seasonal fruit, coconut flake, and cacao nib. It's a best seller and a staple from the flagship store in Susnset Harbor located at 1935 west ave suite 102, Miami Beach.
Cold Pressed Juices vs. Blended Juices
jugofresh built their reputation by highlighting the difference between their cold pressed juices and blended juices. Cold pressed juices avoid the centrifugal heat generated in the blending process and this maintains the micronutrients in every ingredient. jugofresh cold pressed juices have a two day shelf life because they do not have any preservatives. jugofresh is the freshest you can get. They are constantly working to shorten the process from vine to your juice.
To maintain the freshness jugofresh offers seasonal juices. This summer you will find refreshing options like watermelon juice. You will find rootier options during the fall like sweet potato, carrot and beet juices.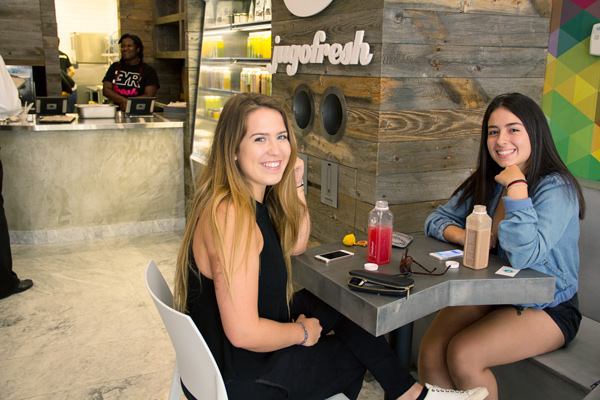 jugofresh in Our Community
jugofresh has made a commitment to positively impact our community via outreach programs. jugofresh has partnered with Miami-Dade County Public Schools and our very own Coral Gables jugofresh is the first one to kickoff the program. The Coral Gables location will give George Washington Carver Elementary School 10% off their proceeds from the store's first week sales. Most importantly, they set up a program where jugofresh volunteers will help educate the elementary students in their green garden initiative. Ultimately, each jugofresh shop will have an elementary school they work with to inspire the next generation regarding proper nutrition.
jugofresh also sponsors a FREE yoga session at the Coral Gables Museum every month. Every third Wednesday of the month you can show up with your yoga mat at the Coral Gables Museum at 6:15 pm and receive a free yoga lesson from Pablo Lucero Yoga. The Coral Gables Museum is located at 285 Aragon Ave, Coral Gables.
I'm so glad we have this new healthy option in the neighborhood. Go check them out when you get a chance. Your body will thank you. jugofresh is located at 2516 Ponce De Leon Blvd, Coral Gables.