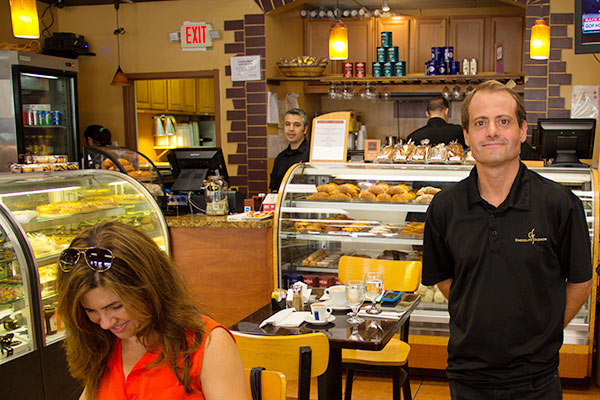 Fabian "Che" will greet you upon arrival
Chef Georges Berger, owner of Chocolate Fashion, bakes the finest French pastries in all of South Florida. It doesn't matter what you get at this French bakery/restaurant, it will be fresh and you will love it. The food isn't the only thing that will keep you coming back for more. The staff working at Chocolate Fashion might be the friendliest staff I have ever met. As soon as you arrive at Chocolate Fashion, Fabian (also known as "Che") greets you, quickly gets an update on your latest happenings, and sits you at a table. Already, you have only just sat down and you feel part of this friendly family. If you become a Chocolate Fashion regular, then the waiters and waitresses will know you by name and your favorite meal.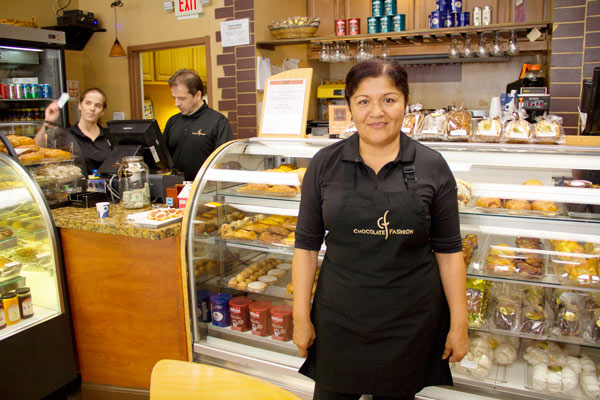 Gladys the coffee queen
The always smiling Gladys will make you to most delectable coffee to go with your pastries. As a gentleman at Chocolate Fashion commented, "You need a picture of customers kneeling at Glady's feet to correctly portray their love for her coffee." It's absolutely true. I am a picky coffee drinker. I like my latte to be light and decaf most of the time; and Glady's gets it right every time. That's why when three o'clock comes around, chances are you will find me at Chocolate Fashion having a latte with a walnut, chocolate, flourless cookie.
The warm chocolate croissants are scrumptious and literally melt in your mouth.
What You Should Try
In terms of the food, Chocolate Fashion certainly is one of my favorite restaurants. I've had their pastries, breakfast menu, lunch menu, cakes, juices, and coffee; and I've loved every single thing I've tried. You can taste the fresh ingredients and the fact that everything is made from scratch at the restaurant. I recommend their chocolate croissants, blueberry scones, walnut chocolate flourless cookies, turkey sandwiches with mustard butter, caprese sandwiches, pancakes, eggs benedict, and baguette toasts. I wasn't kidding when I said I loved EVERYTHING there!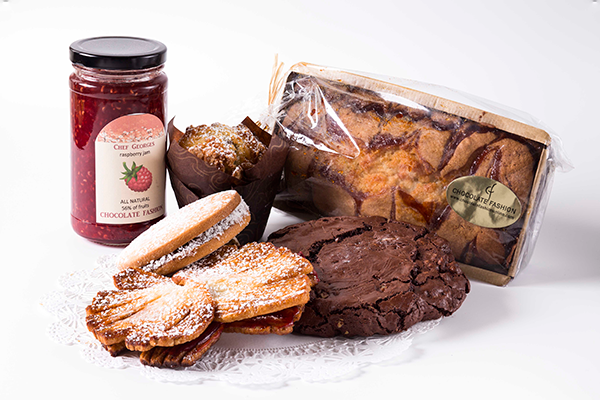 Chef Georges personally recommends his own eclairs as a go-to snack. I haven't tried them yet, but now that I know this, I will definitely try one next time I go. Georges loves his job, he gets to eat his own food to confirm it meets his high standards. Georges must have some very rigorous standards because every time I go the food tastes fresh and delicious.
Chocolate Fashion is always adding things to the menu. Just recently they added a whole new line of marmalades. Georges makes the marmalades with seasonal fruits so right now you will find pear, apricot and mango marmalade. Their best selling marmalade is the fig flavor that should be back in stock in the Fall.
Brunching at Chocolate Fashion
Chocolate Fashion is known for their weekend brunch. Their eggs benedict have fresh Hollandaise sauce made from scratch. Their pancakes are enormous and fluffy with different flavors like chocolate banana or blueberry. The french toast is made from their famous brioche bread made fresh and it's one of their best selling brunch dishes.
Andrea & Jose
Chocolate Fashion Lunch Specials
The local professional crowd enjoys having lunch at Chocolate Fashion. Every weekday, Chocolate Fashion sells a lunch special while supplies last. Keeping a single lunch special allows Georges to keep the lunch special affordable and use the freshest ingredients. He buys just enough fish for the lunch rush and once it's sold out – that's it! He doesn't have to worry about keeping the inventory to make sure which is the freshest fish. The next day he buys enough meat to make churrasco for his lunch rush and once it's sold out he's done for the day. Each day a completely new meal is offered to keep the lunch menu varied. You can eat lunch at Chocolate Fashion every weekday for a couple of weeks before seeing the same dish twice.

Holiday Specialties
Chocolate Fashion celebrates the holidays of many cultures around the world. In December you can find the traditional German cake, stollen, made with fruits, nuts, and spices. Customers know when it's stollen season at Chocolate Fashion and stock up on the cake by freezing it. In December you can also find the bûche de noël or yule log made of sponge cake. In November Chocolate Fashion offers organic gourmet turkey and pies. For Easter, Chocolate Fashion makes chocolate bunnies and eggs. If there's a holiday going on, make sure to pop by Chocolate Fashion – odds are they will have something special for the occasion.
The Chef Behind Chocolate Fashion
Chef Georges Berger may have stopped attending school at the age of 13, but today 52 years later, he has not quenched his thirst for learning. Georges was a thirteen year old boy living in Lyon, France when he decided school was not for him. He quit school and become an apprentice at the local bakery. He didn't know if he would like it when he first started, but he learned quickly. He challenged himself to become the best apprentice at the local bakery – and he did it. After only three years of working at the bakery he received his first pastry chef certification.
Georges' life can be described by a long list of accomplished goals and awards. George won many pastry chef competitions and in 1979 he received the Meilleur Ouvrier de France (MOF). All Cooks and Chefs in France aim to be recognized as MOF Chefs and George received the honor of MOF Pastry Chef before the age of 30. After earning such a prestigious award in France, George moved to London to continue his education through practice as a Chef at the Savoy Hotel in London. George continued to see the world and enjoy his autodidact career as he worked in Switzerland, Japan, and Egypt. Just last year, George won the award of Top 10 Chefs in America awarded by the Institute of Culinary Education (ICE) in NYC. Now a days, Chef George sits on the jury for renowned competitions such as the Best Pastry Chef in NYC or the Best Wedding Cake in Orlando. He enjoys being a juror as he gets to stay up to date on the latest trends and techniques in the culinary world.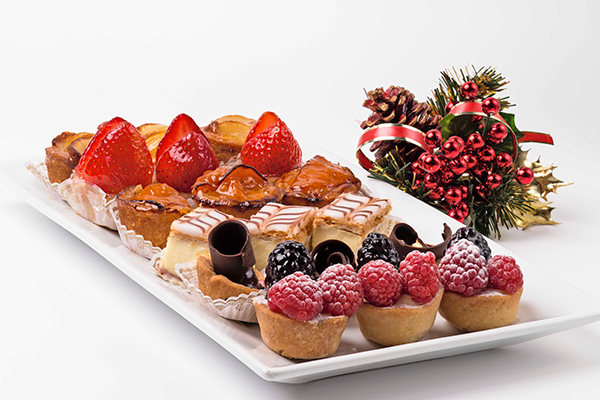 When Georges first arrived in the US, he worked for Celebrity Cruises as a pastry chef elaborating their menus. In 2001 Georges decided to start his own company and start selling wholesale pastries to hotels. He dreamed of opening a French bakery but was in the search for the perfect location. In 2004, Georges found the perfect location nestled in downtown Coral Gables at 248 Andalusia Ave. He felt confident about opening his French Bakery, Chocolate Fashion, in the South Florida city with the highest concentration of French residents. Chocolate Fashion has become a neighborhood gem treasured by locals of all nationalities.
Georges venture has been so successful he has opened two additional locations to keep up with the demand. Visit Chocolate Fashion at the following locations:
Chocolate Fashion
248 Andalusia Ave, Coral Gables
Chocolate Fashion
96 Alhambra Cir, Coral Gables
Chocolate Fashion
5868 Sunset Dr, South Miami
Check out their website for more information chocolatefashiononline.com
Coral Gables Love Reader Perks!
Yay! Chocolate Fashion has 15% OFF when you show the coupon below during their lunch hours (noon – 3pm EST Monday through Friday). Enjoy!