I'm excited to work with our sponsors, AARP Cincuentañeros™ and #WeAllGrow Latina Network, to start this conversation with you!
I recently attended a Latina blogger conference in Long Beach, California called #WeAllGrow Summit; and got to speak on The Blogger Union's panel on How To Build A Thriving Blogger Community along with Claudia Camargo founder of the Minneapolis Bloggers and Kimberly Pfaehler founder of the DC Bloggers. I never realized a conference could be such an uplifting experience. I met some amazing women who inspired me with their stories and strength. I learned a ton, took some time to ground myself with self-care activities and participated in unique experiences. I definitely recommend this conference to any blogger, influencer, or content creator.
One of those perspective-changing experiences was a dinner with a group of talented, Latina, content creators hosted by AARP Cincuentañeros. When I first received the invitation I was confused. I'm not 50 years old or retired. Why was I invited to this event?
Upon further reading the invitation details, I realized this was a dinner to have a frank discussion about aging. A topic I'm not the most comfortable with. I'm currently trying to fight new wrinkles and age spots while I pretend I'm not getting older. But I realized that if I felt uncomfortable, then it was something I needed to talk about. So I RSVP'd: yes.
The day of the event the attendees met at the lobby of Hotel Maya. I knew a few faces from other conferences and projects, but as I spoke to the new people I confirmed my suspicions that this was a group of kick-ass women I was going to dine with this evening. As good bloggers, we took a group photo and climbed into the Long Beach trolley that would take us to our dinner. We sat in the quaint little bus and started chatting about who we were and what we do. There were bloggers, founders, and entrepreneurs on that bus.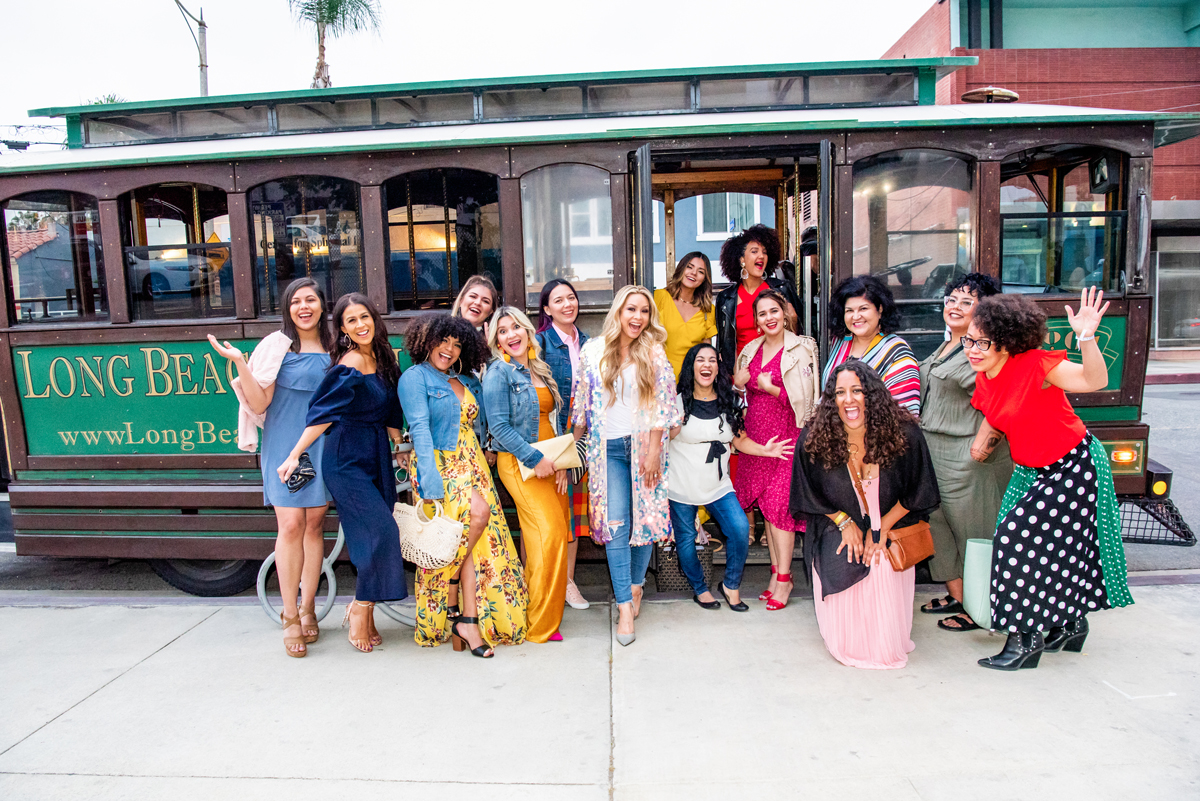 When we arrived, we realized this was no regular dinner. We didn't walk into a restaurant. Instead we walked into an industrial apartment with exposed brick walls and polished concrete floors. There was a long dining table with shiny, rose-gold gift bags at each seat. The table was decorated with flowers and candles sitting on a white table cloth. We all found our seats and enjoyed our first glass of wine.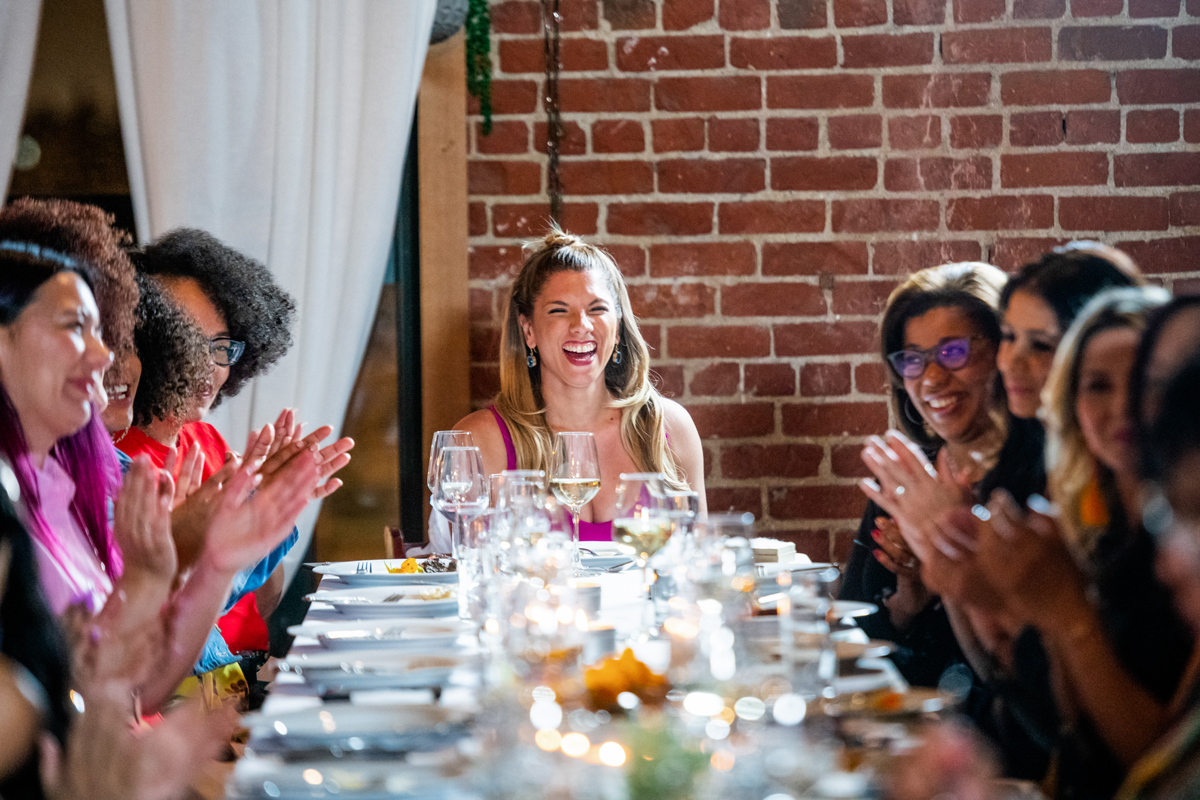 As the first appetizer was served, our host and triple daytime Emmy winner, Gabriela Natale, introduced herself and kicked-off the conversation by sharing her story. With a long successful career as a TV host, she found herself not fitting the stereotypical expectations of a host of a television program. She found herself being pushed out of her job because she was no longer young. Frustrated, an experienced and talented woman with opinions she wanted to continue to share, she started her own program.
Then, other attendees began sharing their stories revolving around age. As we passed around the grilled vegetables, someone shared the disparaging comments she received because she's pregnant at 40 years old. Not all stories were negative, some were uplifting like the woman proud of her mother for graduating college in her 60s and persevering through it as others questioned her motivations for getting her degree at such a "late stage." Some were discriminated against at work because they got older. Others missed opportunities because they were seen as too young.
Together we laughed and cried; and I felt a change within me after hearing all these stories. As we enjoyed a passion fruit dessert, I started to feel confident enough to share my own story.
Our Latin community doesn't hold back on their opinions. I've had someone say the words, "No está muy vieja para tener el pelo rosado? Se ve ridicula." (Aren't you too old to have pink hair? You look ridiculous.) I'm glad I'm no longer 15 years old because I would probably take a comment like that personally. It would hurt back then. But the great thing about aging is that you experience lessons that allow you to grow and not give a shit about a comment like that. That person was projecting their insecurities on me. That comment said more about them than me. I'm 36. I have pink hair and I love it. If I get to 90 and feel like having blue hair – I will.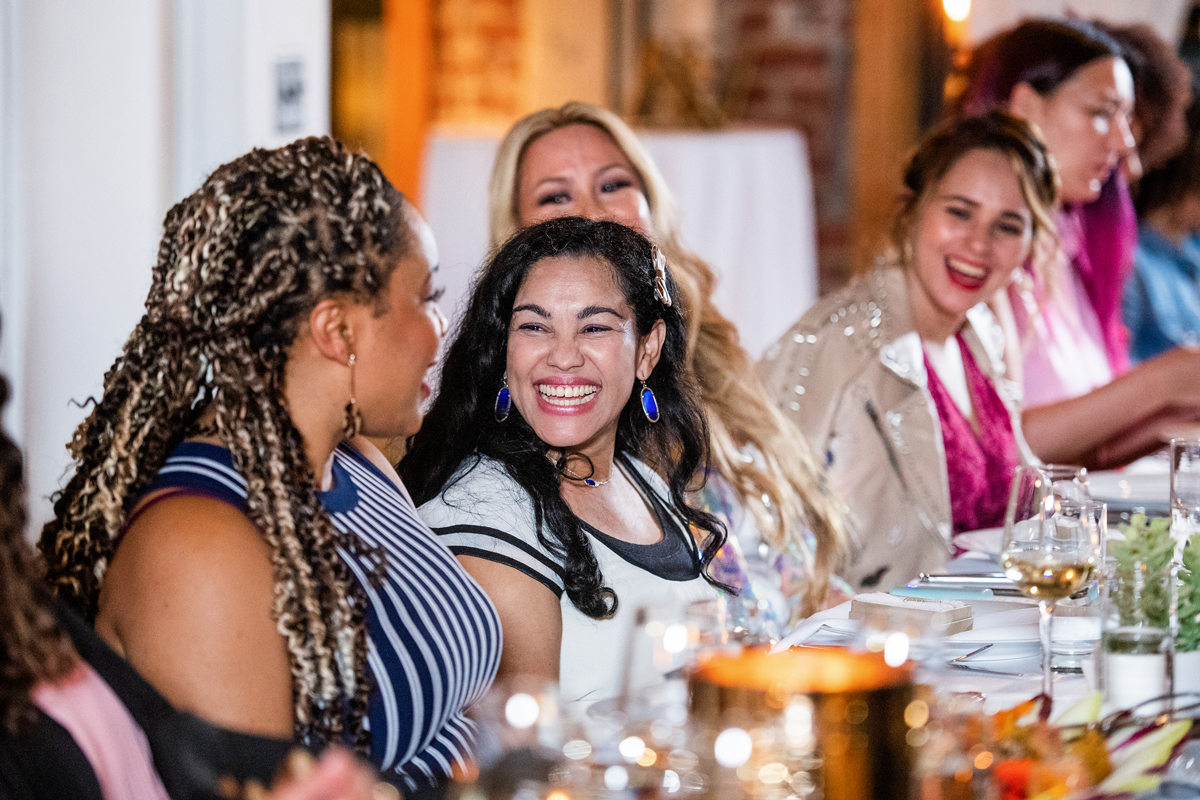 There's no age limit to expressing your personality. I'll wear colorful clothes if I want to as well. Doing those things are fun for me; and I refuse to stop having fun because I lived another trip around the sun. Who gets to decide when women, or people in general, are too old to do something? As long as you are not endangering other people, do what you want. Have at it.
AARP has started the Cincuentañeros™ movement to change our perspective of aging from a negative connotation to a celebration of life, experiences, and knowledge.
Cincuentañeros is all about being someone who lives life "sin cuenta" – without counting, refusing to be defined (or held back) by age.

Let's #DisruptAging – challenge those outdated beliefs that stop us from enjoying life. Let's allow each individual decide how they want to live and age.
We're all getting older. It's an experience we all have in common and we can connect because of it. This dinner was the perfect opportunity to do just that. We took a major step towards freeing ourselves from our biases surrounding age. Now it's up to all of us to continue this conversation. The more visible we make ourselves and our stories, the closer we will come to changing the way the whole world understands aging.