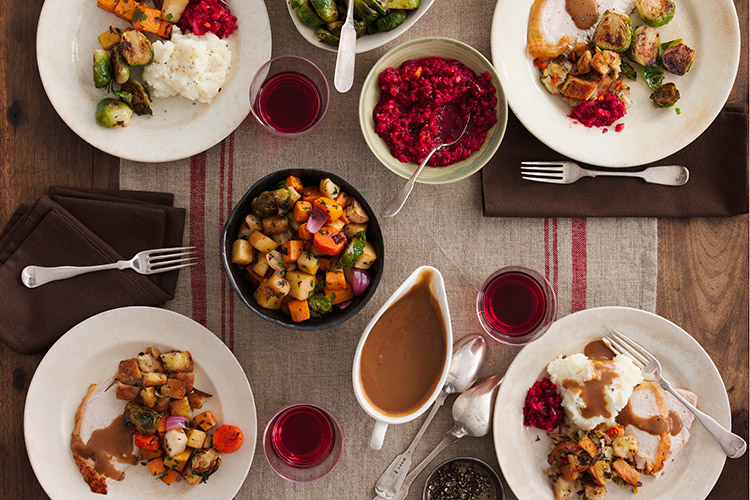 So Thanksgiving is here again and maybe you're not a cook, don't have the time, or simply feel like mixing it up this year. You don't have to cook the entire Thanksgiving meal from scratch if you don't want to. There are many options now-a-days from having Thanksgiving dinner at an actual restaurant to amazing meals made by Chefs that you only have to heat up and serve in your own home. Then again, you might like cooking most of the meal, in that case I also have some yummy dessert options to add some new flavors to your Thanksgiving table.
If you are the kind to cook everything from scratch and make centerpieces for the table, my hat off to you Martha Steward minion. I wish I had your time and skills. For the rest of us regular souls, let's see what we've got!
Have a Swine Thanksgiving Dinner
Gather your friends and family to enjoy a day of thanks with a Southern twist. On Thursday, November 26th, Swine will be offering a special three-course Thanksgiving menu. First Course will include deviled eggs , market pickle plate, Surryano Farms ham, fresh house-made buttermilk biscuits, served with honey butter, and kale salad. The main course will feature Swine's turkey dinner: smoked turkey with gravy and cranberry port sauce. Sides include cornbread, whipped sweet potatoes with marshmallow fluff, green beans with a smoked yogurt and toasted almond vinaigrette, and their pig tail macaroni with bacon, five cheeses and toasted bred crumbs. Finally end your Thanskgiving feast on a sweet note. Swine will serve spiced pumpkin pie with cinnamon marscapone cream. The thanksgiving dinner is $55 per person and does not include tax, gratuity or alcoholic beverages. Swine is located at 2415 Ponce De Leon Blvd, Coral Gables. runpigrun.com
Chocolate Fashion Gourmet Thanksgiving Meals for 12 – 16 People
Chef Georges is taking care of Thankgiving for you. He's offering packages for groups of 12 or 16 people that include everything you love most. The packages range from $280 to $445. The Traditional Thanksgiving Menu costs $280 and serves up to 16 people and includes stuffed roasted turkey with gravy; yam casserole; cranberry & ginger chutney; roasted garlic, carrot & potato purée; French green beans & pecan salad with house dressing; pecan pie; pumpkin pie; apple nougat tart; and 1 loaf of country bread & 1 baguette.
The Gourmet Thanksgiving menu for 12 people costs $445 and includes red beet mousseline, apple dice, prosciutto Iberico; chicken and celery veloute, roasted prime beef, porcini & demi-glace sauce; creamy potato purée with goat cheese & thyme; haricot vert, roasted young carrot & minced Shallots; pumpkin & chocolate mousse cake; and raisin nut bread & multigrain boule. Chocolate Fashion is located at 248 Andalusia Ave, Coral Gables. chocolatefashiononline.com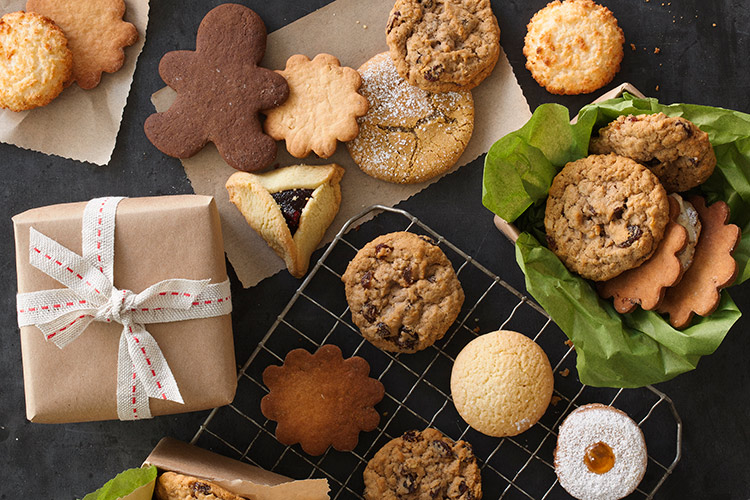 Let Whole Foods Market Do All The Cooking For You
America's healthiest grocery store is offering a bunch of Thanksgiving to-go specials this holiday season, which customers can order online or in-store from November 1 – 22. Offerings include Appetizers & Platters, Fresh From Our Butcher cuts by the pound, entire Thanksgiving Dinners with all the fixings, and a la carte offerings as well. Family-style options, which serve 4-8 include the Organic Turkey Dinner Package ($149.99) – Organic Whole Roasted Turkey served with Organic Turkey Pan Gravy, Organic Traditional Herb Stuffing & Organic Mashed Potatoes; the Roasted Turkey Breast Meal for Four ($69.99) – Roasted Boneless Turkey Breast served with Mashed Potatoes, Turkey Pan Gravy, Traditional Herb Stuffing & Cranberry Orange Relish; and the Deluxe Dinner Package ($229.99) – Spiral Ham with Harry's Hellacious Ham Glaze, Whole Roasted Turkey, Turkey Pan Gravy, Traditional Herb Stuffing, Cranberry Orange Relish, Southern Green Bean Casserole, Creamy Homestyle Mashed Potatoes & Harvest Roasted Root Vegetables. Customers can end their dinner on a sweet note with pies and cakes, including the Southern Sweetness Pecan Pie ($15); Apple Pie (no sugar added) ($6); and Pumpkin Cheesecake ($20). Thanksgiving orders must be placed no later than Sunday, November 22. All orders must be picked up by Thursday, November 26. All cancellations must be made no less than 48 hours prior to scheduled pick up time. Customers can visit shop.wfm.com for a complete holiday catering menu, or visit the Coral Gables Whole Foods Market at 6701 Red Rd, Coral Gables.
jugofresh Offers Vegan Pies For Thanksgiving
For those who want to eat clean but still have a treat for Thanksgiving. jugofresh will have raw key lime with coconut flakes and chlorella dusting, raw chocolate chip derby with chickpea cookie dough and raspberry coulis, and raw pumpkin with superberry pumpkin-seed crunch available for pre-order through Tuesday, November 24th. Pre-order your pies via email at holidaypies@jugofresh.com or in store. jugofresh is located at 2516 Ponce De Leon Blvd, Coral Gables. jugofresh.com
Celebrate Thanksgiving All Week at Bulla
Bulla will be offering their Market Menu with special items created by the Chef the week of Thanksgiving 11/25-11/30 (excluding Thanksgiving). Please keep in mind, Bulla will be closed on Thanksgiving Day. Bulla is located at 2500 Ponce De Leon Blvd, Coral Gables. bullamiami.com