Burger lovers everywhere, rejoice! May is National Burger Month, and restaurants all over Miami are rolling out exciting new specials to celebrate.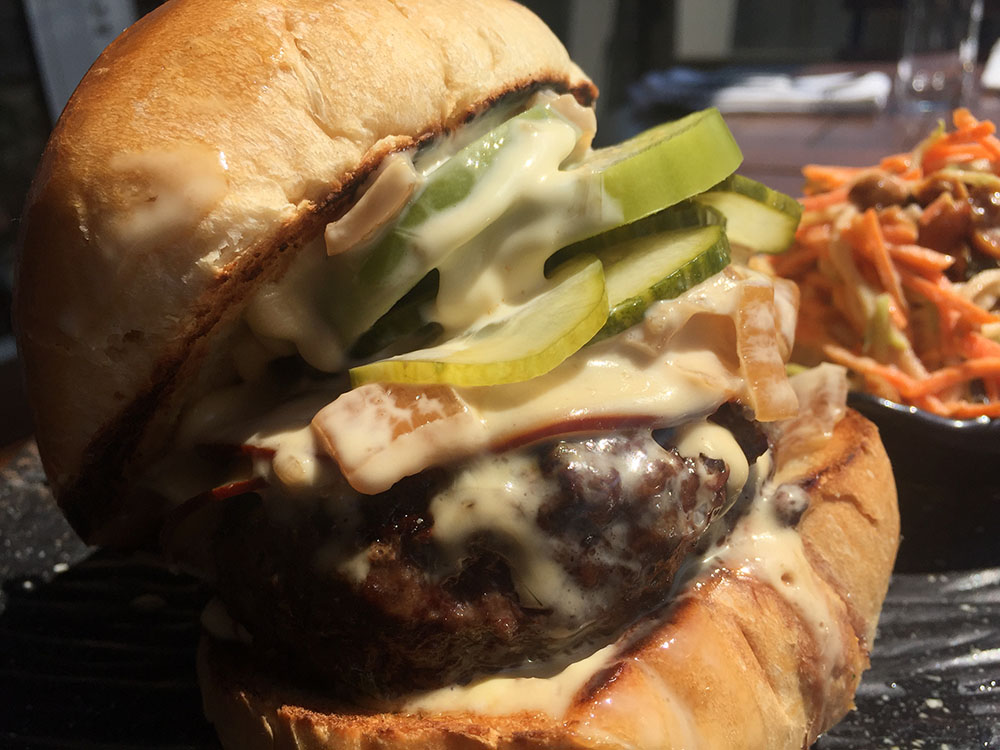 Beaker and Gray Wagyu Burger in Wynwood
Beaker and Gray's new lunch menu item boasts simple and delicious ingredients, topping a Wagyu beef patty with gouda, pickled cucumbers, and beer-soaked tomatillo (yes, you read that right – beer soaked). If you rush out to try this burger and fall in love, don't be dismayed: the Wagyu Burger will remain on the lunch menu even after Burger Month has come and gone. Beaker and Gray is open for lunch Monday through Friday from noon to 4PM.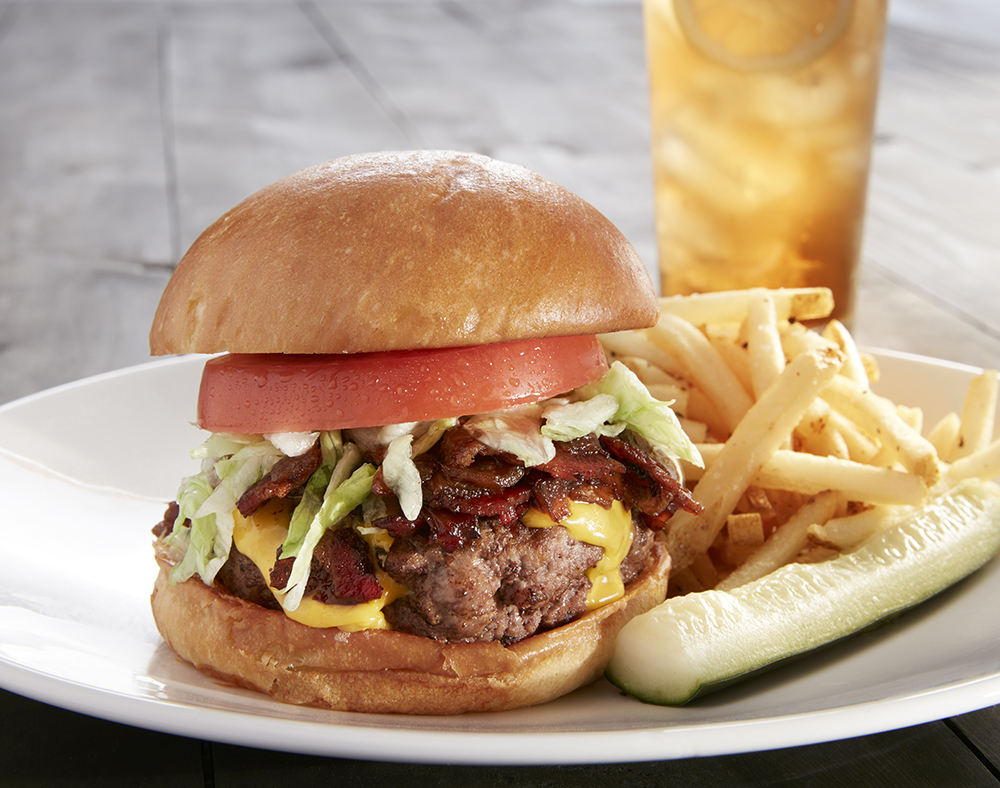 Kona Grill "Brisket Burger" in Doral
Kona Grill has something for everybody, serving up American cuisine and sushi at affordable prices in an upscale atmosphere. In celebration of Burger Month they've introduced the "Brisket Burger," which means ground beef brisket, cheddar cheese, bacon onion jam, lettuce, tomato, brioche, and a homemade pickle spear that comes with the only thing a burger should come with: a side of fries.  This special burger is only available until May 29, but if you miss it don't be dismayed! You can still try their new "Big Kahuna Cheeseburger" with caramelized onion, cheddar, lettuce, tomato, brioche, and the same homemade pickle spear and fries any day of the year.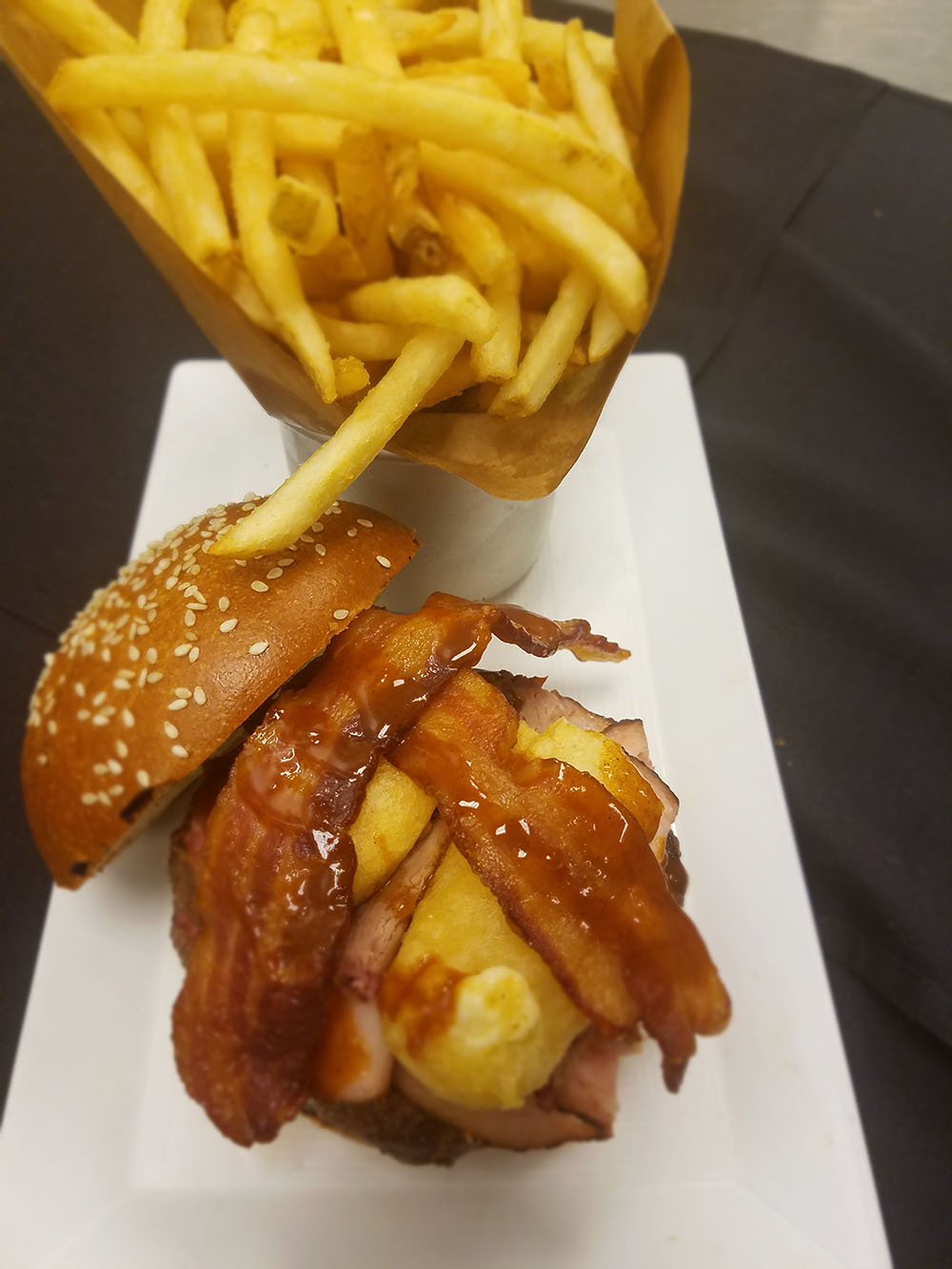 BLT Prime "Caddie Burger" in Doral
In honor of National Burger Month, BLT Prime is bringing back its Burger Board, which will feature SEVEN new burgers with golf themed names. The Caddie Burger above comes with sliced beef brisket, fried cheese curd, jalapeño bacon, and jerk glaze.  Another one of their specials, the Fairway Burger, comes topped with garlic pork, white cheddar, mustard braised onions, and crispy pancetta. The Burger Board is only available for lunch, which is served between 11-3 on Mondays – Fridays, and will disappear once Burger Month is over – so hurry up if you want to try all seven!

Burlock Coast "Bootleg Burger" in Fort Lauderdale
What could be better than a delicious burger and some gorgeous scenery? Enjoy Burlock Coast's indulgent "Bootleg Burger", made with a ground brisket patty topped with pulled pork, chipotle aioli, and jack cheese, with a beautiful oceanfront view. This is the perfect place to celebrate Burger Month in style!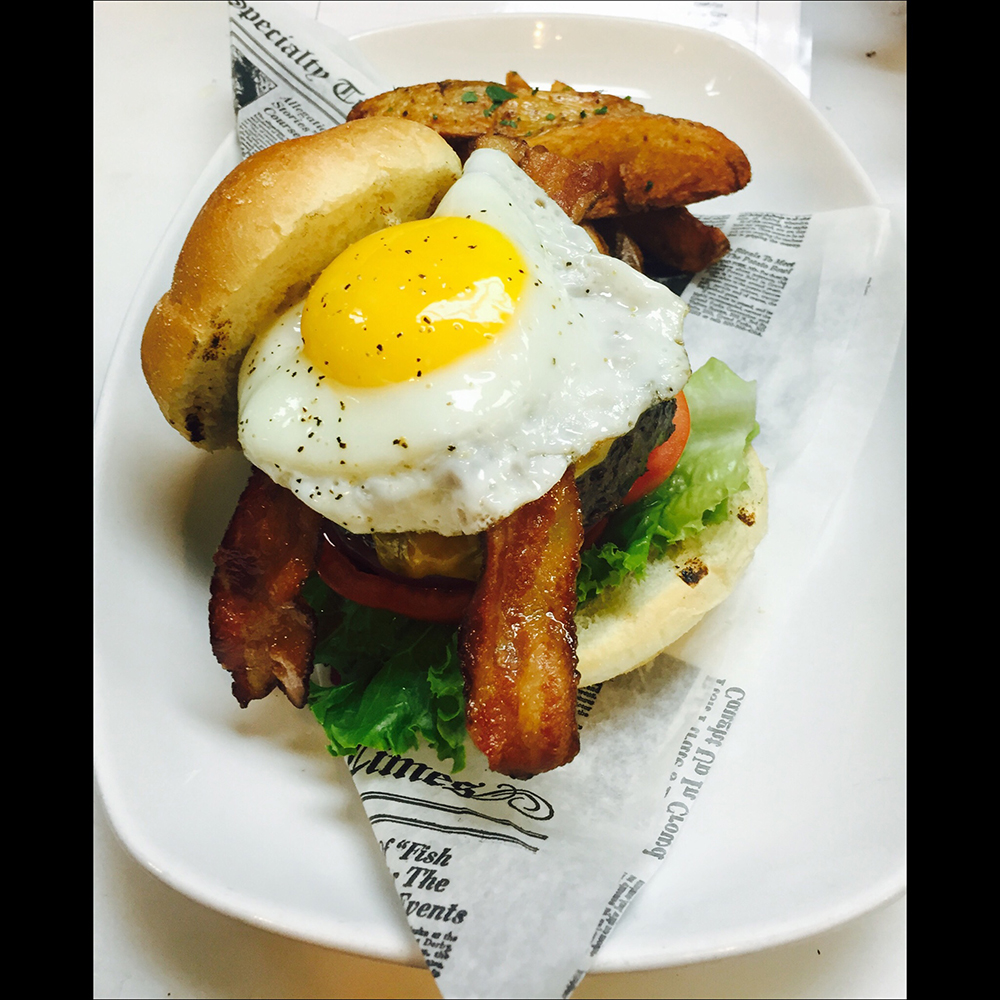 Indigo "Breakfast Burger" in Fort Lauderdale
Breakfast is the most important meal of the day, and in May burgers are the most important food… So this incredible creation from Indigo in Fort Lauderdale naturally follows. Two worlds collide in Indigo's Breakfast Burger: a ground chuck patty, bacon, cheddar cheese, lettuce, tomato, and a fried egg on a Kaiser roll make the perfect sandwich for breakfast, lunch, or dinner.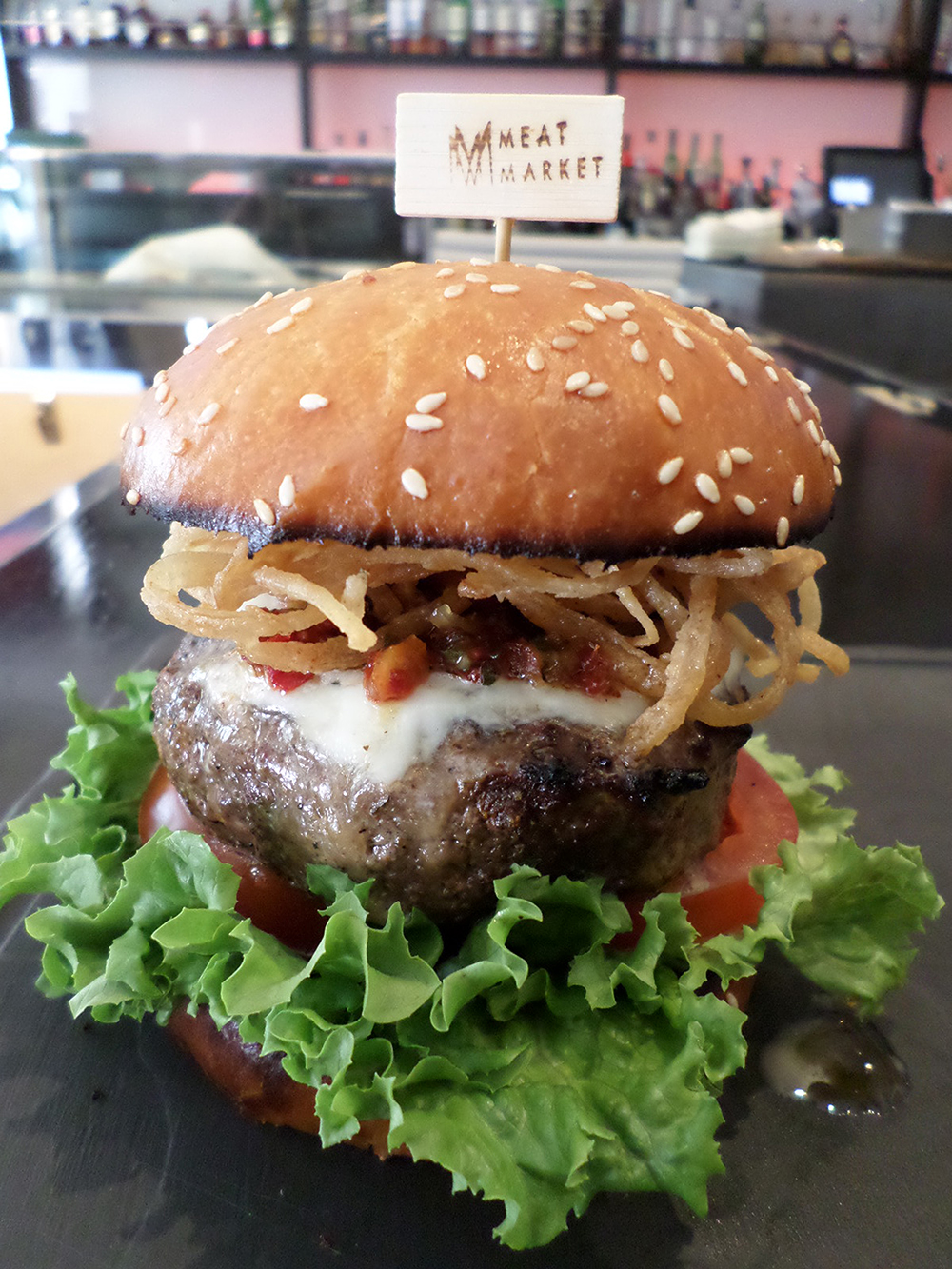 Meat Market "Miami Smokers BBQ Burger" in Miami Beach
Meat Market's newest menu item is a collaboration with Miami Smokers, featuring their special meat blend with roasted pineapple BBQ sauce, bacon, and gruyere cheese (delicious!). If for some reason that burger doesn't pique your interest, you can try any one of their rotating specials and other Burger Month specials – from the "Brasel's Buffalo + Bleu" (ground buffalo topped with roasted radicchio, Napa cabbage, remoulade slaw, bleu cheese, and rosemary cream-smoked pickled jalapeno) to the "Spicy + Smoky Burger" (ground buffalo patty with spicy candied bacon, smoked cheddar, pickled chilies, Boston lettuce, and tomato).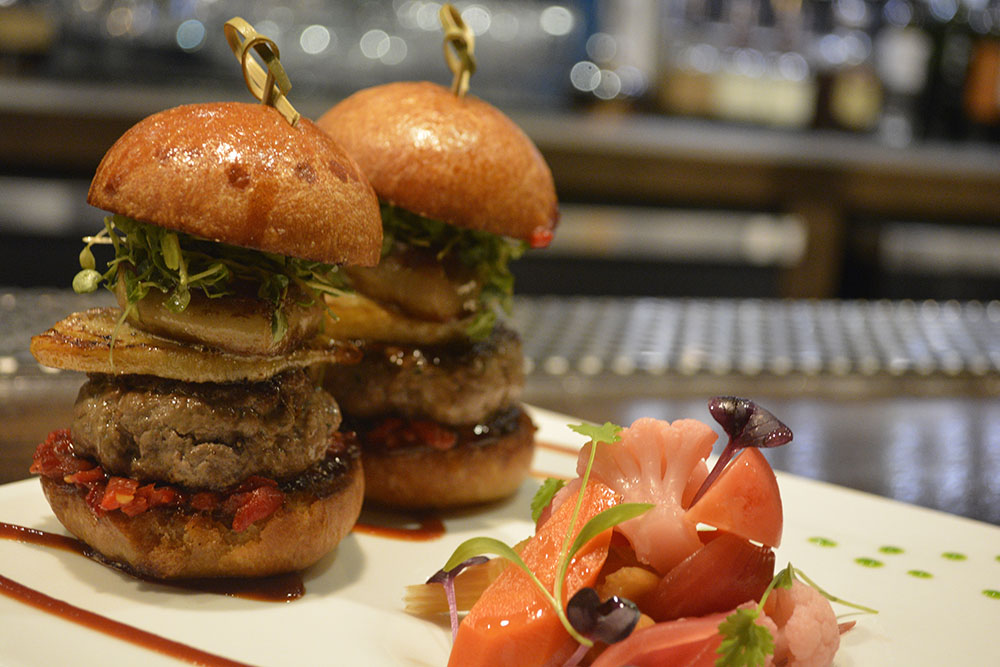 Michael Mina 74 "Heritage Turkey Burger" and "Lamb Sliders" in Miami Beach
MM74, the Fontainebleau's Casual American Bistro, is rolling out a ton of new menu items in celebration of Burger Month that isn't just limited to burgers! Aside from the Heritage Turkey Burger (which features guacamole, jack cheese, arugula, and harissa aioli) and Lamb Sliders (with foie gras, watercress, truffle pineapple vinaigrette , and pickled veggies), MM74 will be featuring unique new items such as Lobster Corndogs and a Peanut Butter Crunch Burger! On top of that, they'll be dishing out boozy ice cream floats and cripsy tater tots as a homage to the Fontainebleau's historic role in making tots a nationwide sensation.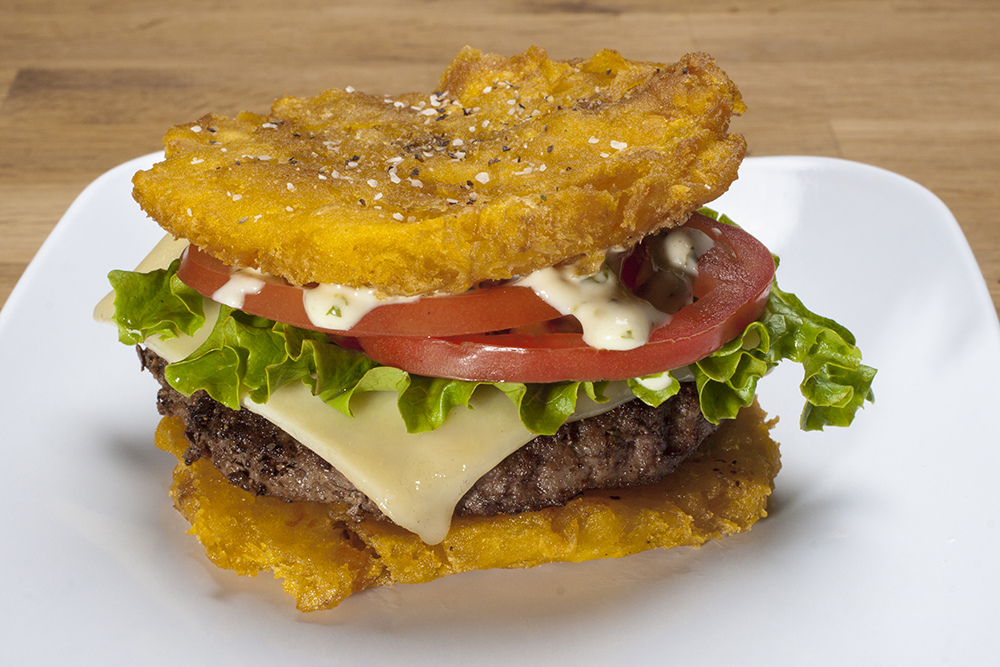 Pincho Factory "Tostón Burger" in Coral Gables, Hialeah, Westchester, and Pembroke Pines
Pincho Factory didn't win Burger Beast's "Best Burger in South Florida" award for nothing! If you're visiting this South Florida favorite be sure to try the Tostón Burger, which is a delicious award-winning burger sandwiched between two tostónes, or the fan favorite Quesadilla Burger, a custom blend of chuck brisket and short rib patty with queso fresco, guacamole, and Pico de Gallo in between two quesadillas, OR the off menu Foreman Burger, which is a burger with grilled cheese sandwiches for buns! There's just no stopping the creative minds behind the menu at Pincho Factory! What could they come up with next?
Choices Cafe "Karma Burger" in Coral Gables
Burger Month isn't just for carnivores! The all-vegan Choices Cafe in Coral Gables is also celebrating this month with their Karma Burger, a sprouted lentil and beet patty burger that is healthy and environmentally friendly. The burger comes topped with tempeh bacon, avocado, vegan cheese, lettuce, tomatoes, and mamuket sauce nestled in a sprouted grain sesame bun and a side of baked fries. Delicious and nutritious, for meat-eaters and vegetarians alike!