Coral Gables Love partnered with award-winning food blog, Miami Food Pug for a night of making new friends and touring some of the best restaurants in Coral Gables. 20 attendees joined us as we visited three amazing restaurants: Angelique Euro Cafe, Cibo Winebar, and OBBA Sushi.

Angelique: Pommes Frites with aioli sauce. Photo by Nabila Verushka.
Coral Gables Food Tour First Stop: Angelique Euro Cafe
We started our foodie adventure at Angelique Euro Cafe. As we seated ourselves at the long table filled with wine glasses we knew we were in for a treat. The Angelique menu started off with pommes frites (french fries) sprinkled with parmesan cheese and served with three different aioli sauces: katamata olives, garlic, and green onion. The pommes frites were paired with a smooth white wine and we were already falling in love with this cozy restaurant.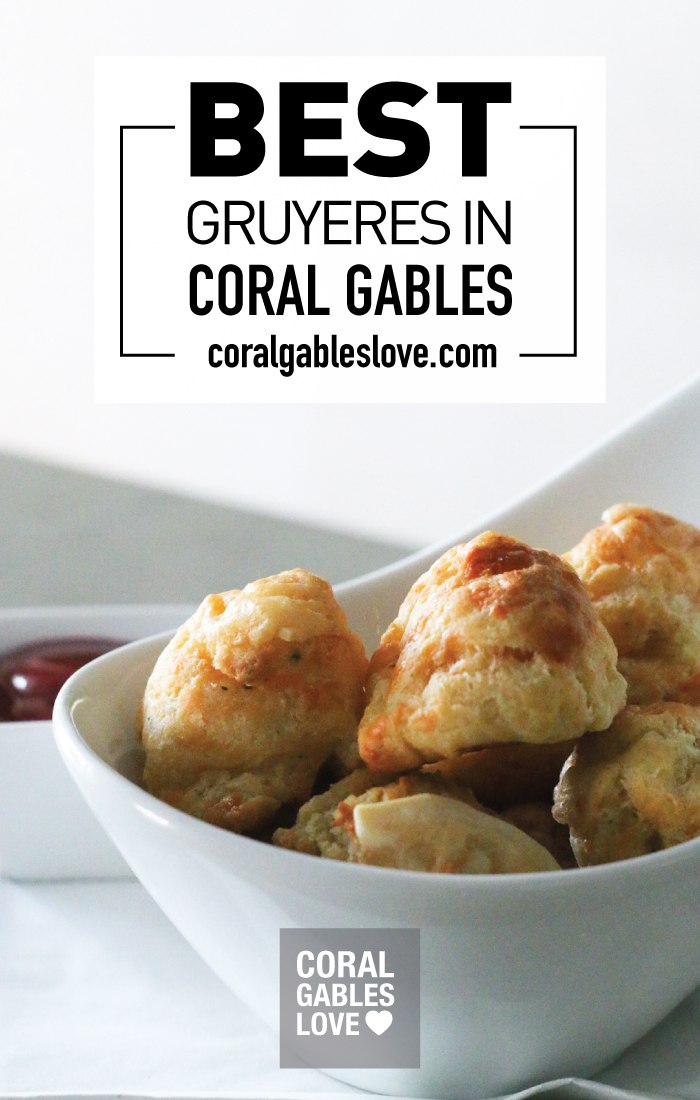 Angelique: Gruyeres with raspberry-chili jam. Photo by Nabila Verushka.
Our next tasting dish were taste gruyere cheese puffs served with a raspberry-chili jam. If you like fluffy cheese bread, these little ones are for you. As you can see in the photos, I was definitely loving the gruyere gougeres.

Angelique: Truffle potato gnocchi. Photo by Nabila Verushka.
We were then presented with my favorite dish of the entire Coral Gables Food Tour, the truffle potato gnocchi. Their gnocchi is roasted giving them a firmer consistency and served in mascarpone cream sauce finished with Amaretti crumbs. If you have never visited Angelique, you must go and try their gnocchi. Every single attendee vowed to return to enjoy the gnocchi again.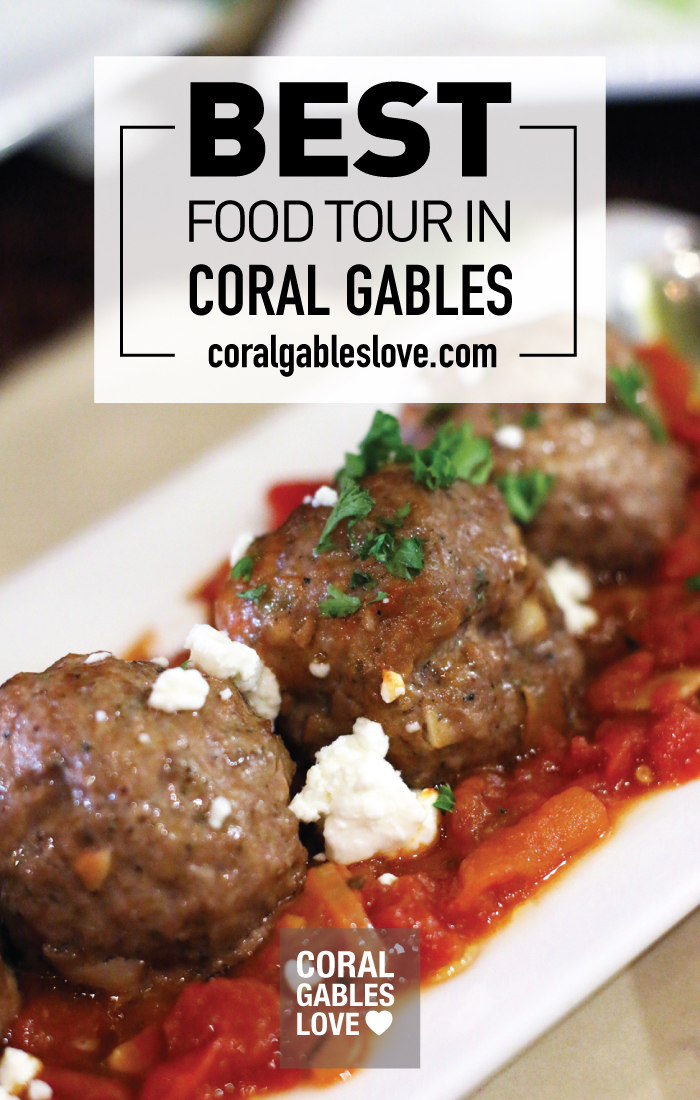 Angelique: Lamb & Angus beef meatballs. Photo by Nabila Verushka.
About Angelique Euro Cafe
We are a friendly neighborhood cafe, serving sophisticated comfort food, inspired by the tastes of Spain, France, Italy and Belgium.

Whether you stop by for lunch, dinner, weekend brunch or social hour at our "Little Miracle" bar, Angelique offers a casual ambience designed for sipping, socializing and taking pleasure in a genuine café experience.
We also had time to enjoy the pear salad and the ground lamb and angus beef meatballs with garlic, shallots, herbs and spices with a spicy sofrito sauce with fresh goat cheese. Then, we had to dash to our next stop in the Coral Gables Food Tour. Everything was so delicious, I will see you again soon Angelique!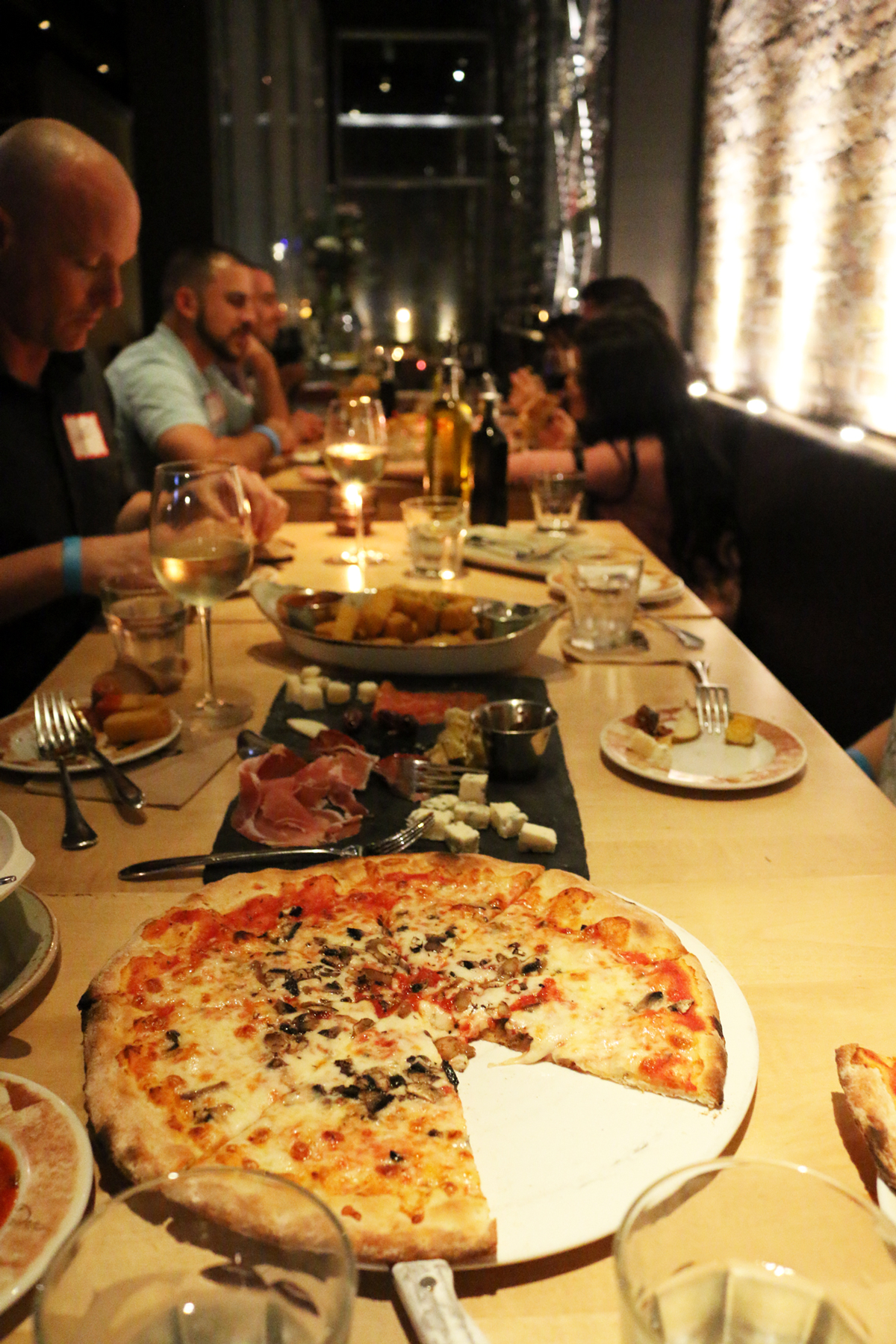 Cibo Winebar: Mushroom Pizza. Photo by Nabila Verushka.
Coral Gables Food Tour Second Stop: Cibo Winebar
On our way to Cibo Winebar, we stopped outside to take a group photo of the Coral Gables Food Tour attendees. When we arrived at the Italian restaurant, our table was ready and we each ordered our wine or beer. While we all got to know each other we tasted an avalanche of delicious food: polenta fries, fried calamari, mushroom pizza, fried zucchini, prosciutto pizza, pepperoni pizza, and a tray of charcuterie and cheese.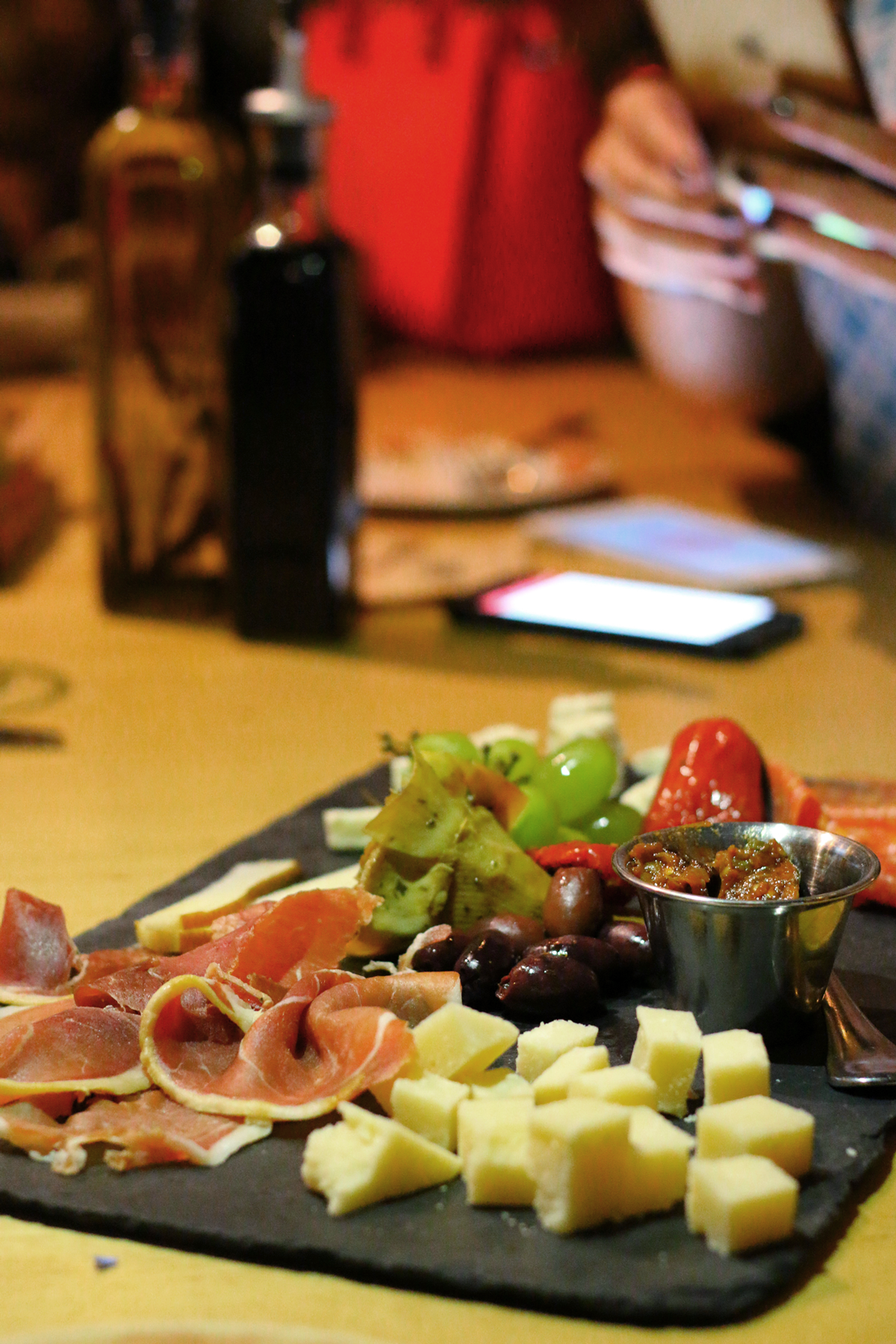 Photo by Nabila Verushka.
Everything was super tasty and the service was really friendly. We had so much food at this stop we took some of it with us in doggy bags. If we learned something, it's that Cibo Winebar is very generous with their servings. My favorite pizza was the prosciutto pizza with the roasted pieces of prosciutto giving the pizza a nice flavor.
Photo by Nabila Verushka.
Cibo Winebar has always been my go-to spot when I'm craving pizza. Now, I have a few new pizzas I enjoy that I can try in the future. If you haven't stopped by Cibo Winebar they have a beautiful location giving the experience of dining in a rustic wine cellar. It's a great place to hangout with friends.
About Cibo Winebar
Cibo Wine Bar brings authentic rustic Italian flare blended with a vibrant nightlife and promises to be the new hot spot on the Miracle Mile.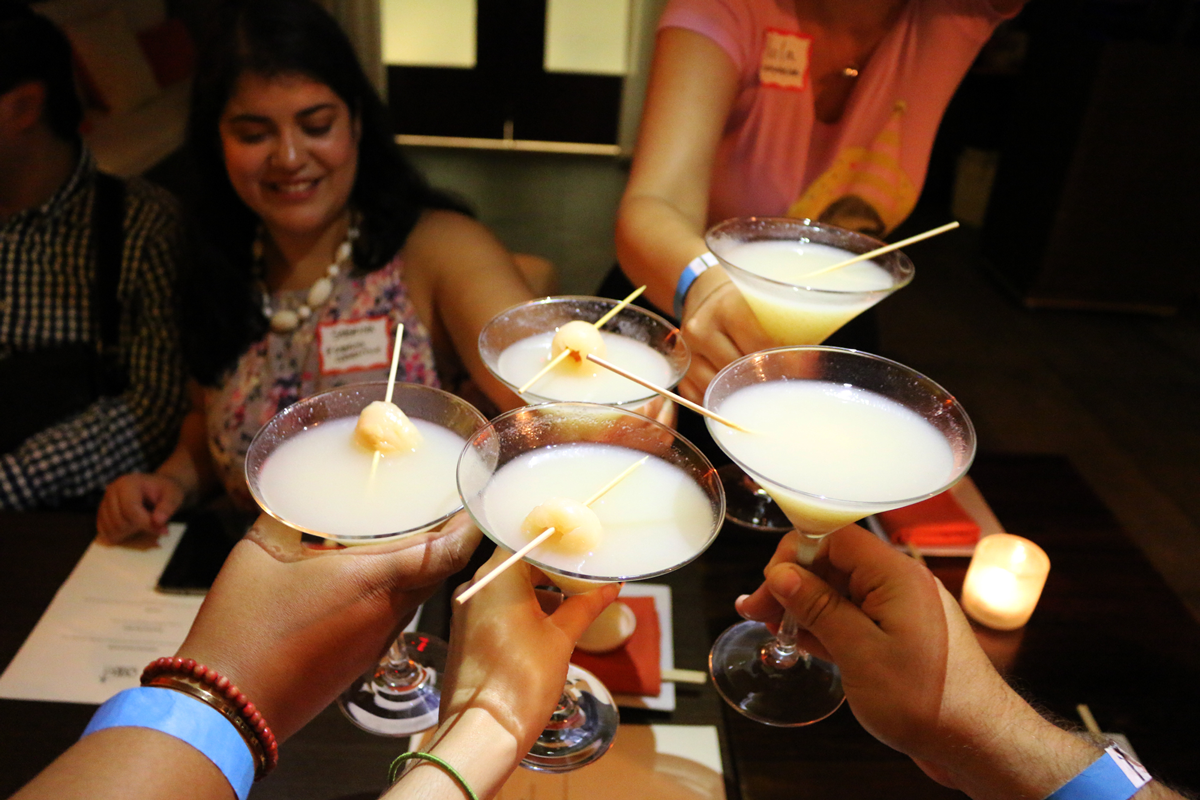 Photo by Nabila Verushka.
Coral Gables Food Tour Third Stop: OBBA Sushi
We ended the tour at OBBA Sushi with some light and tasty bites. OBBA welcomed us all with a lychee martini. So we took the opportunity to make a toast to spending the night enjoying food and making new friends. Such a lovely group of people attended the food tour that I am happy to say I have a bunch of new foodie friends! I love hosting food tours.

OBBA Sushi: Yellowtail Guacamole. Photo by Nabila Verushka.
The OBBA sushi menu featured their yellowtail guacamole, ceviche roll, and steamed sea bass in ponzu sauce. I enjoyed all of the dishes, but my favorite was the steamed sea bass. It could have been my love for ponzu sauce or the perfectly steamed fish that made this my favorite pick at OBBA Sushi.
Photo by Nabila Verushka.
Finally, we ended the Coral Gables Food Tour with on a sweet note. OBBA served banana tempura with nutella and raspberries. If you are looking for a great sushi place, then look no further. OBBA sushi has amazing sushi and desserts.
About Obba Sushi
Obba Sushi & More is Coral Gables's very own fresh & delicious Japanese cuisine with a twist.
Thank you to everyone who came out to the Coral Gables Food Tour and the participating restaurants. It was a perfect night of food, drinks, and fun around Coral Gables.
Did you miss out on the fun? No worries! Our next food tour will be on October 18th in Doral featuring three AMAZING restaurants: Bulla, Pisco y Nazca and Dragonfly. Go ahead an buy your ticket before we officially announce the tour and they sell out! coralgableslove.com/doralfoodtour