I recently visited Sushi Maki for the first time in years at their Coral Gables location, and it made me realize that for years I have taken Sushi Maki for granted. Since I only ever ate at Sushi Maki before I was brave enough to order anything other than teriyaki chicken with white rice, I never got to experience the full extent of their menu. And since I hadn't visited in years, I never got to experience the new, more exciting options they've since added to the menu.
The kind people at Sushi Maki treated us to an incredible menu sampler that showed how their menu encompasses their philosophy of "ands" – as they say themselves, the food and restaurant are "high-quality and unpretentious, responsibly sourced and affordable, traditional and innovative, come-as-you-are casual and date-night cool."
Sushi Tacos
These sushi tacos come in Salmon Miso, Yellowtail Serano, and Spicy Tuna. We had two Salmon and one Yellowtail, but what immediately stood out to me was the miso flavor. Miso is a traditional Japanese seasoning made of fermented soy beans, that tastes salty but light and aromatic. The crunchy shells of the tacos were delicious, and I'm a fan of any dish with lime juice squirted on top – so this was a winner.
Lava Shrimp Tempura
This appetizer was very straightforward – tempura shrimp in creamy togarashi (chili pepper) sauce. The best part of the lava shrimp is that the tempura stays crunchy in its creamy sauce.
Ahi Poke Bowl
This was one of our favorite dishes of the whole meal. Poke, a traditional Hawaiian dish that has recently blown up in popularity stateside, is a raw fish salad. Sushi Maki's tasteful take on the dish uses ahi tuna, cucumber, edamame, white rice, sunflower seeds, and a salty/sweet Hawaiian soy dressing. Overall, this was delicious – the flavors were very mild, fresh, and well balanced. Salty, sweet, nutty, and light, this dish is a great option for a healthy and refreshing lunch or snack.
Budda-Cane Roll
A perfect example of how Sushi Maki can be traditional and creative, the Budda-Cane roll makes "safe" sushi unique by adding mango, spicy mayo, and sugarcane soy sauce. I usually shy away from sushi rolls that are made with shrimp tempura – I prefer the raw fish stuff – but this was interesting and tasty. I loved the combination of spicy and sweet, and the crispy shrimp inside gave it a fun texture.
Yellowtail Tiradito
Speaking of balancing spicy and sweet, this dish is pretty much the prime example of that. Another one of my favorites from the meal (and one of my favorite sushi dishes all-around), Yellowtail Tiradito is a traditional dish made of just fish, citrus soy sauce, cilantro, and serrano pepper slices. This dish, like the poke, has a great balance of flavors despite its simplicity (although the Tiradito is in no way mild) and is absolutely delicious.
Miso Yaki Seabass
I feel like I've said this for almost everything so far, but once again – this dish was one of my favorites. Miso Yaki Seabass (meaning the seabass was marinated in miso, which I was introduced to and fell in love with earlier), sitting on a bed of seaweed salad on a bed of brown rice tossed in spicy mayo, with a side of roasted cherry tomatoes. The staff also pointed out to us that all fish at Sushi Maki is certified sustainable by the Marine Stewardship Council, meaning they are maintaining healthy fish populations for generations to come.
Chicken Pad Thai
As you can imagine, my friend and I were beginning to lose steam at this point in the meal. But, pad thai is one of my all-time favorite foods, so I had to give it a try. Overall I find that most pad thai tastes the same, but is all good, and this was no exception. No complaints whatsoever, definitely would try again.
Dessert Bento
Since dessert goes to a separate stomach, we obviously decided to leave on a sweet note. This dessert bento box, a clever take on the traditional lunch spread, had Thai donuts, green tea ice cream, and a red velvet cake and vanilla ice cream tempura ball. Oh, and fruit.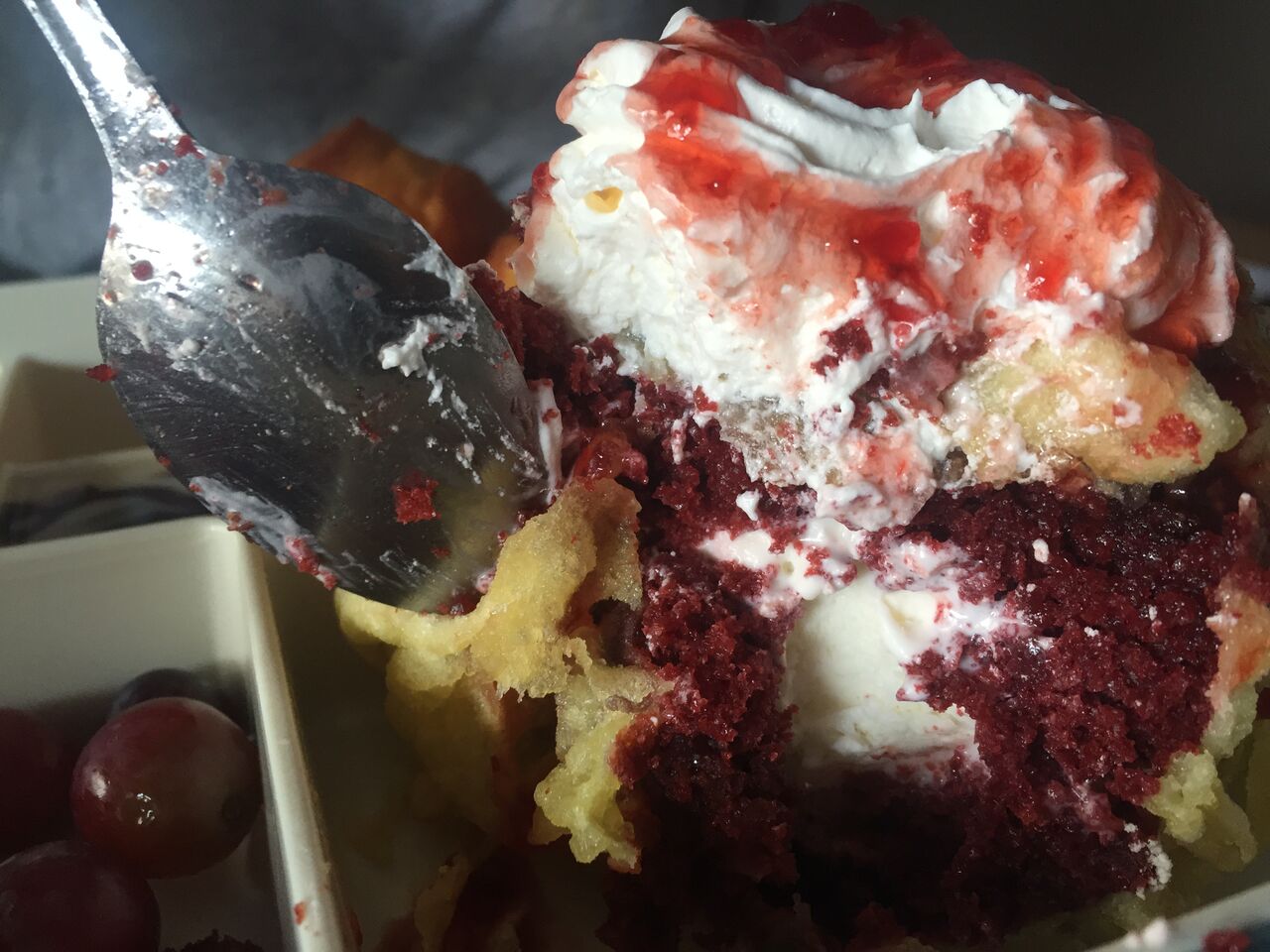 Tempura Red Velvet Cake & Vanilla Ice Cream
The nontraditional standout of the dessert bento, this tempura cake and ice cream was actually a huge hit. Usually I'm not a fan of over-the-top desserts, but this was just right – plus I love tempura ice cream.
If you haven't been to Sushi Maki in a while, or if you go and always order the same thing, I definitely encourage you to get in there and try something new. Sushi Maki is rolling out awesome creative and traditional dishes, using environmentally conscious sustainable methods, and have locations all over Miami – so there's just no excuse.
Note: the Brickell location of Sushi Maki has moved from its original location to 1036 S Miami Ave, Miami, FL 33130 and is now open for business.