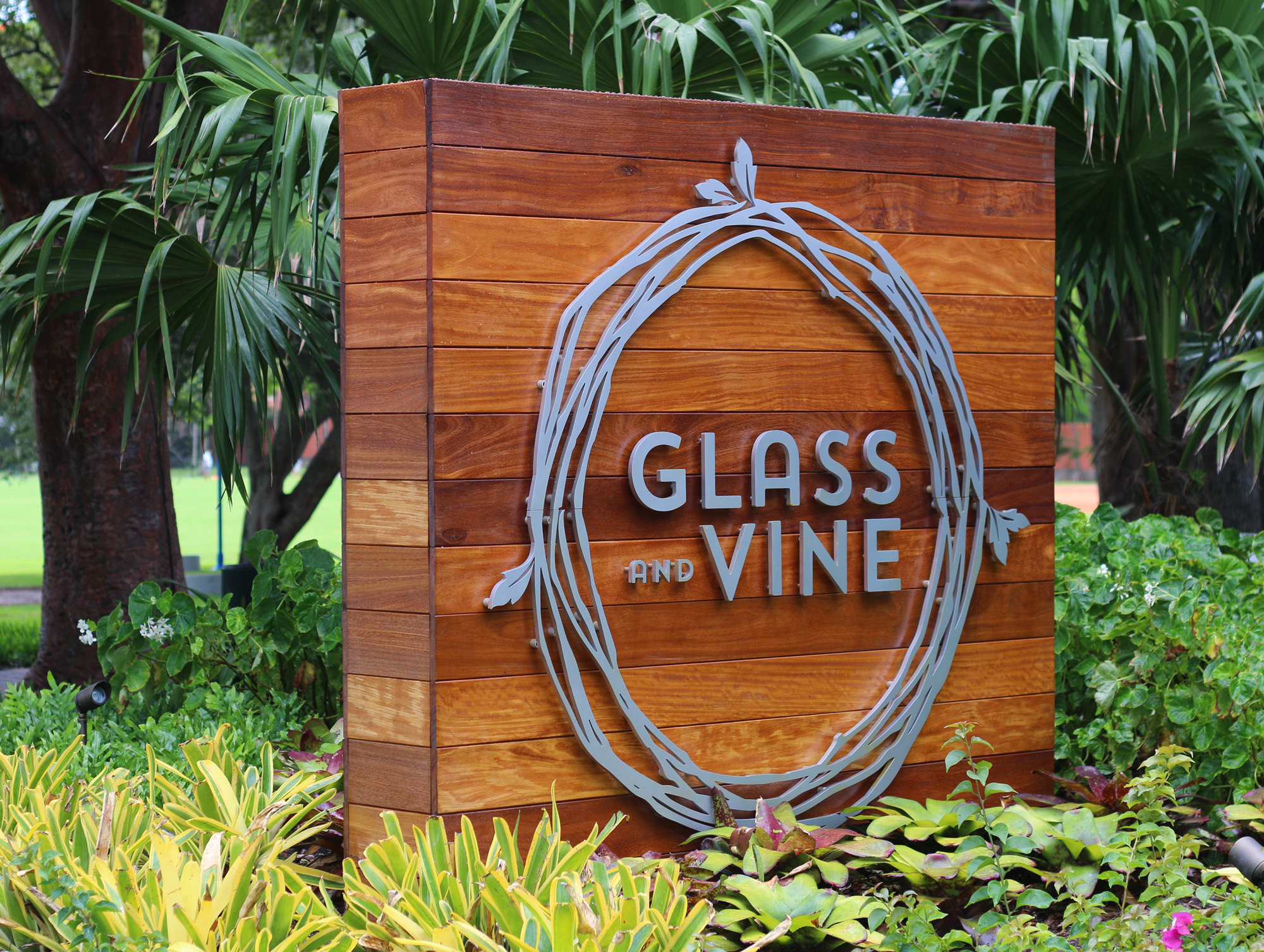 I was invited to taste the brunch from Glass & Vine in the Grove – and I've fallen in love with this new restaurant. The food is delicious with exciting takes on old favorites. The restaurant is gorgeous and located inside Peacock Park on McFarlane; and the service is super friendly (Ask for Danelia!). Glass & Vine has all the ingredients required for an amazing weekend brunch. So buckle in, while I take you through a brunch al fresco in the heart of Peacock Park.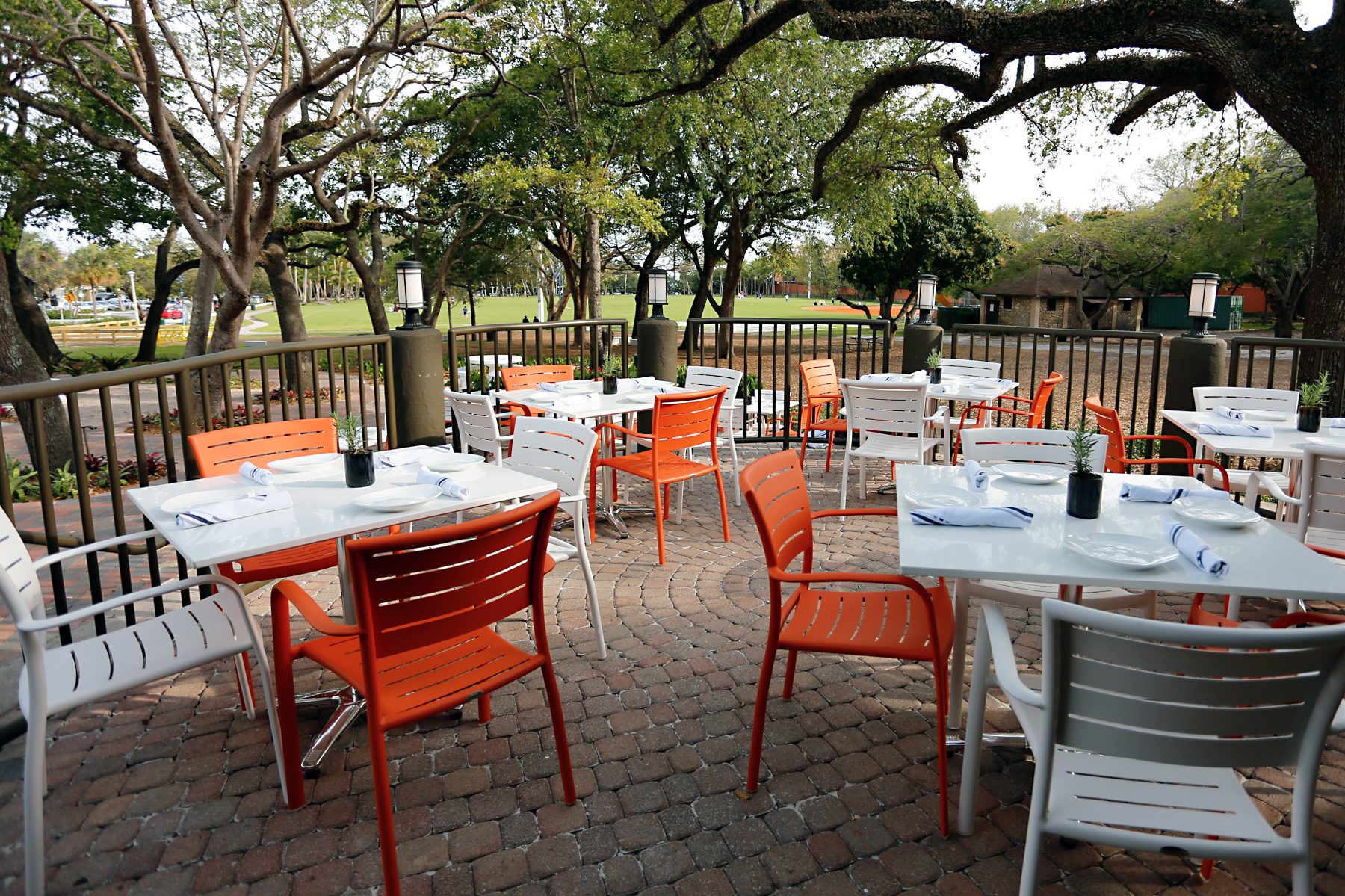 Glass & Vine's Beautiful Location
First, we need to talk about Glass & Vine's location. Nestled within Peacock Park, Glass & Vine is surrounded by trees offering shade for their outside seating. This is one of the few restaurants where the majority of the seating is outside. And for good reason, sitting outside has a gorgeous view of the park, giving the feeling of brunching in an oasis. There's a nice breeze and it's bright, making sipping cocktails fantastic. The inside of the restaurant is also beautiful with vaulted ceilings. Chartreuse chairs provide a touch of modern color. But you are going to want to sit outside with a view to the park.
"When you're situated in such a beautiful location, you want to take advantage of your surroundings," says Chef Rapicavoli.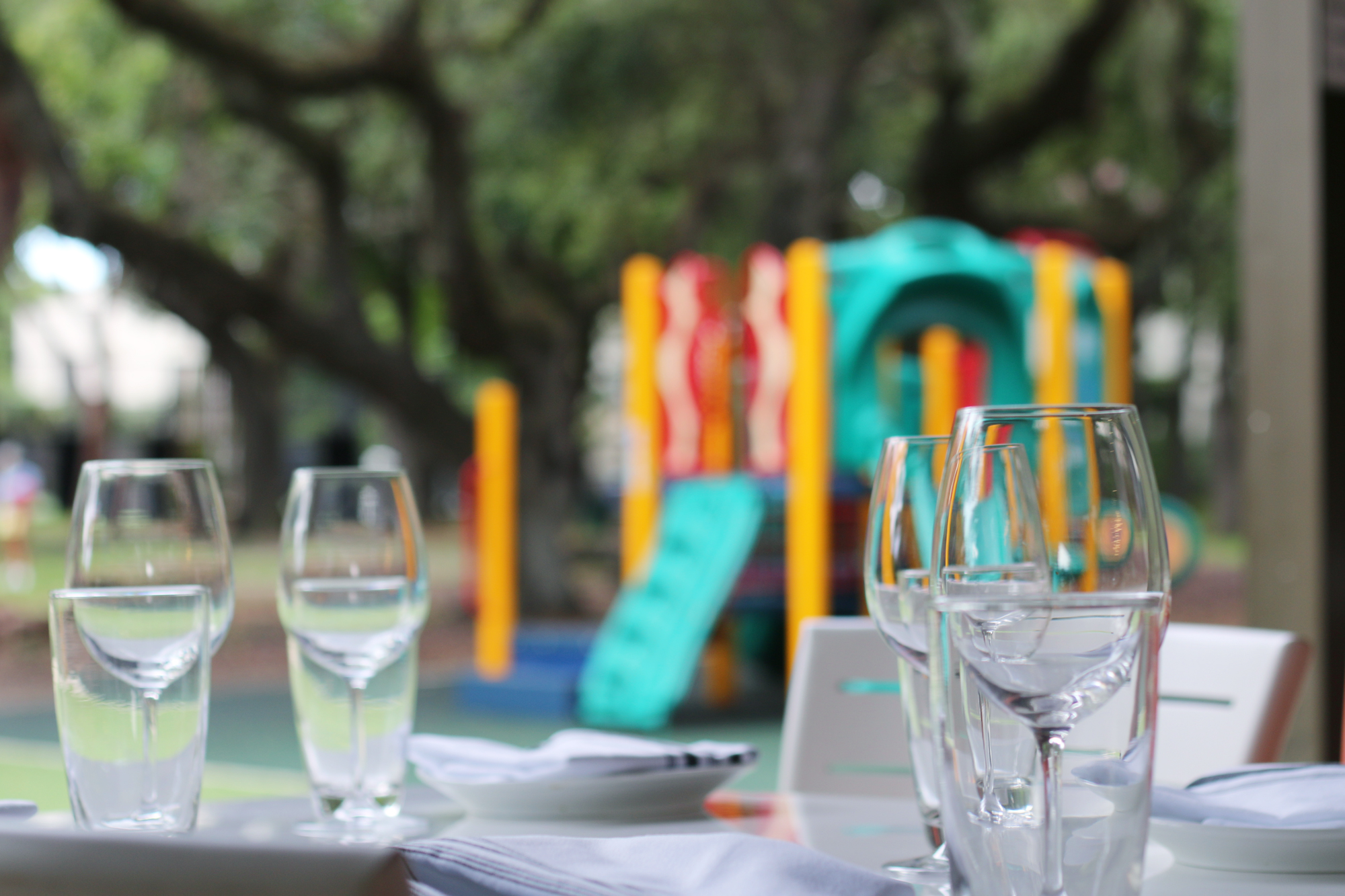 Kids Play While You Dine
Glass & Vine is also one of the few upscale restaurants where parents can dine while their kids play at the park. Peacock Park's children's area and swing set stands right next to a section of their outside seating. Parents can enjoy their meal with a perfect view of the kids playing at the park.
Chef Giorgio Rapicavoli's Brunch Menu
Star chef Giorgio Rapicavoli, Food Network Chopped champion, has created a unique and tasty brunch menu. The brunch features fresh, modern Floridian bites perfect for enjoying on a weekend afternoon. Of course, no brunch would be complete without beverage options. To wash down bites, the weekend menu features Bloody Marys and Mimosas ($10) and Sangria ($10/$35) with vihno verde, sauvignion blanc, Chablis and fresh fruit. Brunch is served Saturday and Sunday from 11AM to 3:30PM in a picturesque, garden setting.
We kicked off our brunch with a few cocktails handcrafted by Cocktail Cartel. You can also order the cocktails without alcohol in case you want the refreshment without the buzz. We had our cocktails non-virgin and they serve them strong.
The Parkside Sour Cocktail
The Parkside Sour is made with Fords gin, celery, cucumber, thai basil and lemon. It's delicious, light and refreshing. The perfect drink for hot summer days.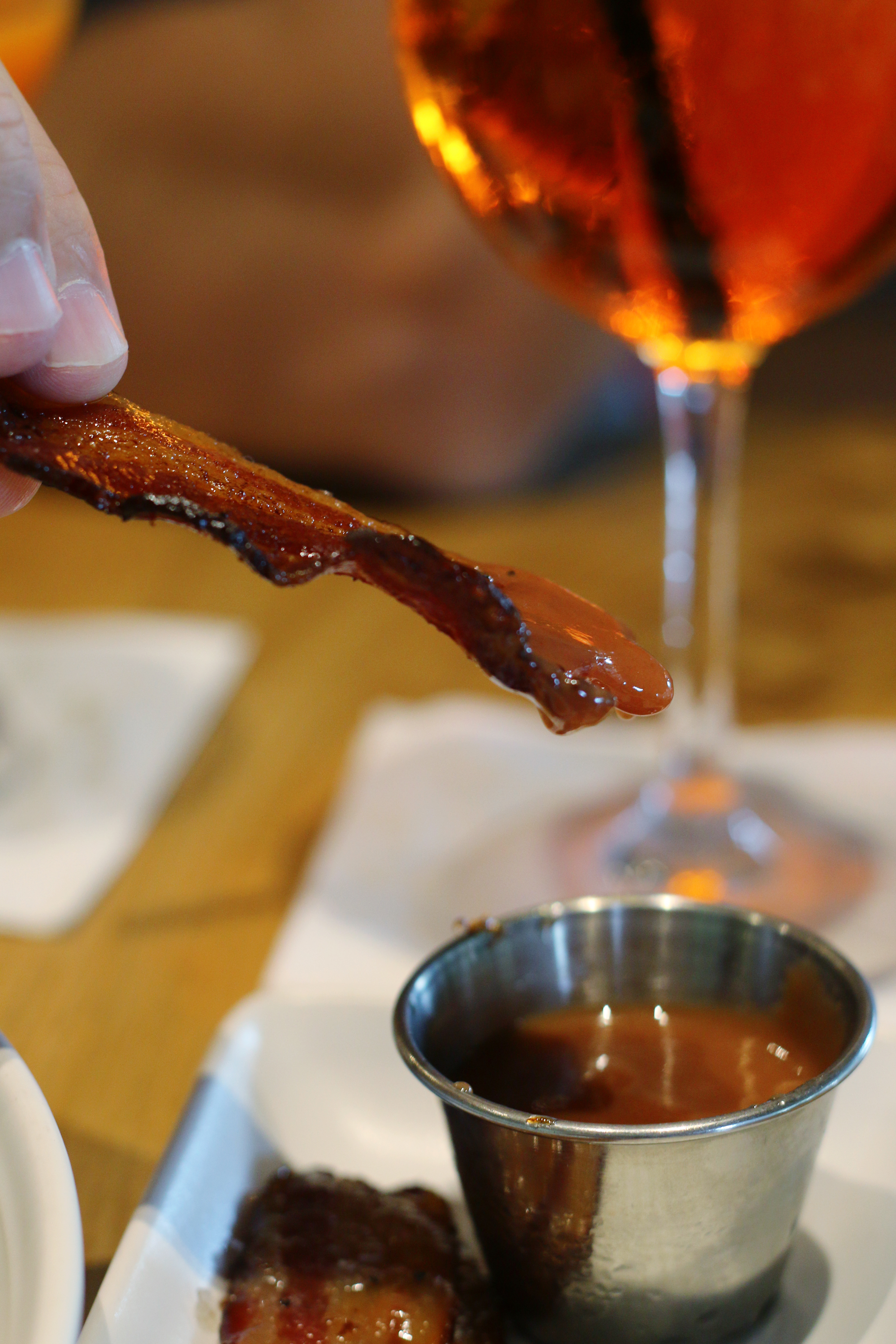 Applewood Smoke Bacon With Coffee Salt
Applewood smoked bacon served with a smoked guava sauce (for dipping) and sprinkled with coffee salt. The combination of the crunchy, bacon strips with the sweet guava sauce is perfection. Bacon lovers, this one is a must for you!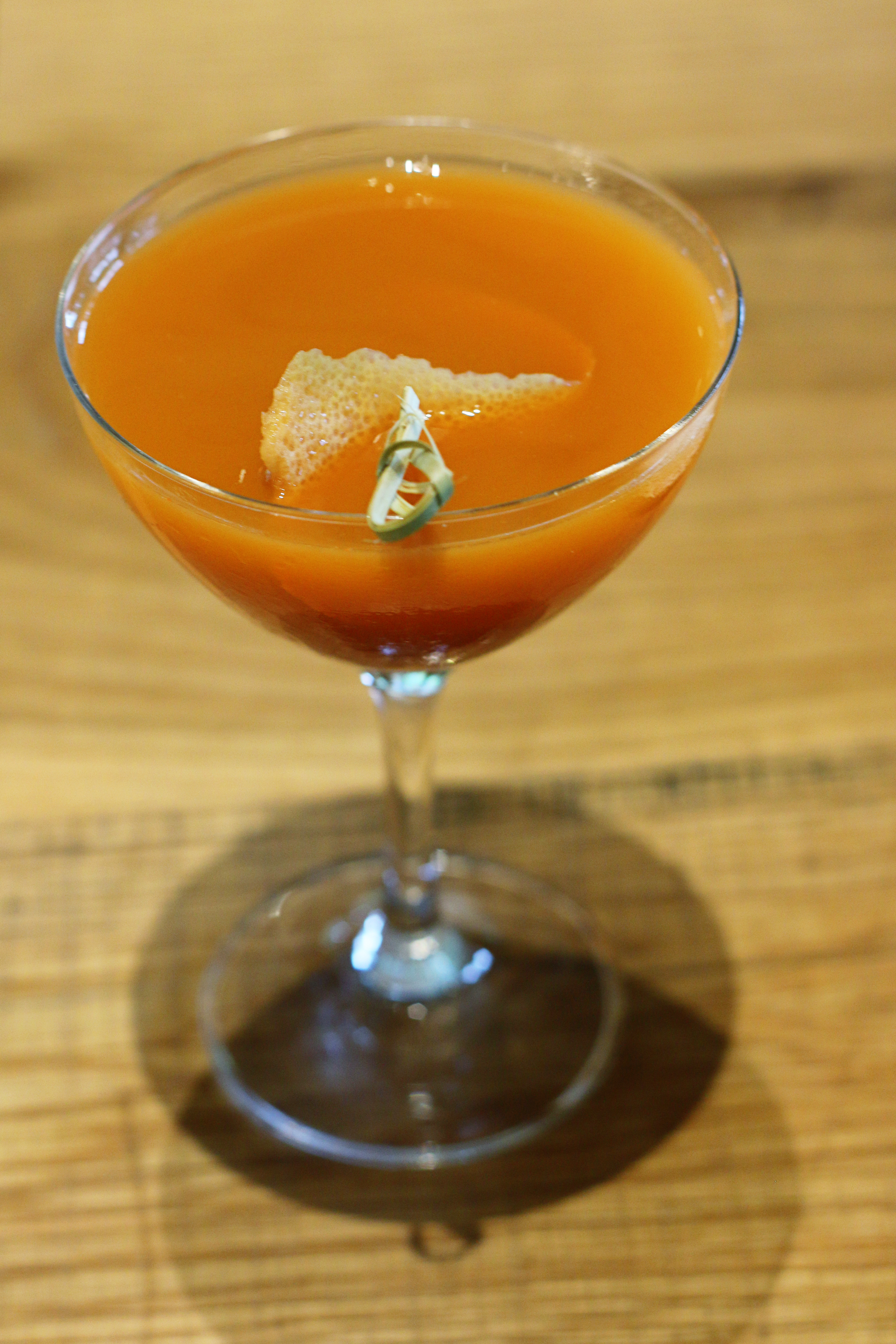 El Conejo Cocktail
El conejo cocktail: Cruzan aged rum, fresh carrot juice, florida grapefruit, and sea salt.
Watermelon Salad
The Watermelon Salad made with lime crema, cojita cheese (Mexican cheese), cilantro, and jalapeño does a great job of balancing all it's flavors. If you like queso blanco, the cheesy combination with the watermelon is a great play on sweet and savory. This dish also has a crispy texture with added jalapeños to give it a nice spicy kick. Even Simon who is not big on cheese came back for more.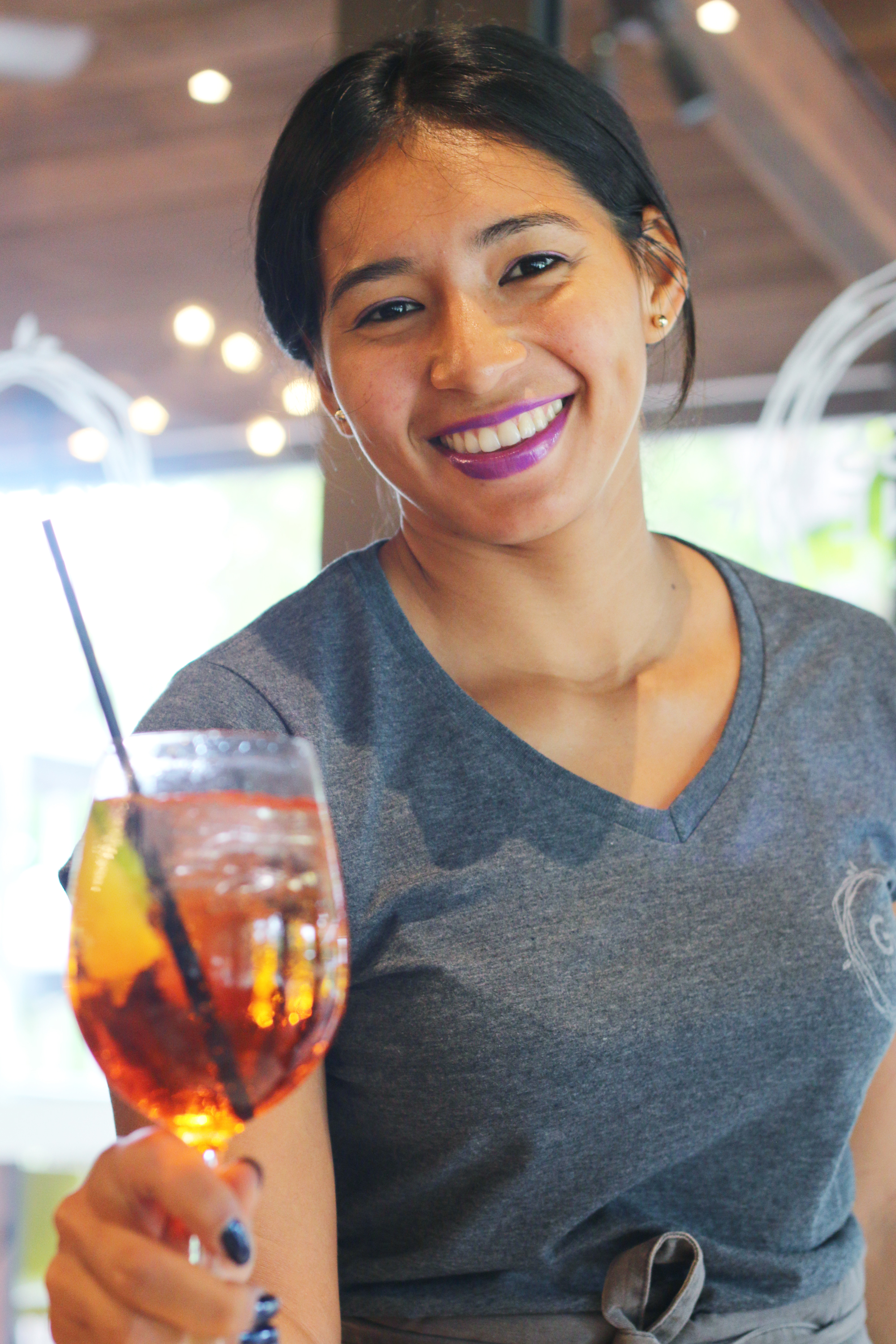 Bay View Spritz
The Bay View Spritz Orange flower infused aperol with cocchi Americano (aperitif) and Montelliana Prosecco was my favorite drink. I like sparkly drinks so this one was the winner for me.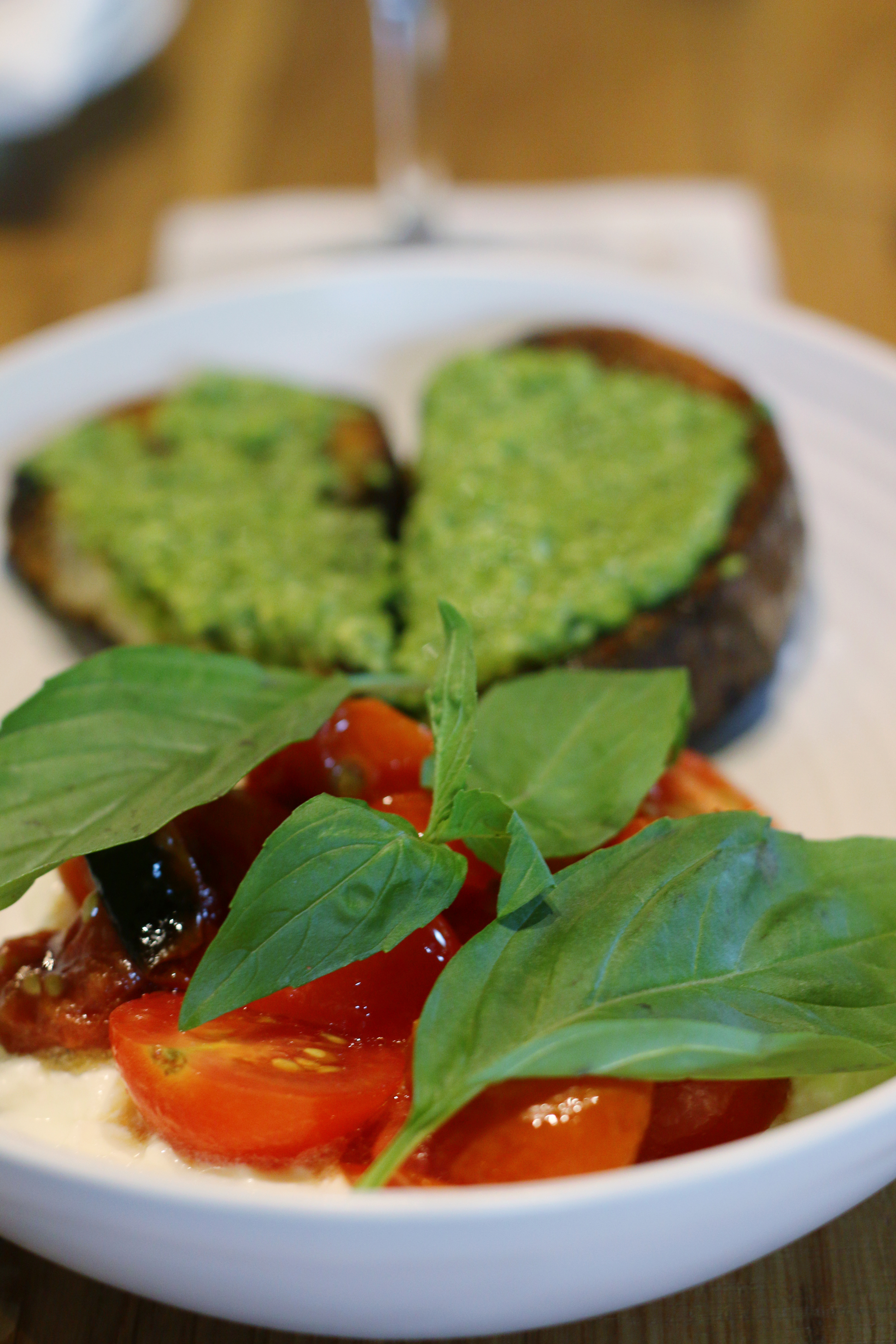 Florida Stracciatella
Florida Stracciatella is Glass and Vine's take on a caprese salad. With stracciatella (the creamy inside of mozzarella cheese), Zak The Baker toast with a nice crunchy texture, and a nice subtle pea pesto that is not over powering. The raw tomatoes, the toasted tomatoes, and the fresh basil give the entire dish a tart, yet sweet-fresh taste.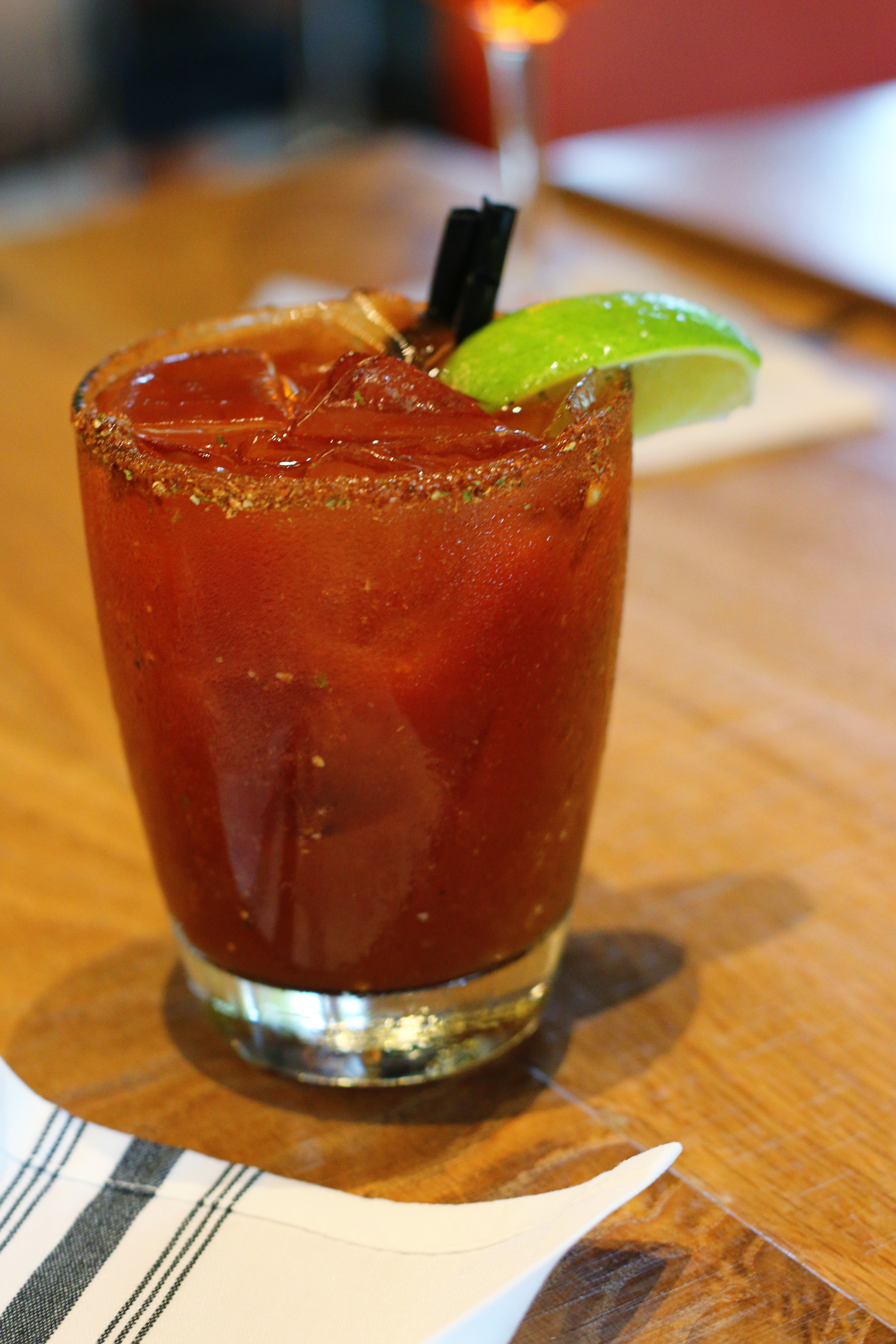 Glass & Vine's Bloody Mary
The Bloody Mary is made with a house rub of cumin, onion, garlic and cinnamon. The house rub spice mix is really interesting. I definitely recommend Bloody Mary lovers to give this drink a try.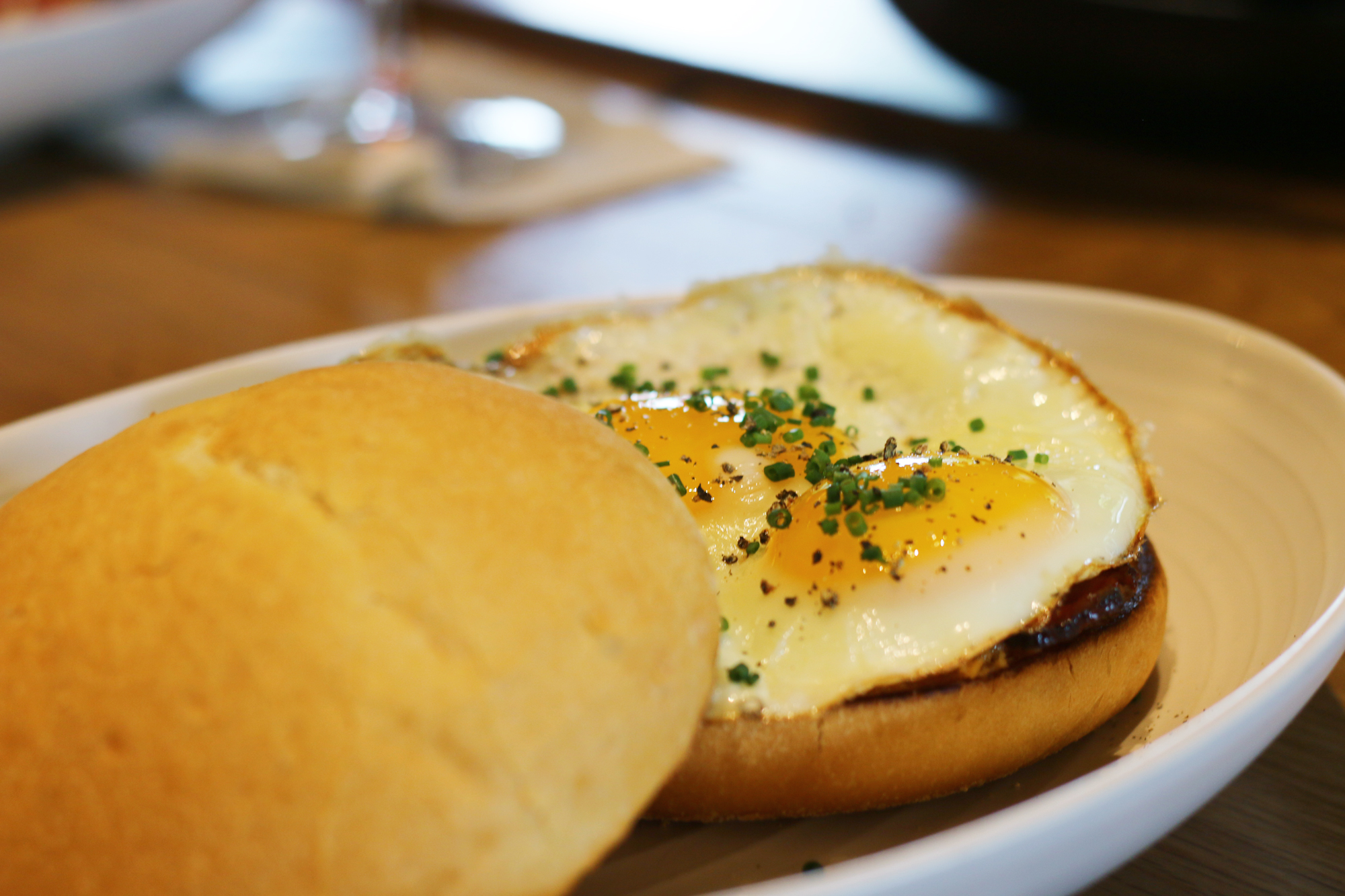 The Breakfast Sandwich
The Breakfast sandwich has a couple of sunny side up eggs, applewood smoked bacon, cheddar and brioche. The bread is really soft, making it very easy to bite into. This breakfast sandwich is so delicious it will take you back to your favorite breakfast memories. If you are looking for comfort food – this is for you.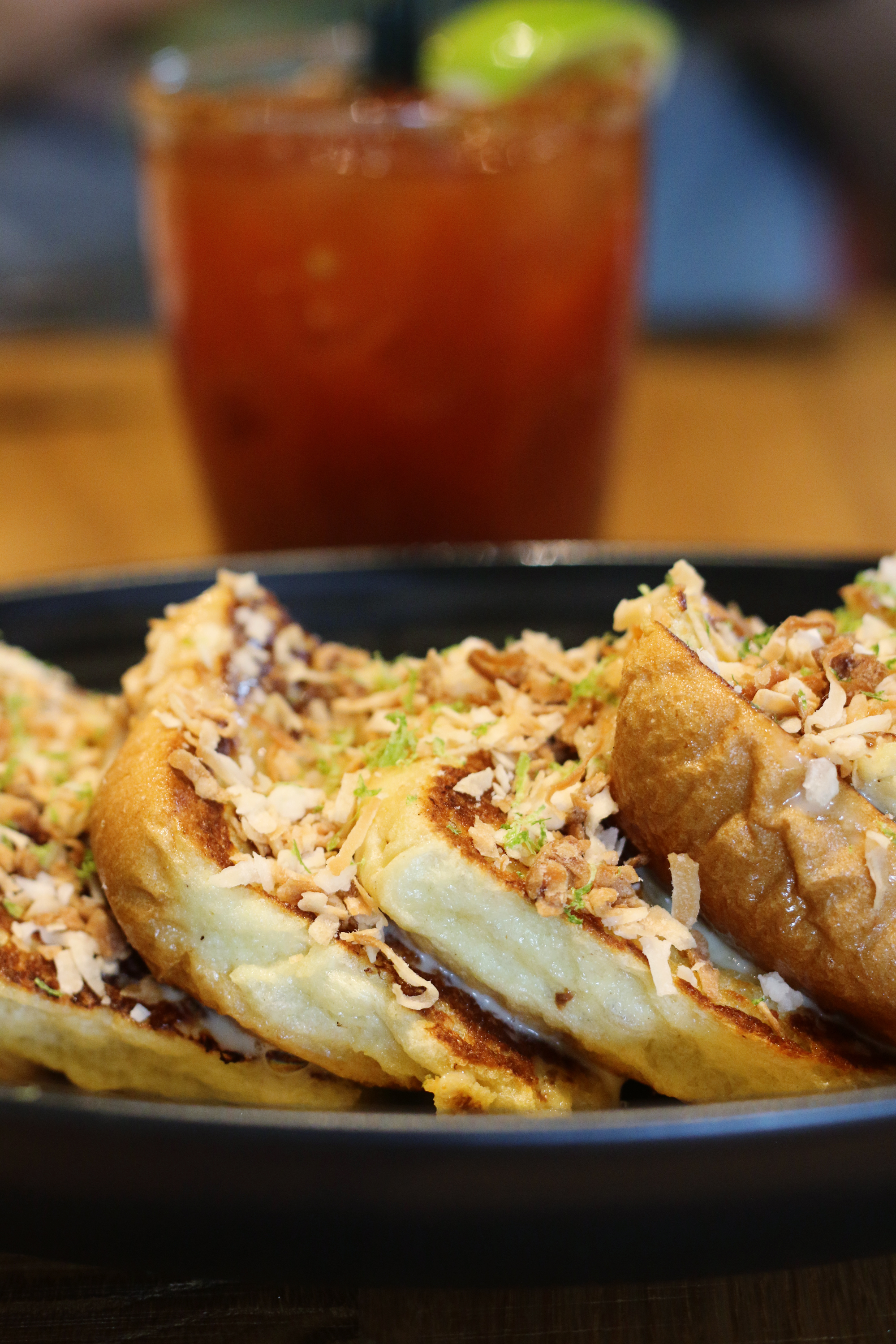 Coquito French Toast
We ended on a sweet note with Glass & Vine's version of French toast. The Coquito French toast are made with super soft potato bread and are drizzled with toasted coconut flakes, lime zest, cinnamon, and a vanilla bean maple syrup. It tastes like key lime French toast. Amazing! Since I'm a sweet tooth, this was my favorite dish of the brunch.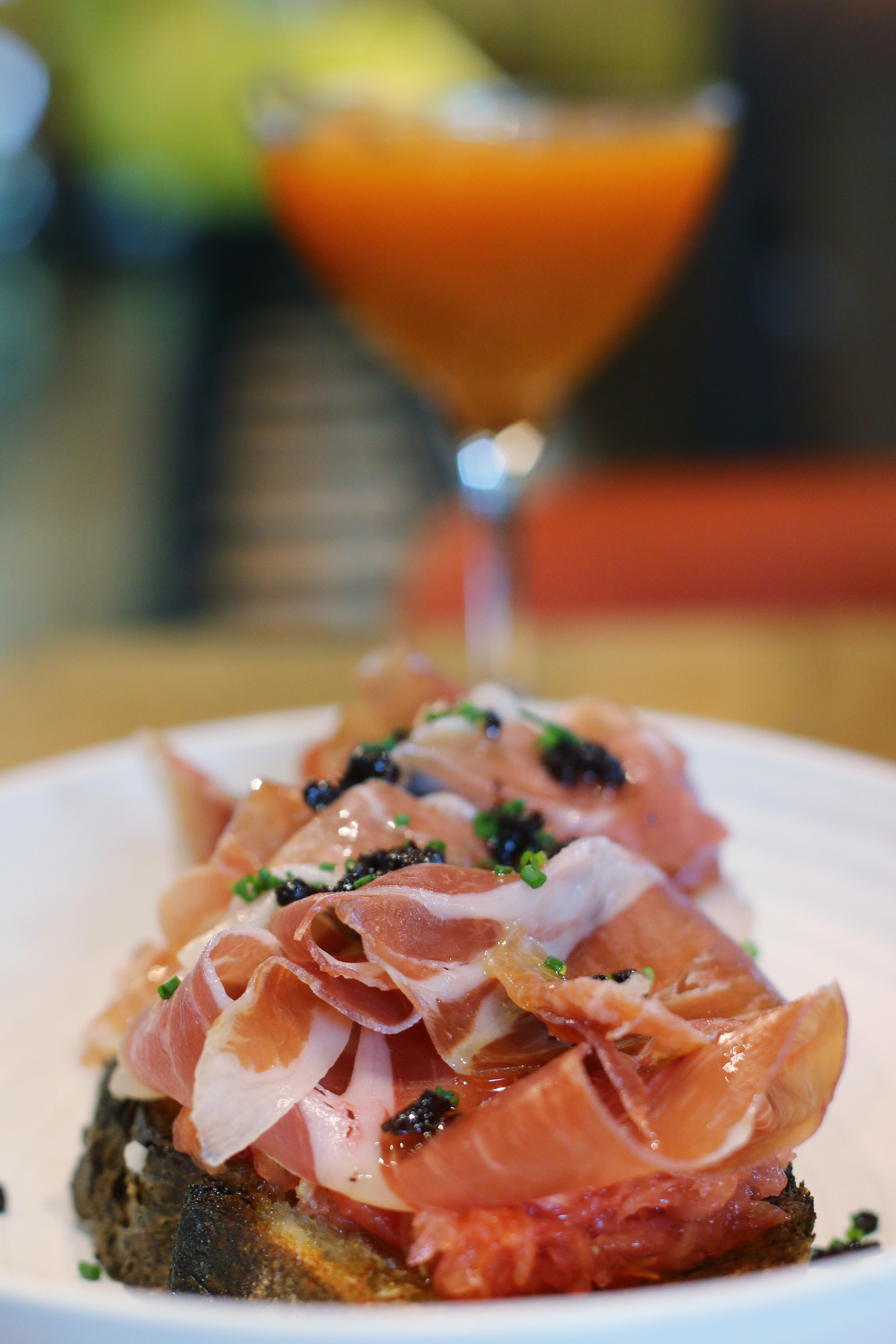 Pan Con Tomate
Additional delights feature Pan Con Tomate – a quintessential brunch item with raw tomato, jamon serrano and dehydrated olives on Zak The Baker bread; and Wood Oven Baked Eggs – confit garlic cream, black pepper, Grana Padano, grilled bread, cauliflower and nutmeg, with the option to add prosciutto or truffle sauce.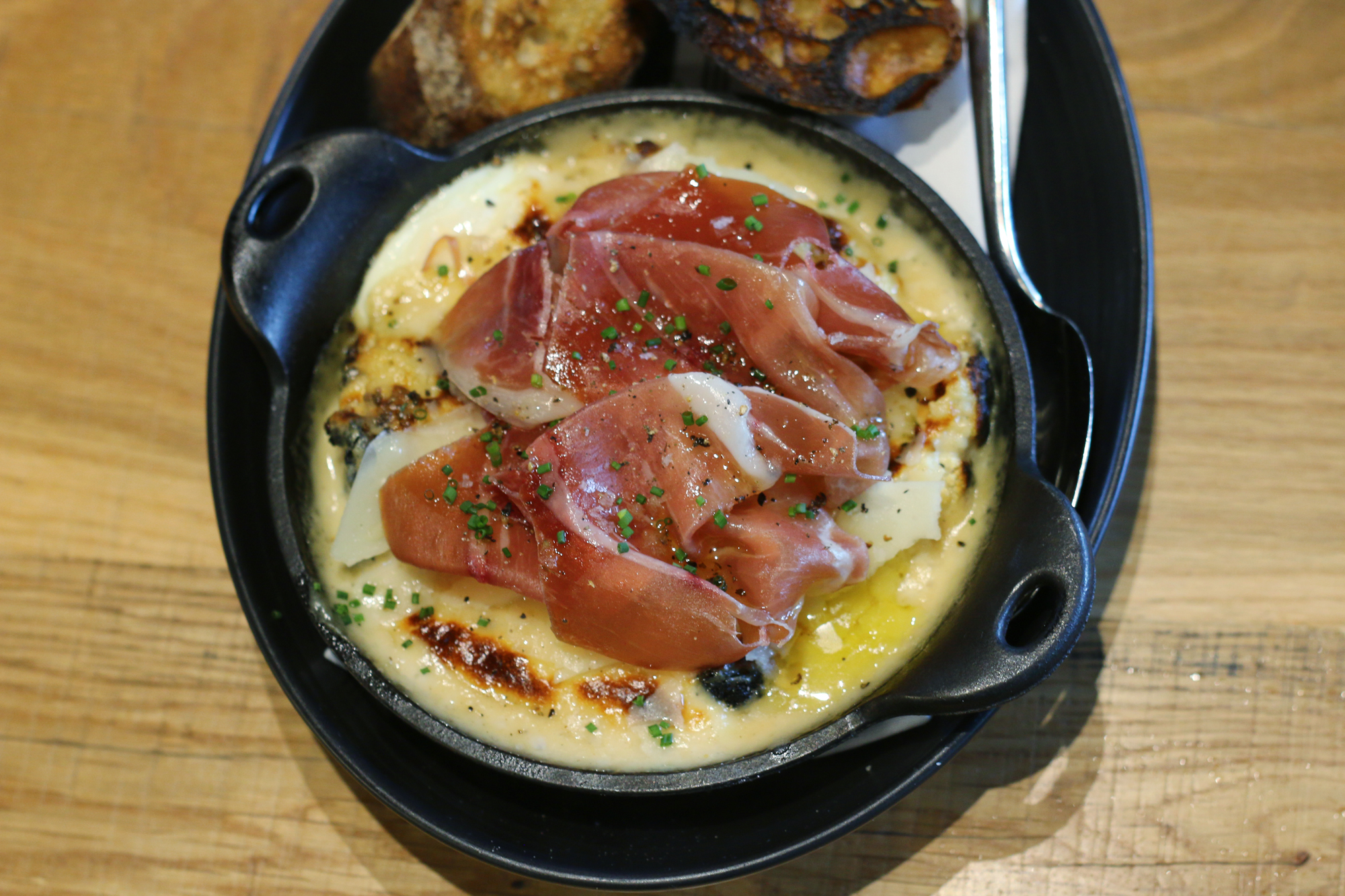 Glass & Vine is located at 2820 McFarlane Road in Coconut Grove. Brunch is served Saturday and Sunday from 11AM to 3:30PM. Valet parking is available in front of the restaurant on McFarlane Road. glassandvine.com Call and make your brunch reservation!