I am not exaggerating, the best rotisserie chicken I've ever tasted was from the recently opened House Kitchen & Bar. Located on Ponce de Leon Blvd across the street from Sushi Maki, it's the perfect spot for lunch, drinks with clients, happy hour with co-workers, or a night out with friends.
House is a mixed fare restaurant striving to support the local community while keeping their dishes as organic and free range as possible. I was invited to try several items off their lunch and dinner menu. I'm happy to report that I thoroughly enjoyed everything I tasted.The food is simply amazing. Let's get into menu recommendations.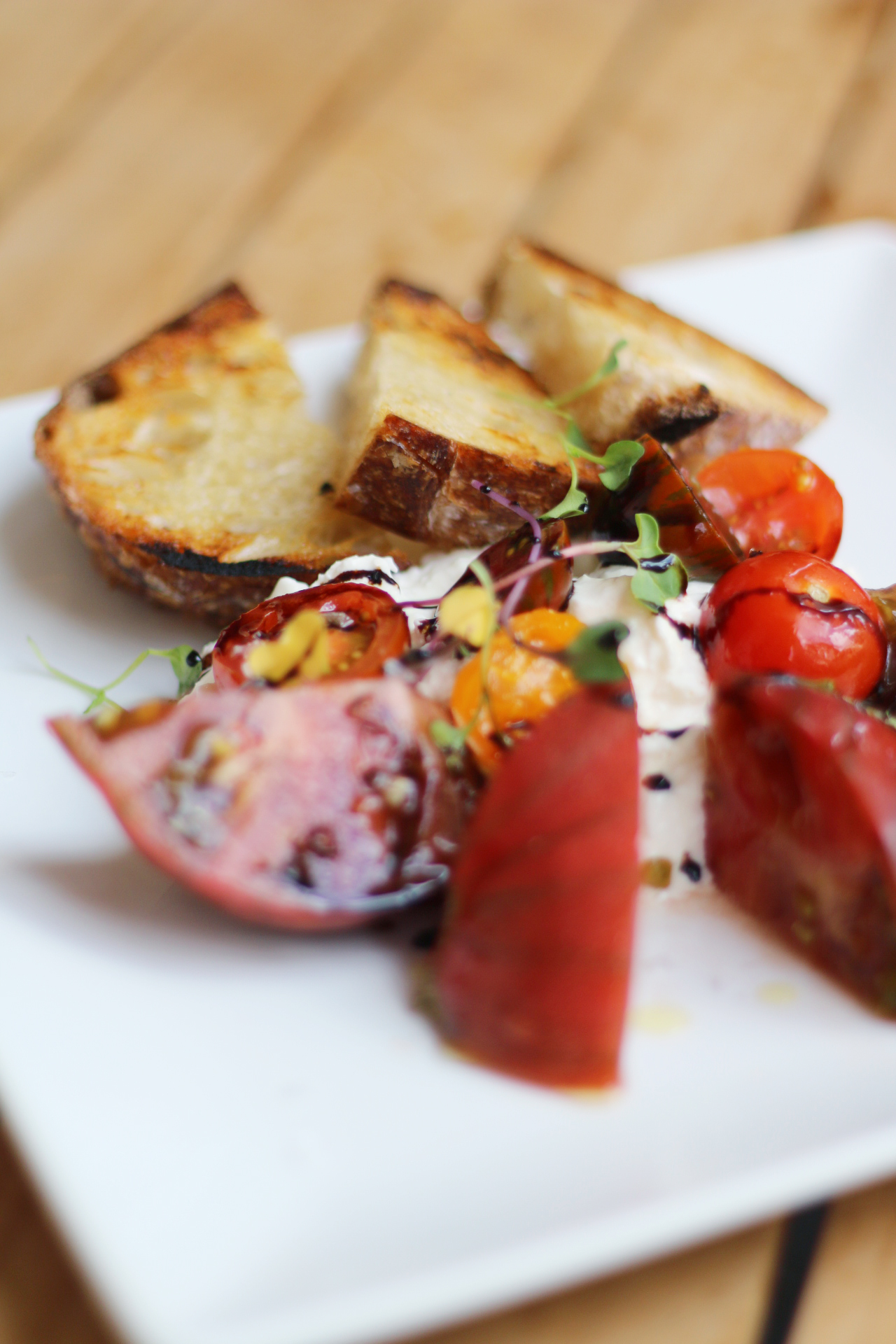 Stracciatella. Photo credit Vintage Unicorn
Recommended Starters
We started with Stracciatella – Homestead grown baby heirloom tomatoes served over Mimmo's Stracciatella mozzarella with a side of Zak the Baker toast drizzled with a balsamic glaze. The decadent creamy mozzarella with the balsamic glaze is delicious. If you visit House, you must order this appetizer.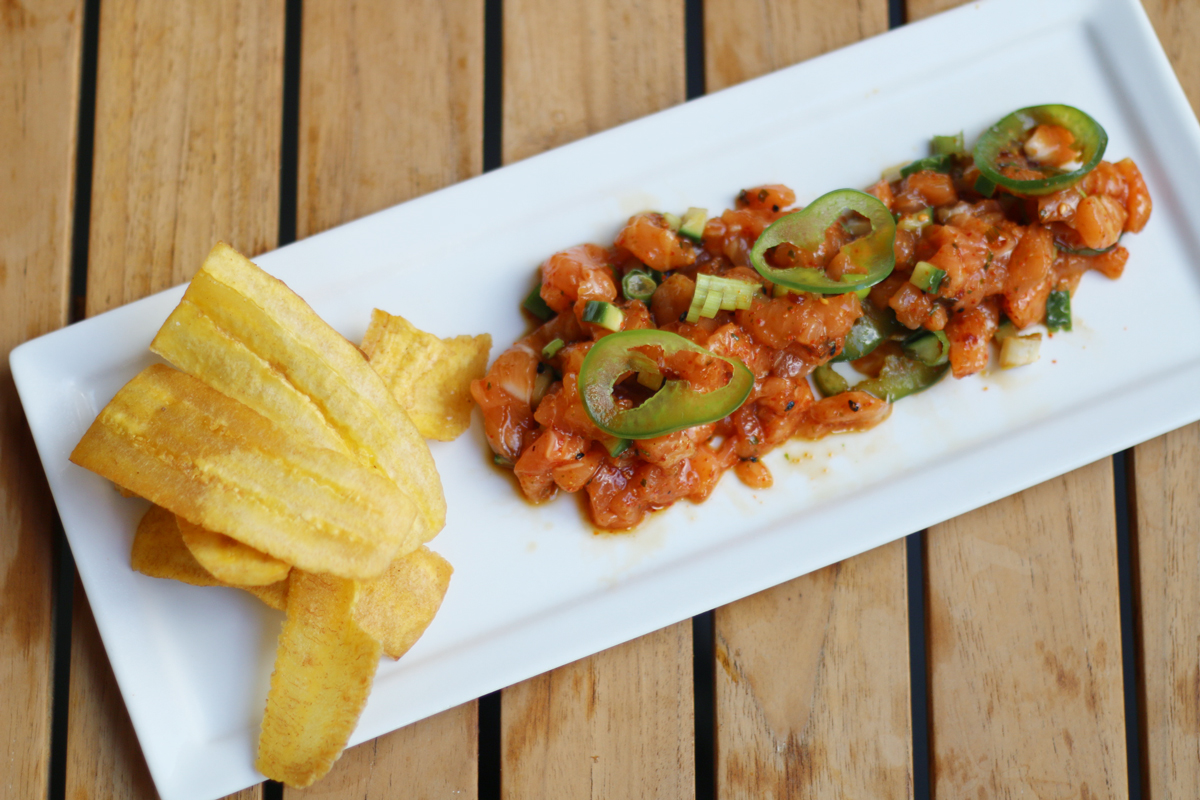 Fish tacos. Photo credit Vintage Unicorn
We also tried the Salmon Poke Heatwave – salmon chunks tossed in tocarashi (cayenne or red pepper) topped with jalapeño peppers and served with a side of crispy plantain chips.
Fish tacos. Photo credit Vintage Unicorn
Fish tacos with blackened mahi drizzled with salsa were on point. Every bite has juicy blackened fish, romaine slaw, salsa, and guacamole. Make sure to squeeze some lime on your tacos for add a fresh hint citrus.
Fish tacos. Photo credit Vintage Unicorn
Recommended Main Courses
As I mentioned, the rotisserie free range chicken has now become an obsession for me. It's tender and full of flavor, served with cornbread, curry mustard sauce, BBQ sauce & Nashville hot sauce. What makes a chicken so sinfully delicious? It must be the long process. Chef Altman brines each chicken overnight for 24 hours, marinates them in special rubs for an additional 24 hours and only roasts chickens as needed. The chickens are practically roasted to order to keep them as fresh as possible.
Mac and cheese. Photo credit Vintage Unicorn
We had jalapeño cornbread with honey butter and mac and cheese to accompany our chicken. Just stop by and order that meal: rotisserie chicken, jalapeño bread and mac & cheese. You'll die a happy foodie. Let me warn you though, it's an expensive chicken. The whole chicken is $32 but it includes two sides. Half a chicken is $18 and includes one side. Go ahead and splurge on this chicken, it's worth it.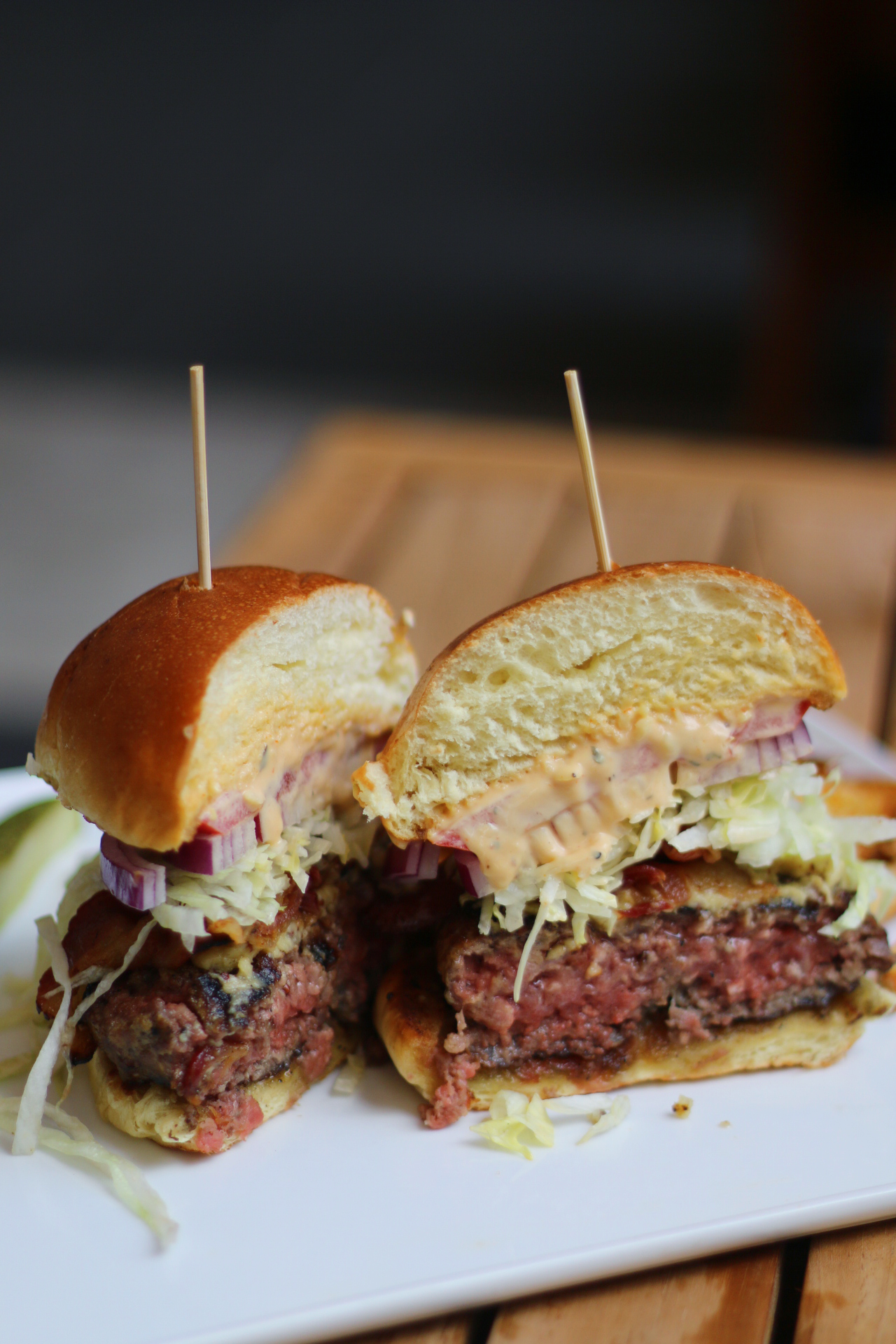 Triple Grind Signature Burger. Photo credit Vintage Unicorn
Burger lovers should try the Triple Grind Signature Burger. It's a half pound beef patty with signature aioli sauce, applewood bacon, whole grain mustard cheddar cheese imported from London served on a toasted brioche bun. This massive burger includes Belgian hand cut fries.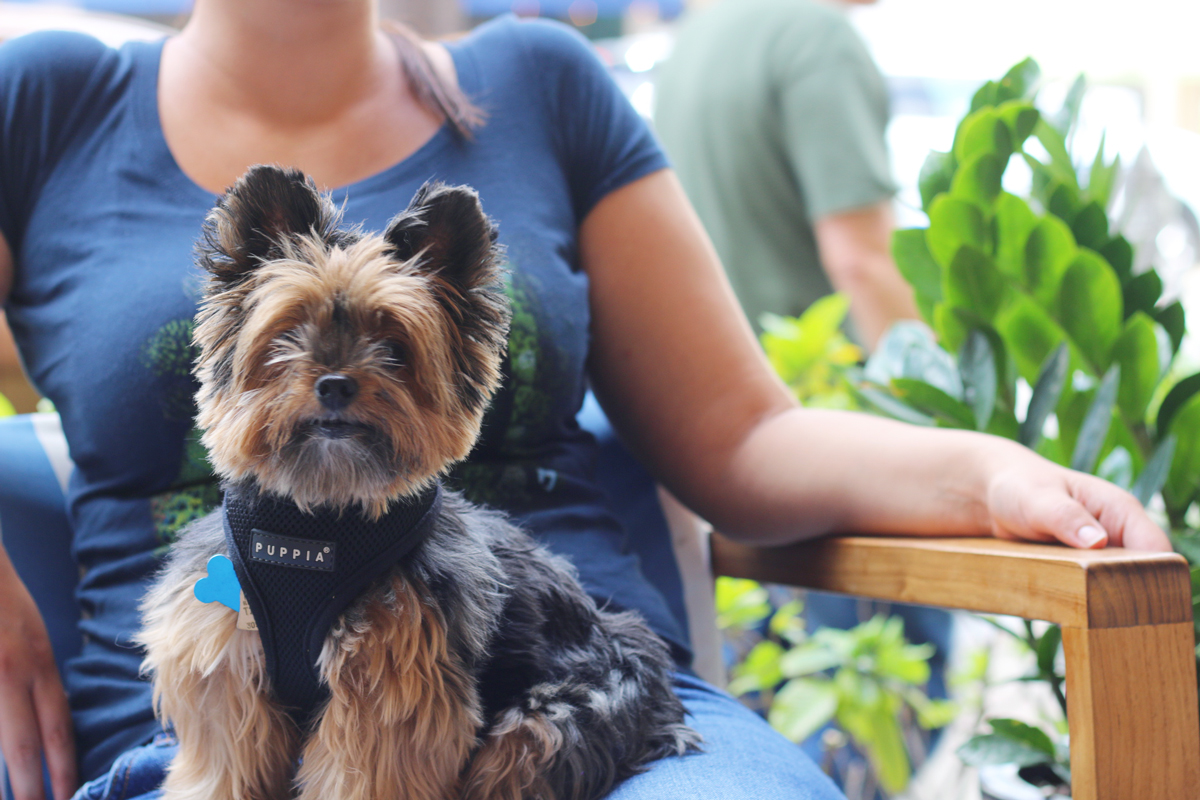 Pancho enjoying the doggie friendly outside seating. Photo credit Vintage Unicorn
Outside Seating
I am a fanatic of sitting outside. I enjoy the gorgeous local weather and eating outside makes my food taste brighter. House offers outside tables and an outside lounge with benches and low tables. It's the perfect setting to sit back, relax and enjoy a meal or drink with friends. Even our furry friends!
For those of us that like to take our doggie on our foodie adventures, we can enjoy the outside seating decorated with twinkle lights. Pancho had a blast at our lunch.
House Kitch & Bar is located at 180 aragon ave, Coral Gables. housekitchenbar.com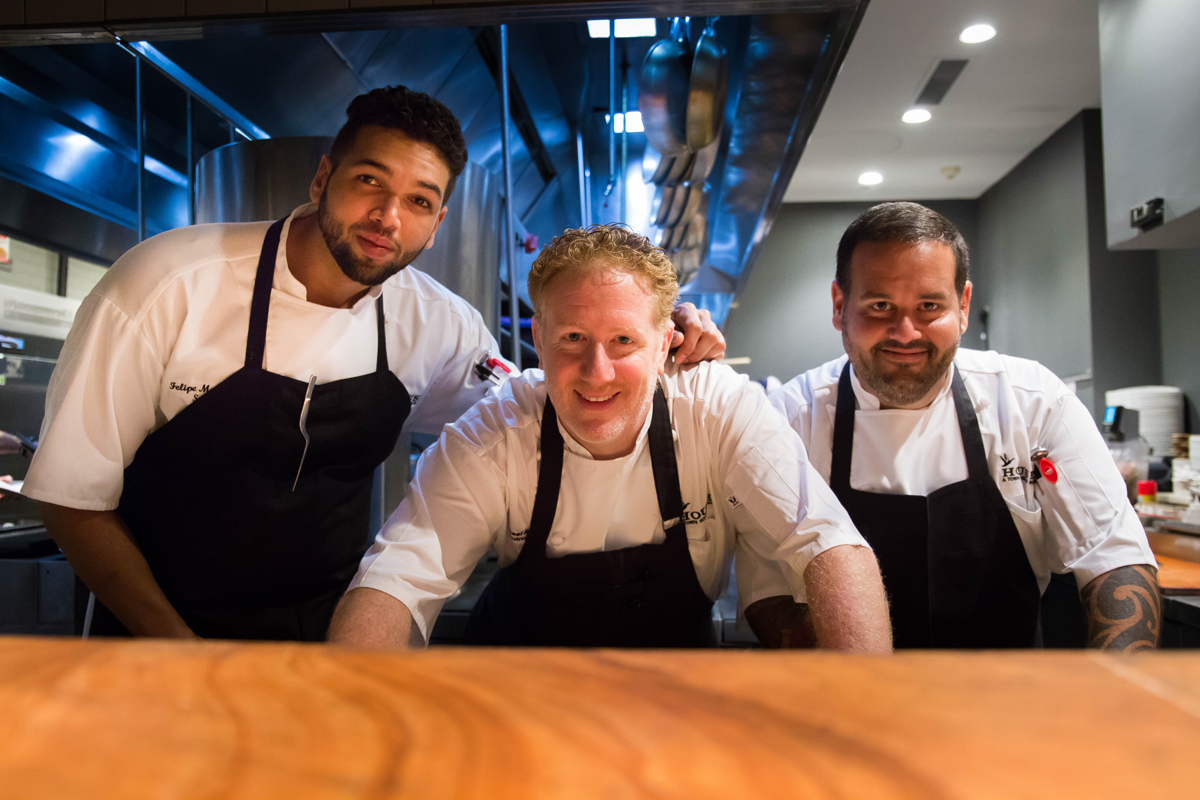 Chef Mike Altman and team. Photo courtesy of House Kitchen & Bar
About Chef Michael Altman
Chef Michael Altman studied at The Culinary Institute of America in Hyde Park, New York, and spent the early part of his career in famed New York restaurant kitchens such as Aureole (Charlie Palmer) and Café des Artistes (George Lang). Currently the Executive Chef and Co-owner at Town Kitchen & Bar in South Miami and House Kitchen & Bar in Coral Gables.
Chef Altman showcases his talents and continues to grow his clientele at Town Kitchen & Bar in South Miami. Now in its eleventh year, Town Kitchen & Bar has become the "go to" spot in South Miami for food, drinks, parties and meetings. House Kitchen and Bar just weeks old has become the "hot spot" of Coral Gables showcasing original TKB menu items and new array of dishes including an oyster bar and rotisserie chicken. Chef Altman brings a New York style of food, raising the standard of both quality and sophistication. Chef Michael is known for his unique ability to consistently deliver high quality menu offerings, while maintaining low food and operational costs. He has a significant following, as well as family roots, in the South Miami/Pinecrest/Palmetto Bay and Coral Gables area.
Some Like It Hot cocktail. Photo credit Vintage Unicorn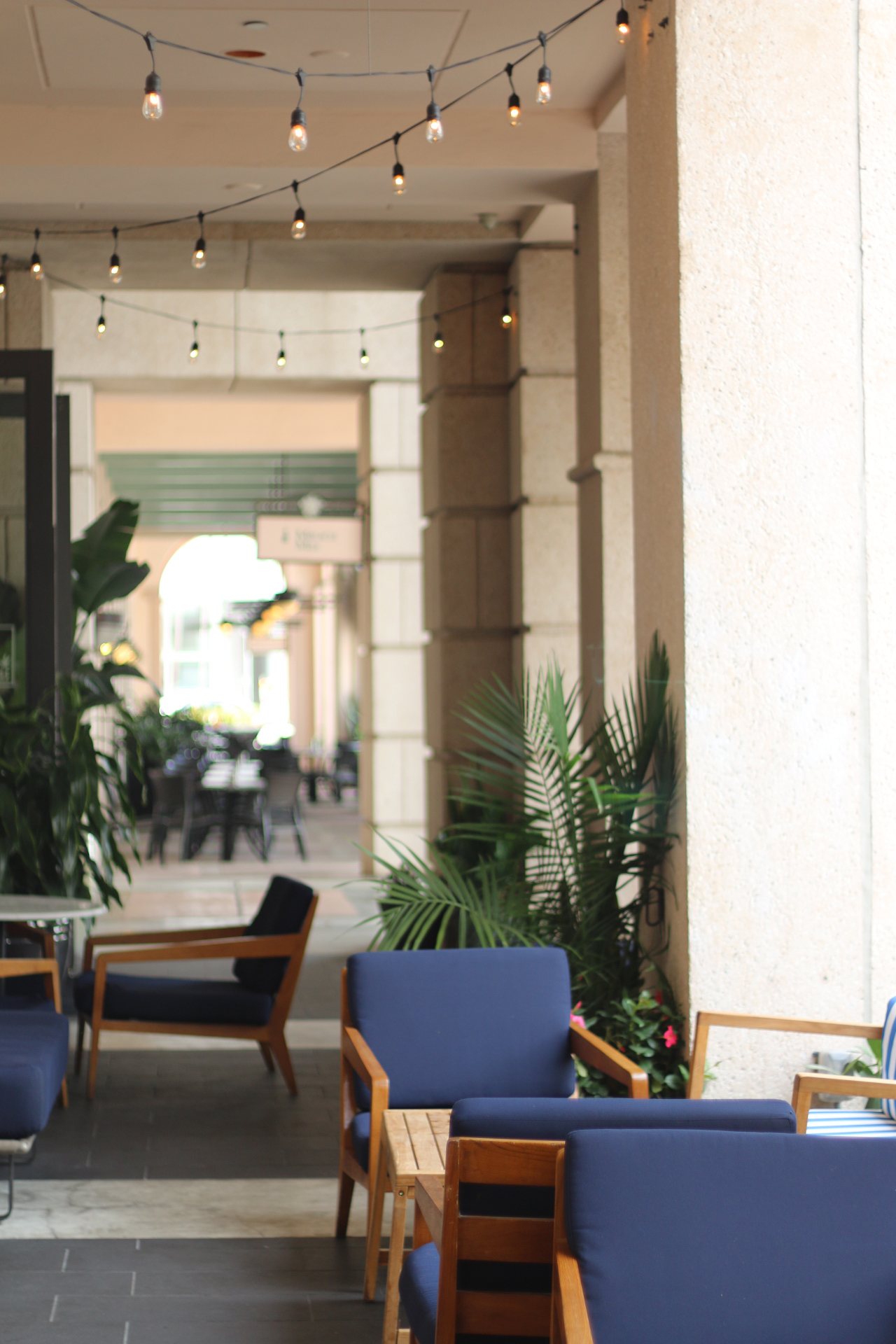 House Kitchen & Bar outside seating. Photo credit Vintage Unicorn