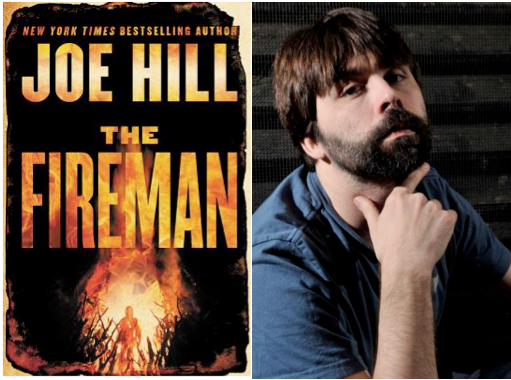 Joe Hill's is presenting his fourth novel, The Fireman, Friday at Books & Books Coral Gables.  Here are five reasons you should go.
1 – The Fireman is 768 Pages of Awesome
Joe Hill pays glorious homage to post-apocalyptic landscapes from The Walking Dead to Stephen King's The Stand to Cormac McCarthy's The Road while offering a unique vision of a burned American wasteland.  You'll be surprised at how quickly you'll burn (har!) through nearly 800 pages.
2 – If Stephen King is The Godfather of Horror, Then Joe Hill is The Godfather II
You love horror, when it's done right.  You think nothing's scarier than Pet Sematary, The Shining, or It.  Well, take a ride to Christmas Land with Charles Manx in NOS4A2, or buy a Heart-Shaped Box with Judas Coyne.  Stroll through the story collection 20th Century Ghosts and shiver through "Best New Horror," "The Black Phone," or "My Father's Mask" (among others).  Joe Hill's full name is Joseph Hillstrom King, and he does his father proud.
3 – You Want Your Money Back for Horns (2013)
When the trailer for Horns came out with none other than Harry Potter as Ig Parrish, you foamed at the mouth with excitement.  Then the finished movie languished for a year without hitting theaters before fulfilling its contractually-obligated theatrical release and dying a quick death.  Just because Hill makes mixing horror, humor, love, and pathos look easy, that doesn't mean it is.  I doubt you'll get your money back, but maybe you'll get an apology.  Or at least an explanation.
4 – You Love a Good Graphic Novel
Alas, we can't help you – because Locke & Key is a great graphic novel.  Collected in six volumes, it's been nominated for Eisner Awards every step of the way; Hill even won an Eisner for Best Writer halfway through.  Locke & Key is endlessly inventive, scary, clever, and just one hell of a great ride.
5 – Frankly, You're Sick of Knowing Exactly How A Book Will End 
How does Joe Hill travel such well-worn paths – cliches like vampires, ghosts, demons, and apocalyptic plagues – and still manage to present something completely original?  I don't know.  I can only guess that's he's equal parts wizard and writer.  And refreshingly, you have no idea where the path will take you, but you trust in Hill to get you there.  As much as you can trust an author who's hell-bent on scaring the shit out of you.
Event date:
Friday, May 20, 2016 – 8:00pm
Event address:
Books & Books
265 Aragon Ave