We're continuing with our South Beach Seafood Festival Chef recipe series! This time Chef Eric Do, Executive Chef at restaurant Toro Toro, shares the secrets of the Ceviche Nikkei. I was lucky to see Chef Eric prepare this dish at Wine With Nat's Women Who Wine event at Macy's just last week. This dish is really easy to make, but it looks sophisticated and tastes amazing.
It feels like just yesterday I was at the SOBE Seafood Festival Chef Showdown, on the beach, eating great food, and voting for the best dishes from the top chefs in South Beach. To prepare us for this foodie event, I'm bringing you recipes from some of the renowned chefs participating at the South Beach Seafood Festival 2016.
SOBE Seafood Festival Discount Code 2016
Are you ready for an entire day of open bar on the beach and tasting the best food from South Beach restaurant pop-up cafes? Grab your tickets with discount code CGLOVE to get 20% OFF your tickets.

Chef Eric Do
Toro Toro's Ceviche Nikkei Recipe
This tuna ceviche recipe comes from the downtown steakhouse restaurant, Toro Toro.
Prep Time: 15 minutes
Cook time: 1 hour
Ingredients for Glazed Sweet Potatos:
2 cups cubed sweet potato
1 quart orange juice
2 sticks cinnamon
2 tea cloves
7 tsp sugar
Instructions for Glazed Sweet Potatos:
Peel sweet potatoes, then put in a sauce pot with all ingredients.
Bring to a boil and cook until al dente.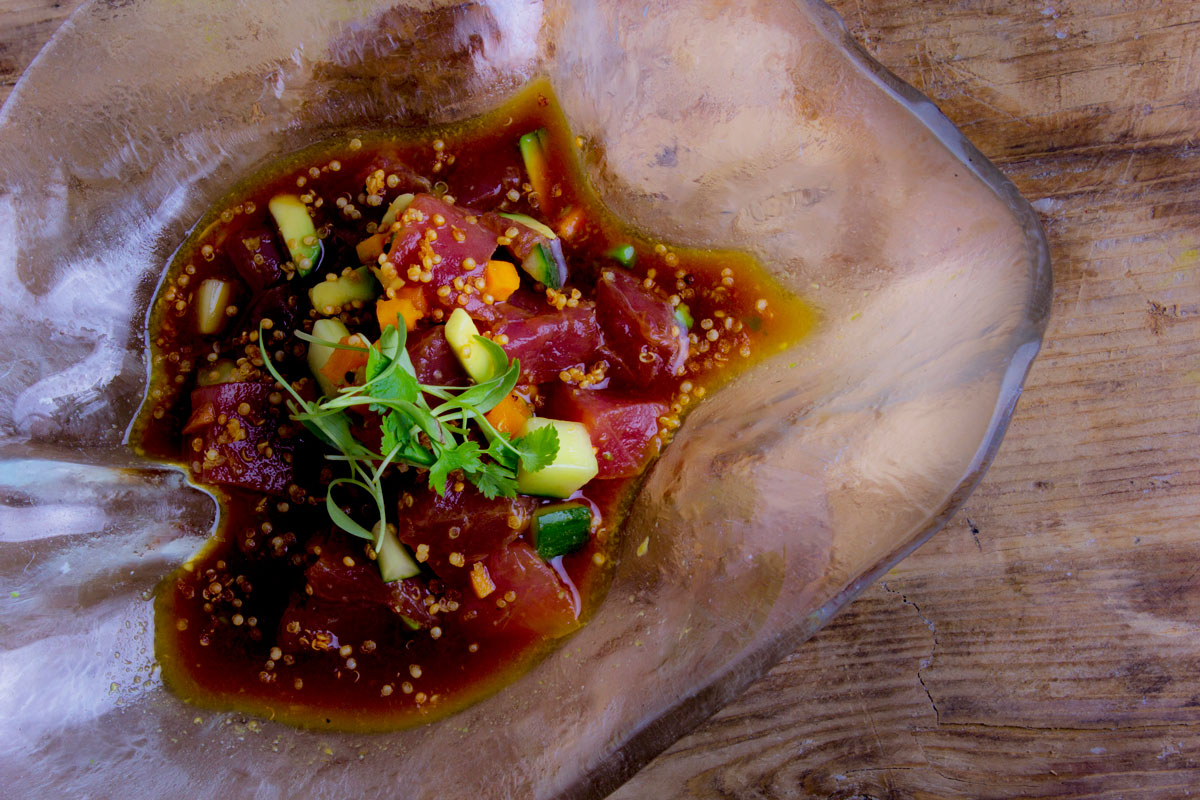 Ingredients for Crispy Quinoa:
1 cup cooked quinoa
1 tsp salt
Instructions for Crispy Quinoa:
Place cooked quinoa on a sheet pan overnight uncovered.
Fry the quinoa in a fine mesh metal strainer in the deep fryer at 375F make sure to stir constantly
Drain well, season, and lay out on a sheet pan to cool down before storing in an airtight container.
Ingredients for Leche De Trigre:
120 grams white onion, diced
100 grams celery
3 each garlic cloves peeled
50 grams cilantro stems
500 ml lime juice
600 ml fish stock
140 grams white fish scraps
50 grams ice cubes
Salt To Taste
Instructions for Leche De Trigre:
Cook fish in the stock / allow to cool (Ideal if done a day ahead!)
Place all ingredients in Vita prep and blend until smooth and strain.

Photo by Nabila Verushka
Ingredients Ceviche Nikkei:
1 cup diced sushi grade tuna
¼ cup diced cucumber, deseeded
¼ cup diced glazed sweet potato
¼ cup ponzu
¼ cup leche de tigre
1 tsp crispy quinoa
¼ diced Hass avocado
Salt & Pepper To Taste
Instructions:
Combine all ingredients except for the avocado and quinoa, ponzu, salt, and pepper in a bowl and mix gently.
Place mixture into serving bowl and garnish with the diced avocado and quinoa.
About Toro Toro
Located on the main lobby level of the newly redesigned InterContinental Miami, Toro Toro is celebrated chef/restaurateur Richard Sandoval's creative Pan-Latin interpretation of a contemporary steakhouse. This sophisticated and sexy concept is modeled after Sandoval's Dubai Toro Toro, which was named "Best Latin" and "Best New Restaurant" by Time Out.
The restaurant's selection of meats, carved tableside rodizio-style, along with an array of small plates, composed main-plates and a la carte steaks draws foodies while Toro Toro's buzz-worthy bar, emphasizing Latin-inspired cocktails made with ultra-premium Latin spirits and a well-curated collection of fine wines from around the world, draws the cocktail crowd. Eric Do, current Executive Chef of Toro Toro shares the Ceviche Nikkei recipe with us.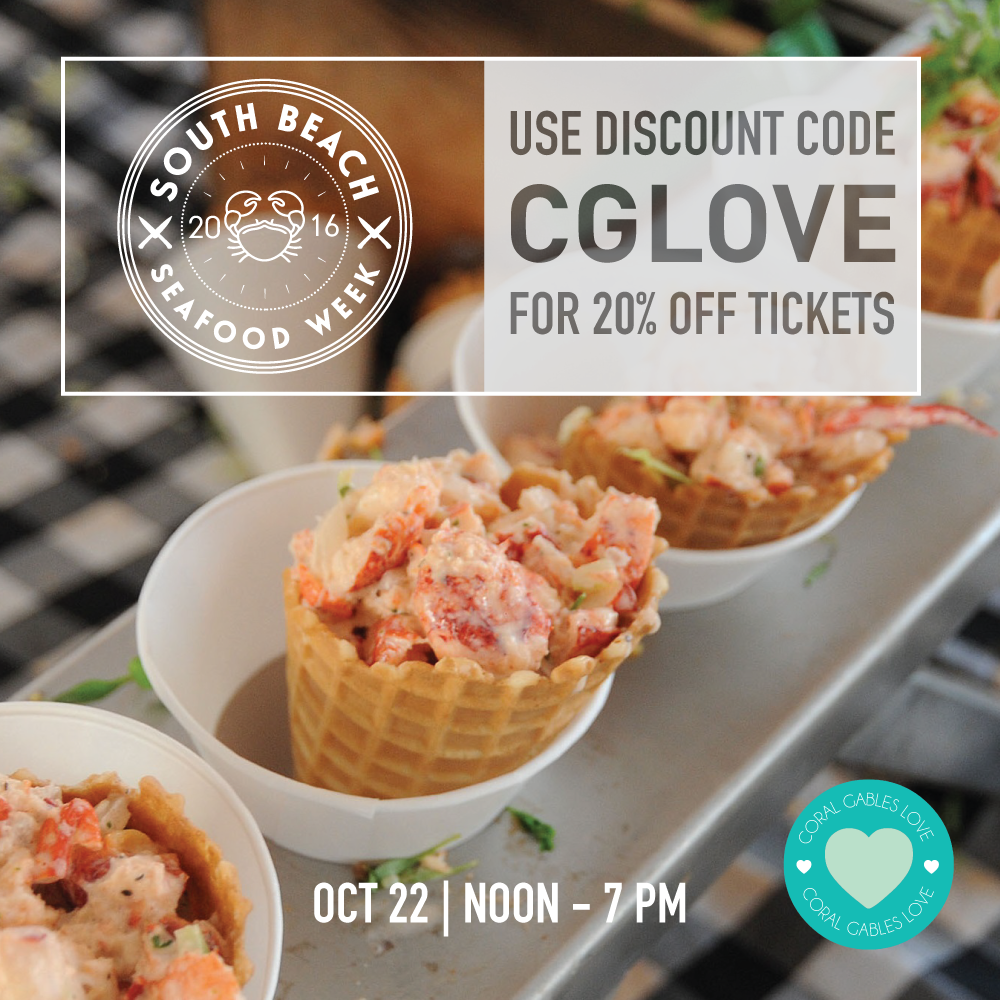 About The SOBE Seafood Festival 2016
The SOBE Seafood Festival means one thing: it's almost stone crab season again! The South Beach Seafood Festival is the ultimate seafood experience featuring luxury dining on the sands of South Beach. The seafood festival will take place on 7th street and Ocean Drive and will go from noon to 7pm. Plus, ticket price includes all-day open bar! Please keep in mind the ticket price does not include the food. So bring money for the yummies!
Saturday, October 22 will host the 4th Annual South Beach Seafood Festival featuring pop up café's from the likes of Joe's Stone Crabs, Naked Taco, Red, the Steakhouse, CJs Crab Shack, Drunken Dragon, A Fish Called Avalon, Naiyara, Poseidon, Toro Toro, Trulucks, and more. Together, 17 restaurants will be serving you right on the sand – it's four blocks of fun to be exact! Restaurants will showcase an eating experience unlike any other as you stay refreshed with a glass of delicious Kendall Jackson Chardonnay or ice cold Jack & Coke!
There are two types of Festival Tickets and both General Admission and VIP include an all-day open bar available at any of the 30+ added bar locations. General admission starts at only $35; this low price gives guests the opportunity to pick and choose which delicious restaurants to try – all of which are bringing their premium menu items at affordable prices between $5 – $10. This is not a tasting festival; this is an eating festival. Enjoy Stone Crabs, Lobster Waffle Cones, Steak & Lobster Skewers, Shrimp Tacos, Oysters, Shrimp Cocktail, Gyros, Crab Cakes, Grouper in a Bag, Lobster Mac 'N Cheese and more. But please, don't go home hungry!