We're continuing with our South Beach Seafood Festival Chef recipe series! This time we meet Chef Dustin Atoigue from Mondrian. Dustin, the reigning battle shrimp champ from last year's Chef Showdown, is sharing his award-winning Giant Coconut Shrimp recipe with us. Keep reading to make some amazingly delicious shrimp for your next meal or get together.
It feels like just yesterday I was at the SOBE Seafood Festival Chef Showdown, on the beach, eating great food, and voting for the best dishes from the top chefs in South Beach. To prepare us for this foodie event, I'm bringing you recipes from some of the renowned chefs participating at the South Beach Seafood Festival 2016.
SOBE Seafood Festival Discount Code 2016
Are you ready for an entire day of open bar on the beach and tasting the best food from South Beach restaurant pop-up cafes? Grab your tickets with discount code CGLOVE to get 20% OFF your tickets.

Chef Dustin Atoigue
Mondrian's Giant Coconut Shrimp Recipe
This coconut shrimp recipe comes from the South Beach steakhouse restaurant & hotel, Mondrian.
Prep Time: 15 minutes
Cook time: 1 hour
Ingredients for Giant Coconut Shrimp:
4 Ea U/12 white tiger shrimp (peeled and deveined)
2 cups tempura batter
.5 cup tempura flour
3 oz coconut aioli
2 tablespoons toasted crushed hazelnuts
2 tablespoons sliced chives
2 table spoons toasted unsweetened grated coconut
Instructions for Giant Coconut Shrimp:
First skewer the shrimp.
Dust in tempura flour lightly.
Coast with tempura batter and fry till golden , crispy and cooked through.
Brush all with coconut aioli till all surface covered.
Sprinkle all around with chives, hazel nuts , and coconut flakes.
Bon Apetit.
About Mondrian Caffè
Indulge in the delicious fare created by Executive Chef Dustin Atoigue, available daily during breakfast, lunch, and dinner service.
Mondrian Caffè is the perfect place for everything from morning coffee and croissant to our signature fresh Florida Snapper for dinner. Fresh is the key to all of their fare, select from fresh-pressed organic juices, light snacks, to robust pastas, Mondrian Caffè's menu has something for everyone.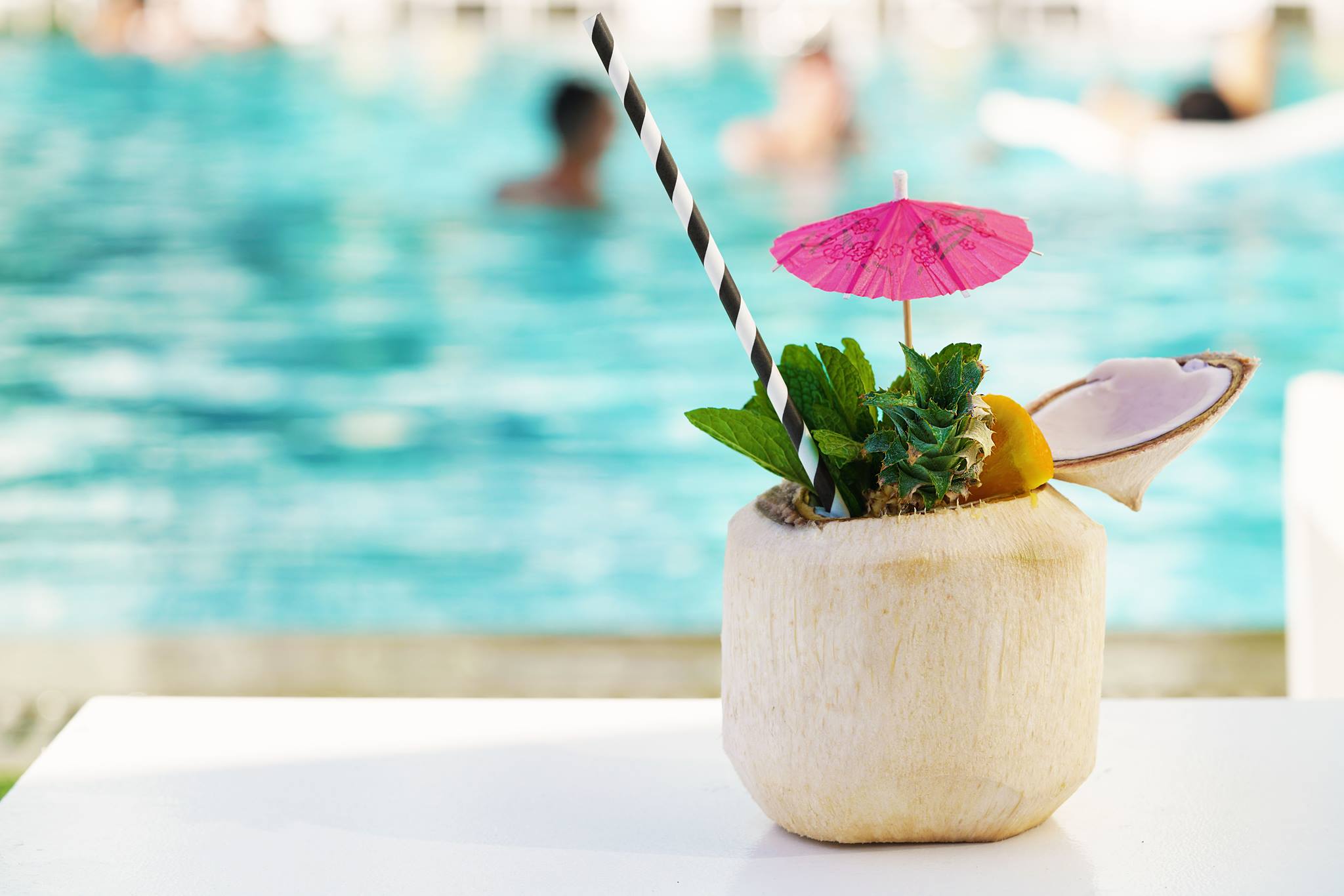 It is the perfect place to unwind, recharge, or meet up with friends, as a hotel guest or a South Beach local, make it your first stop of the day or your last stop in the evening..
About The SOBE Seafood Festival 2016
The SOBE Seafood Festival means one thing: it's almost stone crab season again! The South Beach Seafood Festival is the ultimate seafood experience featuring luxury dining on the sands of South Beach. The seafood festival will take place on 7th street and Ocean Drive and will go from noon to 7pm. Plus, ticket price includes all-day open bar! Please keep in mind the ticket price does not include the food. So bring money for the yummies!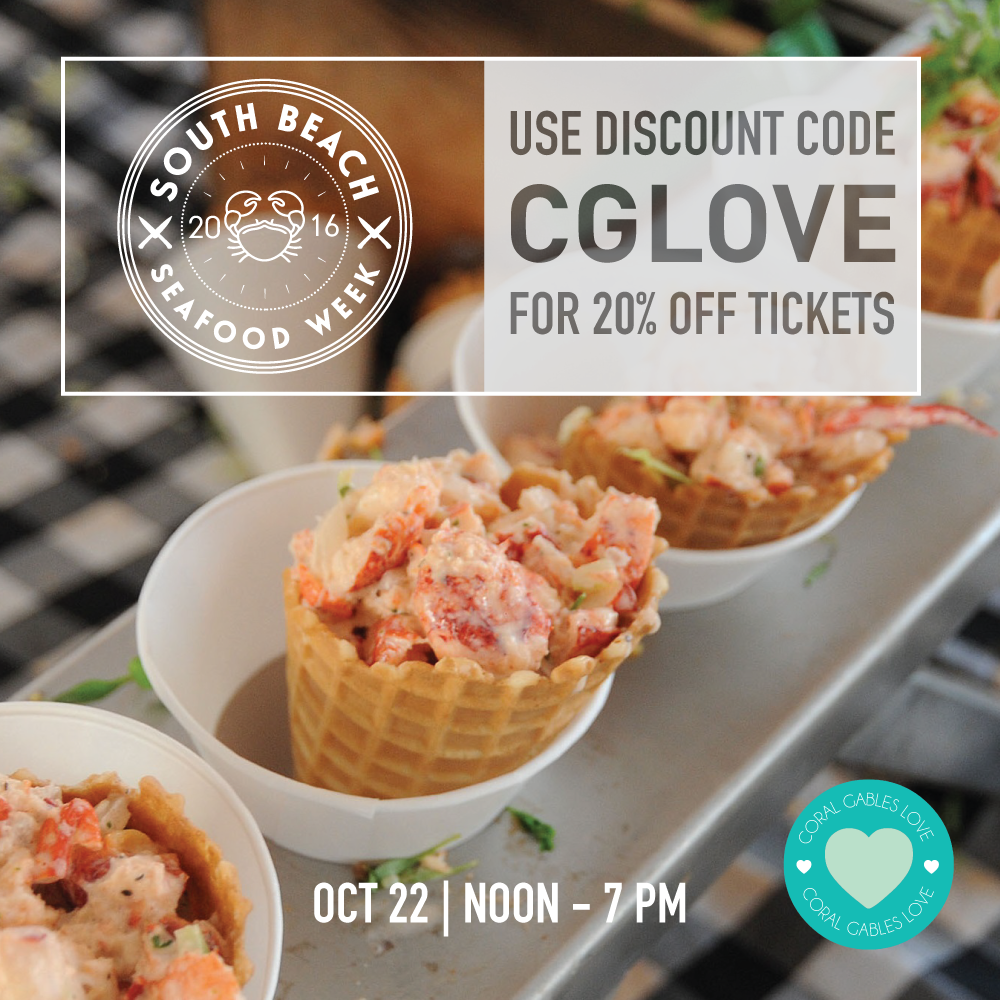 Saturday, October 22 will host the 4th Annual South Beach Seafood Festival featuring pop up café's from the likes of Joe's Stone Crabs, Naked Taco, Red, the Steakhouse, CJs Crab Shack, Drunken Dragon, A Fish Called Avalon, Naiyara, Poseidon, Toro Toro, Trulucks, and more. Together, 17 restaurants will be serving you right on the sand – it's four blocks of fun to be exact! Restaurants will showcase an eating experience unlike any other as you stay refreshed with a glass of delicious Kendall Jackson Chardonnay or ice cold Jack & Coke!
There are two types of Festival Tickets and both General Admission and VIP include an all-day open bar available at any of the 30+ added bar locations. General admission starts at only $35; this low price gives guests the opportunity to pick and choose which delicious restaurants to try – all of which are bringing their premium menu items at affordable prices between $5 – $10. This is not a tasting festival; this is an eating festival. Enjoy Stone Crabs, Lobster Waffle Cones, Steak & Lobster Skewers, Shrimp Tacos, Oysters, Shrimp Cocktail, Gyros, Crab Cakes, Grouper in a Bag, Lobster Mac 'N Cheese and more. But please, don't go home hungry!