Coral Gables Wine Walk: Tuesday, December 1, 2015 from 6:00pm to 9:00pm
You're invited to join us for a special event! We've partnered with the wonderful Robin & Robert Burr from Great Gables for a night of wine, food, and fun during the Coral Gables Wine Walk. So what exactly is a wine walk, you ask? Let me tell you!
On the Great Gables Wine Walk, you and your friends will visit four different venues to sample delightful wines and a bite of good food. Enjoy a pleasant evening hanging out at your favorite places and discovering a few new venues as well.
A taste of wine, some good food and a leisurely stroll around town with friends. In Coral Gables, we call this the Wine Walk.
Purchase Tickets Online
The cost is $40 ($10 per venue). You can purchase your Coral Gables Wine Walk tickets online at winewalk.net. Your ticket entitles you to sample wine and food at four outstanding venues in Coral Gables. Enjoy a leisurely walk between these fine restaurants in between the tastings. Your Wine Walk tickets are good at all the participating restaurants and bars listed on the tickets on the date listed during the designated hours.
Participating Restaurants & Map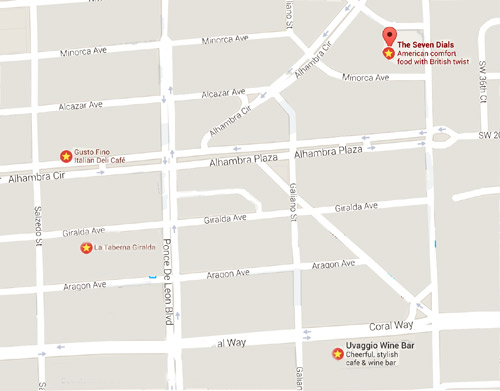 La Taberna Giralda
254 Giralda Avenue
786-362-5677
Seven Dials
2030 S. Douglas Road
786-542-1603
Uvaggio Wine Bar
70 Miracle Mile
305-448-2400
Gusto Fino
271 Alhambra Circle
305-444-0504
"I hope you can join us on Tuesday evening, December 1 from 6 to 9:00pm. Let's meet up with friends and family for a lovely Wine Walk adventure in beautiful downtown Coral Gables."
The December 1st Coral Gables Wine Walk is presented in collaboration with Great Gables, your source for the latest events in the Coral Gables.