This past Saturday I attended The Blogger Meetup's Miami Beach event: Miami Blogger Meet & Sweet. It was an afternoon chock-full of delicious goodies and friendly South Florida Bloggers. I am so happy to have discovered some amazing vendors; but the best part was meeting fellow bloggers including Cristina Fundadora from Practical Panache, Keterina Maurtua from Delirium Style, and Shayda Nematollahi from Love, Shayda. I can't wait to set up our Coral Gables Blogger lunch!
If you are planning an event and need ideas for sweet canapés or bite sized munchies then keep reading because the following vendors make mouthwatering treats.
Contenti Cupcakes is the delectable creation of Alejandra Contenti-Carvajal. I tried her chocolate cream pie with BACON and let me tell you, she lives up to her motto, "Bite into Happiness." The combination of a smooth, chocolatey cream with crispy bacon results in the perfect combination of salt and sweet. Plus, when you hire Contenti Cupcakes to cater an outside event they arrive in an adorable little camper trailer. You can be sure that camper will add vintage flair to your celebration.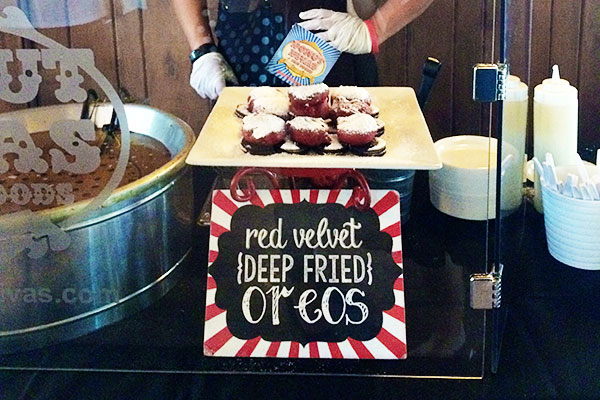 For those looking for decadent treats, check out Donut Divas. They had their donut making station deep frying red velvet Oreos. Visit the owners, Yojani and Maria, at their Donut Divas location at 5779 SW 8th Street in Miami. I will definitely be visiting them to try their other goodies: funnel cakes, and fudge puppies.
Marra from Sweet Sundays Baking Company was wearing my favorite apron from Anthropologie. She was at the event sharing her all natural, freshly made, gourmet delights. I tasted her plaintain-nut muffins and her brownie cakes; and they were fantastic. She truly makes healthy and delicious treats.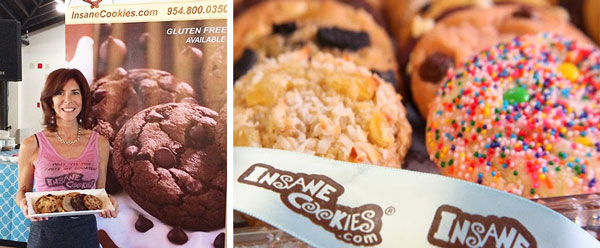 Brandy Cohen, owner of Insane Cookies, goes by the title cookie counselor. All of her cookies are the result of some pretty crazy ingredient combinations. The cookie flavors range from Cannibal – a cookie eating cookies (a classic sugar cookie with Oreo chunks) to the Masochist (spicy chocolate brownie dough with chocolate chips AND crushed red pepper added for an "inferno hot" flavor). All the Insane Cookies are hand crafted from premium ingredients, without added preservatives.

Samba Gourmet was there sharing their Brazilian treats, Brigadeiros. Brigadeiro's sweet texture is halfway between truffle and fudge. The first bite is unique, it melts in your mouth.
Other vendors included our own Coral Gables renowned Misha's Cupcakes and many more: Bianco Gelato, Exquisito Fine Chocolates, Inbite, Onli Beverages, Scarlet's Photobooth, The Piping Gourmets, The Pop Cart, and The Starfish Cottage. Definitely consider these unique vendors for your next corporate or social event and please tell them I sent you!