Certified Angus Beef Grilled Flat Iron Steak
I had the opportunity to sit down and talk to renowned Chef Cindy Hutson – owner and chef of Ortanique on The Mile, a landmark on Miracle Mile for the past 18 years. Ortanique serves what Cindy has coined as Cuisine of the Sun – ethical, diverse, seasonally driven and flavorful dishes. It's fitting that Chef Hutson came up with a new cuisine to describe her cooking style as Cindy is as unique as her cooking. I'm excited to share Cindy Hutson's story with you. The story of a girl who loved to cook for her friends and became a restauranteur opening three restaurants, publishing a cook book, and consulting for large companies like Disney.
The Story of Chef Cindy Hutson
Cindy was thrown into cooking. When Cindy was young child of 9 years old, her mother didn't know how to cook and didn't like to cook. As a young kid, Cindy loved cooking. She'd read the backs of the boxes like Bisquick or Baker's Chocolate and follow the recipes.
There was a TV show, The Galloping Gourmet with Graham Kerr. Cindy would try to emulate the recipes created during the show. Thrilled, Cindy's mother would buy whatever ingredients she needed. Before long Cindy was cooking entire meals for the family.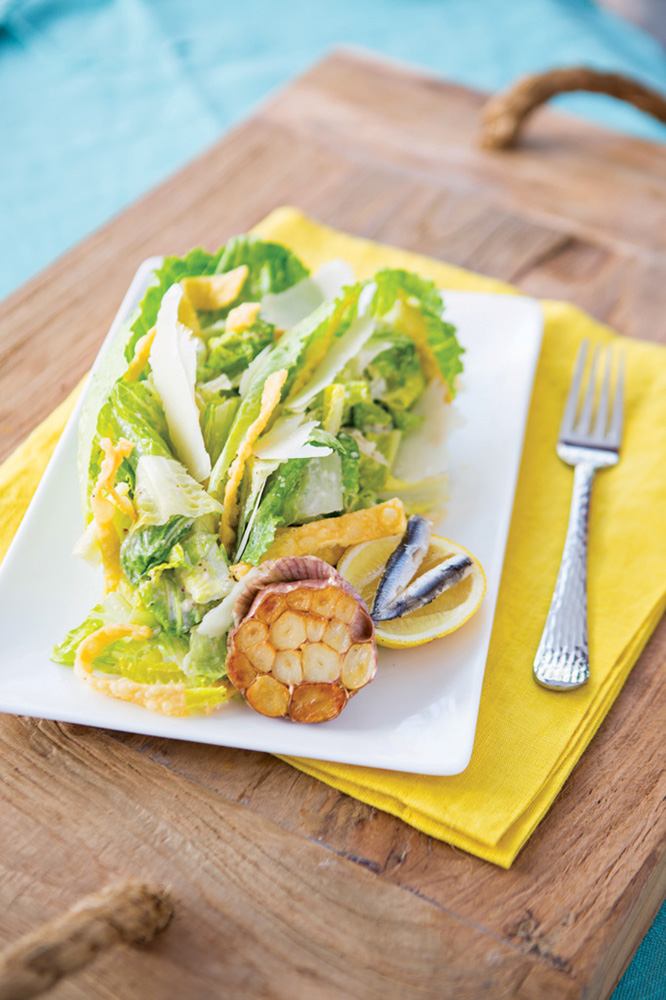 Lemon-Roasted Garlic Caeser Salad
As Cindy grew up she started experimenting with more and more types of food. Eventually she moved to Miami from New Jersey. Freshly arrived from the garden state, Cindy did not have a job and didn't know what she wanted to do, yet she never dreamed of becoming a chef.
Cindy got her captain's license for sports-fishing and made her living captaining charter boats. She saved money and was eventually able to purchase a boat of her own. It wasn't long before Cindy found herself the captain of a 36 ft Bertram.
Serious sport fishermen were initially skeptical when faced with the female captain; but Cindy's dad had taught her many different ways to fish. Cindy built up a reputation and soon became sought after for her skills as a captain and angler. As Cindy tells it, "I ended up making a lot of money because I was not the norm. Nor am I ever the norm."
Cindy sold her boats, but stayed in South Florida. She found herself surrounded by the food and culture of Jamaica through various business ventures and acquaintances. Eventually, Cindy met Norma Shirley. Norma Shirley was considered the Julia Child of the Caribbean. Cindy loved what Norma Shirley was doing, "She was taking her heritage, her country and its food and twisting it and making it really high-end, beautiful, classic food." Everything was gorgeous – the flavors, the plating, the ambience of her restaurant.

Norma's Terrace Salad
Norma Shirley's son Delius approached Cindy with the proposition of opening a restaurant Miami. Cindy picked out a location on Lincoln road and Delius fell in love with the spot. The pair proceeded to raise money and eventually opened the restaurant. The place was called Norma's on the Beach.
Cindy and Delius did much of the work themselves: gutted the old interior, painted the walls, installed the flooring, put in the woodwork and they made it real cute. "Towards the end I was painting the walls and Delius looks up at me – I was up on a ladder – and says "You better hurry up and come up with a menu" and I looked at him and I said "WHAT?" Cindy had assumed Norma Shirley was going to come up with the menu. After all, they had named the new restaurant, Norma's on The Beach. But Delius told Cindy she was going to be the chef at the new restaurant. Cindy was shocked, "I have no idea how to be a chef. I've never worked at a restaurant; I cannot do this. I've never worked under a chef. All I do is cook for fun." But Delius said that he had eaten Cindy's food and he knew she could be a chef. Delius taught Cindy everything else she needed to know as far as the restaurant business is concerned – how to order and how to manage. All Cindy had to do was be artistic, create and cook.

Ortanique Mojitos
The restaurant had a tiny kitchen with less than 100 sq feet. Cindy and Delius opened Norma's on The Beach on a Friday in November 1994. The first night, Cindy cried. The waiters started bringing in tickets and she worried about coordinating everything. The ticket times were long, but the food was good. Fortunately, it was a beautiful night and customers were happy sitting out there enjoying their cocktails. Customers did complain about the long wait, but once they got their food they loved it. Cindy says she cried every night for 3-4 months until she got the hang of it.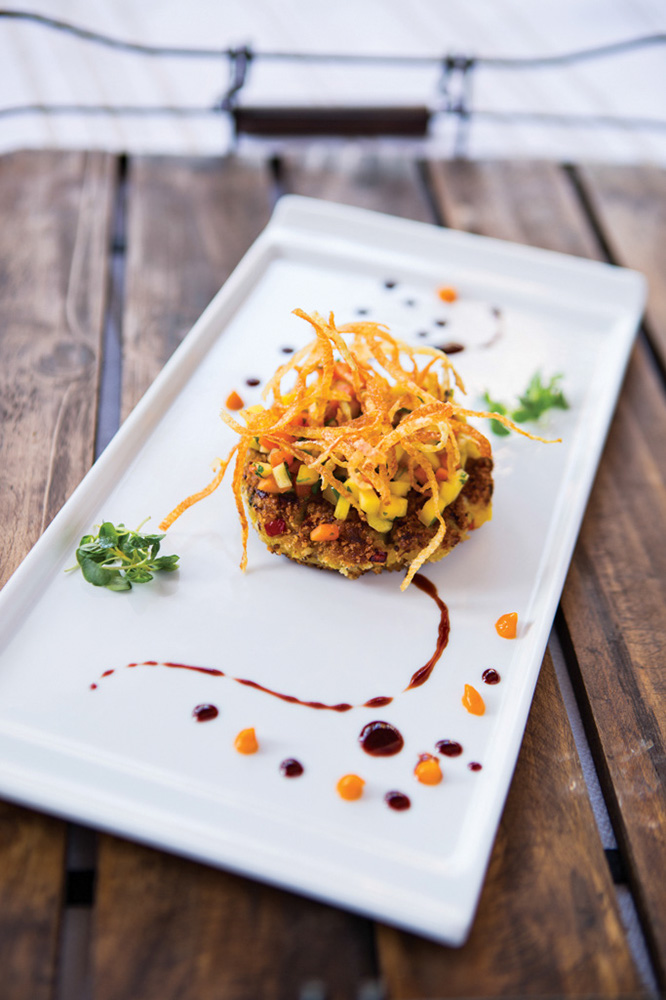 West Indian Curried Crab Cake
In 1997 a realtor from Coral Gables offered Cindy & Delius a space to open a restaurant on Miracle Mile.
Everyone thought Cindy and Delius were crazy, "Why would you go to Coral Gables when there is nothing on Miracle Mile?" But Cindy had dealt with that on the beach and succeeded before. When she opened Norma On The Beach there was nothing on Lincoln road except for a couple of shops and a few great restaurants. Norma's On The Beach played a key role in revitalizing Lincoln road and Cindy knew that she could do it again in Coral Gables.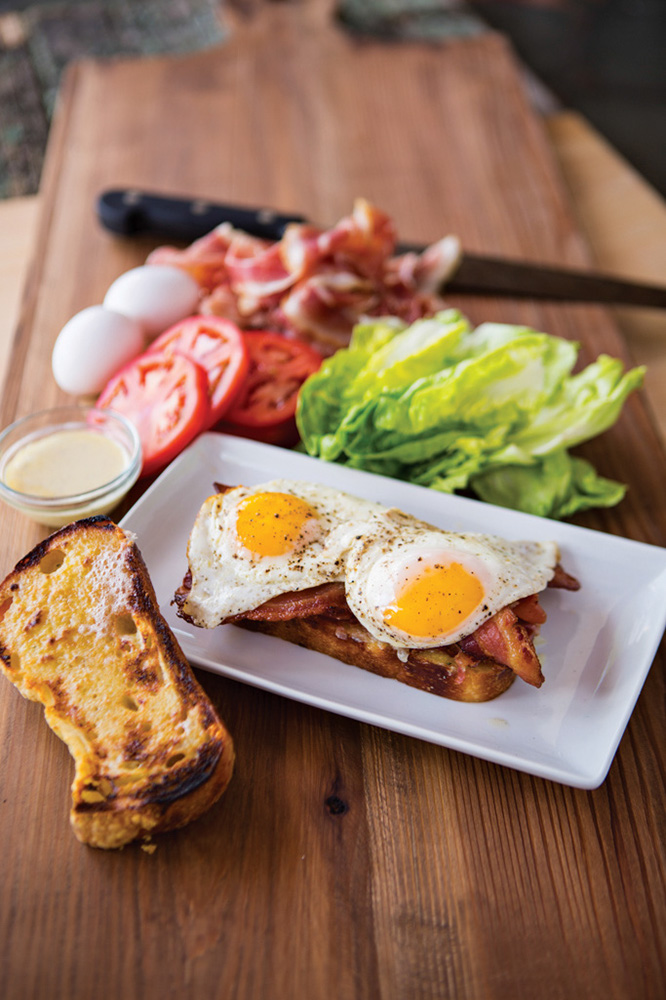 Sunrise Club Espana
They opened Ortanique on The Mile in July of 1999. Ortanique is warm and inviting with a look reminiscent of a plantation front porch. Cindy's heart is in the Caribbean and she wanted everyone to feel that when they walked through the doors.
At Ortanique the kitchen was bigger, so Cindy added some Italian dishes and New Orleans style dishes. She puts out specials of all different countries and origins. She travels a lot as a guest Chef. Once a year she goes to cook 5 days in different places around the world. She has affiliation with many Indian Chefs from Goa or Mumbai. So Cindy started meeting all these Chefs and loving ethnic food and the flavors behind them because you don't have to use a lot of fats or fillers because the spices bring out all the flavors of the protein. She started calling it this type of cooking: Cuisine of the Sun – ethnically driven, diverse, seasonally driven and full of flavor.
Cindy has consulted restaurants in Disney World, Las Vegas and Washington DC. Recently, Cindy opened Zest and Zest market both concepts are attached by a kitchen in the middle. Make sure to visit her new venture at 200 S Biscayne Blvd Miami, FL 33131. zestmiami.com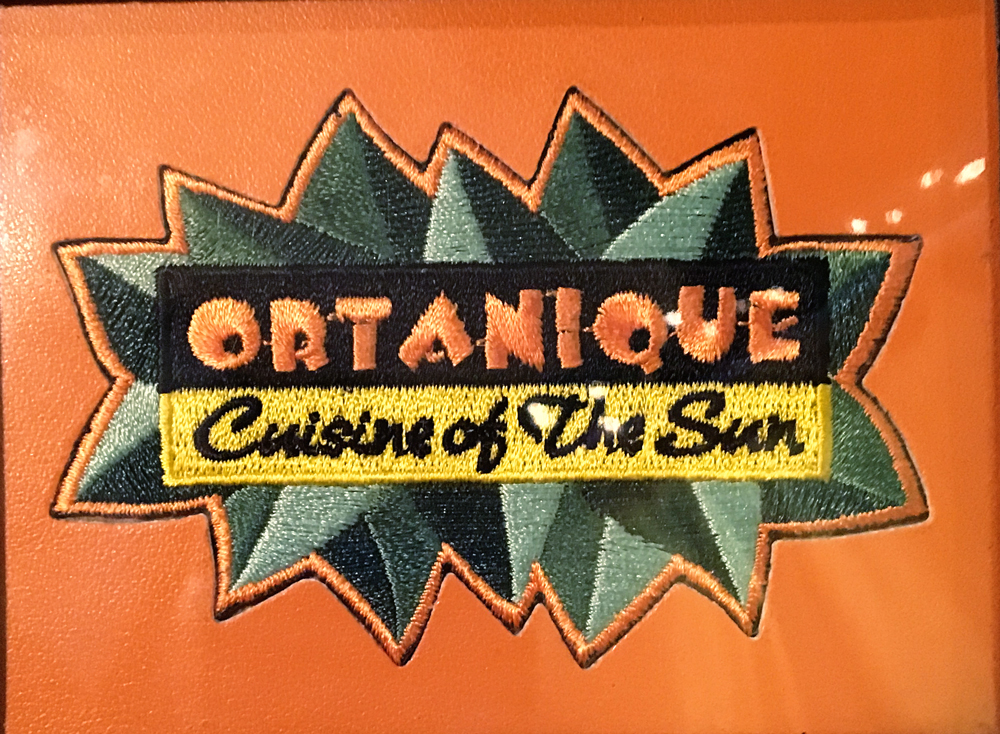 Ortanique On The Mile
Ortanique on The Mile
Walking through the doors at Ortanique feels like you've walked out of Miami onto a Jamaican plantation porch with string lights and draped colorful textiles separating different sections into private cabanas/dining rooms. You ease into a warm and welcome atmosphere where you can relax and enjoy unique and delicious food.
If you have walked past Ortanique's colorful flamingo and not ventured in to dine at this gem, you have been missing out.
The inside of the restaurant has the perfect setting for a romantic date. Take your next date to Ortanique on The Mile and order Cindy's personal menu recommendations.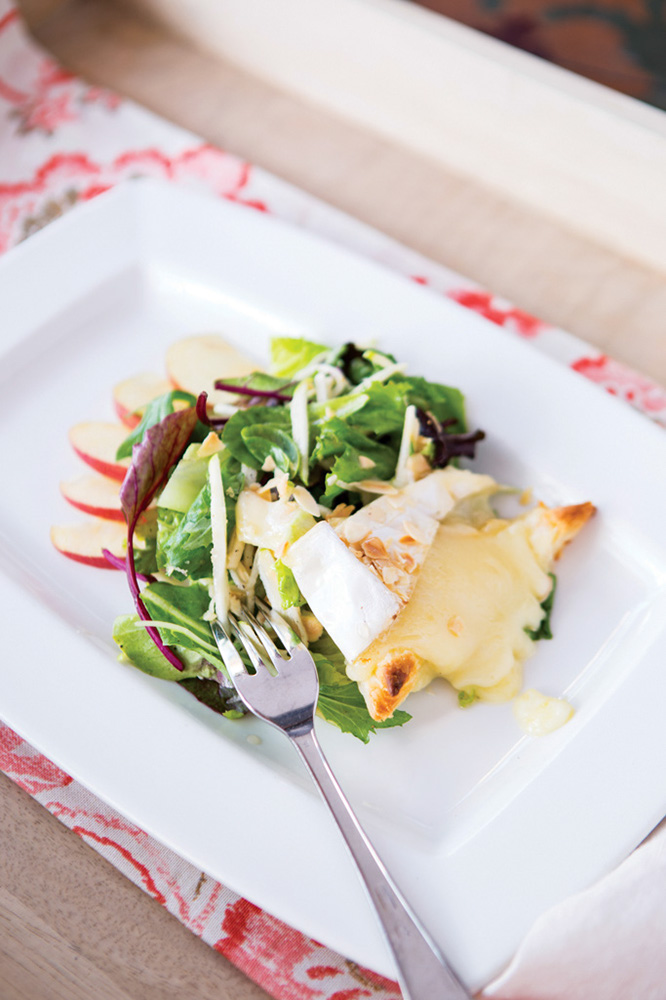 Oven Baked Brie Salad
Cindy's Menu Recommendations at Ortanique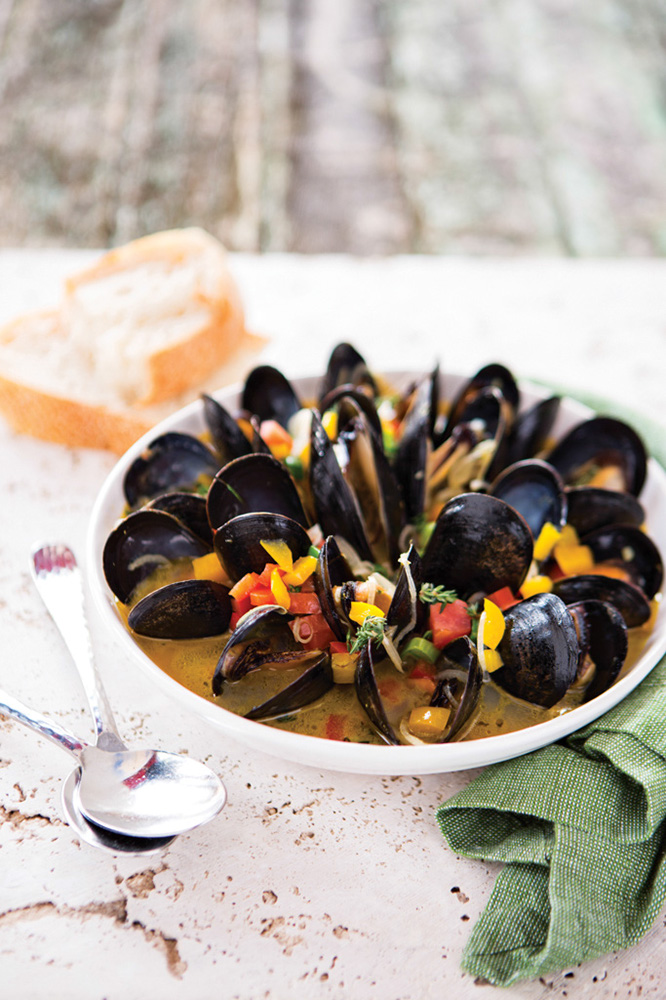 Red Stripe Mediterranean Mussels
Appetizer
Red Stripe Beer Steamed Mediterranean Mussels or Clams served in a spicy red stripe broth with shallots, scotch bonnet pepper, tomatoes and Jamaican thyme.
Seafood Entree
West Indian Style Bouillabaisse: Diver scallops, Mediterranean mussels, middleneck clams, shrimp, grouper, mahi & salmon with aromatic jasmine rice served in a coconut curried broth instead of a typical sauce.
Meat Entree
Certified Angus Beef Tenderloin is rich in flavor after being cooked in a 72 hour sauce. It's a great meat lovers dish and it's served with truffle manchego mashed potatoes, Sautéed Asparagus and Shiitake Mushroom Demi.
Jerked Double Pork Chop with guava Bacardi "Oakheart" spiced rum sauce and moros rice topped with drunken raisins tropical fruit flambé. "Double bone in pork chop that pretty darn good too," Cindy Hutson

Warm Guava Bread Pudding with Ice Cream
Dessert
Bread Pudding of the day warm with a scoop of ice cream. Cindy likes home style desserts. Ortanique offers different flavors of the day including banana nut, heath bar crunch, guava white chocolate, red velvet, cinnamon. I've tried the guava white chocolate and it makes my list of top bread puddings. Make sure not to skip dessert!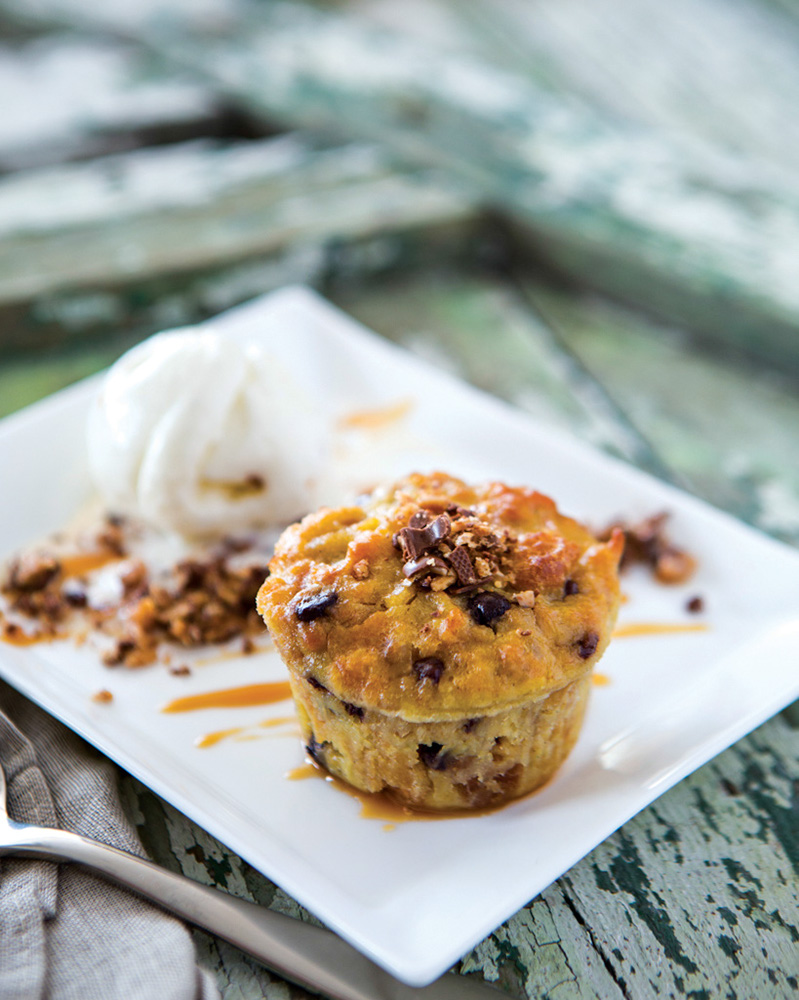 Heath Bar Bread Pudding
Cooking Classes at Ortanique
Ortanique offers cooking classes with Chef Cindy Hutson one Saturday out of every month. Usually there are about 25-30 attendees. There is one cook at every table. The participants prepare three courses that they cook along with Cindy at their tables. There's a meet and greet with bubbly 11:30-noon. At noon they start the class and they carefully pair wines with each course. The classes are $108 per person. Ortanique is located at 278 Miracle Mile, Coral Gables. For more information visit ortaniquerestaurants.com.
You can also purchase Cindy Hutson's cook book, From the Tip of My Tongue at Books & Books, Ortanique or Zest.

Ortanique On The Mile