The clock is ticking if you plan to order the Thanksgiving meal or make reservations for Thanksgiving dinner! Here are the best options in South Florida to have a scrumptious meal without spending the entire day in the kitchen.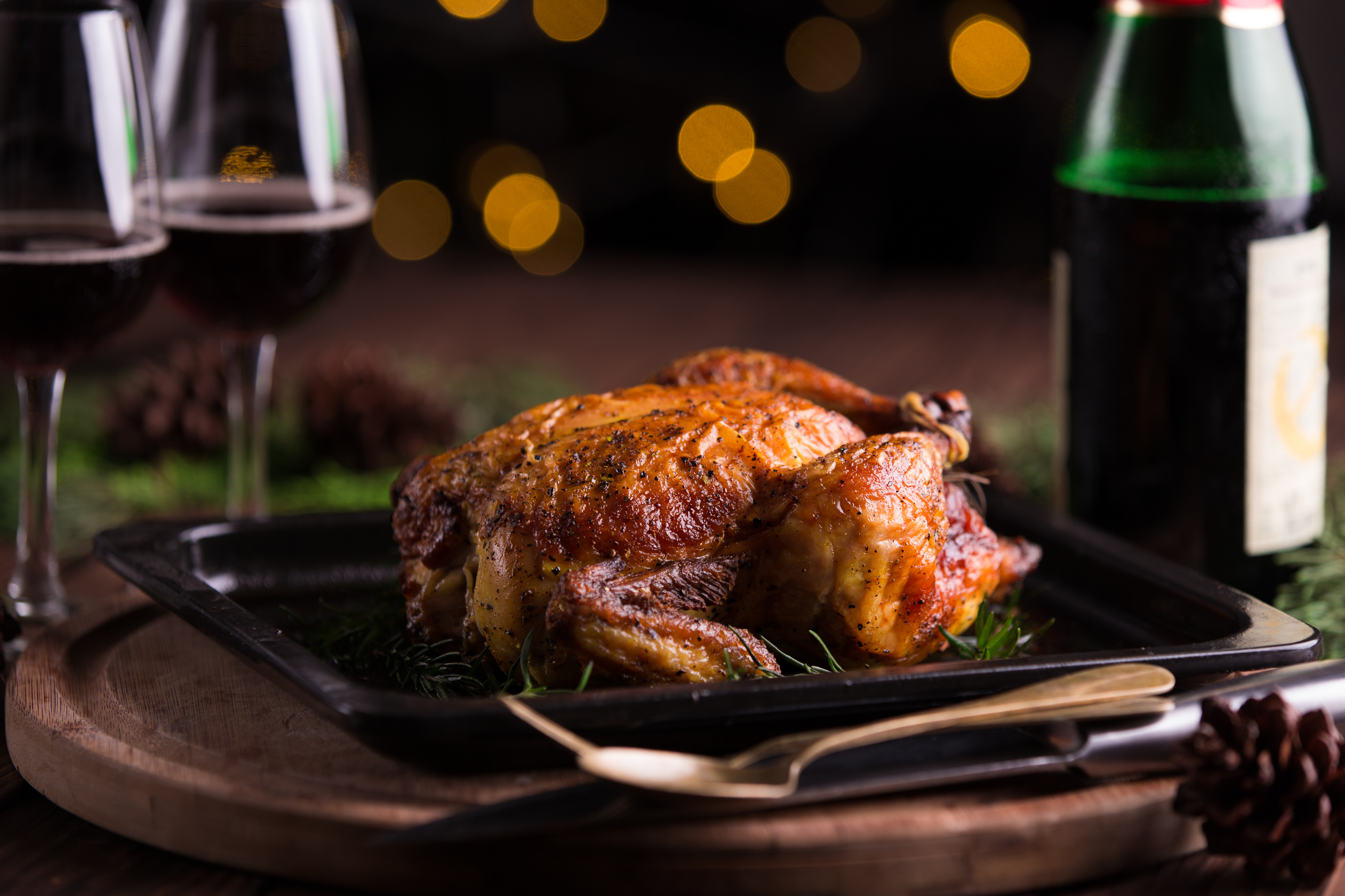 Graziano's All the Trimmings for Just $159.99
It's time to talk turkey. But not just any turkey. We're talking juicy, glistening Thanksgiving turkey. The roast with the most, served with Graziano's very own home made stuffing, a side of roasted sweet potatoes garnished with shallots, and a crowd-pleasing pumpkin pie, all for just $159.99.
Order yours by Tuesday November 21st and Graziano's will make sure your Thanksgiving's the talk of the town. For more information or to place your order, call (305) 774-3599.
Zucca Thanksgiving Menu and Catering Menu
Dine-in at ZUCCA
Reservations are now open at ZUCCA for those looking to enjoy a hassle-free Thanksgiving celebration. From 4 to 10 p.m., Zucca's authentic Italian menu will be served, in addition to Thanksgiving specials like turkey, stuffing, seasonal vegetables and more. The warm and welcoming dining room will serve as the perfect gathering space for friends and family looking to give thanks together.
Catering
This year, ZUCCA will deliver Thanksgiving orders to locals and business from Monday, November 20 through Thursday, November 23 until 6 p.m. This is a great option for those looking to host festivities from the comfort of home, but would like the convenience of already prepared dishes, as well as corporate businesses looking to offer a Thanksgiving lunch to employees. Catering orders can be placed online at www.zuccamiami.com/thanksgiving until November 20th.
Chocolate Fashion Thanksgiving Packages
Mini Thanksgiving menu ($175): Up to 8 people Half roasted turkey Gravy, Yam casserole, Cranberry and ginger chutney, Green beans casserole, Garden salad, One pie of your choice 1 loaf country bread.
Traditional Thanksgiving menu ($295)
Up to 15 people roasted turkey Gravy, Yam casserole, Cranberry and ginger chutney, Roasted garlic, carrot and potato puree, French green beans and pecan salad. Choice of 3 pies Pecan pie, Pumpkin pie, Apple nougat tart, Pear chocolate pie 1 loaf country bread & 1 baguette
Organic Thanksgiving menu ($380)
Up to 12 people organic turkey Bread stuffing, tarragon, apples, mushroom and low fat organic yogurt, Green apple and turkey gravy. Organic Yukon gold and wild mushroom gratin Roasted organic yam puree with brown butter and toasted walnuts Cranberry and ginger chutney. Organic mixed salad with lemon low fat yogurt and extra virgin olive oil dressing Choice of 2 pies" pecan, pumpkin, pear chocolate or apple nougat" 1 multigrain bread and an artisanal baguette
For more information visit chocolatefashiononline.com/thanksgiving or to order call (305) 461-3200.
John Martin's Irish Pub & Restaurant
Our iconic Coral Gables Irish pub and restaurant will be offering the following Thanksgiving Day menu from noon to 8:00pm. The menu is a fixed price at $35 for adults and $15.50 for kids.
Choice of Appetizer: Irish Potato Soup, New England Style Crab and Corn Chowder, Mixed Greens Salad or Smoked Salmon with Homemade Brown Bread ($5.95 extra)
Choice of Entree:
– Roast Turkey, Ham, Giblet Gravy, Savory Stuffing, Mashed and Sweet Potato, Broccoli Florettes, Cranberry Relish
– Roast Sirloin of Beef, Cabernet Mushroom Sauce, Mashed and Sweet Potato, Broccoli Florettes, Creamed Horseradish
– Pecan Crusted Salmon Fillet, Orange Beurre Blanc Sauce, mashed and Sweet Potato, Broccoli Florettes
Choice of Dessert: Apple Crumb Pie with Cinnamon Bourbon Ice Cream, Pumpkin Pie with Spiced Rum Anglaise and Whipped Cream, Homemade Baileys Ice Cream, or Coffee/Tea
For reservations or more information, call: 305.445.3777.
Lightkeepers Thanksgiving Feast
Lightkeepers located at the The Ritz-Carlton Key Biscayne, Miami is offering a lavish Thanksgiving Day Feast, including bottomless Prosecco, Mimosas, Bloody Mary's and Brunch Punch from 12:30PM to 8PM. For $145 per adult and $49 per child (ages 5 through 12) excluding tax and gratuity, enjoy priceless oceanfront beach views while indulging in a variety of delicious food stations including Breakfast Specialties; pancakes or waffles From the Griddle; imported and local artisanal cheeses and cured meats from The Lightkeepers Market; fresh bread and artisan loafs from The Bakers Basket; Small Bites; Composed Salads; Chilled Seafood & Raw Bar and Ceviche; Soup; Entrees like Braised Short Rib or Smoked Squab; Roasted Turkey and Lamb Leg from The Feast; and a Handmade Pasta Station. For those untraditional Thanksgiving diners, feast upon Chinese cuisine from Oops! We Burnt the Turkey station. Little ones can also partake in the feast with favorites like macaroni and cheese or crispy waffle fries at the Kids Corner. If there's still room left for dessert – guests can select from a bevy of sweet treats. Lightkeepers is located at 455 Grand Bay Drive in Key Biscayne. Telephone: (305) 365-4156; www.lightkeepersmiami.com.
Lure Fishbar Thanksgiving Menu
Under the helm of Executive Chef Nicholas Cabrera, Lure Fishbar at the iconic Loews Miami Beach Hotel will be offering three-course, prix-fixe Thanksgiving menu priced at $68per person in addition to limited selections from their a la carte menu. Appetizers will include apple granita and butternut squash cappuccino Dressed Oysters; Farro Salad with brussels sprouts, dried cranberries, and crispy Aleppo pecans; Hokkaido Scallops with truffle burrata; Gewurtzraminer poached pears with 5-spice butternut squash, and Roasted Pumpkin prepared with hearts of palm, smoked corn, pomegranate seeds, and yuzu. A Roasted Organic Turkey will serve as the main course accompanied by Spanish sausage and chestnut stuffing, purple cabbage cranberry slaw, and whipped Yukon Gold potatoes topped with Grandma's secret gravy. To satisfy your sweet tooth, for dessert will be a Butternut Squash Turmeric Pie with pecan brittle, and eggnog whiskey ice cream. Earlier dinner hours for participating families will be from 5PM to 9PM. Lure Fishbar is located at 1601 Collins Ave in Miami Beach. Telephone: (305) 695-4550; http://www.lurefishbar.com