Monday night I visited Bulla Gastrobar with fellow blogger Izzie from Dapper Animals. We had such a fun night full of white sangrias, cured meats, and tapas that we are already planning on going back very soon! This was my first time trying Bulla (pronounced Boo-ya) and I have fallen in love. I don't know why I hadn't tried it before. The food is amazing, the atmosphere is relaxed and welcoming, the service is super friendly and the drinks are on point.
White Sangrias
Our server was Synthia and she was the sweetest! She was knowledgeable about everything on the menu and all her recommendations were delicious. We kicked off our adventure with white sangrias (Synthia's recommendation) and they were outstanding. The sangrias are made with white wine, blueberries, strawberries, and blackberries. Um, yes, blackberries! They were sweet and refreshing and everything you want from a sangria.
Executive Sous Chef Felix Plasencia and Synthia
While we were browsing the menu we got to meet Executive Sous Chef Felix Plasencia. He was so nice and welcomed us to the restaurant. He recommended we try a tray with a mix of cured meats and cheeses with a pan con tomate. I usually don't eat cured meats so I asked him to pick a few for us. Felix chose a selection of Jamón Serrano (Fermin Serrano ham, aged 18 months), Lomo Ibérico (cured Iberian pork loin), Idiazábal cheese (firm sheep's milk, lightly smoked from the Basque country), and Manchego cheese (3 month aged sheep's milk). The tray was served with membrillo (also known as quince – a sweet fruit and honey jam), walnuts, and cubed pieces of ciabatta bread. Everything in the tray was fantastic.
The Manchego cheese was nutty and sweet with a slight tangy flavor. The cheese was soft and mellow. The Idiazábal cheese was very similar to the Manchego cheese but with a nice smoky aftertaste. We made little sandwiches with the cheeses, the cured meats, and the pan con tomate. Pan con tomate is the Spanish version of bruchetta and is made with grilled Ciabatta bread, grated tomatoes and olive oil. The combination of the meats and the cheese was amazing. I was so in love with our tray and pan con tomate I almost didn't order anything else.
Isolda & Isolda jr.
Sitting right next to us were mother and daughter Isolda & Isolda. They are Bulla regulars and insisted we not leave without trying the signature dish the Huevos Bulla: a jumbo organic fried egg served over homemade potato chips, Serrano ham, and potato foam with drizzled truffle oil. I am a firm believer of adding a fried egg to any meal whenever possible. So we ordered the Huevos Bulla and #putoneggonit. No wonder the Huevos Bulla is their best selling dish. The perfectly fried egg, crunchy potatoes and creamy sauce taste amazing. If you are a fried egg lover (like I am) this is a must. You must visit Bulla and try this dish. Add that item to your bucket list and cross it off as soon as possible!
cremoso chocolate
At this point we were ready for something sweet and Synthia came to the rescue again. I love it when you can trust your server's recommendations on your first visit at a restaurant. She never steered us wrong and we got along so well we are even Instagram buddies now :) Synthia recommended her favorite dessert Cremoso de Chocolate: a three layer chocolate genoise cake served with vanilla ice cream sprinkled with olive oil and Maldon salt. At first I was skeptical of having a dessert sprinkled with olive oil and salt but I'm glad we trusted Synthia. The combination of the sweet cake and the salt resulted in a delicious contrast. If you love kettle popcorn or combining sweet with salty – you will love this dessert. The cake has three layers: chocolate sponge cake, milk chocolate and chocolate mousse. It is served with a scoop of vanilla ice cream and a scoop of cremoso chocolate which is something between chocolate ice cream and chocolate mousse. Having a sweet tooth, I loved this decadent dessert.
Lustau Deluxe Cream Sherry
At the end of our adventure we met Brian, a manager at Bulla, and he had us try a sherry with our dessert. We had the Lustau Deluxe Cream. It was very rich and sweet with a lingering taste similar to brandy. When you had a sip of sherry with the cremoso chocolate it tasted like adding the tiniest drop of brandy to the dessert. It tasted really good and was the perfect ending to our culinary adventure. Izzie also loved everything she had.
The food was great, everyone was so nice (even the people sitting next to us!), and the atmosphere is so chill. We really enjoyed the Spanish 90s rock with classics such Hombres G, Los Rodriguez, and Mana – you couldn't have asked for a better soundtrack to our experience. Five stars & two thumbs up! Go have a Bulla adventure and tell them I sent you :)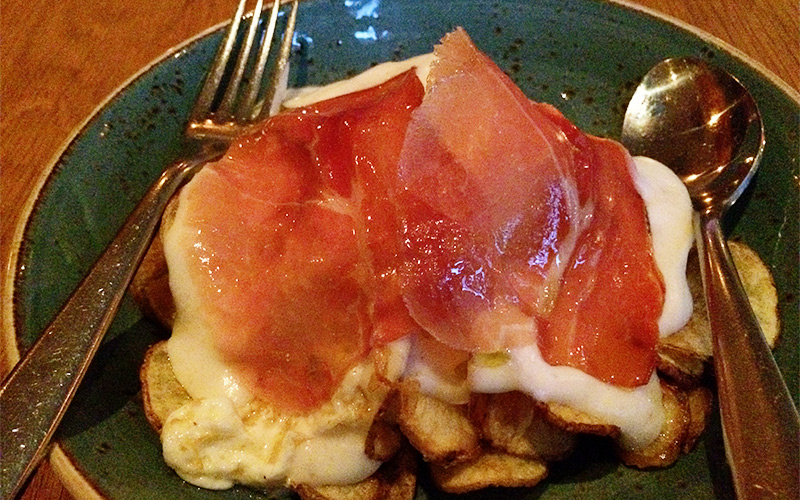 Huevos Bulla