Coral Gables Love partnered with award-winning food blog, Miami Food Pug for a night of making new friends and touring some of the best restaurants in Coral Gables. 15 attendees joined us as we visited three amazing restaurants: Uvaggio Wine Bar, Bulla Gastrobar, and The Local Craft Food & Drink.
Coral Gables Food Tour First Stop: Uvaggio
We kicked off the tour at our local wine bar, Uvaggio. The attendees had the opportunity to meet owner and wine connoisseur, Heath Porter. The Coral Gables Tour menu featured salt cod croquettes (served with an aioli sauce and Spanish paprika) and yogurt naan with accompaniments. Each attendee also had one glass of white whine and one glass of red wine.
Uvaggio salt cod croquettes
The Story of Uvaggio
Craig Dewald and Heath Porter opened Uvaggio in March of 2014. Their dream was to open a restaurant that offered five-star wine, food, and service at a reasonable price. Their wine selection philosophy is straightforward, "We pour wines that are well balanced, representative of their origins and most importantly, food friendly." On the other hand, they develop their food menu around the wine in a process they call tasting backwards. "By tasting our wines with Chef Tanner and understanding the components and characteristics (smell, taste, acidity, etc.) we develop a menu of food that not only complements the wine, but also enhances the meal as a whole."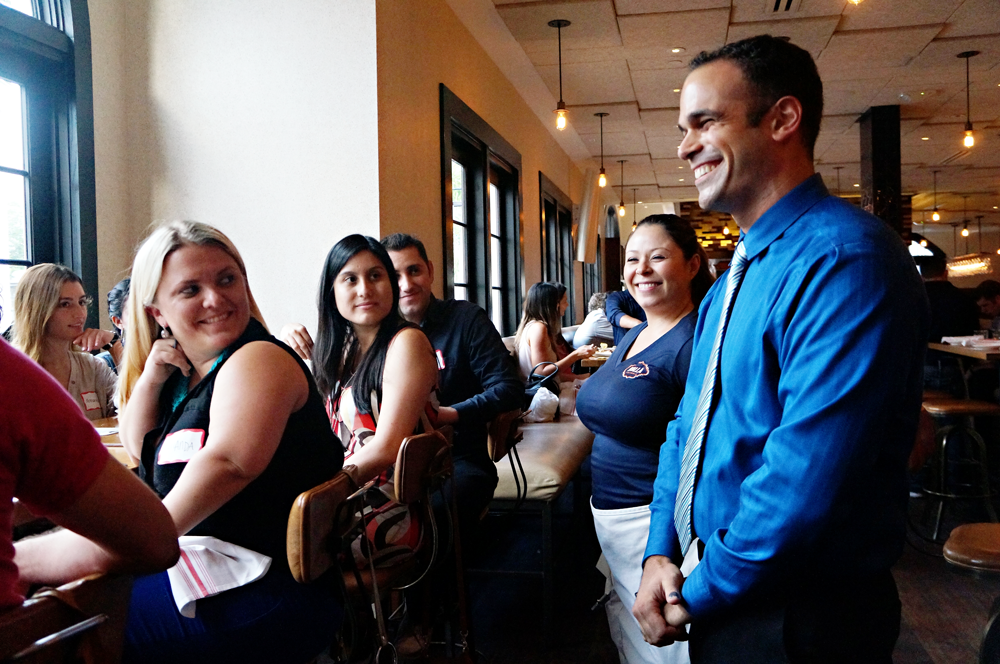 Photo credit Dianne Rubin from Miami Food Pug
Coral Gables Food Tour Second Stop: Bulla
At the top of the hour we headed over to Bulla Gastrobar. During the walk we discussed the famed Wedding dress industry in Coral Gables and how you will find most chain store on Miracle Mile. With a few exceptions, most Coral Gables gems are located off the main street on Giralda Avenue, Anastasia Avenue, and Aragon Avenue.
Photo credit Dianne Rubin from Miami Food Pug
The Story of Bulla
We select only the finest and freshest ingredients, accented in our authentic, savory cuisine. Our ambiance is created to stir the senses and stimulate your appetite.
Bulla Gastrobar is a fun casual gathering place inspired by the most popular tapas restaurants in Spain.
Bulla (boo-ya), which is slang for chatter and what people are talking about, is devoted to delight you by serving your favorite Spanish and Catalan dishes such as "Patatas Bravas", "Huevos Bulla", Buñuelos de Bacalao and other tapas.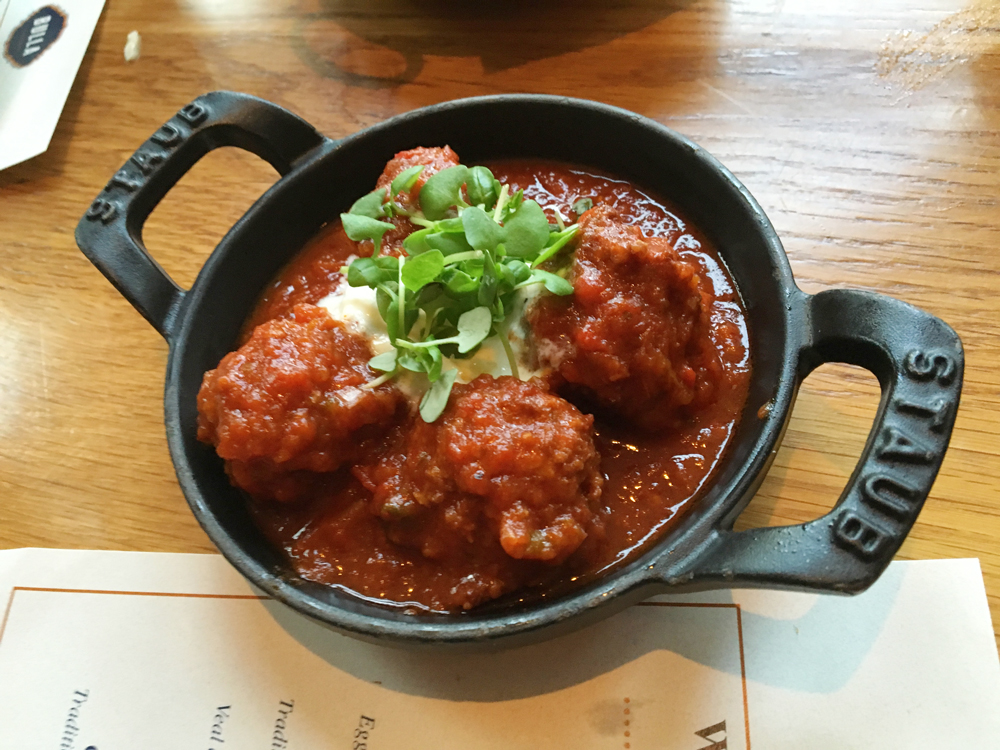 Bulla veal and pork meatballs with fontina cheese
Bulla Tasting Menu
The Coral Gables Food Tour had reserved a section in the back of the restaurant by one of their large windows. We were greeted by Ray, a manager at Bulla, and throughout our meal Executive Sous Chef Felix Plasencia presented different dishes explaining the different ingredients. The Coral Gables Food Tour Menu at Bulla featured: an assortment of Spanish cured meats & cheeses, Huevos Bulla, Tortilla Espanola, veal and pork meatballs, and churros con chocolate with vanilla ice cream for dessert.
I had white sangria with my meal because it's my favorite cocktail! Other attendees tried the red sangria or Spanish beers. Everything was so delicious we were starting to get full from our adventures. So we worked our way to The Local on Giralda Avenue.
Coral Gables Food Tour Final Stop: The Local
The tour was greeted by cocktail guru and manager Will Thompson upon arrival. The tour menu featured: blue crab hushpuppies, steak tartare, and chicken and rosemary & cheddar drop biscuit with pimento cheese. Each attendee ordered their pick from the cocktail menu for the perfect end to a delicious tour. My favorite dish at the local was the chicken and biscuit. If you haven't tried it, I recommend you visit The Local soon!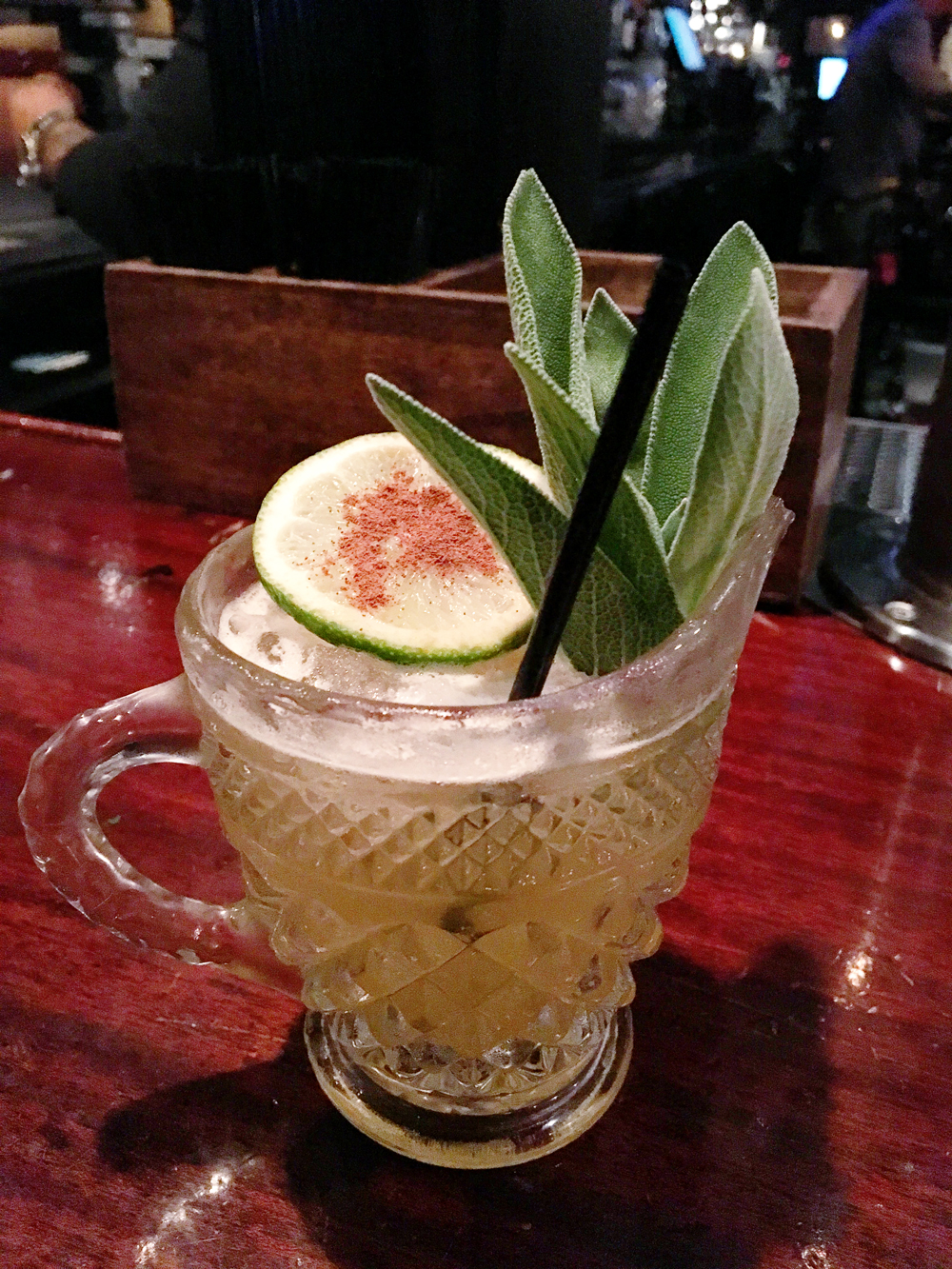 The Local Caribbean Vieux cocktail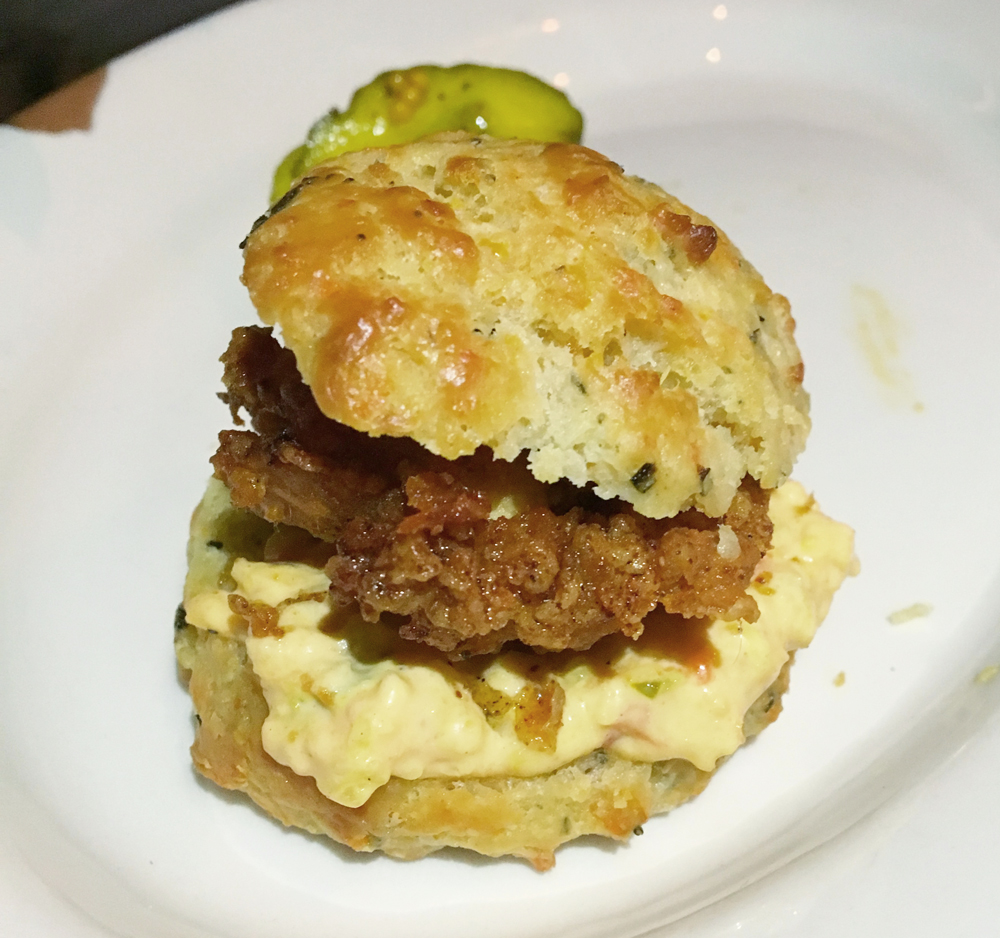 The Local chicken and rosemary & cheddar drop biscuit
The Story of The Local
The Local is the best place in Miami to enjoy great locally sourced food, 18 unique and rotating craft beers on tap, and a carefully curated selection of small-batch craft wine and spirits in a warm and welcoming pub environment.
If you are a lover of comfort food, like I am, then head on over to The Local. Chef Phil Bryant has taken over our local gastropub and developed a menu firmly rooted in Southern cooking with a local twist. This is the place for fried chicken, craft beer, and beef jerkey.
Coral Gables Love readers! Photo credit Dianne Rubin from Miami Food Pug
I'm so happy I had the opportunity to meet Coral Gables Love readers and make new friends during the Coral Gables Food Tour. Keep an eye out for details of the next Coral Gables Food Tour! In the meantime, make sure to visit Uvaggio Wine Bar, Bulla Gastrobar, and The Local Craft Food & Drink!
Thank you to all the attendees, participating restaurants, and my partners in crime – Geoff & Dianne from Miami Food Pug.