Le Provençal, established since 1988 and bringing a bit of France to Miracle Mile for over 30 years, has been recently remodeled and modernized their menu. The new menu is an ode to the past with bit of tradition and a bit of the new. A homage to traditional French cuisine with the flair of local flavors and products infused with the ingredients used in southern France – olive oil, citrus, flowers, light broths, and seafood. Every dish is delicious and full of flavor. You need to visit Le Provençal for a down to earth, modern, and phenomenal French dining experience.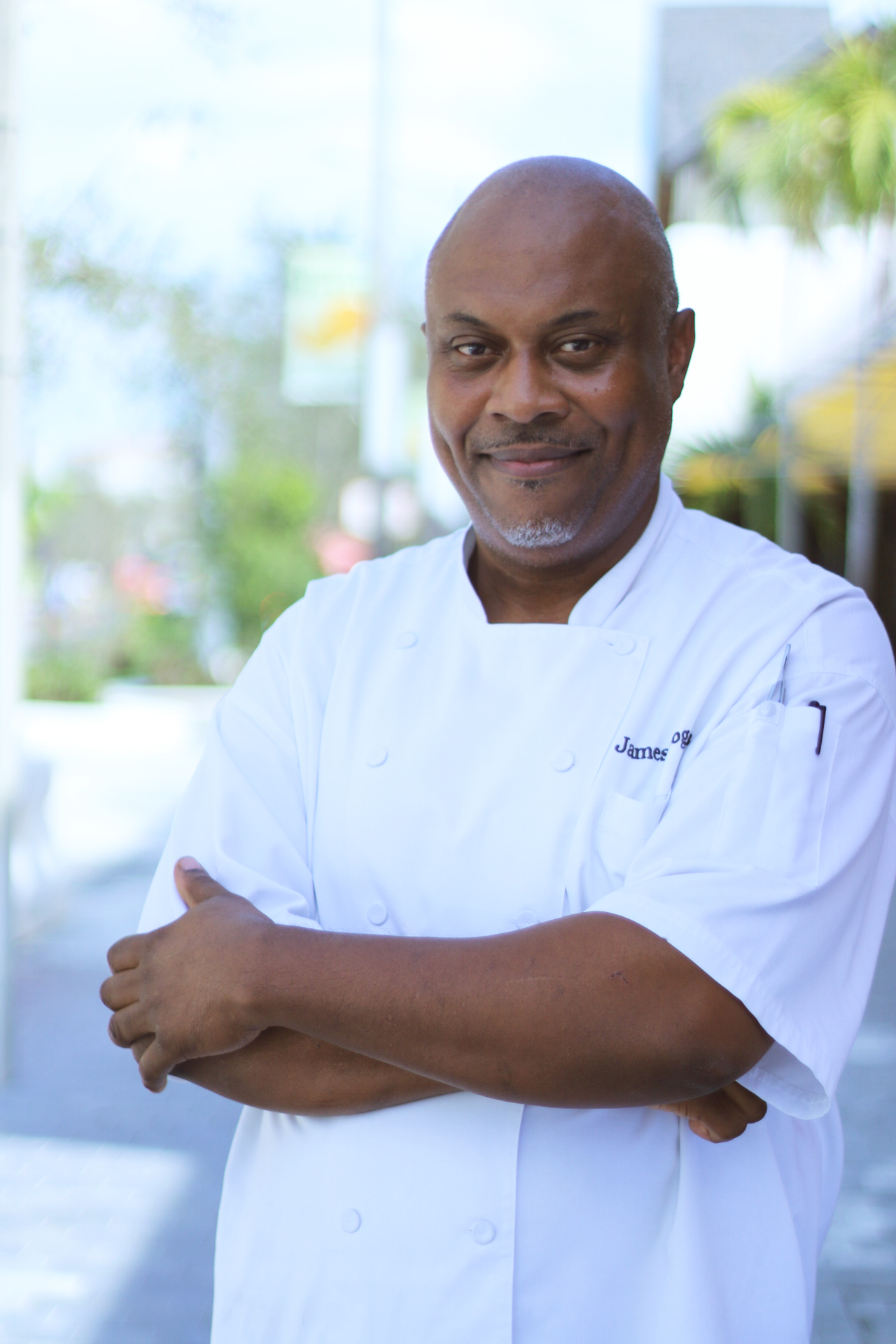 Chef James Rogers. Photo credit Vintage Unicorn.
The restaurant Le Provençal takes its name from the famous 'Le Provençal' region in France. The region is one of the world's great melting pots of gastronomy drawing together tastes from Portugal, Italy, Greece, Spain, and even northern Africa. You'll find a little bit of all of these cultures on the menu.
You'll also find a bit of Florida on the menu. Le cochon a la naranja is what we know in Miami as a cochinito – confit of pork with crispy skin and an orange glaze. It's basically "cubinazed Puerco a la naraja agria" a la Françoise.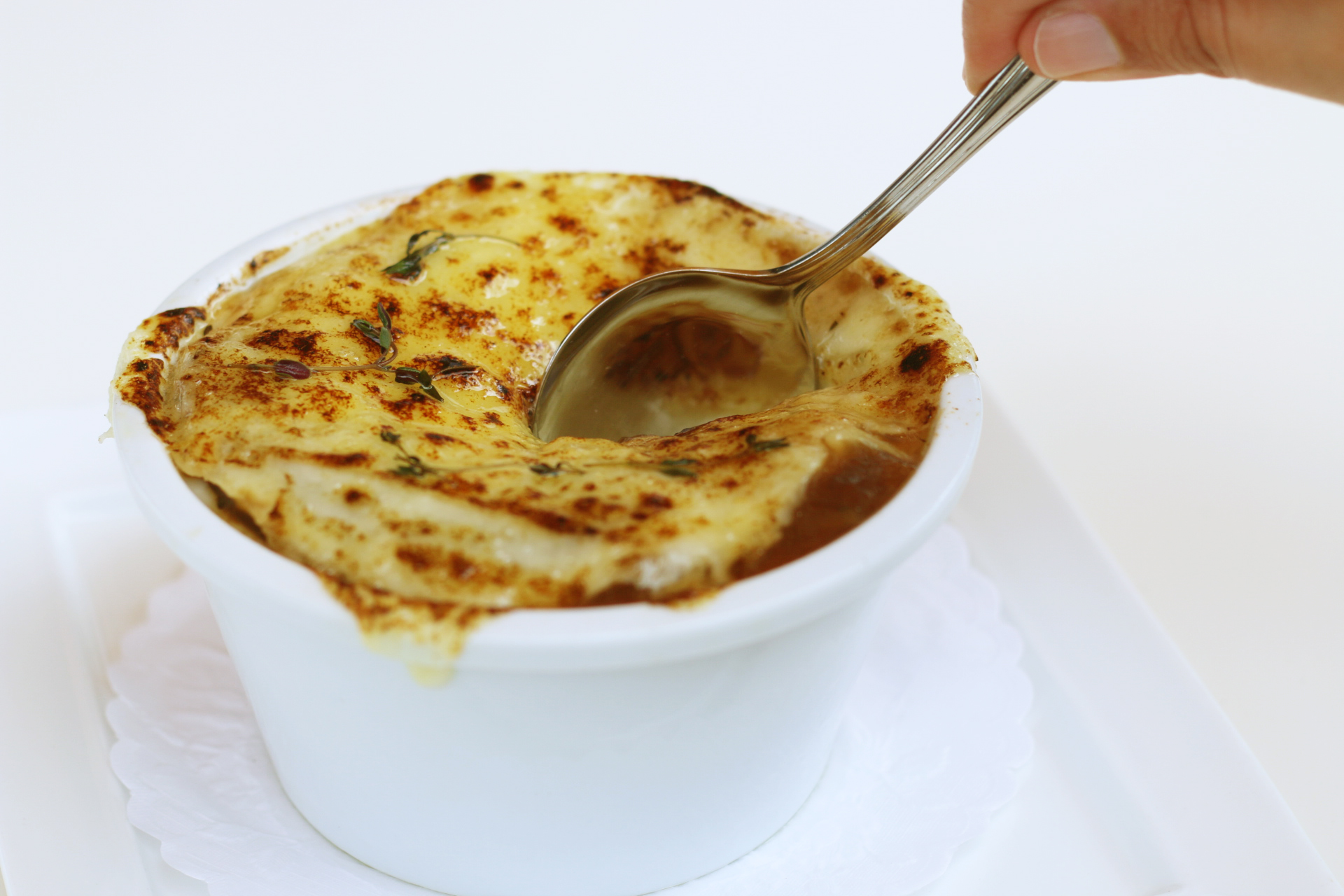 French Onion Soup. Photo credit Vintage Unicorn.
The French onion soup – a very classic French dish found in French Bistros – is made with Vidalia onions from Georgia. It's a sweet onion that is lightly cooked for a very long time until it caramelizes. With a bit of butter, sugar, and thyme. They cook it until the juices start coming out and the onions start to become brown and caramelized. Then, it's glaze with Tio Pepe sherry with beef stock made from split veal and beef bones roasted and cooked for 8 hours – where else are you going to find this level of artistry and dedication to cuisine in Coral Gables?
The natural gelatin of the onion and the beef stock starts coming together and it gets that wonderful sweet beefy broth. The French onion soup is topped with Gruyere cheese – a Swiss French Alps style cheese and then it's gratinized to give it a nice golden and crispy color on top. As a final crunchy touch, they add croutons. The result is a rich soup topped with a layer of warm cheese that stretches as you pull the spoon away. In other words, a cheese-lover's delight.
Coquillettes Jambon de Bayonne (French Mac & Cheese). Photo credit Vintage Unicorn.
Coquillettes jambon de Bayonne is ramped up mac and cheese with truffles – French style. This is a very popular dish among nouvelle style chefs in France. It's macaroni cooked in a sauce supreme – a béchamel with egg yolks, veal stock, jambon de Bayonne (a ham from South of France), summer truffles, Comté cheese and a little Parmesan. Comté cheese is a variation of a French Swiss cheese from eastern France, aged at least 5 years. It's the most delicious mac and cheese I have ever tasted in my life. You need to try it.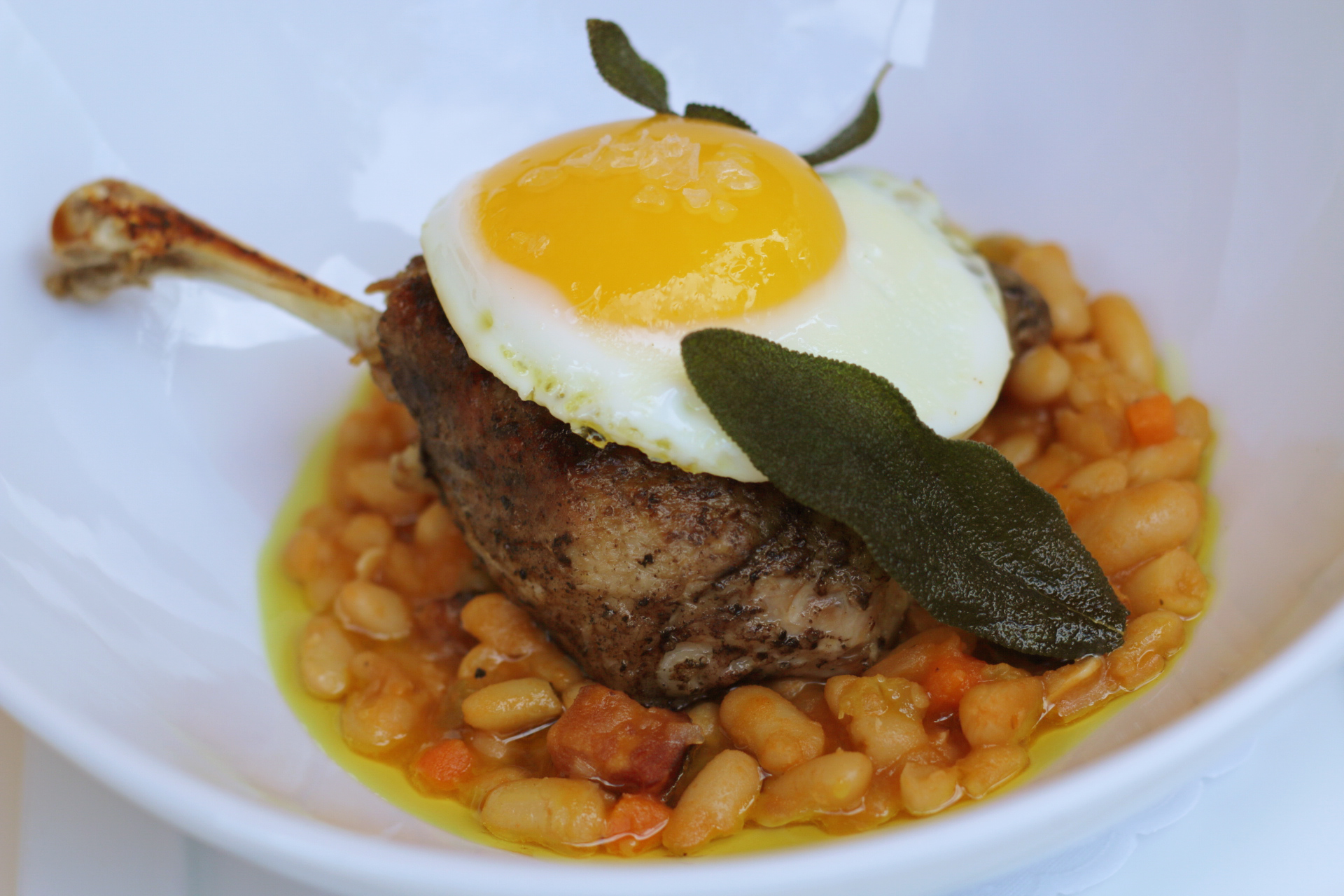 Duck Confit. Photo credit Vintage Unicorn.
Duck Confit is marinated for 24 hours in salt and special spices and then it's cooked for 9 hours in duck fat until it's nice and tender. The duck is served over a cassoulet – white beans braised in pork, spices, tomato, and sage. As a final and delicious touch, it's topped with a sunny side up duck egg. The egg is garnished with crystalized sea salt to give it that nice crunch and vibrancy. On the side they add vadouvan curry – a French curry blend that gives a wonderful smell and aroma to the dish.
Le Provençal restaurant. Photo credit Vintage Unicorn.
You can really see the skill, passion and dedication the new management brings to Le Provençal. They've taken over a Coral Gables Landmark restaurant revamped the menu and reworked all the recipes. The goal was to modernize the menu while paying tribute to the original restaurant concept locals have enjoyed for three decades – and they've succeeded. Make sure to stop by the newly decorated space. It features a gorgeous mural that is very Coral Gables with peacocks, greenery and flamingos. The front of the restaurant has lounge vibe and there's ample seating outside on the new Miracle Mile streetscape.
Manager Carlos Duarte. Photo credit Vintage Unicorn.
The restaurant is run by manager Carlos Duarte who has a long history in classical French service and cuisine. He's was mentored by French masters Alain Ducasse and Eric Ripert in New York city. Expect an authentic French dining experience when visiting Le Provençal. Make your reservations now to try their creative and tasty new menu.
I also hear they are about to unveil brunch – stay tuned for details. Le Provençal is located at 266 Miracle Mile, Coral Gables. For more information visit leprovencalrestaurant.com