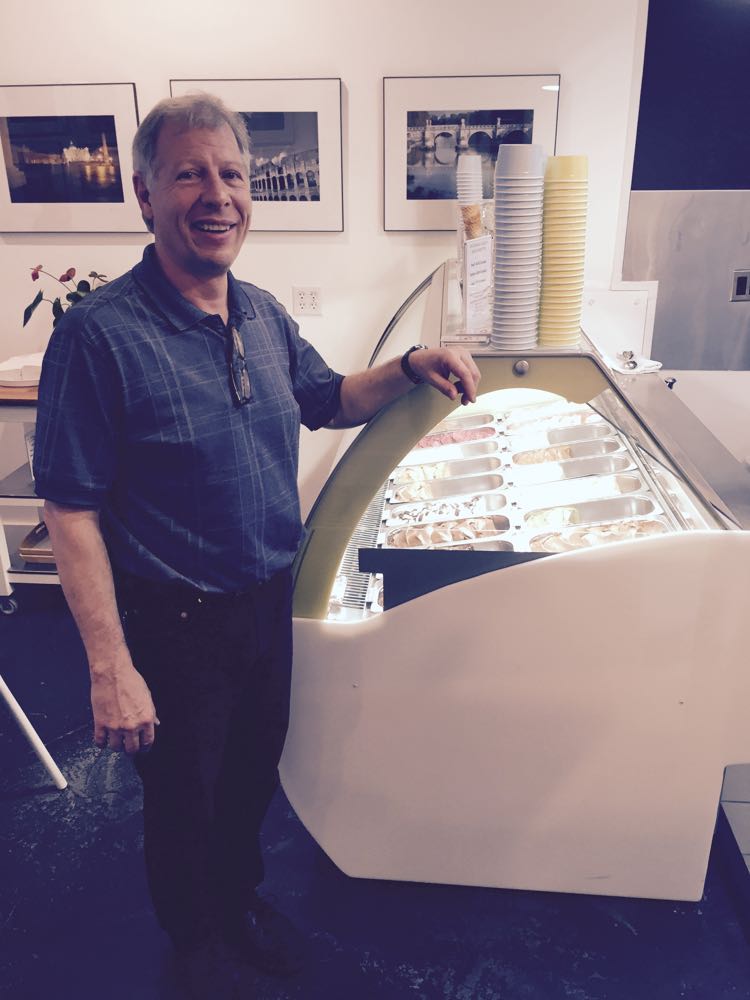 Gelato fans of Coral Gables and throughout Miami have a reason to get excited now that Amore Gelato Art Caffè located at 153 Giralda Avenue is open for business.  Created by husband and wife team Robert Klemm and Gail Sosby, Amore Gelato offers customers a gourmet experience in cuisine as well as the chance to peruse and purchase photography along the walls of the caffè.  Klemm, who is a professional photographer, is responsible for curating the caffè visual decorum.   Upon entering I discovered nothing short of a gallery ranging from pieces taken at Miami's own Gold Coast Railroad Museum to a variety of scenic photographs taken during trips to Italy which Robert sites as being a joint passion for both he and his wife.
Early on when talking to Robert Klemm it becomes clear he is not just an artist for his photography but also for the specificity towards the craft of making gelato.  He breaks it down by explaining to me the butter fat percentage difference between gelato and ice cream.  He goes on to point out that the organic cane sugar used in the sweetener process, which is cut with another sweetener called Stevia, provides for a much healthier choice when choosing gelato over ice cream.  "You eat gelato warmer than ice cream," he tells me. "With ice cream you have a lot of toppings.  In gelato the flavors are just so intense you don't need any toppings."  It stands to reason that Robert knows what he is talking about.  He has been making gelato for the past two years.  Both he and Gail have attended schools in Los Angeles and in the state of North Carolina.  He has also worked in various gelaterias in cities in New York and Arizona.
I was invited to try lunch before sampling the gelato which takes little convincing on my part.  While perusing the menu Robert suggested I sample the soup selection. He provided me three soups which included a taste of butternut squash, tomato bisque and cream of mushroom.  The butternut squash was the equivalent of having a dessert.   Both the tomato bisque and Cream of Mushroom were delicious and savory.  In the end I chose a bowl of cream of mushroom.  After the soups I ordered a Cobb Salad as my appetizer which was a perfect starter and then onto the main course of a Panini Turkey BLT which was also delicious.  Robert emphasized that the quality of the food is a healthy choice for a healthy crowd. "We use really fresh vegetables for the salads and we do our own turkey breast and chicken. Nothing processed."  He goes on to mention that now the caffè has its beer and wine license and will be doing happy hour on Wednesday, Thursdays and Fridays. "We have bellini's, that's what I want to do."  He describes the Italian Cocktail for me, a combination of Prosecco with peach sorbet or in Robert's case, peach gelato.  After hearing this I began anticipating my return to Amore Gelato Art Caffè on one of the aforementioned days.
After lunch we proceeded with yet another taste test this time the gelato.  Robert was kind enough to provide a sample taste of each of the flavored Gelato's.  I sample the lot and realize that the flavors that stand out most for me are almond, hazelnut, and amaretto.  The experience confirms what Robert spoke of to me regarding the flavors of gelato being intense but not overpowering.  I made sure to not let any go to waste.
Amore Gelato Art Caffè is in the epicenter of what I believe to be Coral Gable's food scene.  It's location is perfect for attracting a variety of clientelle.  Being a new member of the Coral Gables Restaurant Row, the caffè has already had a chance to participate in Giralda Under The Stars this past January and plans to participate in the event again by taking their tables and chairs onto the street February 5.  Save the date for February 5 and keep in mind Amore Gelato Art Caffè on Wednesdays, Thursdays and Fridays for bellini's.