This slideshow requires JavaScript.
Teenage dreams are made of doe-eyed innocent girls twirling in white dresses falling in love with tragically appealing bad boys turned good. It makes us wonder how a love so pure, innocent, and new can be forbidden.
It is apt that in the company's twenty-eighth year at the Miracle Theatre, Actors' Playhouse would produce West Side Story, a timeless classic which once was hailed by the New York Times to be "The Greatest Musical of All Time". In fact, walking into Miracle Theatre feels like being transported back almost twenty years for its first production of the classic musical when the company won South Florida regional theatre's Carbonell Award for "Best Production of a Musical".
From the start of West Side Story, when the first notes of the prologue begin to play, you know it's doomed. This eerie feeling comes over you, tragedy. The Jets, in crisp white sneakers, highly contrast against the Sharks, clad in black converse shoes. The boys exchange looks, words, and finger snaps and you know this can't end well. The choreography, cast, and original Bernstein score (with musical classics like "I Feel Pretty", "Somewhere", and "Tonight") will make you fall in love over and over again.
The stage of Miracle Theatre is reminiscent of the Upper West Side of New York City in the '50s, complete with brownstones and fire escapes, a neighborhood as ethnic and blue-collar as Miami itself. And whether you're first or third generation immigrant in Miami, you can relate to the themes as they play out on the stage. Musically discussing modern-day immigration issues of discrimination and equal pay, you'd never know this was originally written more than fifty years ago. It's interesting to take the time to glimpse into our own past and question how far we have really come on these issues.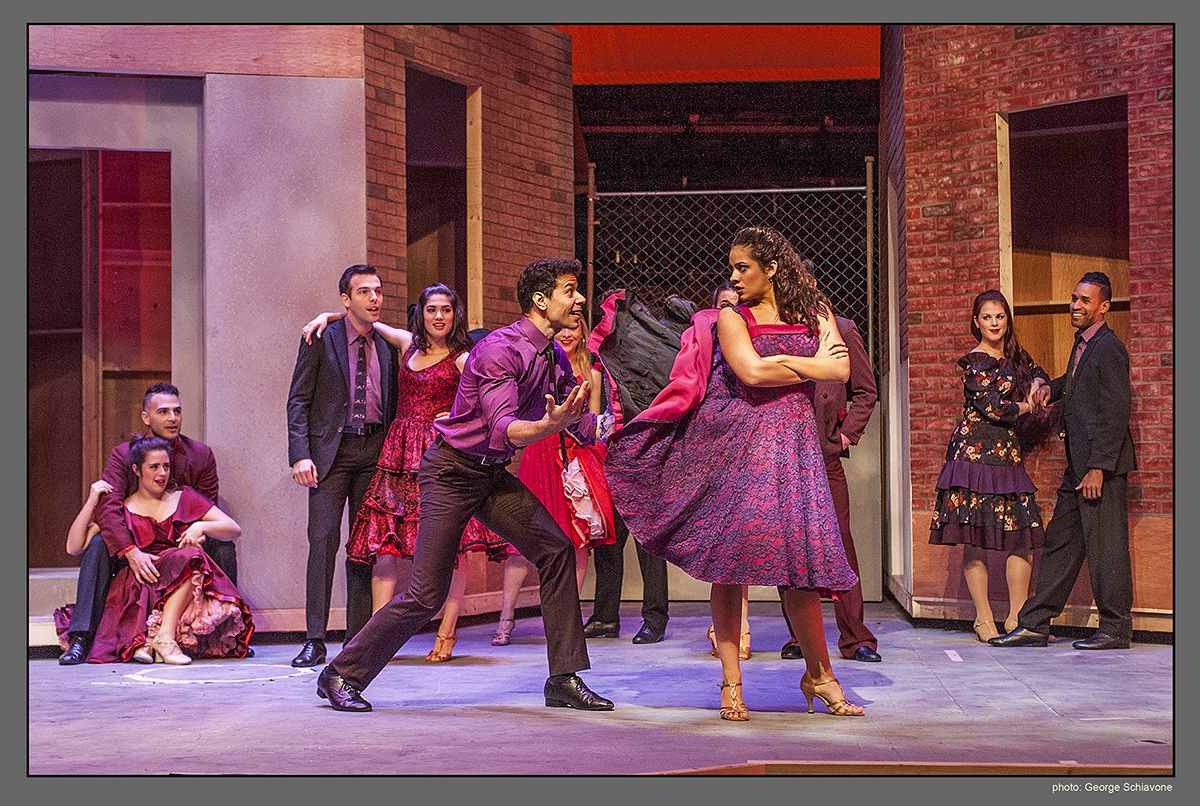 Marco Antonio Santiago (Bernardo), Isabelle McCalla (Anita) and the cast of West Side Story at Actors' Playhouse at the Miracle Theatre. Photo by George Schiavone.
Originally played by the Puerto Rican actress and singer, Rita Moreno, Isabelle McCalla had big dance shoes to fill in her role as Anita. Well, when she utters that one line, "Once and immigrant, always an immigrant", it resonates with almost every theatre patron present tonight, and she sends chills down your spine.
In fact, perhaps one of the most relatable scenes to South Floridians is the musical number America, performed by The Sharks and their ladies. Singing and bickering alongside Bernardo (played by Marco Antonio Santiago who comes complete with striking looks and international theatre bragging rights) McCalla's performance is absolutely brilliant. She has perfected Anita's thick Puerto Rican accent, sex appeal, and passion. McCalla convinces you of her love for Bernardo and the American Dream after which she lusts.
We watch the tragic love story play out before us and, like watching a terrible accident and knowing how it ends but being incapable of stopping it, we're mesmerized. As the leads, Maria, portrayed by Sarah Amengual, and Tony, played by Tim Quartier, meet, fall in love, and make plans for their future, we watch in a trance unable to warn them. We want to interrupt as their eyes meet for the first time across a dance floor, or lips touch for the first time as he climbs up her fire escape, and explain that their love is doomed because they are from different islands and neighborhoods and ethnicities. Instead, we watch, still trying to conjure up alternate endings in our imagination. All the while knowing their love will be over before it overcomes.
Sarah Amengual as Maria and Tim Quartier as Tony in Actors' Playhouse at the Miracle Theatre's production of West Side Story. Photo by George Schiavone.
We all yearn to see the show for the same motivation, love. The moment where Tony embraces Maria and sings promises of running away to a place where love transcends language, racial, and ethnic barriers we fall for it as innocently as Maria does and it makes you crave a Shakespearean love that will rival Romeo and Juliet and Tony and Maria's. But the fact is these overly-passionate, epically-forbidden loves usually end tragically. Tonight is no exception.
However, there is something to be said for the resiliency and consistency of just the right amount of passion dispensed over time. From this production of West Side Story we learn that the really successful institutions are those that last. West Side Story has endured in our hearts the way Actors' Playhouse at Miracle Theatre has endured in the heart of Coral Gables.
If you're looking to fall as hopelessly and tragically in love as Maria or as passionately in lust as Anita, the show will play through February 21, 2016.
Actors' Playhouse at the Miracle Theatre 280 Miracle Mile, Coral Gables, Florida 33134
Phone: (305) 444-9293 Fax: (305) 444-4181
www.actorsplayhouse.org