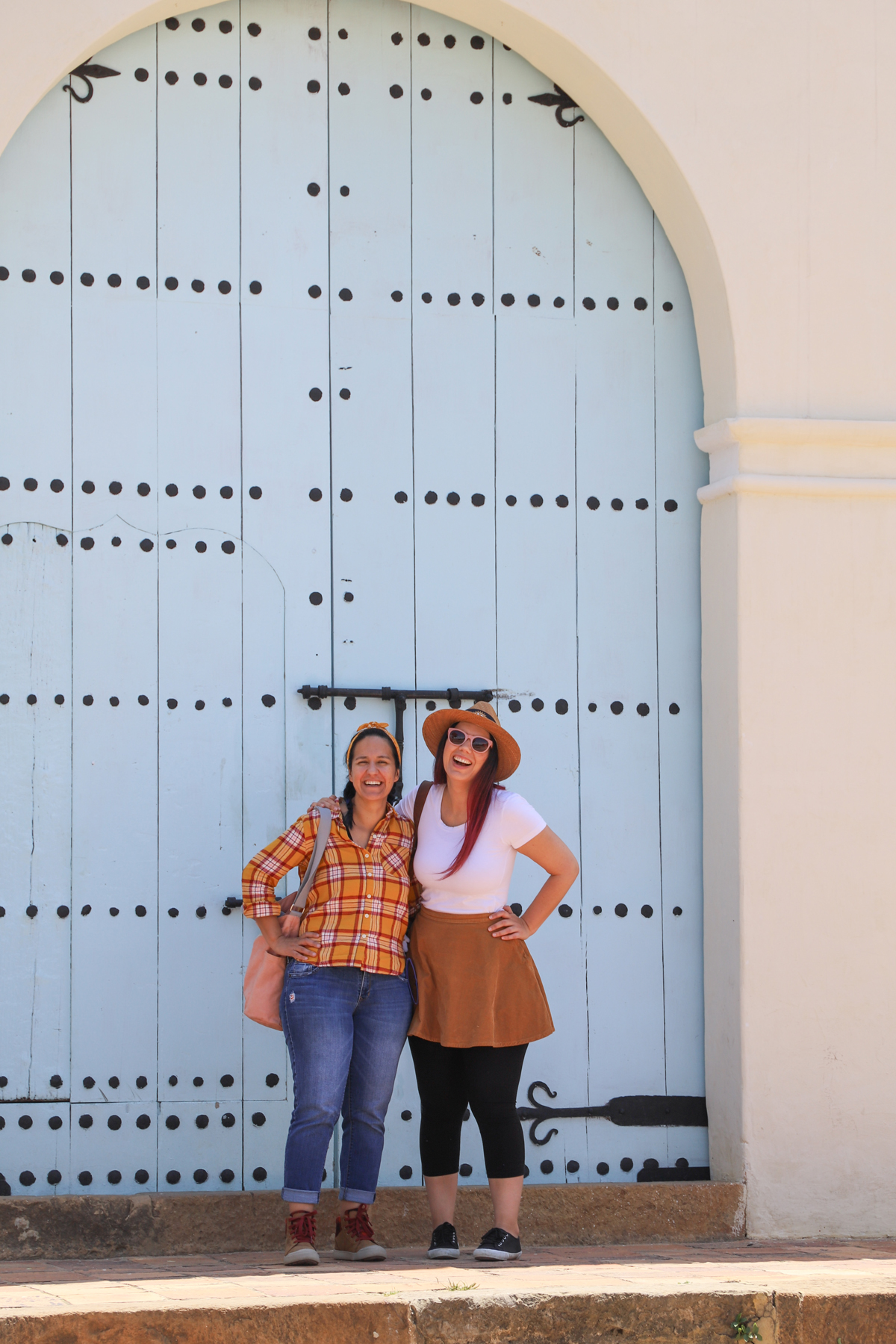 We just returned from a family visit in Colombia. It's always lovely to go back and catch up with people you haven't seen in a while, enjoy the yummy food, and soak in the view of the mountains and nature. I always return feeling more connected and relaxed. If you haven't been to Colombia, I definitely recommend you go. The people are friendly, the food is delicious, and there's ton of fun stuff to do.
About Villa de Leyva
This trip we spent most of our time in a small town called Villa de Leyva – a beautiful town that has preserved its colonial architecture. One of our favorite things to do is walk around the cobbled stoned streets and admire the Spanish colonial homes with white stucco walls, central courtyards, and red tiled roofs. It feels like traveling back in time.
We were also mesmerized by the plants. The picturesque streets are decorated with colorful bushes of bougainvillea spilling over white walls and antique wooden doors. The entire village is the perfect photo opportunity.
How To Get To Villa de Leyva
We took a plane to Bogota from Miami. It's about a three hour trip. We then picked up our grandma in a small town called Subachoque and headed out to Villa de Leyva. Villa de Leyva is about three and a half hours from Bogota by car or bus.
Villa de Leyva: What To Wear
Villa de Leyva is a desert-like region in Colombia. The weather doesn't change much throughout the year it's hot with low-humidity. The temperature typically varies from around 50°F to 70°F. So you'll want to wear a t-shirt during the sunny days and a sweater with maybe a light jacket at night.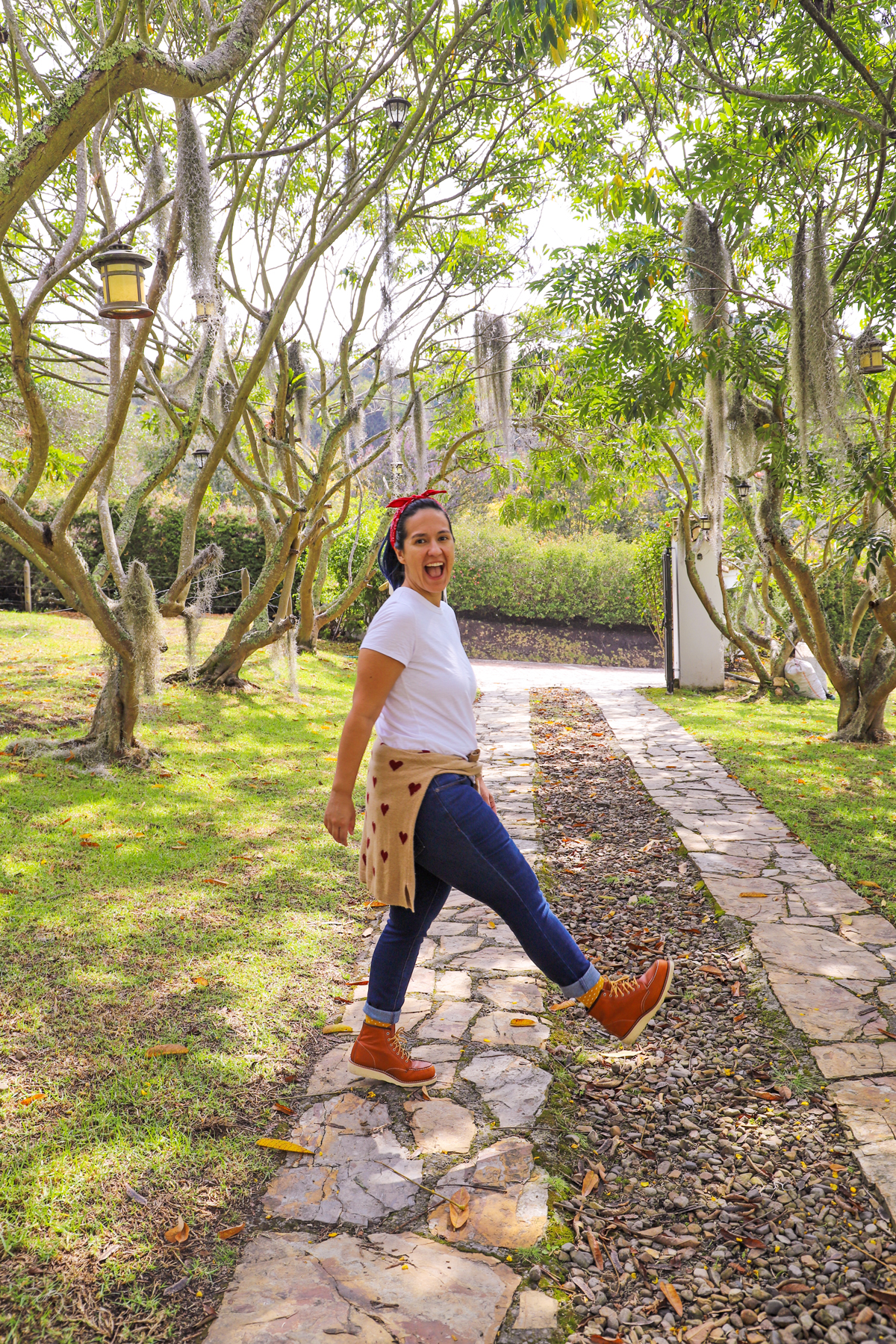 As I mentioned before, the streets are paved with cobbled stone. So I recommend you wear flat and comfortables shoes like sneakers or hiking boots. If you visit a home outside of town, they usually have unpaved roads, gravel entrances, and mountainous terrain. Most activities involve being active from hiking to horse-back riding. Make sure you bring comfortables clothes so you don't miss out in the fun. You can't go wrong with jeans and a t-shirt.
Best Desserts of Villa de Leyva
We Colombians love our food, but we have a special weakness for breads and sweets. Make sure you visit a good bakery while you're in town. I love walking in and asking for whatever just came out of the oven. Warm bread that melts in your mouth is a life-changing experience. Definitely try it.
We visited a few places with amazing food. Make sure you put them in your Villa de Leyva Itinerary.
La Galleta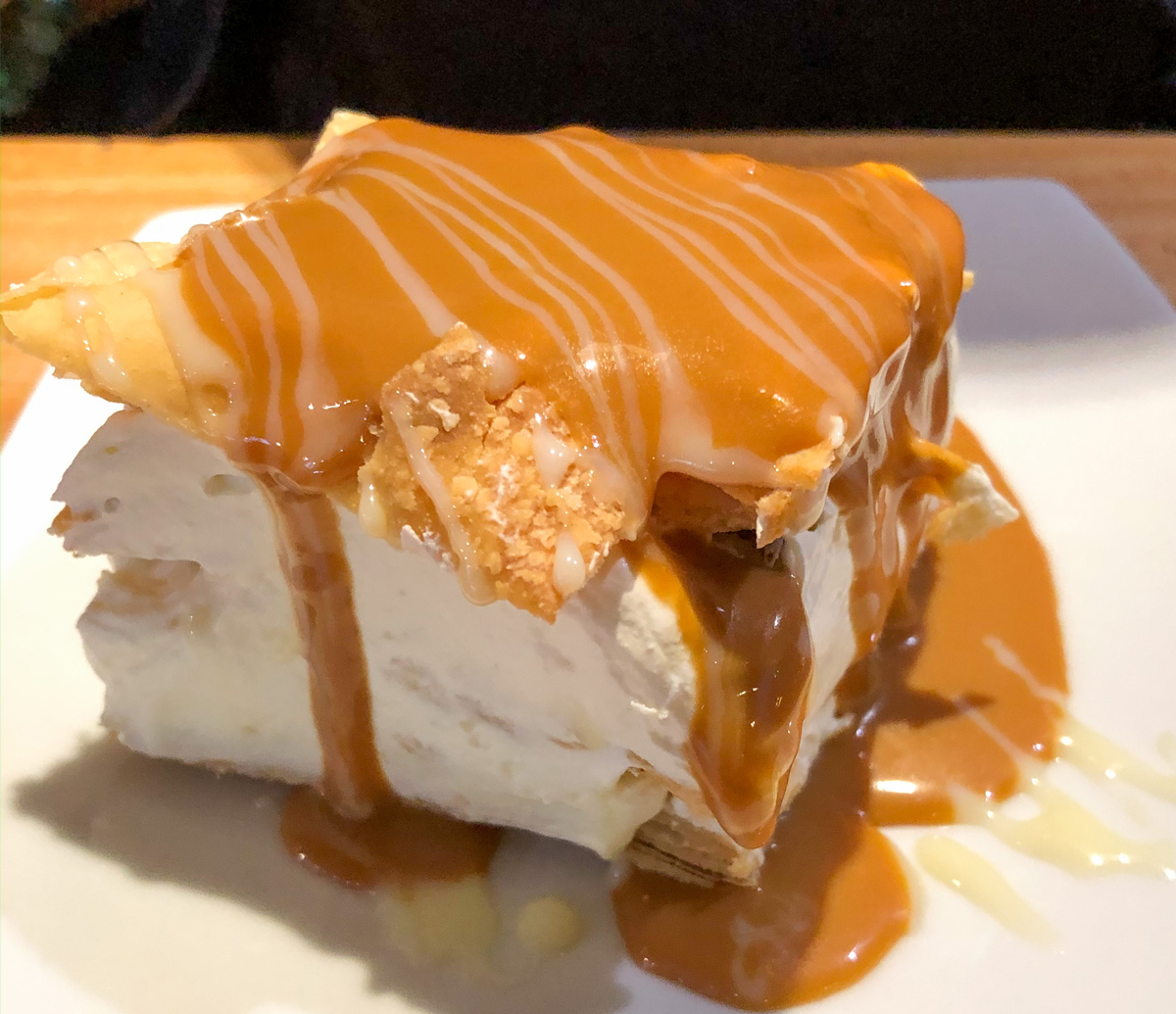 For the best Miloja you've ever experienced in your life, visit La Galleta in Villa de Leyva. Miloja is a dessert made with stacked layers of puff pastry, arequipe (a.k.a. dulce de leche), condensed milk, and a vanilla chantilly cream. Their miloja's are made to order and you have to enjoy it right there. They don't sell milojas to-go because they just don't taste the same when they are not freshly made; and I agree with that whole-heartedly. Order a latte and enjoy a perfect Colombian dessert. Also, every latte was delicious during this trip. So good.
La Waffleria
La Waffleria has fluffy, chewy, Belgian waffles topped with decadent portions of fruit, ice-cream, and sauces. It also is an Instagram photo opportunity that you won't want to miss. This quaint restaurant is located within a house with a spectacular courtyard garden with other shops and restaurants.
When you walk into the restaurant the first floor has cute sofa seating with low tables; but make sure to go upstairs to the second floor. The second level has a colorful umbrella installation on the ceiling, murals on the walls, and a picturesque view of the mountains.
We ordered the berry waffle, the arequipe (dulce de leche) waffle, and lattes. Next time we're in Villade Leyva, we will definitely be back.
La Waffleria is located at Cra. 9 #14-14, Villa de Leyva, Boyacá, Colombia. instagram.com/lawaffleriadelavilla
El Pescador Pasteleria
El Pescador Reposteria is an artisanal bakery located at Cl. 10 ##6-08, Villa de Leyva, Boyacá, Colombia. They sell fat alfajores and artisinal breads. Their space is filled with dried flowers and decorations on the walls that make you want to sit down and hangout. instagram.com/el_pescadorpasteleria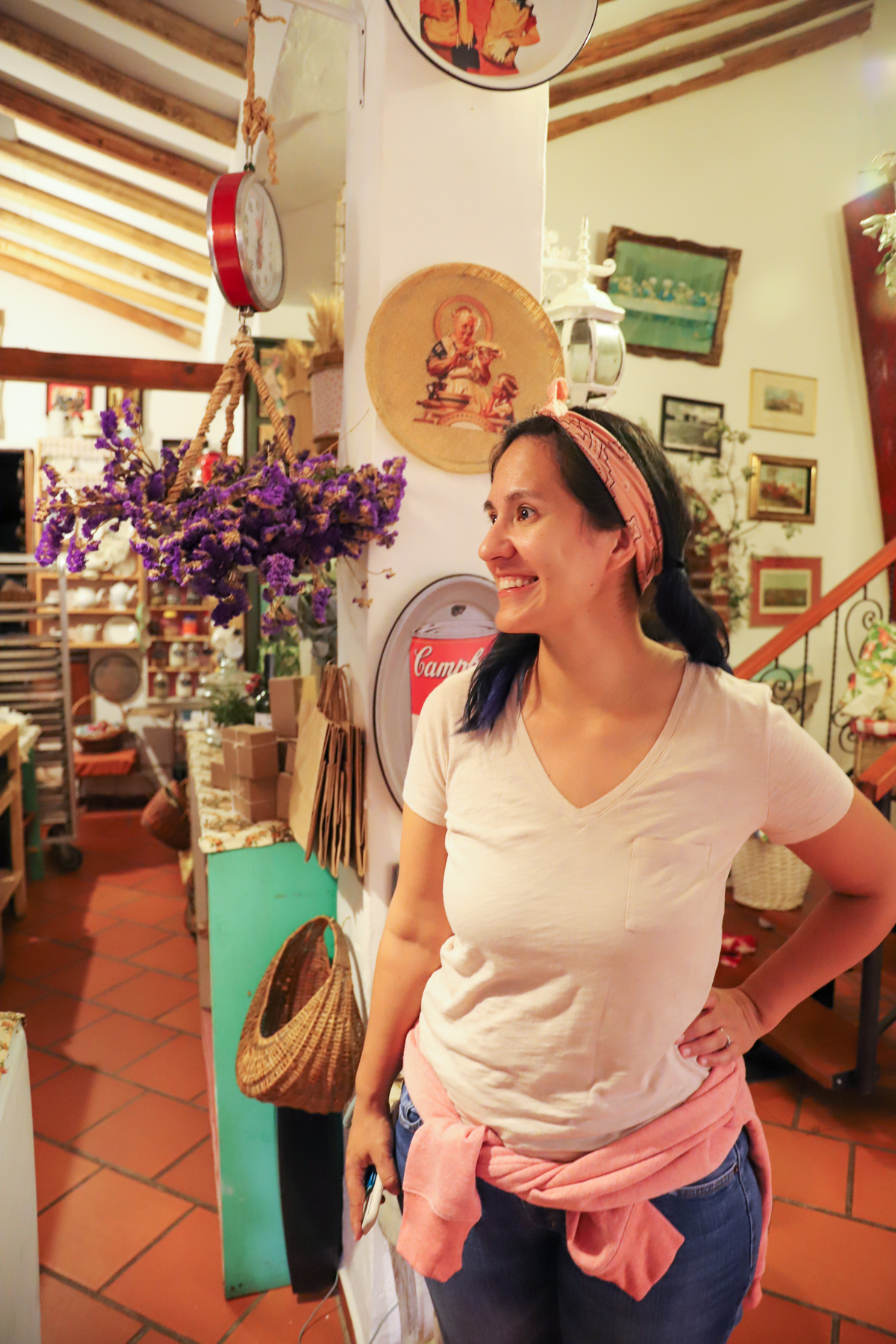 Matilde Blain
We were promised delicious brownies at Matilde Blain and they did not disappoint, but the winner was their berry tea infused with actual real berries you can spoon from the bottom of the cup. They also have lots of cute decorations on the ceiling and funny sayings on the walls.
Matilde Blain is located at Cra. 9 ##1175, Villa de Leyva, Boyacá, Colombia. They only open Thursday through Sunday.
Home Cooked Meals
Still, my favorite meals were the home cooked meals our family made special for us because we were visiting.
Ajiaco
My favorite traditional Colombian food is a soup and it's called Ajiaco. It's a chicken soup with three potato varieties and a special herb called guasca. You can add all kinds of toppings to the soup including avocado, cream, and rice. Each spoonful tastes like home and I love it.
Colombian Breakfast
Colombians love cheese. We have all kinds of cheese and we like to have it in every meal too – even breakfast. Here's what a typical weekend breakfast looked like for us growing up: freshly squeezed orange juice, scrambled eggs, some kind of arepa, fresh cut fruit, hot chocolate, and cheese. What surprises many people (who are not Colombians), is that we put the cheese in the hot chocolate. We leave it until the end of breakfast so we can use a spoon to get that oozy, melted cheese infused with chocolate as our breakfast finale. It's delicious!
Things To Do in Villa de Leyva
There's a ton of stuff to do in Villa de Leyva other than eating, but I put that first because that's my personal priority when I visit.
Mountain Biking
Andrea got to use her Peloton training on the mountains of Villa de Leyva. If you're not used to the altitude make sure to take it easy while you adjust.
Hiking
We explored the terrain around our family home with our doggies.
There are other official hikes you can do to explore the area. This is a mini hike we took near our town with our grandmother where we had to walk across a plank over a ravine.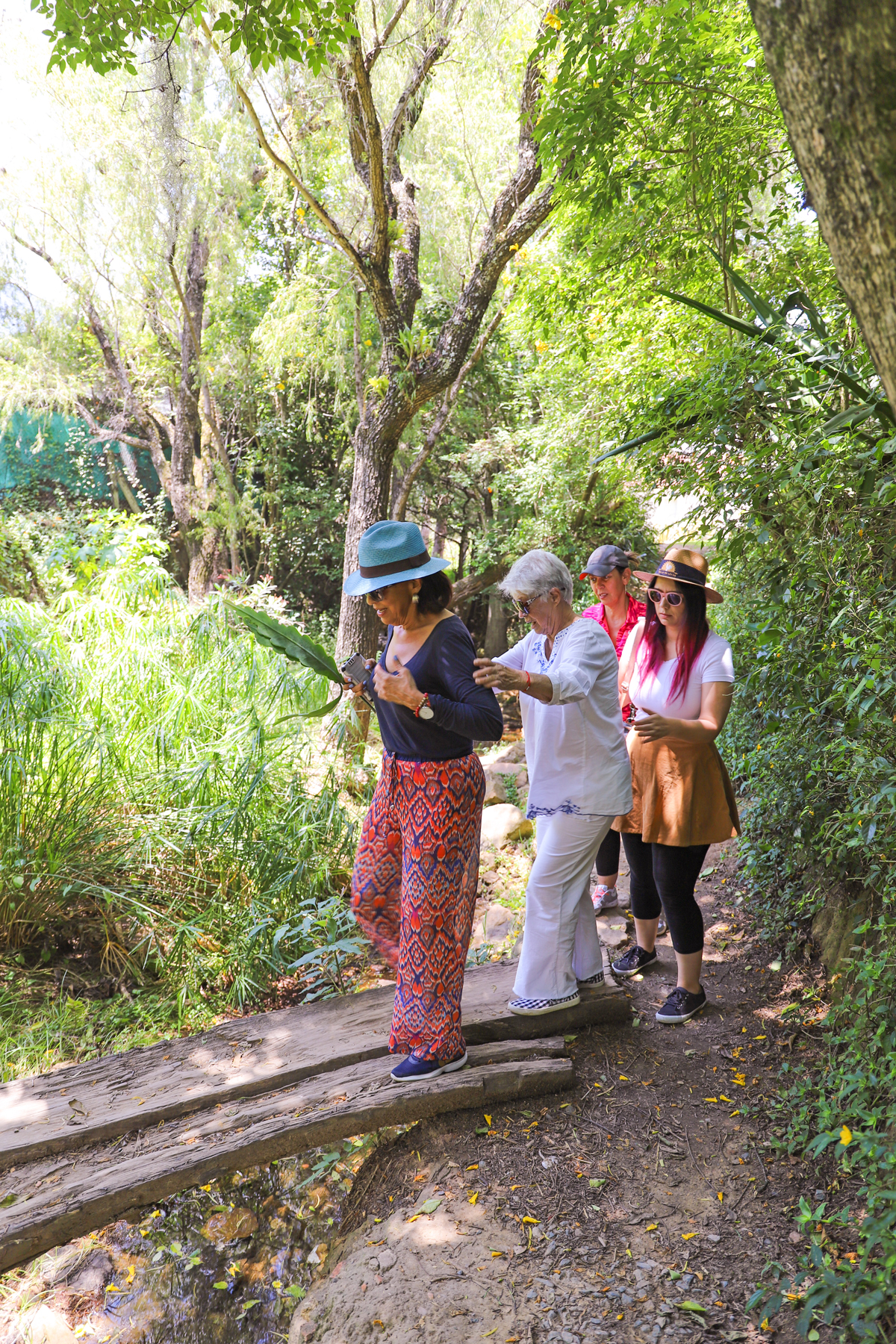 Shopping
Casa Meraki
For the best rustic, designer furniture visit Casa Meraki. I may be partial to this store because it's my dad's shop, but it really does have gorgeous hand-made pieces of furniture. All made by my dad! Casa Meraki is located at Cra. 10 ##7-48, Villa de Leyva, Boyacá, Colombia. instagram.com/casamerakivilladeleyva
La Tienda Feroz
You can buy traditional hand-crafted items or modern designs at Villa de Leyva. The modern design store La Tienda Feroz had all kinds of beautiful items from local artists. La Tienda Feroz is located at Cl. 9 ##14-101, Villa de Leyva, Boyacá, Colombia. instagram.com/latiendaferoz
Villa de Leyva Farmers Market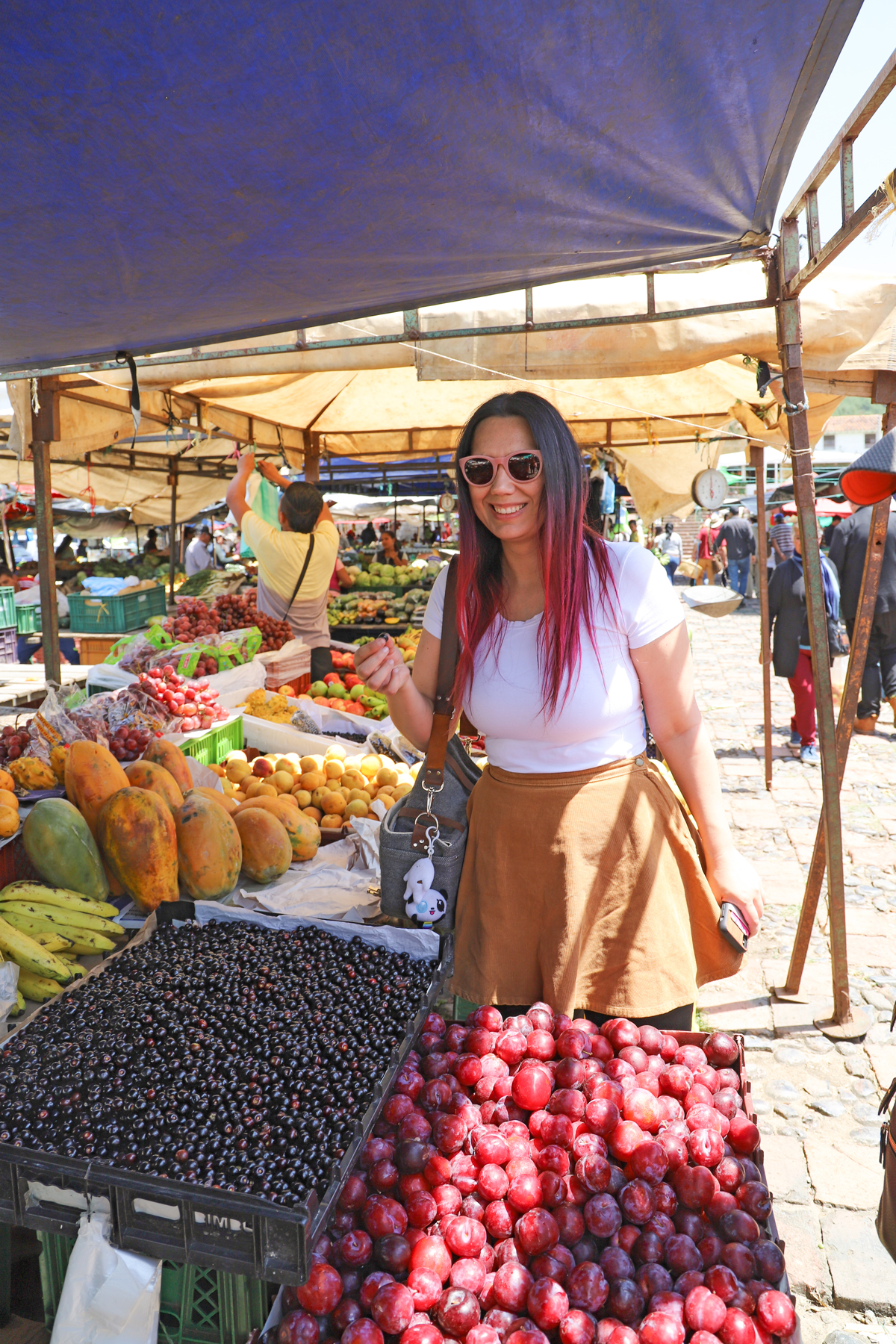 The farmers market at La Plaza del Mercado happens on Saturdays. Local farmers and vendors take over the plaza with colorful fruits, vegetables, and other yummies. It's so great to walk around and see all the fruits that are hard to get in Miami.
The Fossil Museum
Villa de Leyva has a ton of fossils and you can learn all about it at The Fossil Museum.
This week in Villa de Leyva was just what we needed and we can't wait to go back soon. Here are some more fun photos of our trip, including our adventures with all the doggies from our family home. They're the best adventure companions.
Did you enjoy this article? Pin this Villa de Leyva Travel Guide for future reference.