You decided you want to go for a run, so you put on your workout gear. Lace up your sneakers and check to make sure you have some Pitbull on your playlist. Now where do you go? Regardless if you're training for a big race or just giving this whole run thing a try, the 305 offers some of the most soul & sole satisfying routes around… like the sole of your shoes, get it?
Take your Talents to South Beach
The views from South Point Park put the 'magic' in The Magic City. This is the place you go to escape the movement and traffic of the city and just enjoy the scenery without a terrible driver in sight. Heading from West to East and up the beach is the way to go. If running in the sand isn't your thing, Ocean Drive has paved sidewalks with water fountains on nearly every block. Once you hit somewhere around 20th street, the boardwalk creates lots of room to decide the length of your sweaty endeavor. Looking to do a long run? Starting from the East side of South Point and heading around up to the Fontainebleau and back gets you to 10 miles.
The Connect
There is something about being surrounded by water that creates a thriving environment for the South Florida runner. Right at the center of it is the Venetian Causeway. Connecting the beach to the mainland is a strand of isles about 2.5 miles across. Now, if you are really feeling like an overachiever, you have two options: Once on the mainland side, you can take a right on N. Bayshore Drive to Margaret Pace Park and go for a loop around (stopping at water stations, of course). If the views from the Venetian weren't enough, take a left on Biscayne and be whisked away by the lush green grass of Museum Park and massive design of the PAMM (Perez Art Museum Miami).
City Strides
Running through Brickell can be a little challenging with constant traffic and stoplights, but there are a few options to get around it. Start by heading over to "the pizza"—no, not Power Pizza—the little island off of S. Bayshore Drive also known as Brickell Key. Toss on some distance toppings by heading down Brickell Ave where your shade is no longer provided by towering buildings, but by trees lining the streets. You'll almost forget you were just in the center of the city.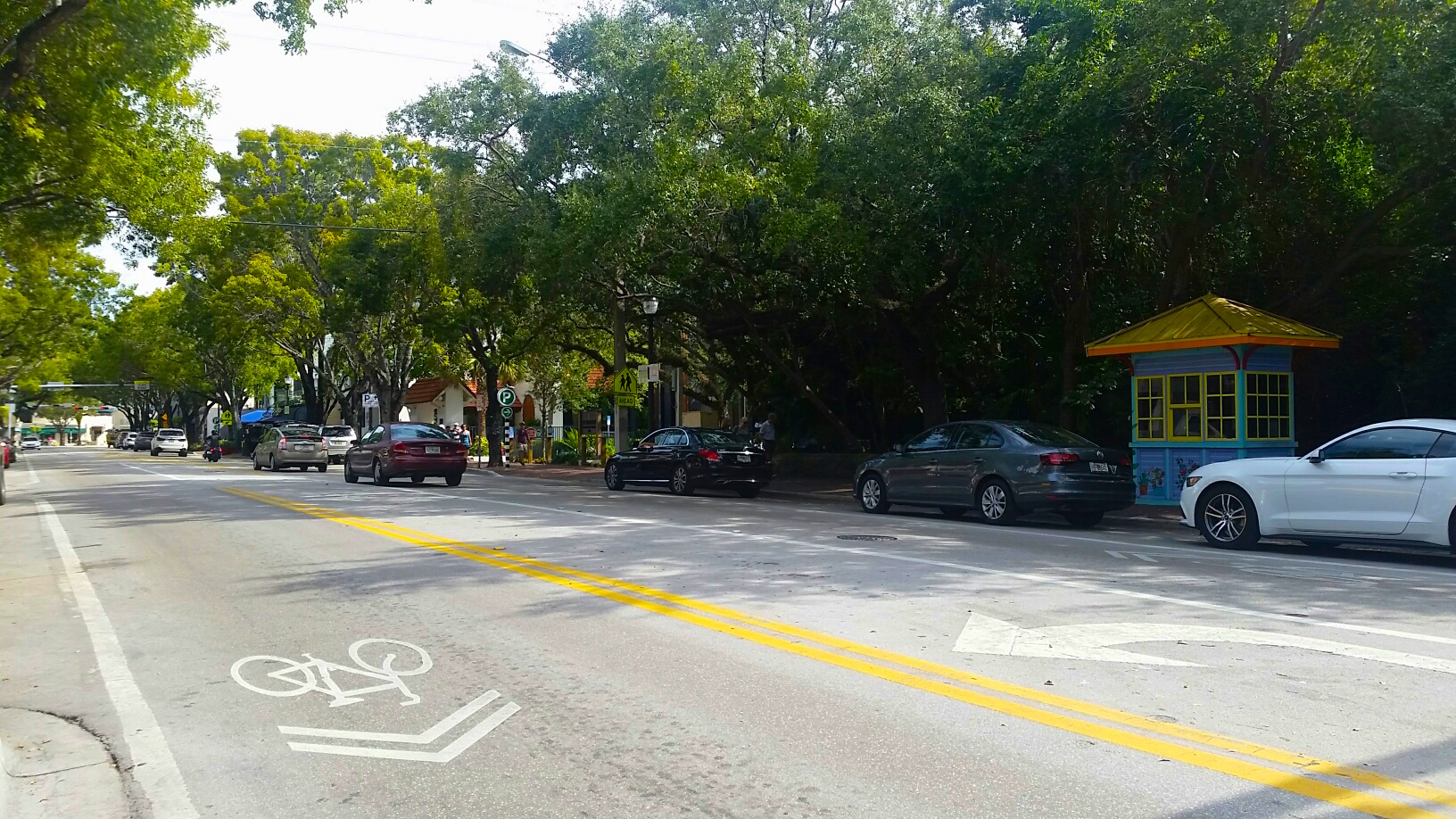 The Fairest of Them All
The charm of Coconut Grove never disappoints. Everyone, from beginners to experienced runners, is racking up miles through S. Bayshore Drive. Within the three parks between Coco Walk and Key Biscayne, you'll find resting spots and water stations when you need to take a breather. For those runners who appreciate a hefty meal as a run-well-done reward, mapping out your run to end at Lokal or even Green Street Café (in the heart of the Grove) is the way to go!
All Roads Lead to Key Biscayne
Whether you're starting in the Grove or Brickell, if your aim is for long-distance, then you're going to head to Key Biscayne. You'll be surrounded by stunning bay and city views cheering you on as you make your way over the height of the bridge. Training for a race? No cars or traffic lights to disrupt your time; just you and the air out there. Then, what better way to improve your cadence and work towards beating your personal record at the next marathon than this.
Coral Gables Love
The banyan tree embellished Granada Golf Course lies right in the heart of Coral Gables. Taking off on the outskirts of the course will get just over two miles of distance. If those two miles just aren't enough, take to the streets with tree-lined sidewalks and stunning homes. Add that to your vision board!