Now that school's out, there are so many fun adventurous summer camps for the kids. We have a round up of some unique Miami Summer camps the kids will enjoy while learning.
Iron Tribe Fitness Ninja Warrior Summer Camp for Kids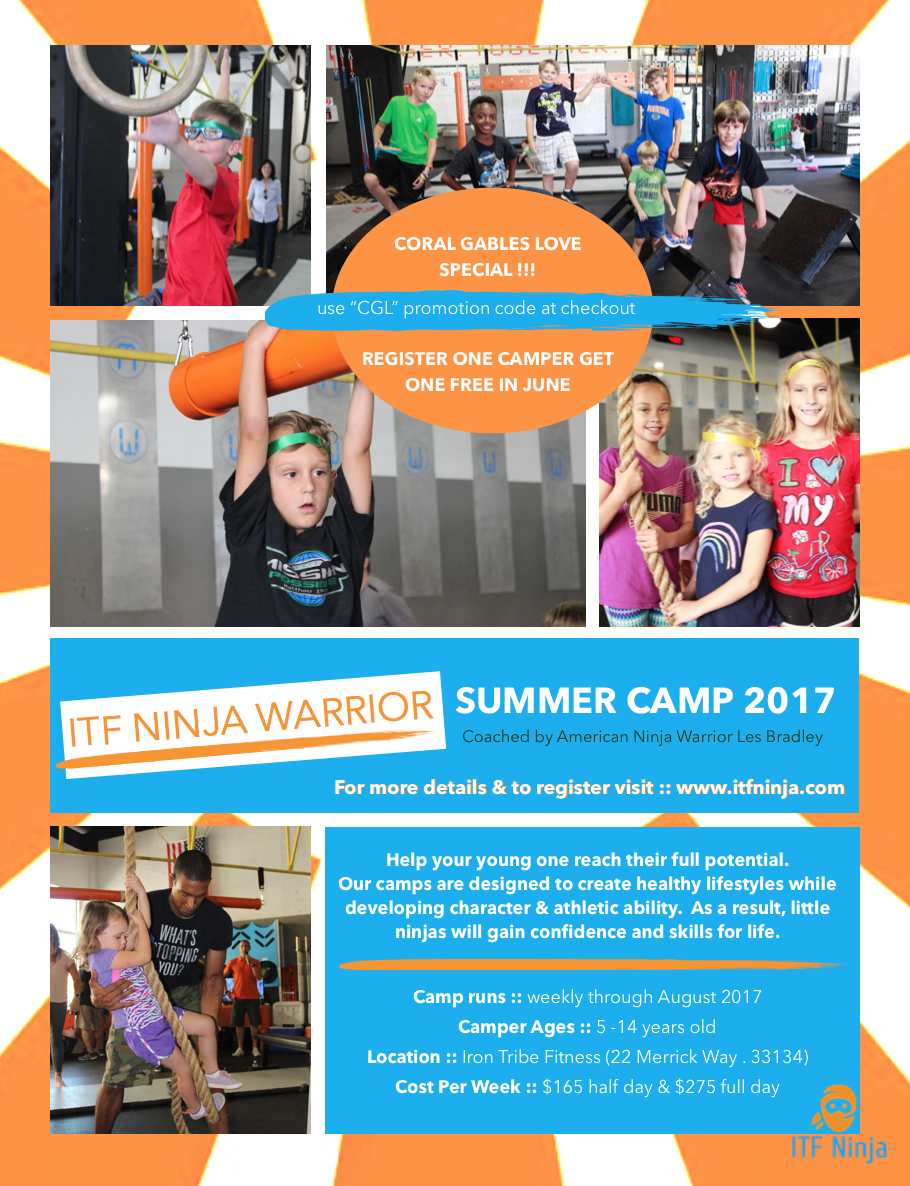 Iron Tribe Fitness is super excited about Miami's own American Ninja Warrior L.A. Bradley hosting a Ninja Summer Camp for Kids ages 5 to 14. LA wants to help kids of all abilities overcome any obstacle they may face in life. Iron Tribe Fitness looks forward to seeing all the little Ninjas soon! Find out more & sign up while you can at itfninja.com
Plus, use discount code CGL for a Buy One Get One FREE offer. Sign up one ninja and sign up your second lil' ninja for free.
Adventure Links Water Sports Summer Camp
Adventure Links has been a trusted leader in summer camps, outdoor education, team building, and more for 20 years. With convenient pick-up locations throughout Miami-Dade county, summer camp at Adventure Links is the perfect outdoor adventure for kids ages 8-14. From surfing and sailing to kayaking and environmental education, there's something for everyone at Adventure Links.
Adventure Links offers seven convenient pick-up locations throughout Miami-Dade county, and they are one of the only camps to offer this service. Their locations include: Coral Gables/Coconut Grove, Pinecrest, Palmetto Bay/Cutler Bay, Miami Shores, Aventura/North Miami, Sunny Isles/Bal Harbor, and Miami Beach. Use promo code UNION for 10% OFF the enrollment price. For more information visit adventurelinks.net/miami
Jungle Island's Summer Fun Ed-venture Camps
Jungle Island, a favorite South Florida landmark attraction, announced that registration for its renown summer Ed-Venture Camp is now open and camp will begin on June 12th. Kids attending Miami's best adventure camp will have the opportunity to enjoy animal encounters, learning the life of a zookeeper, arts & crafts, games and so much more.
"We developed a program that is educational, fun, engaging and interactive. Here kids will be outdoors and not on mobile devices," said Christopher Gould, Managing Director of Jungle Island. "Nowhere else in Miami can they get this kind of experience where they will learn about the importance of animal welfare and conservation in a highly constructive environment that will inspire and bring them closer to their surrounding nature."
Through August, 11th, every week at Jungle Island Ed-venture camp will offer exploration and themed activities, including Wild about Animals, Protecting and Conserving, Animal Adventures, and Junior Animal Keeping. Created by Miami-Dade County certified educators, Jungle Island's Ed-venture camps are designed to teach children about nature and animals within an educational platform and in a truly unforgettable way. Themes, dates and elements for the weekly series are:
Wild About Animals: Animals can do pretty amazing things, and campers will even get a close-up with a few that can taste with their nose and smell with their tongue. Activities include scavenger hunts and animal interactions, as well as games exploring different animal habitats. This session is available for weeks 1, 5, and 9, starting June 12, July 3 and August 8, respectively.
Protect & Conserve: Endangered animals are extremely important, and campers will come face to face with a few of them equipped with knowledge on how to conserve these amazing creatures. This session is available for weeks 2 and 6, starting June 19 and July 17, respectively.
Animal Adventures: Each day, campers will learn and work with a new animal, where they will even be playing the role of these amazing creatures! Campers will discover incredible bird tactics, explore the Serpentarium, and learn all about reptiles. This session is available for weeks 3 and 7, starting June 26 and July 24, respectively.
Junior Animal Keeper: This theme is all business; monkey business, that is. Jungle Island saves the best for last where campers will learn about primates – from marmosets to orangutans – and what makes them such intriguing and fascinating animals. This session is available for weeks 4 and 8, starting July 3 and July 31, respectively.
The Ed-venture camps will be offered Monday through Friday on a weekly basis from 9:00 a.m. to 4:00 p.m. at a low rate of $215 per week. Campers are provided with a Jungle Island safari hat, water canteen, Jungle Island backpack, camp T-shirt, and daily snacks with water. For more information, please visit jungleisland.com.
Coral Gables Museum City Trekker Summer Camp
City Trekker Summer Camp 2017 offers 10 weeks of fun, educational activities for children ages 5-12, from June 12 through August 18, Monday-Friday, 9am-5pm.
City Trekker Summer Camp explores the City of Coral Gables through a variety of disciplines, and takes advantage of the many cultural destinations and activities that The City Beautiful and the Museum have to offer. Through exhibits, special presentations, art activities and field trips campers will learn about art, nature, design, history and more. Campers will also enjoy some splashin' fun with a trip to Venetian Pool every session!
Into the Wild – Pre-Historic to Now (June 12 – 23)
Take a walk on the wild side with Coral Gables Museum! City Trekkers discover what Coral Gables looked like 10,000 years ago! They travel through time to explore extinct species, participate in an anthropological excursion at Deering Estate. They will visit nature exhibits at the new Frost Science, and learn all about native and non-native species of today, their habitat, and what we can do to protect them. Explorers (10-12) make their own life size dinosaur!
Fit City (June 26 – July 7) (Closed July 4)
This session combines fitness fun with urban design! Campers will start each day with fun, easy exercises, and in the afternoons, special guests will facilitate mindfulness, yoga, and obstacle course exercise sessions. Campers will also take trips to local parks and fitness destinations, meet urban planning professionals, and design a health and wellness focused city! Campers learn how city design can influence healthy habits. Our "junior urban planners" will design and build gyms, parks, and open air workout areas.
Explorers (10-12) learn about nutrition through an expertly facilitated interactive activity.
Build-A-LEGO (July 10 – 21)
Inspire the builders of tomorrow! The sky is the limit of what our campers can create using this acclaimed play and learn universal system. Campers will face new building challenges each day using their favorite toy building bricks. Guided field trips will ignite their creativity and inspire them to design cities, theme parks, buildings, bridges, robots, rockets, vehicles, and fantasy world of their own making. Explorers (10-12) will also delve into the world of Minecraft. Exploration, resource gathering, and crafting activities will make for a fun and engaging summer camp!
Camp Illustrated! (July 24 – August 4)
When words and images collide! Meet professional authors and illustrators. Create character sketches and illustrations inspired by your own original stories. Team up with fellow campers for fun, creative writing exercises. Campers use a variety of mediums to design magazine covers, cartoons, comic strips and even dabble in set design. Field trips to artists' studios and special presentations are part of this fun-filled, visual arts and illustration focused camp session. Explorers (10-12) create their own comic book!
Sounds of the City (August 7 – 18)
From classical music to street noise, campers explore a variety of sounds they experience every day. Learn all about the harmonies of the natural world and the science behind them. City Trekkers fine-tune their ear for music while they attend musical and theatrical performances. Our mini "virtuosos" perform a recital drawing from various cultural rhythms heard all throughout Coral Gables. Explorers (10-12) turn up the tempo by learning the visual language of musical composition, and composing their own symphonies!
The Coral Gables Museum provides a safe place to create, play and learn. Campers will be grouped according to age. Shirts, field trip fees, and Friday pizza lunch are included in the registration fee. Family and friends are invited to join the campers every Friday at 4pm for Friday Finales, special presentations featuring creative projects and accomplishments from the campers' week-long adventures.
Tuition Rates*
Members (Family): $450/session
Non-Members: $500/session
*Sibling discounts, Family Museum Membership rates,
and Extended A.M./P.M. available.
To register now, complete the City Trekker Summer Camp Registration Form
and email education@coralgablesmuseum.org or call 305.603.8067.
Swim Lessons for kids and adults at Venetian Pool
The Venetian Aquatic Club volunteers at Coral Gables Venetian Pool offer American Red Cross Swimming Lessons all summer long for kids and adults. The Venetian Aquatic Club was formed in 1959 by a group of women who were concerned with the safety of area residents. The many waterways, lakes, rockpits, pools and ocean itself, combined with our warm climate, made water safety of particular concern. The American Red Cross is the basis for their water safety teaching program. The members are all certified American Red Cross Volunteers. Call 305-460-5306. venetianaquaticclub.org