Seven Dials is our very own neighborhood English Pub, owned by Coral Gables native Katie Sullivan and British expat Andrew Gilbert. They serve American fare with a British twist and always have craft beer from local breweries on tap. If you are looking for amazing fish and chips, this is THE place to go.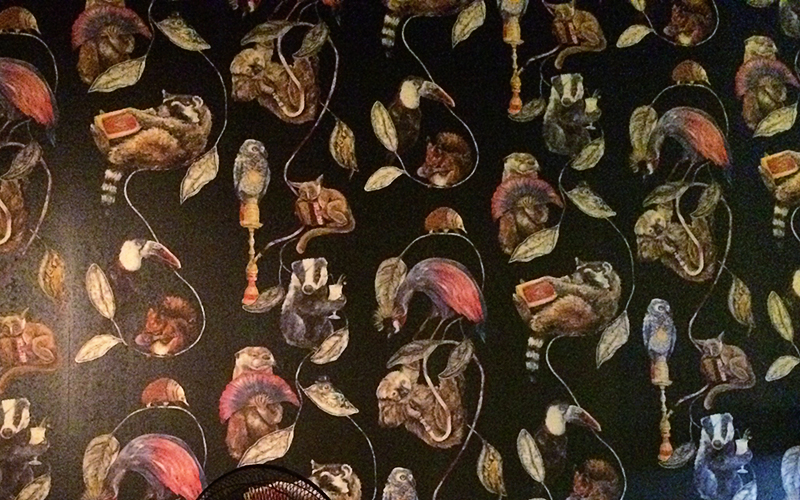 The first thing I noticed at Seven Dials was the fantastic and quirky wallpaper on the back wall. The wallpaper features a collage of animals: a skunk having a drink, a lemur playing the accordion, a hedgehog, an otter with a fashionable fan, and many other critters. The wallpaper uses dark colors giving the gastropub a vintage feel.
The Story Behind Seven Dials
The name Seven Dials refers to a neighborhood in London where seven streets intersect at a large roundabout. In the center of the roundabout stands a clock tower with many faces. This is the neighborhood where Katie and Andy met. How romantic is that? Katie traveled to London to study art history and on her first night went out with some friends to a local pub. She met Andy at that pub that same night. After many twists and turns they found themselves in Coral Gables with the perfect location to start a restaurant a few blocks away from their home. They always dreamed of opening a restaurant they would want to go to. A place that served high quality food with British influences and supported the local Miami food scene such as Zak the Baker, Proper Sausages, Kahwa Coffe and Wynwood Brewery. They took the chance and now we have an English pub in the neighborhood! Seven Dials is located at 2030 S Douglas Rd, Coral Gables. Keep in mind the actual entrance to the restaurant is located on Minorca Ave. sevendialsmiami.com
Menu Recommendations
Every time I visit Seven Dials, I am happy to discover a new delicious dish. I've had their fish & chips and you MUST try it. Andy uses corvina as a local sustainable alternative to cod. He also uses a traditional beer batter that results in a crispy and fluffy outside with the fish perfectly steamed inside. It's served with hand cut french fries made fresh every day. The fish and chips is their best seller for a reason – it's nomalicious! #nomnom
I've also tried the Seven Dials burger and it's amazing. It's served with muenster cheese, pickled green tomato, onion ring, marmite mayo, and house fries. Um, they had me an muenster cheese! It really is a super tasty burger. If you are a burger lover, the Seven Dials burger needs to go on your bucket list.
For those looking for a classic British dish, give the bangers and mash a try. The sausages are from Proper Sausages butcher shop in Miami Shores operated by another American/British couple. The British style sausages are served with mashed potatoes and onion gravy.
Desserts
When it comes to dessert, DO NOT leave this place without having some. Their bread and butter pudding is simply amazing, served with creme anglaise sauce and golden syrup. I've also tried their ale cake. It's a super moist chocolate cake served with melted fudge and a side of chocolate fudge ice cream. It's the perfect option for all you fellow chocolate lovers.
Happy Hour
Seven Dials has happy hour Monday through Saturday from 5pm – 7pm. You'll find $4 select beers and $5 charcuteries. Build the cheese and cured meat tray of your dreams.
Go visit Katie & Andy and tell them I sent you. Let me know what you think in the comments below :)