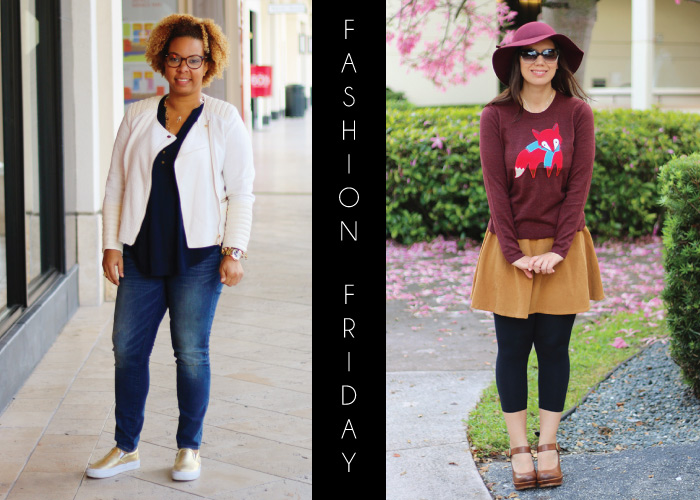 Yay! We made it to Friday again! Let's celebrate with a new installment of Fashion Friday. This week I'll be sharing a couple of cool Fall outfits – including one I wore to a Dapper Animals photoshoot. What does that even mean? Keep reading to find out!
Let's start off with the fashionable Alexia. Alexia works at the J.Crew in Merrick Park – where we met. As soon as I saw her golden sneakers, I knew I had to share her outfit with you! Alexia is wearing a white moto jacket with skinny jeans and golden Vans sneakers. Her shoes are my favorite part of her outfit although I'm in love with her jacket too! She accessorized her look with a chunky gold watch and a gold charm bracelet that match her shoes. I like how she combined white and gold. If you like her style, go visit her at J. Crew in Merrick Park so she can give you some fashionable tips.
Shop Alexia's Outfit

Hey, look at that! It's me on Fashion Friday. I wore this outfit for a Dapper Animals photoshoot. What is Dapper Animals you ask? Just an AWESOME side project I run with my sister. It's a blog and YouTube channel where we talk about Living The Cute Life and surrounding yourself with cuteness. Because cute things make us happy and I want to share them with everyone. If you see anything on the site that brightens your day please let us know. That's what it's all about. I am wearing a corduroy circle skirt, an adorable foxy fox sweater from Brooklyn Industries and mary jane wedges from Kork-Ease.
Shop Paola's Outfit

If you want to get an idea of the silly shenanigans we're up to on Dapper Animals, take a look at the video below: