I'm excited to work with our sponsor, Jeep, to share our adventure in the Catskill Mountains!
My sister, Andrea, and I decided to take a break from Miami's year-round summer season and explore the Catskill Mountains of upstate New York. We were excited about all the cute sweaters we would wear on chilly nights sitting by a fireplace, exploring trails surrounded by forests, and reconnecting with nature.
Getting To The Catskills From Miami
We flew in to New York City's La Guardia airport. Upon our arrival, we picked up a fire-engine-red Grand Cherokee Trackhawk courtesy of Jeep. We climbed into the SUV with matching red interior; and as I adjusted the mirrors and my seat, Andrea (my trusted co-pilot) plugged her phone into the USB jack. The car's navigation system recognized the phone and we used the big screen on the dash to guide us on our two-hour road trip to up state New York. We rolled onto the highway and Andrea started our playlist featuring lots of Lizzo and just like that – is was a party!
Our early evening drive was so much fun. It was the perfect time to be on the road and catch the sky changing through a rainbow of colors as the sun set behind the mountains. A gentle nudge of the accelerator would over take slow vehicles. Plus our seats were so comfortable, keeping our behinds blissfully unaware they'd been on a two-hour ride.
By the time we arrived to our AirBnB it was 9 o'clock at night and it was a surreal experience driving into the pitch black. We had a sense of being surrounded by forest, but would have to wait to the next day to see what our lodging and landscape really looked like.
Where To Stay in The West Catskills
The first morning I stepped outside, surveyed the forest that surrounded our cabin and took a deep breath of fresh, crisp air – a nice change from the humidity we are used to back home. The trees stood everywhere I looked and their green leaves were just starting to change. I spied specs of yellows and reds every once in a while, promising a gorgeous fall foliage soon to come.
In the light of day, we were able to admire Hirsch Manor properly, the beautiful AirBnB where we enjoyed a complimentary stay. The Manor is a 4,000 square foot, luxurious 4 bedroom cabin on a private wooded 11 acre estate. If you are looking for accommodations in the Catskill Mountains, I must say I do recommend this AirBnB. The space was impeccable and it felt like checking in to a five-star hotel. The owners welcomed us with warm chocolate chips cookies and had Ferrero Rocher waiting for us on our night stand.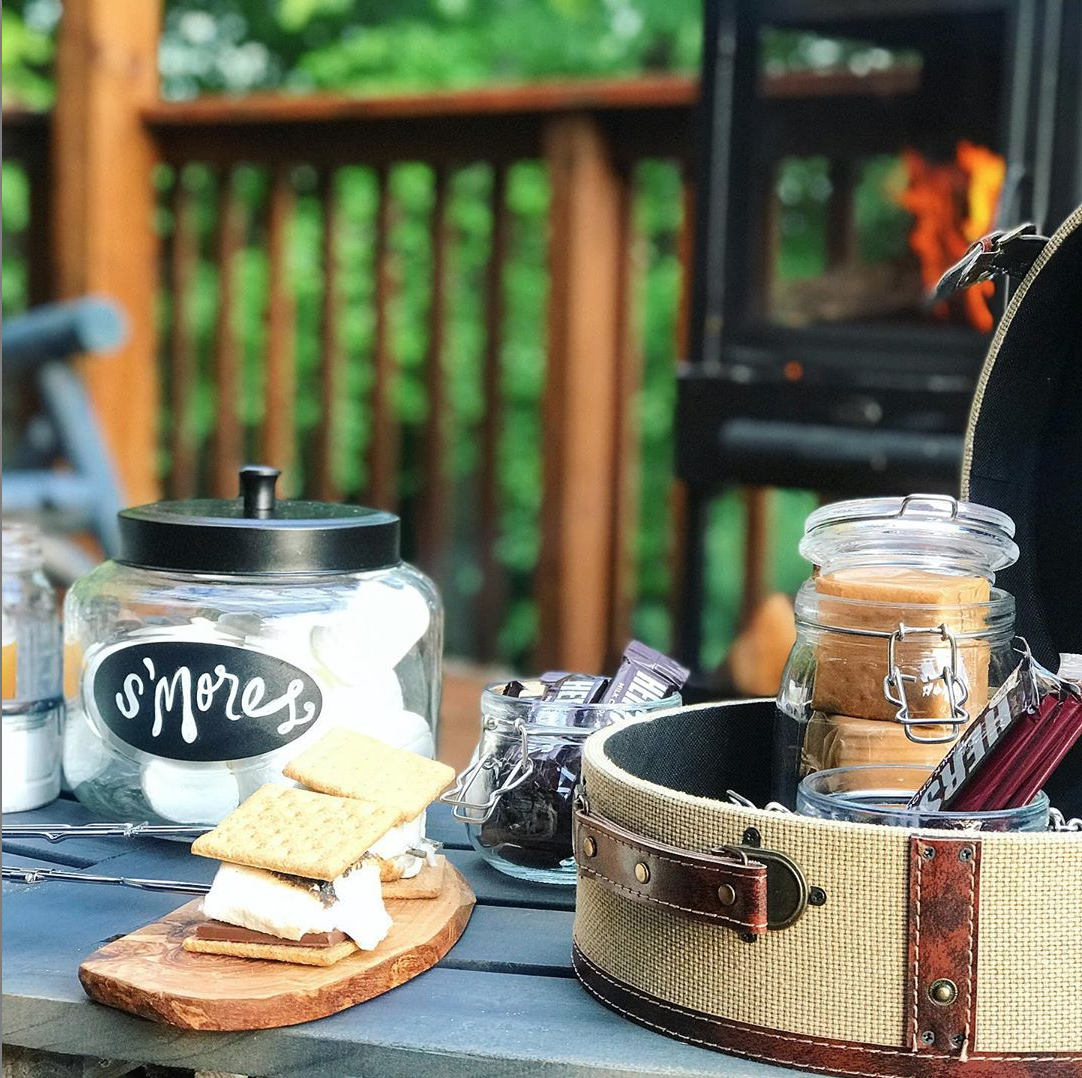 It's like they knew chocolate was the way to my heart. They had a station fully stocked for S'mores with giant fluffy marshmallows, graham crackers, and lots of chocolate bars. We made sure to cook some over the outside fireplace the second night – wrapped in blankets enjoying the cooler weather just how we had pictured it.
West Catskills: Livingston Manor
We decided to focus our adventure in West Catskills and stayed minutes away from Livingston Manor, a picturesque small town. Livingston Manor's Main Street spans only a few blocks, but it had the essentials we needed. We found a German bakery, Brandenburg Bakery, with all kinds of sweets, pastries, cakes, and pies to indulge our vacation cravings. We visited this main street often to load up on supplies from the cute local cafe and market – Main Street Farm Café. The charming decor featured white wooden walls and mismatched chairs. They serve artisanal sandwiches and sell local products including this adorable jar of honey that I decided I had to have.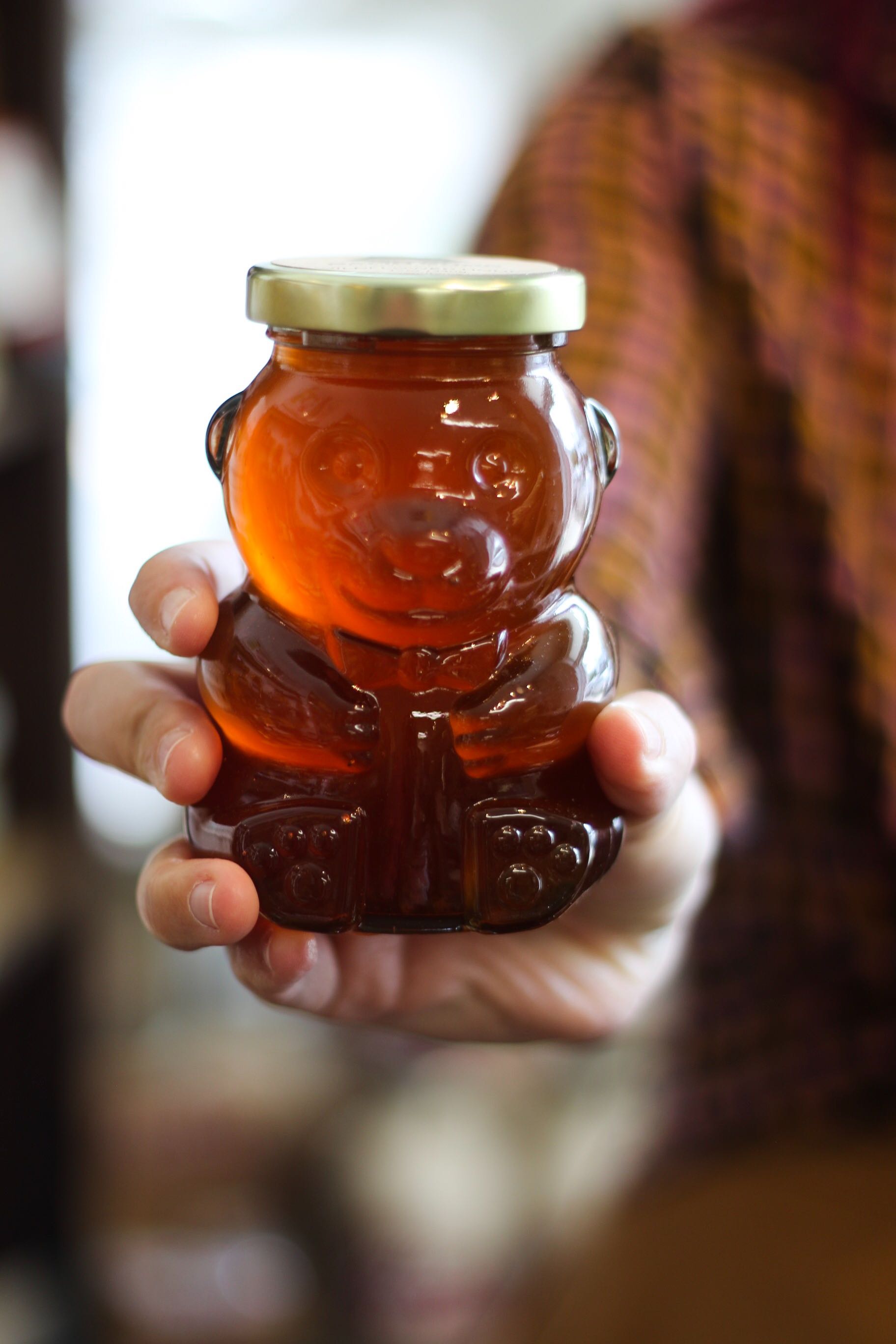 On Main Street we also found a fire-wood oven pizza place, The Kaatskeller. We sat at a picnic table in their outside garden decorated with string lights and ordered some delicious pizzas.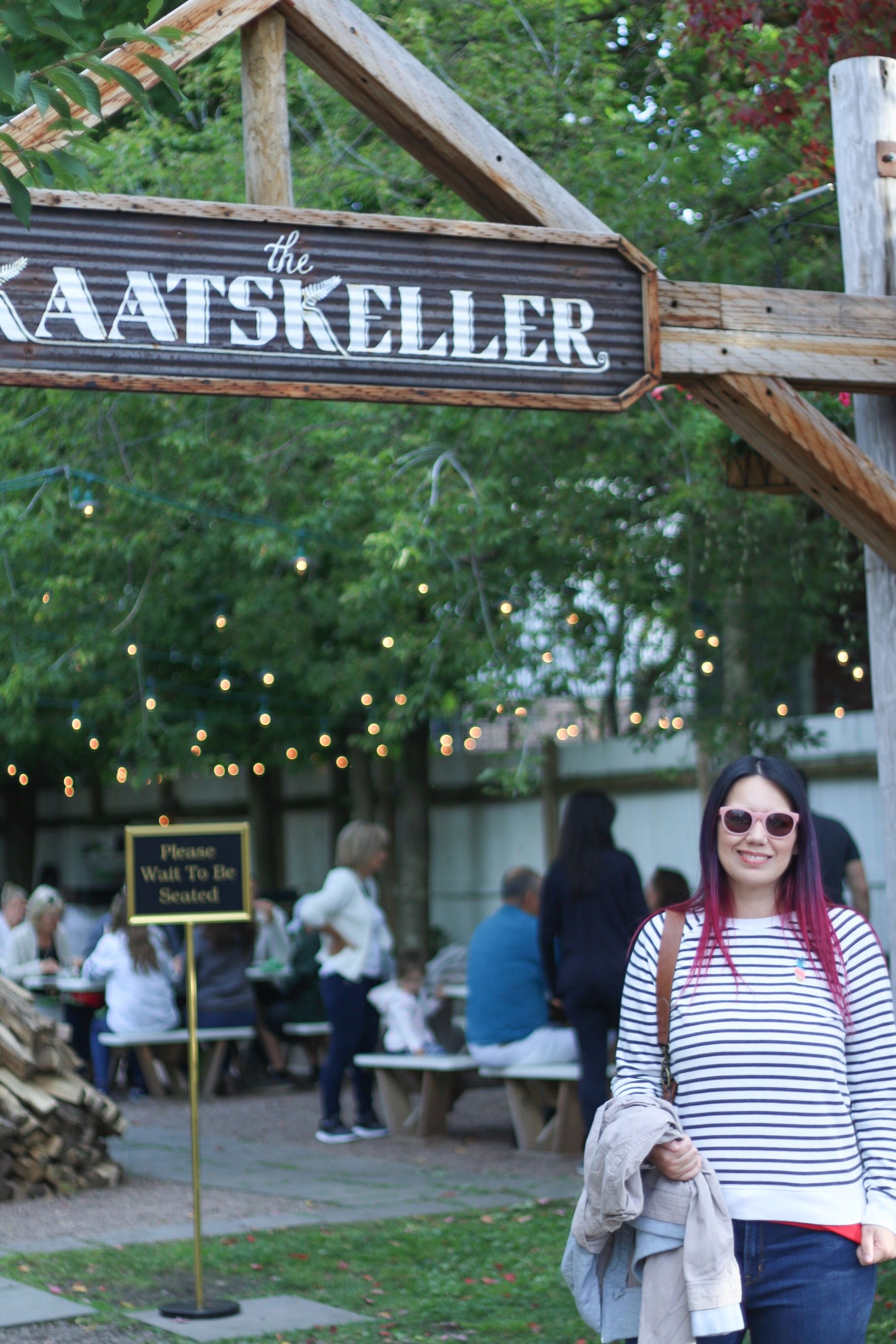 Driving Through The Catskill Mountains
We discovered a smattering of small towns connected by mountain roads winding up and down the Catskill Mountains. The towns are minutes away from each other, nestled in forests and fields of wild flowers. Every so often we'd stumble upon a lake peppered with lake houses. As we drove from one destination to another, we were on the lookout for wild animal sightings. My sister, Andrea, kept pointing out red barns (because they're so cute), and we were both simply amazed by the mountainous terrain. What a difference from South Florida.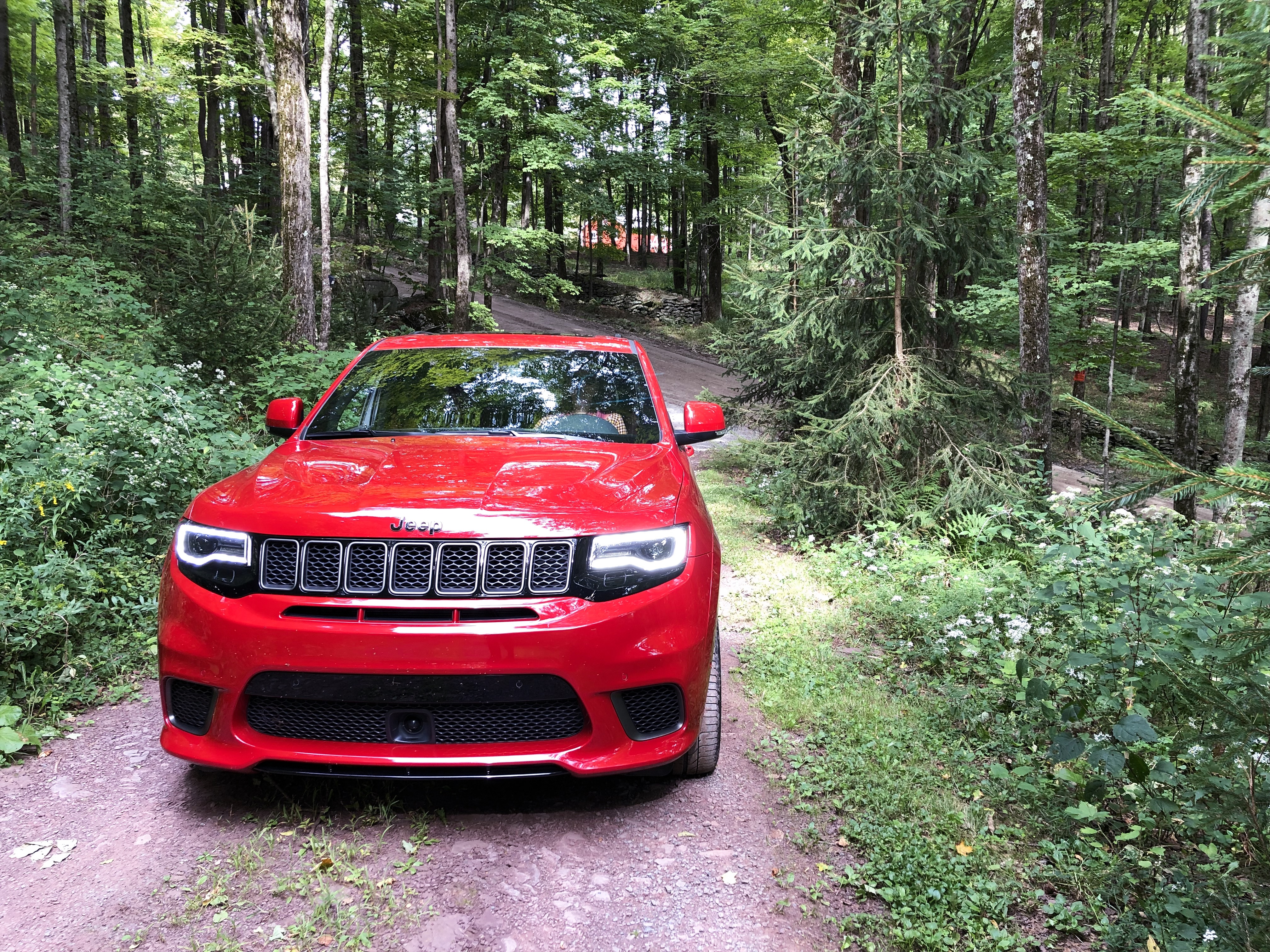 One of the most fun things about this trip was the simple pleasure of driving around the mountains enjoying the scenery; winding through forests up and down steep roads. The Jeep Grand Cherokee was well suited to this task. As much as the Jeep Grand Cherokee Trackhawk was powerful and quick, we also felt safe and comfortable. We encountered deer, otters, and even a black bear surprising us as they crossed the road. We did our best to stay mindful of the specialness of the place we were exploring by driving carefully on these mountain roads; and fortunately, our Jeep was equipped with impeccable breaks.
Things To Do in Catskills, NY From Petting To Picking
Each town offered something unique to do. On our second day, we decided to pet alpacas and go apple picking.
Buck Brook Alpacas
We drove to the nearby town of Roscoe, NY where we visited Buck Brook Alpacas. This is where we met Celebration, an adorable two-month old alpaca who loved to cuddle. The staff running Buck Brook Alpacas are super friendly and cut slices of apples so that you can feed the alpacas. There was no admission fee to visit the alpacas but donations are welcome in their donation box.
It was such a peaceful experience to meet these calm, smiling creatures. They like to huddle together and eat hay. Each alpaca had a different personality, some liked to be petted and others didn't. Celebration was famous for loving cuddles and I got to hug her for 15 minutes; and it was the highlight of my Catskills adventure. As a lover of animals, it was a dream come true.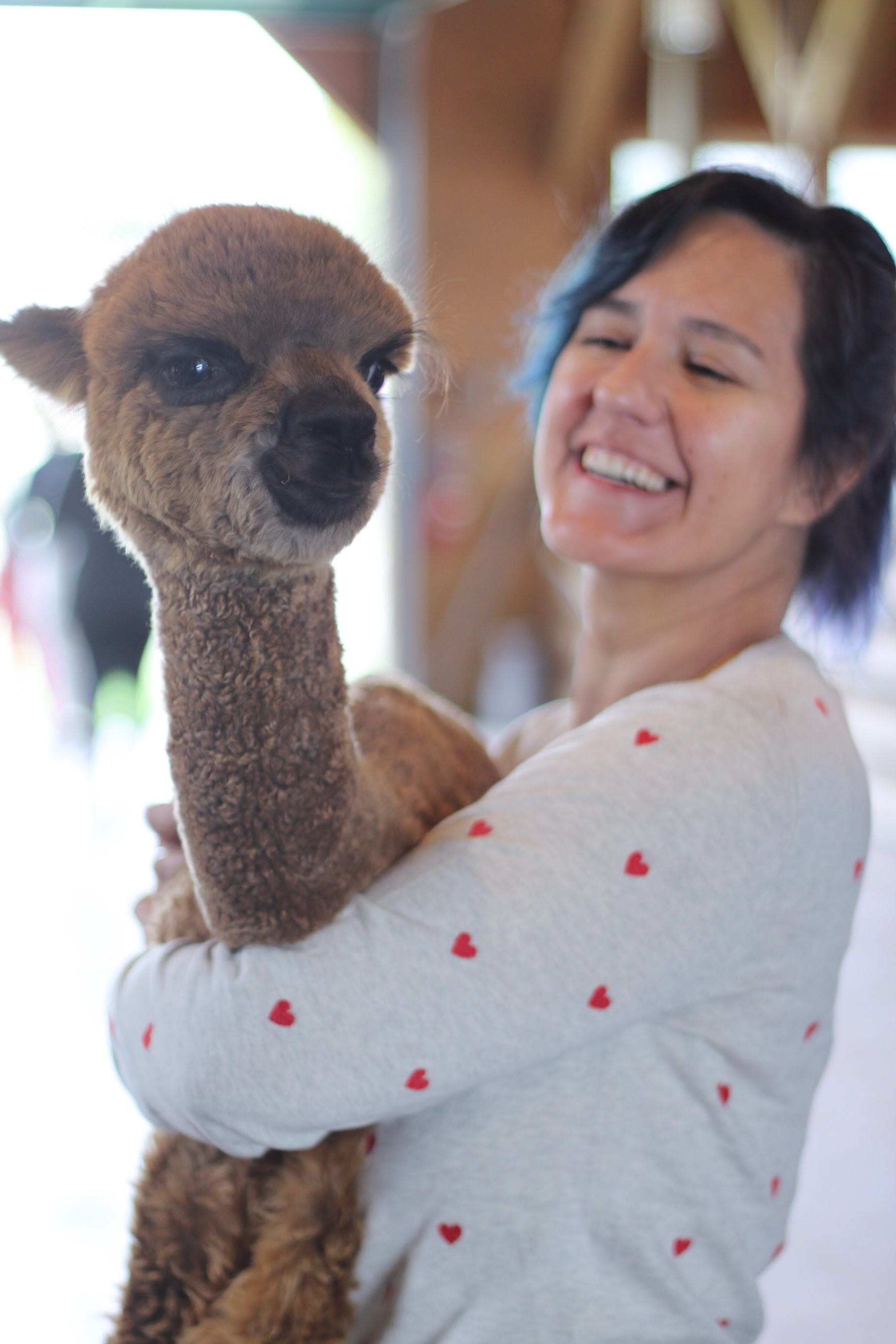 Picking Apples in an Orchard
After leaving the alpacas, we visited a farm with an apple orchard where we could fill paper bags with as many apples as we wanted. They had different apple varieties growing at the time. So we picked two different types of apples and had fun tasting the differences in flavors and textures.
Ashokan Reservoir – Catskill Mountains, NY
On the third day, we drove across the Catskills Mountains to the northern part of the region where we found the Ashokan Reservoir. It is a majestic body of water surrounded by mountains. As we walked around the border and skipped stones on the surface, we felt a better connection with nature.
Then, we visited the alpacas again because I enjoyed hugging Celebration so much. So I had a second cuddle session and I have to say, it was fantastic.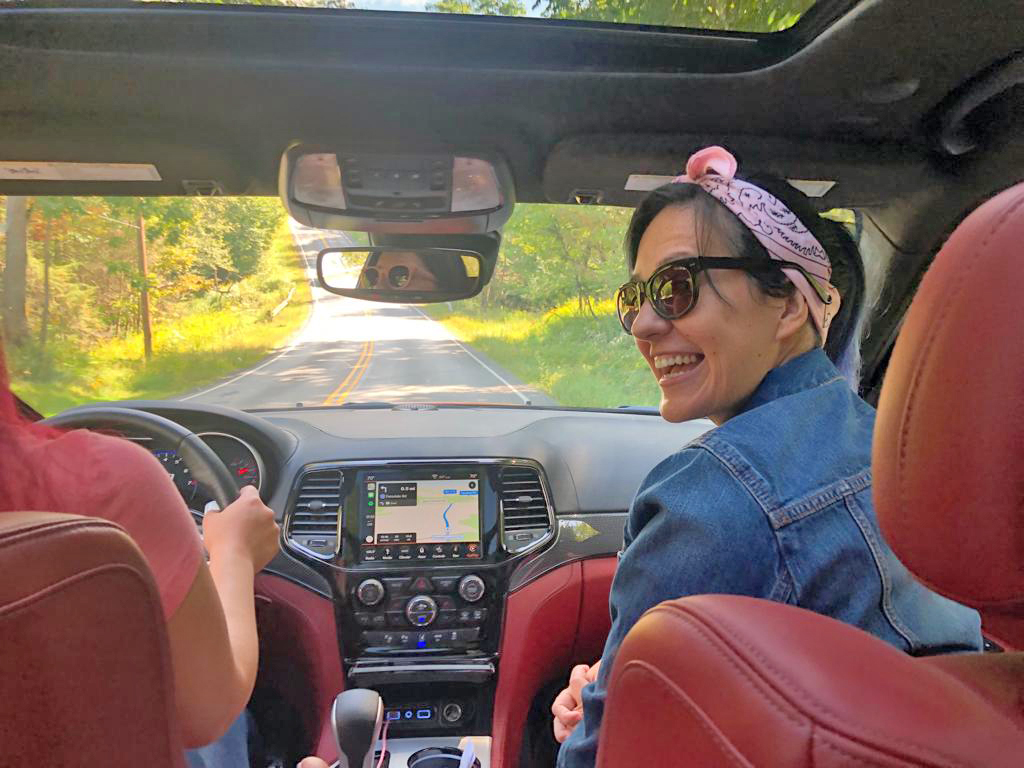 Driving Back to NYC
On the fourth day, it was time to drive back home. I find that the drive home at the end of a trip is usually not as fun because I am exhausted of all the shenanigans I was up to, but not this time. The drive back from the Catskill Mountains was another wonderful experience. We gave ourselves plenty of time to ensure a stress-free ride enjoying the playlist and the scenery.
After a few days of being surrounded by nature I felt centered and ready to get back to work in Miami.