Divino Ceviche is the kind of restaurant where I love everything I order; and I have tried no less than ten different dishes. I've recommended Divino Ceviche to many friends and it has been a consistent hit. So if you're looking for tasty Peruvian fare, this is THE place to go to.
Divino Ceviche is located in our restaurant haven – Giralda Avenue. Nestled amongst some of the greatest restaurants in Coral Gables, Divino Ceviche fits right in. Divino Ceviche is a break from traditional Peruvian restaurants. It's a casual restaurant that serves Peruvian dishes with a modern twist.
The location features a wavy sculpture on the wall with colored lighting giving the restaurant a cool techno vibe. As you sit down at your table, you will notice their attention to detail. Each table has the Divino Ceviche logo (a modern take on traditional Peruvian art); the walls have giant murals with paint and chalk; and the bathroom even has a sugar and oil hand scrub. The front and side walls are lined with booth seating making half of the tables half-booths. So there's lots of comfortable seating.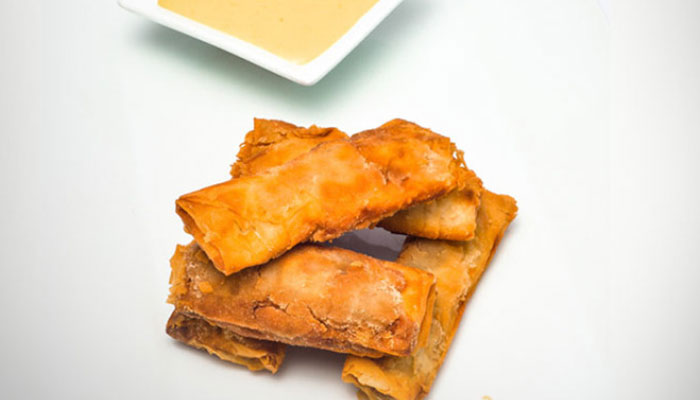 Divino Ceviche Menu Recommendations
When you dine at Divino Ceviche you get complimentary fried sweet potato chips at the table. They are crispy and the perfect snack to much on while you decide what to order. I like to mix them with the roasted corn kernels for a sweet & salty tasty combination. At this point, I haven't even ordered; but the yummyness has already begun.
For appetizers I recommend their tequeños de lomo saltado. These deep fried breaded sticks stuffed with steak stir-fry are delicious. They are served with Huancaína sauce – a spicy cheese sauce that you will want to pour over everything. I have also tried their pulpo anticuchero – octopus skewers served in a vinegar, cumin, ají pepper and garlic sauce. If you like octopus, definitely try this appetizer.
As your main course, check out their best seller the divino ceviche made with home cooked fish, avocado, mango, calamari, shrimp marinated lightly in lime juice, chili, and fresh cilantro. It is served garnished with sweet potato and choclo (Peruvian giant corn). When you take a bite you can taste the combination of the mango's sweetness, with the freshness of the fish, and the citrus of the lime. It's amazing and my favorite dish on the menu so far. Another main dish I recommend is the lomo saltado: Peruvian beef stir-fry made with onions, tomatoes, cilantro, soy sauce, and garlic; served over rice with a side of french fries.
New Brunch Menu
Divino Ceviche has a brand spanking new brunch menu. The hottest item on the menu is all you can eat ceviche PLUS all you can drink maracuya mimosas for $19.99. Other delicious items include the lomo saltado with huevo frito (beef stir-fry with a fried egg on top) and the tortilla de camarones (a Peruvian shrimp omelet served with sautéed potatoes). I've tried several of their brunch menu items and they deserve a write up of their own. Keep an eye out for it soon :)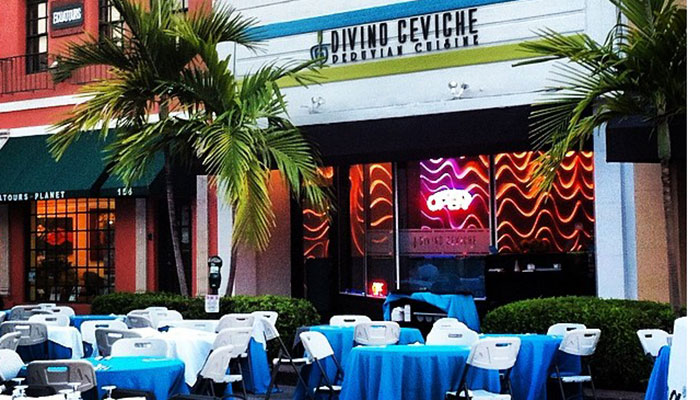 The Story of Divino Ceviche
Divino Ceviche is owned by two Peruvian brothers, Frank Encalada and Christian Encalada. They were both born in Lima, Peru and raised in el Doral in the Miami area. Christian studied at the Cenfotur School of Peruvian & International Gastronomy. One of Peru's oldest and most renowned culinary schools specializing in the hospitality industry.
Eduardo Encalada, their dad, always cooked for the family and enlisted his children as helpers in the kitchen. Hence, all the Encalada kids like to cook. Christian not only liked to cook – he loved it. After graduating from Cenfotur, Christian moved to the Canary Islands in Spain to gain some experience in a professional kitchen. Upon his return to Peru he worked at Tanta with one of Peru's most admired and worldy renowned Chefs, Chef Gaston Acurio.
While Christian delved deeper into the world of cooking, Frank studied management and the restaurant industry in the United States. While in Peru, Frank convinced Christian to open his first restaurant in his own dining room. His experiment was called Warike. Christian would cook in his apartment for a small group of reservations and it was a hit. His guerilla style venture earned him enough capital and confidence to open his first restaurant in the Doral area. The first Divino Ceviche opened its doors in 2011. The restaurant was an instant success, allowing them to open their second location in Coral Gables in 2013.
Now the two brothers are working on their latest project: Ceviches by Divino – a causal restaurant where you order at the register. Their Doral location opened January 2015.Ceviches by Divino is located at 3380 NW 72 Avenue, Doral, FL.
Go have some tasty Peruvian food and let me know what you think in the comments.