August is National Peach Month; and local chefs are celebrating by adding peach to new dishes! As a peach-lover, I'm on board. Today, I'm sharing this recipe so you can enjoy it at home.
Chef Adrianne's Chili & Summer Peach Pork Tenderloin Recipe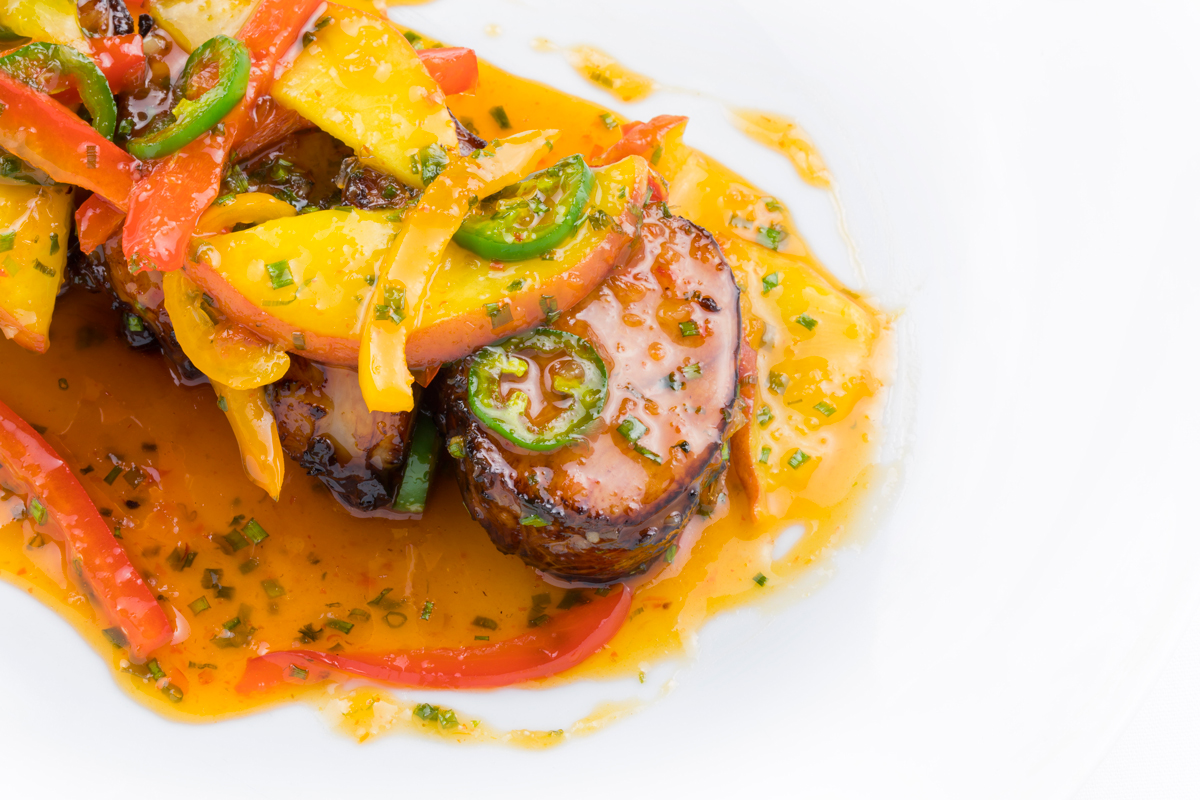 Chef Adrianne has chosen to feature peach flavors by introducing her Chili & Summer Peach Pork Tenderloin dish! This meal has a little bit of everything. The sweetness of the peach, the savoriness of the tenderloin, and the spiciness of the bell peppers will be sure to fulfill your quest for flavor. What's more, this is not an over-complicated dish, making it a great option to satisfy your guests this summer.
Here's a quick, easy, and outrageously delicious recipe honoring the peach.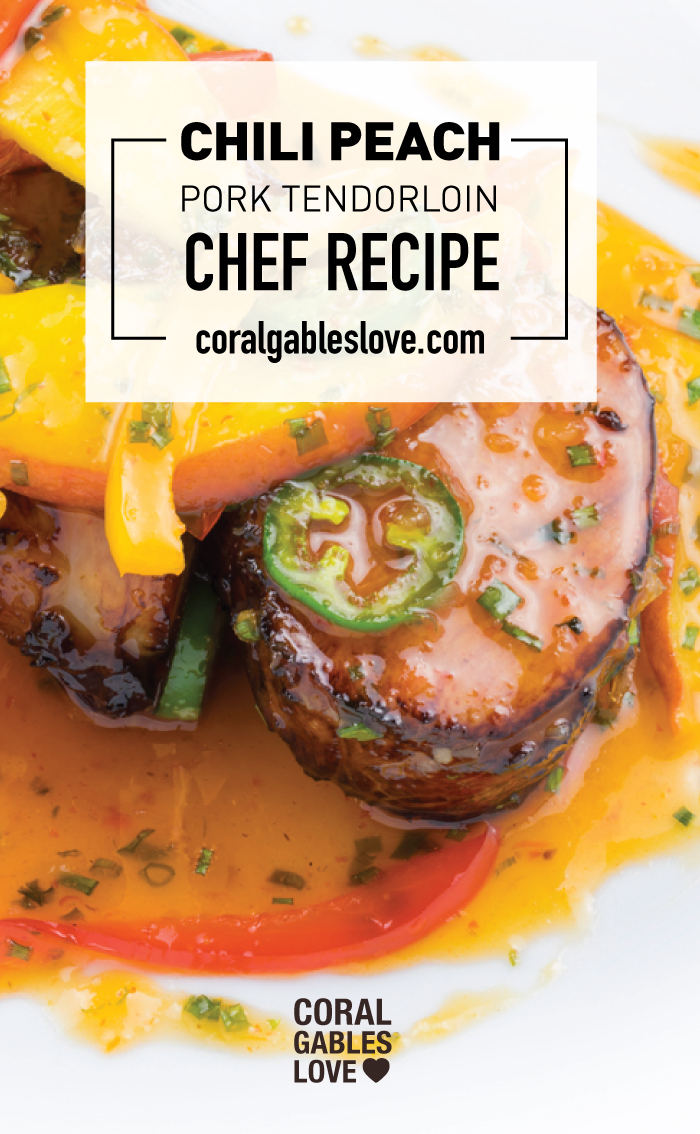 Serves: 2
Ingredients
1/2 lb Pork Tenderloin, trimmed, cut into 1/2 inch medallions
1/2 cup light soy sauce
1 tablespoon Chinese hot mustard
1 tablespoon garlic, minced
1 tablespoon cilantro, chopped
1/2 cup honey
1 tablespoon sesame oil
1 tablespoon canola oil
1 peach, sliced
1/4 cup bell pepper, sliced
1 teaspoon jalapeño, thinly sliced
1 teaspoon Anaheim chili, thinly sliced
1/4 cup sweet chili sauce
1 tablespoon chives, minced
Instructions
In a large bowl, whisk soy sauce, mustard, garlic, cilantro, honey, and sesame oil to make a marinade.
Add pork, cover, and refrigerate for 3-4 hours.
Preheat the oven to 425 degrees F.
Remove pork from marinade and place on a cookie sheet.
Roast for 12-14 minutes.
In a large skillet over medium high heat, add canola oil, peach, peppers, chili's, and sweet chili sauce.
When it comes to a simmer add the pork and cook for an additional 4-5 minutes.
Add chives and serve.
About Chef Adrianne Calvo
Adrianne Calvo is the Executive Chef and owner of Chef Adrianne's Vineyard Restaurant and Wine Bar, Host of Maximum Flavor Live on NBC's 6 in the Mix, author of four cookbooks: Maximum Flavor (2005); Chef Adrianne: Driven by Flavor Fueled by Fire (2008); #MaximumFlavorSocial (2014); and Play with Fire (2015), and founder of the Make it Count Foundation. Chef Adrianne's Vineyard Restaurant and Wine Bar opened in 2007 and offers a varied and rotating menu with something for everyone. Monthly, the restaurant holds its signature event, Dark Dining, where guests are blindfolded for a sensual experience eliminating one sense to enhance another, providing maximum flavor.