One of my favorite things about living in Coral Gables is that we have the best independent bookstore in the country, Books & Books. If you don't want to take my word for it, Publishers Weekly agrees with me: Publishers Weekly awarded Books & Books Bookstore of the Year in 2015.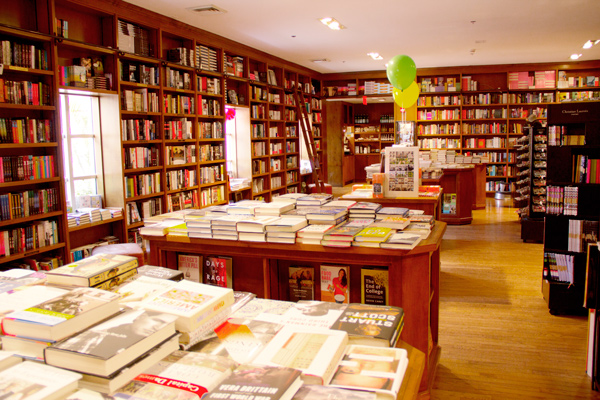 If you have ever set foot in Coral Gables and have not visited Books & Books, you truly missed out. This bookshop is so much more than a book retailer. They have been a pillar of the community for over 30 years and have brought revolutionizing events to South Florida, including the Miami Book Fair, the Key West Literary Seminar, eMERGE Miami, the Brickell Avenue Literary Society, and many more. This non-stop literary machine hosts events 365 days of the year bringing all kinds of authors for us to meet.
As a book worm, there are few things as thrilling as hearing the behind the scenes of a favorite book. When I read a book, it's such an intimate affair. Writers have the ability to fill my head with all these magical ideas. Every time I meet an author I feel a beautiful connection. We get to meet these wonderful authors every day and we have the people that work behind the scenes at Books & Books to thank for this. The best thank you I can give them is acknowledge their awesome work and give you a peek into their lives. Today, we'll be meeting three of these wonderful people.
Mitchell Kaplan: Books & Books owner
"Bookstores represent community and I'm a lover of books and literature. So when I was young, marrying those two things sounded like it was something I could do and be passionate about it." – Mitchell Kaplan
Mitchell opened the very first Books & Books in Coral Gables in 1982. Seven years later, he opened Books & Books on Lincoln Road and opened a cafe. In 1999, the Coral Gables location expanded to its current 9000 sq. ft. space located at 265 Aragon Ave. Since then, he's opened book shops in Bal Harbor and the Arsht Center along with affiliate stores in the Cayman Islands, Miami International Airport, West Hampton Beach, Long Island, and Key West.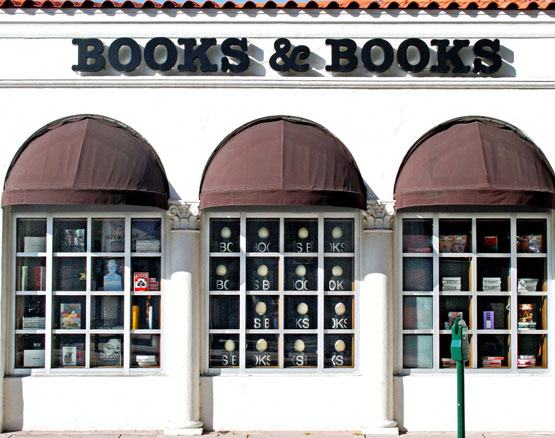 One of the things that makes Books & Books so special is the fact that it is a locally owned independent store. The people that own Books & Books are from the community and want to give back to the community. Mitchell Kaplan has been giving back to the community for 33 years and he has made quite an impact. He is the co-founder of the Miami Book Fair, he set up a program to work with schools and get authors in schools to talk to the students, and he has supported a long list of businesses and causes along the way.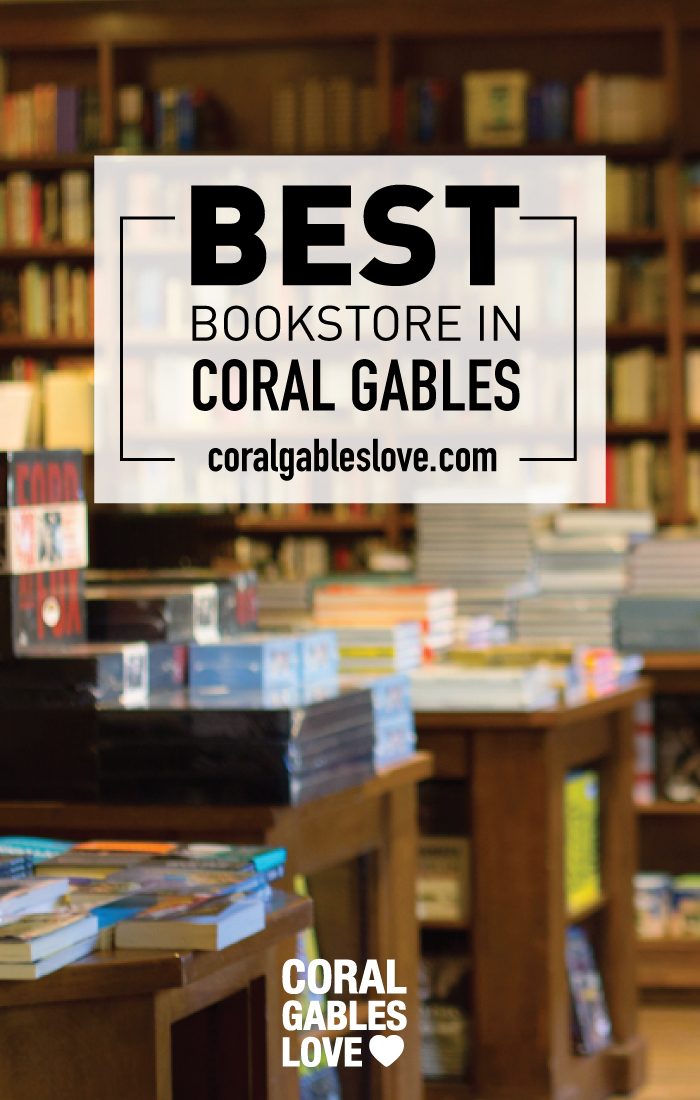 "The main difference between a corporate chain store and a locally owned independent book store is that the independent bookshop is a community center. A tradition of community and locally owned bookstores runs deep." – Mitchell Kaplan
Books & Books hosting over 600 events during the year. Many author events feature writer's giving talks and reading from their latest literary endeavors. Mitchell explains how an author event provides a great opportunity to gain insight to an author's personality and even ask them questions about their work. It enriches the experience by giving the attendees a sense of discovery. Another great upside of attending these events is that you can discover new authors. Mitchell told me he feels blessed to have met the greatest writers of the 20th and 21st centuries, many of these meeting took place right here at our local Books & Books.
If you are starting to feel jealous of those living in Coral Gables with full access to the greatest authors, Books & Books wants to include you in their community too. They now live stream most of the events and you can watch from the comfort of your home. You can also view all previously aired events by visiting their Books & Books online author event video archives.
Aaron Curtis: Book Buyer
Next, let's meet Aaron Curtis, the book buyer at the Coral Gables location. Among other things, Aaron is in charge of all the internet orders, all the event orders, and some of the web content.
Aaron is also a published writer. His essays have appeared in World Book Night and the Sun Sentinel City Link. He writes every morning before he comes in to work. He is addicted to reading so he would spend all his money on books if he didn't get all those advance reader books for free. So it's kind of part of his paycheck. Yes, Aaron truly loves books and he is part of what makes Books & Books so special.
I got to sit down and ask Aaron what he likes about working at Books & Books. Here is what he had to say:
"It puts you in touch with your people. There's no where else in Miami to mingle with like-minded book folks – the introverts, the oddballs, the people who think that curling up someplace comfy and cracking open a book is one of the best ways to spend your time. We see so many dates and hook ups happen here. Books might not be inherently romantic but a lot of readers are. On the other side of the counter, putting the right book in a customers hands always makes me happy." – Aaron Curtis
"There are magical moments. Once a memoirist got the date of her appearance wrong and we waited an hour for her to rush over from the airport. Meanwhile, two published memoirists in the audience – helpfully outed by their friends – got up and read from their own work. Thanks to readings from Andrea Askowitz and Roxanna Elden, the crowd was not only entertained, but the store sold copies of "My Miserable, Lonely, Lesbian Pregnancy" and "See Me After Class" in addition to the featured author's books. I don't think that would have happened in a movie theater. They don't play two movies while you wait for them to fix a projector."
"I like being a thorn in the digital age's pixelated side. People are shocked when they get me on the phone, or by email, and realize that I'm processing their orders personally. I've gotten so much great feedback from internet customers just for what should be standard service, it makes me feel good when they can spot the difference. Sometimes it goes the other way, too – what's taking so long! – but for the most part it's all good. I like being part of a place that's not afraid to be peaceful while the rest of the world feels so hectic." – Aaron Curtis
I am lucky to have this passionate book lover in my book club. Needless to say, we always have the best book selections when it's Aaron's turn to pick. Fortunately, for all of us in South Florida, he is the one who fills the shelves of Books & Books with wonder. I suggest you always pick up his employee recommendation.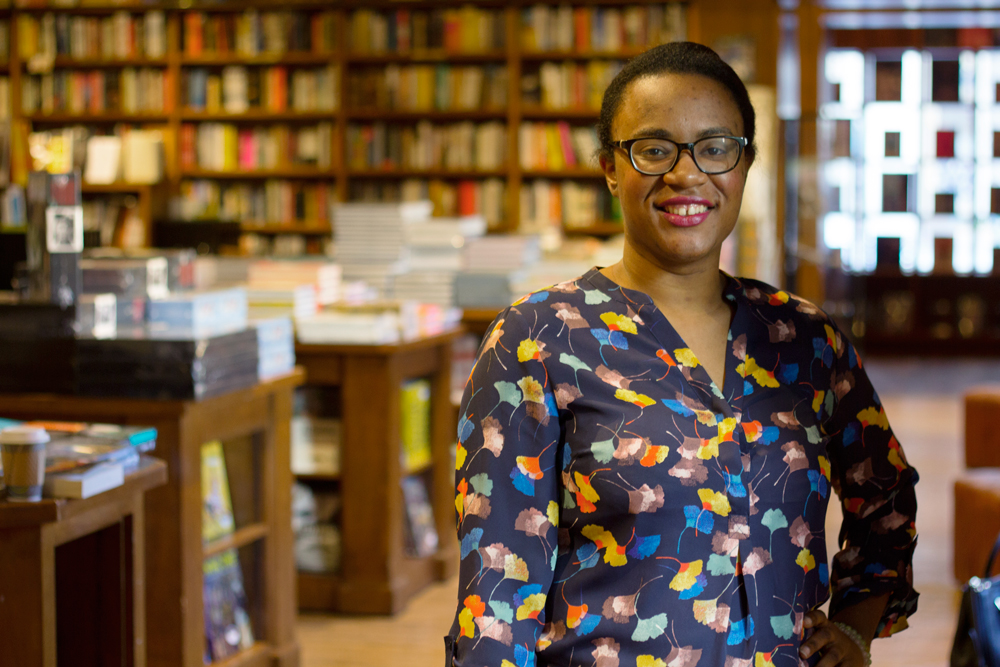 Ketsia Julmeus: Children's Book Buyer
Let me introduce you to Ketsia Julmeus. A former educator, Ketsia now curates the children's section at Books & Books. Ketsia is also a dramatic screenwriter and a lover of films. She is in charge of picking the best children's books and putting together kid and young adult events. She works closely with publishers like Random House to bring the current best selling authors to our local bookshop.
Ketsia likes working at an independent bookstore because it gives her the opportunity to make a difference in children's lives everyday. She also gets to be around people who are like minded and love books like she does. She points out that having such well read co-workers tends to promote interesting conversations and she is fortunate to love being around the people with whom she works.
"Reading is paramount for a child and to facilitate that is a blessing." – Ketsia Julmeus
I asked Ketsia what is so special about locally owned independent bookstores. Ketsia explained to me how she and other Books & Books employees are personally invested in their jobs. They are very knowledgable about new releases and the publishing industry; and they make sure the shelves are filled with the most interesting and relevant titles. It's easier to shop at Books & Books because when you walk in, everyone is knowledgeable of what books are on the shelves and out in the world.
Make sure to stop by Books & Books to pick up your next book selection or meet an author. Books & Books is located at 265 Aragon Ave, Coral Gables. For more information visit booksandbooks.com